Used Bentley Mulsanne Saloon
With 37 used Bentley Mulsanne Saloon cars available on Auto Trader, we have the largest range of cars for sale available across the UK.
Used Bentley Mulsanne cars available to reserve
Used Bentley Mulsanne Saloon cars in stock
Is the Bentley Mulsanne a good car?
Read our expert review

Words by: Ivan Aistrop
"At its heart, the Bentley Mulsanne is a luxury limousine, but it's so much more than that. It's also the ultimate expression of wealth and prosperity, a lesson in craftsmanship and quality, a symbol of a great British institution, not to mention being an exceptional piece of engineering. Yes, it has an if-you-have-to-ask pricetag, but if you can afford to even think about buying one, you won't so much as bat an eyelid at the cost."
Read the review by category
How good does it look?
A car like this is all about creating the right amount of theatre when you roll up, and the Mulsanne achieves that effect in the kind of fashion only a Rolls Royce Phantom can match. It's the ultimate expression of opulence and luxury, communicated not only by the sheer enormity of the car, but also by the simple-yet-elegant saloon-car lines and extravagant details. Note the huge grille with both vertical and criss-cross slats, the B-shaped bonnet ornament, the Bentley name stencilled into the headlamp units and the B-shaped rear light units. Obviously, being a Bentley, there are all sorts of ways you can personalise the look of your car. If you're so-minded (which you probably will be), you can blow thousands on paint alone, while the options list also contains hand-painted exterior flourishes, painted wheels, and countless other adornments. Or, if none of that takes your fancy and you have your own ideas, Bentley will find a way to make your every styling dream come true; so long as you're willing to pay.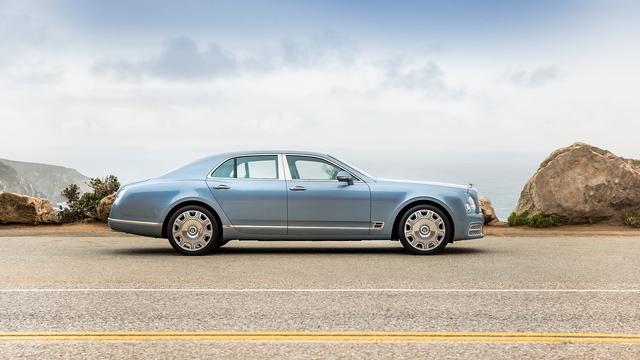 What's the interior like?
This is where Bentley's craftsmen really earn their money; there's artistry and painstaking attention to detail pouring out of every part of the Mulsanne's interior. You'll be hunting for a very long time before you find any traces of plastic in the cabin, with all the mains bits and bobs being finished with a mixture of sumptuous hand-stitched leather, milled aluminium, and timber veneers that have spent many hours being processed in Bentley's own woodshop. Even the carpets – with their unfathomable thickness and softness – have to be felt to be believed. It all adds up to a feeling of peerless quality and luxuriousness, the sort of plushness that could satisfy any monarch or oligarch, no matter how demanding. Again, the appearance and finish of the cabin can be tailored to your every wistful wish, with countless customisation options available. If on the odd occasion you have to drive the car yourself, you might wonder how your chauffeur manages to deal with the vast array of buttons and knobs on the dashboard, many of which are arranged in a rather illogical way. You'll be even more confused by the infotainment system, which is rather complex and unintuitive. You will, however, find that with a vast amount of electric adjustment for just about everything, getting comfortable at the wheel is immensely easy, but you'll also find the car's huge dimensions and hard-to-see extremities mean you'll have no choice but to rely on the various sensors and cameras when trying to park.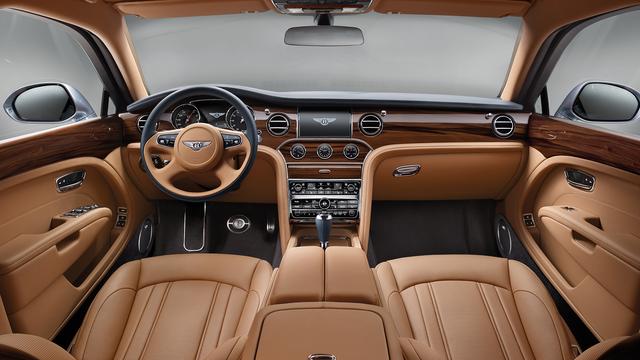 How practical is it?
In any car that's built to provide luxury – especially one as gigantic as the Mulsanne – you'd expect there to be masses of interior space. It's fair to say those expectations will be met. Climb into the back of the car through the huge, wide-opening doors, and you'll sink into a softly-cushioned seat that's surrounded by the sort of head- and leg-room you could get lost in. Specify the extended wheelbase version, and your outstretched legs will struggle to touch the seat in front. Seriously, if you can't get comfy in this car, you must live at the top of a beanstalk. There are all sorts of lidded cubbies dotted around in which to stash your Rolex and your Crème de la Mer, and electrically deploying curtains will protect you from the gaze of the hoi polloi. With such massive space provided in the passenger compartment, it's perhaps a little surprising the boot isn't bigger (443 litres, 446 in the extended wheelbase). That means you might have to pack lighter than desired for a transcontinental schlep down to Monaco for a fortnight, but no matter; if you can afford a Mulsanne, you can probably afford to have your luggage sent on to meet you there.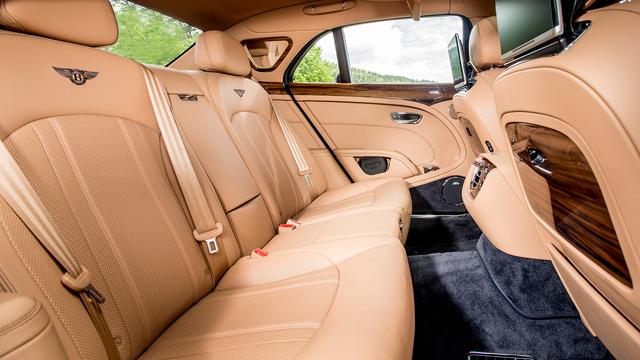 What's it like to drive?
In a luxury car like the Mulsanne, only two things matter when you're on the road; ride comfort and refinement. It's much more likely you'll be sitting in the back of the car rather than the front, and you don't want the pesky business of, well, being in motion, to distract you from closing deals or thumbing through the FT. Happily, you're so well isolated from the effects of the outside world that you might not notice whether you're moving at all. Barely any wind- or road-noise make it into the cabin, and aside from a gentle murmur when a bit of extra speed is needed, the engine stays fairly distant as well. The ride, meanwhile, is breathtaking. Selecting the 'Comfort' mode on the air suspension will make you largely oblivious of most lumps and bumps in the road, and only the very worst of them will result in anything more severe than a gentle, whimsical bounce. The fantastically named 'Bentley' mode will also have you wafting along in supreme luxury, but it does tie the body's vertical movement down a wee bit better to improve stability, especially at high speed. You won't often find yourself selecting 'Sport' mode, which tightens things up and makes the ride much firmer. No matter what you do with the suspension, there's no way of making a car of this size and weight feel sporty, although it does change direction with impressive accuracy considering its bulk. This is a car that encourages you to just sit back, adopt a lazy driving style and let the miles just slide on by.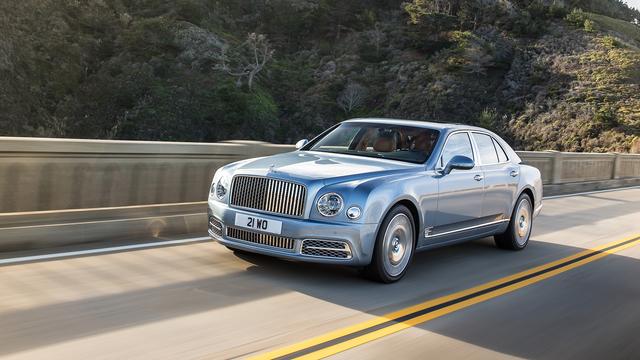 How powerful is it?
The Mulsanne is powered by a suitably huge engine: a twin-turbocharged 6.75-litre petrol V8. It delivers 505bhp and a whopping 752lb ft of pulling power, but it does so in a very unique way. This is a very big, lazy engine that's built for smooth, easy performance rather than outright pace. It idles at around 500rpm and redlines at 4500rpm, and most of the time, the eight-speed automatic gearbox won't allow the engine to spin past 1200rpm before changing up. That said, if you do need to make full use of the engine's power, burying the throttle causes the gearbox to kick down, the engine to snarl, and this 2.5-tonne behemoth is thrown forward with a scarcely believable amount of force. The 0-62mph dash can be covered in 5.3 seconds (5.5 seconds in the extended wheelbase version), and a top speed of 184mph is achievable. The acceleration is undeniably impressive, but it can feel a little daunting piloting a car this big, especially at high speed. Getting it to stop takes some effort, too; the brakes are very powerful, but when they have so much mass to slow down, they really have their work cut out.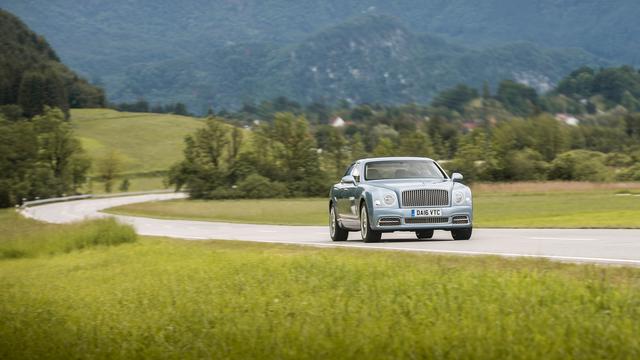 How much will it cost me?
Don't be daft. You're not going to be considering a Mulsanne if you conduct your motoring on a shoestring, and for most of us mere mortals, what this car costs to buy and run will be prohibitively expensive. Our test car, for example, cost more to buy than the three-bedroom house it was parked outside during its time with us. And, when a car is so expensive, the depreciation losses you'll suffer would be enough to ruin most people. Meanwhile, insuring it will be proportionately pricey and average fuel consumption of around 18mpg (if you're well behaved) will also mean parting with plenty of pounds at the pumps. Then again, if you can afford to even play with the idea of buying a Mulsanne, you obviously have the means to run it as well, so you probably won't care a jot.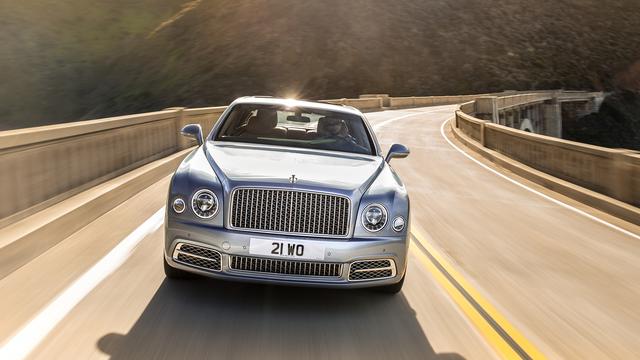 How reliable is it?
Take a look at Warranty Direct's Reliability Index, and most Bentley owners will want to look away immediately. The brand sits rock-bottom of the manufacturer standings, and by quite some way, while the Continental GT (the only Bentley model name-checked in the study) sits firmly in the list of the study's ten worst-performing cars. That's mainly due to the comparatively vast amount that malfunctions cost to repair. Bentley would argue that's because these examples are, by nature of their inclusion in the study, likely to be serviced and repaired outside of the Bentley dealer network, meaning the parts and labour used may not be of the necessary standard to keep trouble at bay. Whatever the truth, electrical issues seem to be the most common source of trouble, and that's backed up by the owner reviews on our site, although those don't report any reliability horror stories.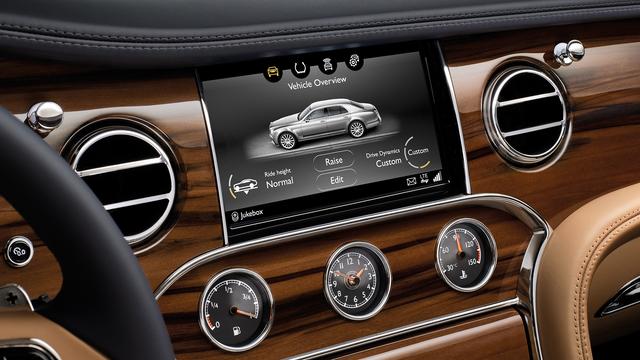 How safe is it?
For this kind of money you'd (rightly) expect your standard kit list to include lots of safety features, and the Mulsanne doesn't disappoint. For example, the car will warn the driver – and prime the brakes and the airbags – if it detects an imminent crash hazard. If the driver takes no action, the car will brake automatically. Blind spot monitoring is also included as standard, as is active cruise control and a rear parking camera to give you a fighting chance when trying to manoeuvre the thing. The Mulsanne hasn't been crash tested by the experts at Euro NCAP, and with the low numbers it sells in, we don't expect that to change.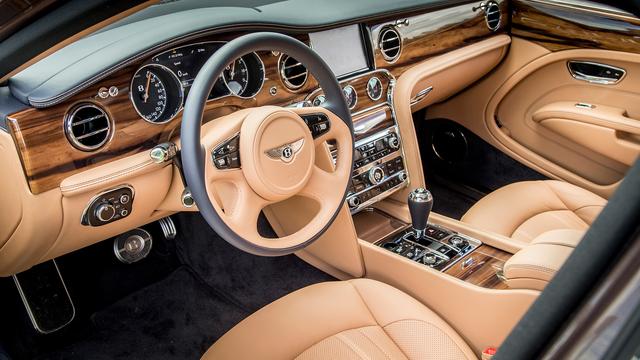 How much equipment do I get?
You'll never encounter such a thing as a 'standard' Bentley Mulsanne, but if you ever did, you'd find it would have features including climate control, full leather trim, ambient mood lighting, LED headlamps, and an 8.0-inch touch-screen system incorporating sat-nav, DAB, Bluetooth, a wifi hotspot, a parking camera and a six-disc DVD changer. Instead, buyers spending this much on a car will spend many, many thousands on top, making it into exactly the car they want by raiding the options list. It's far too extensive to mention everything, but the more interesting things on offer include a rear-seat champagne fridge, twin entertainment screens that deploy electrically from a housing in the front seat backs, and the world's most powerful automotive audio system.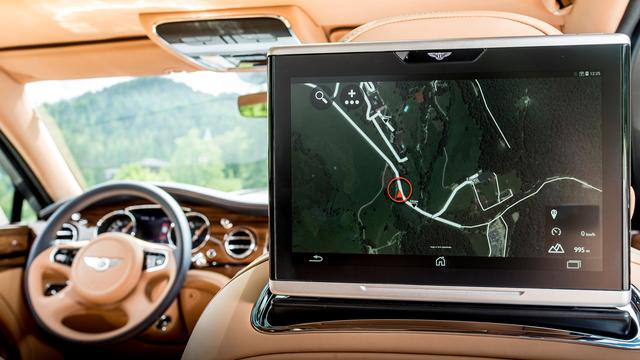 Why buy?
Because money is no object and you want everyone to know it. The Bentley Mulsanne is the ultimate expression of luxury and exclusivity, and that's exactly why most will be bought, but it also happens to be a very impressive piece of engineering. Massively comfortable, super-refined and absolutely dripping with quality, it does everything a good luxury limo should.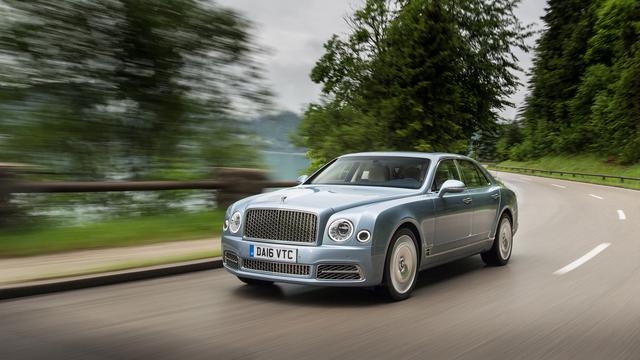 Good points
The Quality of the ride and general the interior...
Bad points
Bentley never ever get the telephone and hand set...
MICHAEL
Published 2016-12-20
Good points
Its a Bentley there are no bad points
Bad points
none
Good points
Sporty, no turbo lag unlike past models...
Bad points
Build quality appalling, released with little...