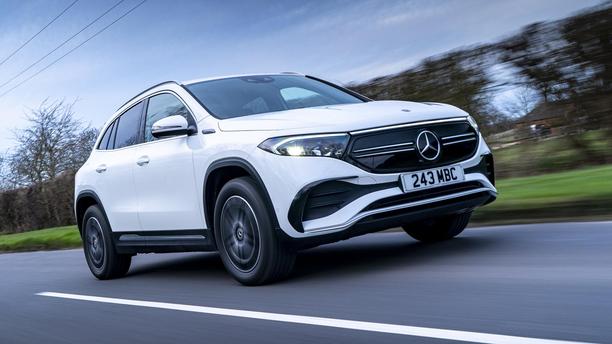 Discover the
Mercedes-Benz EQA
New from £47,510 / £689 p/m
5 doors

5 seats

Automatic

Electric
Is the Mercedes-Benz EQA SUV a good car?
Read our expert review

Words by: Erin Baker
"Mercedes launched its EQ electric sub-brand with the EQC, a medium-sized SUV. Now we have the that car's smaller sibling, the EQA, which is based on the petrol-powered GLA. It's smooth, comfortable and prestigious but – word to the wise – unlike most electric cars Mercedes EQ models seemingly lack the facility to programme your charging times, so unless you have a timer function on your domestic wallbox you will not be able to take advantage of overnight off-peak energy tariffs. Given this is a major cost saving benefit for EV drivers it seems a glaring oversight."
Read the review by category
Running costs for a Mercedes-Benz EQA
We've had to dock a huge amount of kudos from the Mercedes EQA in running costs because, as we mentioned in the introduction, there is no chargingtimer on the EQA. So, unless your wallbox at home has its own timer (ours doesn't), you won't be able to take advantage of your own off-peak tariff, unless you stay up until midnight every night to plug it in to charge. This is plainly ridiculous - only Mercedes and MG don't offer a charging timer on their cars, and it means the total cost of ownership increases significantly, wiping out a major attraction of running an electric car. To put some numbers against that most off-peak electricity tariffs at home cost 20-26p per kWh in the day, a figure that can fall as low as 4-6p per kWh midnight-5am. Charge your car at night, and it will cost you roughly a fifth of what it costs in the day. Multiply that by seven nights a week, and you can see the difference in price. That rather major issue aside, other running costs - road tax/VED, Benefit in Kind for company car users, servicing, congestions charge - all remain very low.
Lease deals
These deals are based on terms of 8,000 miles, for a 36 month lease with a 6 months initial payment.
Standard equipment
Expect the following equipment on your Mercedes-Benz EQA SUV. This may vary between trim levels.
Related articles and reviews