Mercedes-Benz E Class Saloon
New from £55,045
Is the Mercedes-Benz E Class Saloon a good car?
Read our expert review

Words by: Auto Trader
"In recent memory, there has been healthy competition between the established three German premium brands in the executive saloon segment, often with little separating the Mercedes-Benz E-Class from the Audi A6 and BMW 5 Series. This sixth-generation E-Class doubles down on technology, from entertainment to driver assistance systems, while providing a range of engine and powertrain options to suit most buyers. Some will view the lack of a fully electric E-Class as a missed opportunity, especially when BMW has the i5 variant of the 5 Series. Still, Mercedes is forging a different path with its dedicated EQ electric model range. More noteworthy is how much effort Mercedes has put into making the E-Class a more luxurious car, clearly bridging the gap over its nearest rivals, creating an experience closer to the range-topping S-Class. That aspect is also likely to be reflected in the price."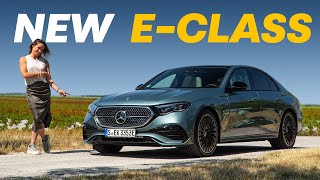 Read the review by category
Running costs for a Mercedes-Benz E-Class
The Mercedes-Benz E-Class tries to cover many bases, which is reflected in the various powertrains available, each with its own merits. Long-distance and company car drivers will undoubtedly see the attraction of the diesel engine, which now features mild hybrid technology to help add a few more miles to the already respectable consumption figures. It's a similar story for the petrol engine, which also gets a 48-volt mild-hybrid system. Those keen on reducing local emissions and prolonging visits to the pump can choose from plug-in hybrid versions that now travel further on electric power thanks to a larger battery and, with some dedicated charging routines, could reduce overall running costs. Adding to that will be plug-in hybrid diesel variants coming down the line, although the outright purchase costs could mean the break-even point won't arrive that quickly.
Reliability of a Mercedes-Benz E-Class
Mercedes-Benz hasn't enjoyed the same stellar reputation for reliability in recent years that it once enjoyed. The same applies to its direct rivals, but the E-Class was the most recommended car in the 2019 Auto Trader New Car Awards, so it's clearly a popular choice. Tightening emissions regulations do make the Mercedes more complex than before, but the company also now has more hybrid experience under its belt, which should bode well for longer-term reliability. With an increased focus on luxury with this latest generation, Mercedes-Benz has hopefully taken greater care to improve the E-Class's overall reliability, as buyers will expect.
Safety for a Mercedes-Benz E-Class
Mercedes has consistently been at the forefront of innovating and introducing new safety features, and the E-Class is no different. The standard safety equipment is already comprehensive with various airbags, including ones for the driver's knees and curtain-style airbags to protect from side impacts. LED headlights are standard, with the option of upgrading to Mercedes' Digital Light system with broader and more dynamic high-beam coverage in areas that aren't as well illuminated. On the more advanced side of things are several automated safety systems to detect cyclists and pedestrians with greater accuracy, and across a wider area than before. Cross-traffic monitoring can prevent head-on collisions at junctions, while out on the open road there is adaptive cruise control and lane monitoring to take some of the strain out of longer journeys. Soon after the launch of the E-Class, Mercedes plans to roll out an optional Automatic Lane Change Assist feature that enables the car to perform safe overtakes and lane changes on the motorway without a prompt from the driver.
How comfortable is the Mercedes-Benz E-Class
Even without ticking boxes on the rather extensive options list, the E-Class looks after all its occupants. The fractional stretch in wheelbase sounds insignificant, but along with the re-profiled design, there are ample levels of space for passengers in the rear seats, with improved headroom and shoulder room over the previous generation. Up front, the seating position provides virtually infinite levels of adjustment from the seat and steering wheel, so drivers of all heights should have no issue getting comfortable. Adding further to the comfort are heated seats and an extended massage function if you choose the optional 'Energising Comfort package'. An Energising Coach programme can even help reduce stress with suggested breathing exercises and other features to reduce travel sickness in passengers. As standard the E-Class gets conventional suspension while, as an option, there is 'Airmatic' branded air suspension available on all models, including a self-levelling function. A Technology Package groups the Airmatic suspension with rear-wheel steering that reduces the car's turning circle at low speeds.
Features of the Mercedes-Benz E-Class
In a world where touch-screens are commonplace and growing in size, Mercedes has decided to trump its rivals by introducing its 'Superscreen' dashboard to the E-Class. Available as an option, it places a 14.4-inch central touchscreen and a 12.3-inch touchscreen on the passenger side behind one piece of glass. It creates an impressive look and is supplemented by a separate instrument display. Besides running the improved MBUX infotainment system, users can scroll through Tik Tok, take Zoom calls with the support of a dashboard-mounted video camera, and passengers can watch movies on their screen with Bluetooth headphones on a separate channel from the rest of the cabin. Their screen also dims if the face-tracking camera detects the driver looking across. It's no longer necessary to summon the voice assistant by saying 'Hey, Mercedes' thanks to a new 'Just Talk' function, though this is only available when the driver is alone in the car. A smart home function allows compatible home technology and household devices to be networked with the car. The larger touch-screen display means there is no longer a touchpad on the centre console, which frees up more space. Two types of steering wheels are available, both with touch-sensitive controls that can be a bit fiddly to use.
Power for a Mercedes-Benz E-Class
Choice is always a good thing and Mercedes will provide plenty of it once the full range of engines rolls out. These will also include high-performance versions from the Mercedes-AMG division. The E-Class is available from launch with the E200, which has a 2.0-litre petrol engine with mild-hybrid assistance while plug-in versions include the E300e with the same but a bigger battery and more powerful electric motor. The larger battery provides upwards of 70 miles of electric driving which is more useful so long as it's frequently charged, and the hybrid mode delivers a smooth transition between motors. That same powertrain goes into the E400e but with a higher system output of 280 horsepower. All versions use a proven nine-speed automatic gearbox with either rear- or all-wheel-drive. On the diesel side is the E220d, featuring a 2.0-litre four-cylinder with 197 horsepower that is efficient but lacks the refinement of the petrol and plug-in hybrid versions.
Standard equipment
Expect the following equipment on your Mercedes-Benz E Class Saloon. This may vary between trim levels.
Other vehicles in the E Class family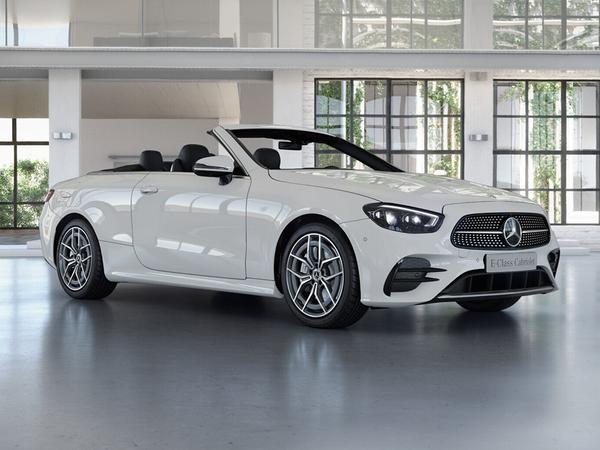 Related articles and reviews