INEOS Grenadier SUV
New from £66,635 / £1,427 p/m
Is the INEOS Grenadier SUV a good car?
Read our expert review

Words by: Dan Trent
"No need to squint – this isn't the original Land Rover reborn but, rather, a brand-new 4x4 built for those who think the new-school Defender has gone a bit premium SUV. Ineos may be a new name to the automotive world but the massive chemical business behind it provides the financial muscle, the engine partnership with BMW adding credibility. It's not all functional engineering, either, collaboration with luxury outdoors clothing brand Belstaff (also owned by Ineos) adding a touch of style and glamour. Rivals are few, the Grenadier built tough like the Mercedes-Benz G-Class but more affordable, all things relative. It's also way cooler looking than the iconic Toyota Land Cruiser, whose class-leading reputation for off-road indestructability Ineos would love to claim for itself."
Read the review by category
Running costs for a INEOS Grenadier
The way the Grenadier has been built makes it expensive to buy and run, with off-road toughness and expedition-grade adaptability coming a long way before affordability or tax-friendly emissions figures. Thanks to the simple choice between big, BMW-supplied petrol or diesel engines it's going to get hammered by first-year VED rates and other upfront costs, too. It's also very thirsty, so fuelling it won't come cheaply. The supposedly commercial-oriented version doesn't have enough payload to qualify for tax breaks for business users, either. On the flipside the cost looks relatively keen against a Mercedes-Benz G-Class, while second-hand prices for top-spec, late model Land Rover Defenders are also pretty chunky. Ultimately it will be bought less as a car and more as a piece of lifestyle outdoors equipment, and the target audience most likely won't be put off by the indulgence.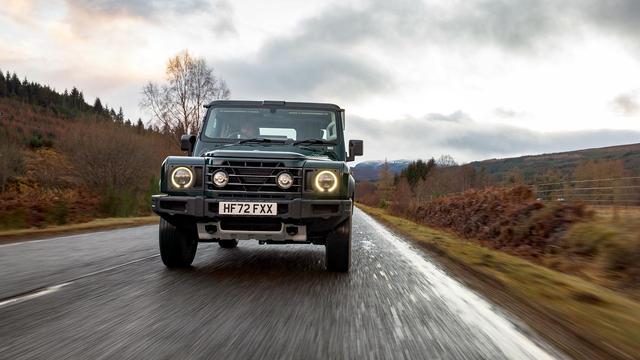 Reliability of a INEOS Grenadier
Given the Grenadier is a new car and Ineos Automotive is also an unknown brand we'll have to consider this a holding score for now. Given the determination to build the toughest 4x4 out there, over a million miles of testing in the world's harshest conditions, Ineos's deep pockets and the technical partnerships with respected suppliers from across the automotive industry we'll have to hope the Grenadier is as dependable as promised, though. A five-year warranty is a good start, support and servicing meanwhile coordinated through Ineos via a network of appointed specialists.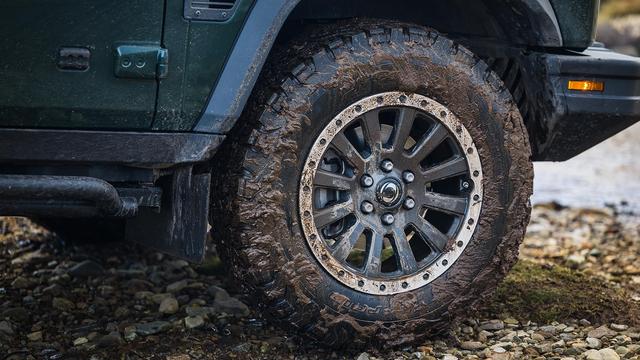 Safety for a INEOS Grenadier
Compared with more mainstream SUVs the absence of driver assistance systems on the Grenadier is stark, though true to its back-to-basics, keep-it-simple mindset. Indeed, the lack of lane-correcting steering interventions, blind-spot bleepers and the rest will probably be very appealing for the more macho end of the target audience. There are, however, airbags up front, two Isofix childseat mounts in the outer rear positions on the rear bench and the basics of anti-lock brakes and stability control, these also with dedicated off-road settings. Parking sensors and a reversing camera are among the few more modern gizmos. There's also the reassurance the Grenadier is basically built like a tank, so is unlikely to come off worse in any collision. When the going gets rough, meanwhile, the Grenadier guarantees near-unstoppable progress, our test drive seeing it scramble up steep, rocky climbs while the Hill Descent Control kept it all together on hills so steep we were looking through the sunroof to check forward progress. If you equate a sense of security with do-it-all ability the Grenadier takes the idea to extremes.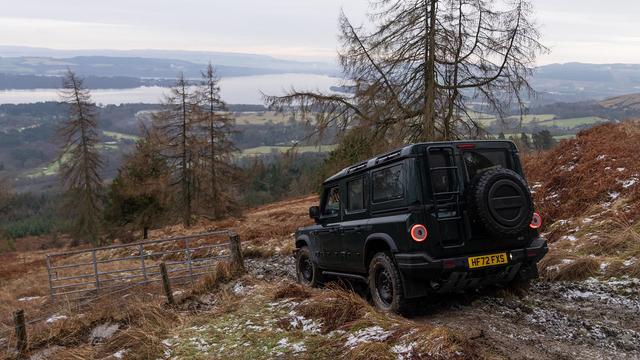 How comfortable is the INEOS Grenadier
It's not really fair to compare the Grenadier's comfort levels against more conventional SUVs, because it's constructed differently and has a much broader skillset. In keeping with the 'built on purpose' ethos it all feels very functional as well, with grab handles aplenty, tough materials throughout, rubber floors and even drain plugs so you can hose the mud out of it. A Bentley Bentayga with plush lambswool carpets it is not. Ergonomically it's in a different league to the old Land Rover Defender it so clearly celebrates, with space to get comfortable and a suitably commanding driving position. There's tons of head room, the seats are supportive and all three positions on the rear bench are usable, though there is a bit of a tunnel running down the centre the middle passenger will need to straddle. In a neat feature the rear access comprises a vertically split door, so you can open the smaller section even when parked in a tight space. And with them both unlocked you have great access to the large, sturdily lined boot. It's a long way off the ground but you won't mind filling it with muddy wellies or dogs, and there's a clever rail system for fixing in various storage and load carrying accessories. On the road the traditional 4x4 construction on shouldn't really be conducive to refinement but here Ineos has done a decent job, and the Grenadier feels more like the over-engineered G-Class than that rattly old Defender. There's still the odd shudder over harsh bumps and the light, low-geared steering requires lots of arm twirling. So, it isn't as easy to drive as a modern SUV. But for a vehicle built primarily for the road less travelled it has acceptable refinement, you can hold a conversation with your passengers at a cruise and, if it lacks bells and whistles, you could commit to a long motorway journey safe in the knowledge you won't have your fillings rattled out.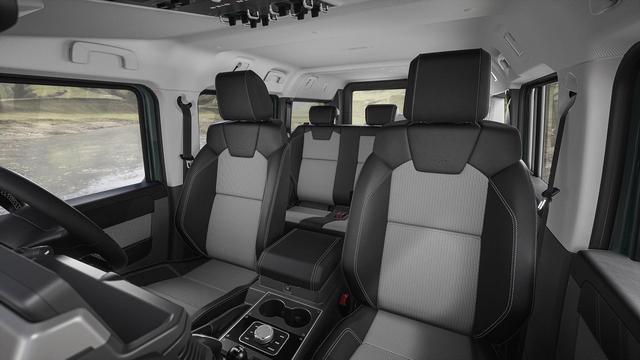 Features of the INEOS Grenadier
The features Ineos would really like to talk about are more nuts and bolts, like locking differentials, low-range gearboxes and off-road capable tyres. All important stuff for camo-clad, green lane enthusiasts but, for the rest of us, there's more interest in the distinctive interior, with its central touch-screen and oversized switches, designed to be both functional and easy to use, even if you've got thick winter gloves on. The screen does everything from nav to entertainment, not to mention basics like the speedometer, gear selection and fuel level. With no instruments in your sightline that can make it a little difficult to monitor speed and other essentials and we found the screen a little slow to respond to inputs, though it has the essentials like wireless CarPlay and Android Auto along with some more off-road specific functions as well. In keeping with its lifestyle, expedition-ready cred Ineos also offers a huge range of accessories, like fold-out tables from the inside of the rear door, 'utility belt' quick release exterior racking, awnings, winches, carriers for bikes, skis or kayaks and more besides. These come on top of the two Belstaff-branded trim levels and self-explanatory 'Rough' and 'Smooth' options packs.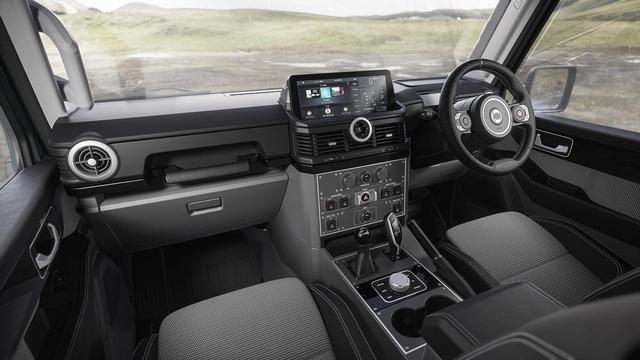 Power for a INEOS Grenadier
Engine partner BMW supplies the choice of diesel or petrol power, both six-cylinder units driving through a proven eight-speed automatic gearbox. Power outputs look pretty similar, the 286 horsepower petrol slightly smoother in its reactions to the throttle and a tad more refined, though not by as a much as you might expect. Given the weight of the vehicle and its likely intended usage we'd argue the diesel might actually be the better choice, the extra torque making it feel a bit more muscular while the fuel consumption is a little – though not much – more palatable. Both settle to a quiet rumble on the road, though the gearbox hunts around a little in the petrol if you make demands of it. Out in the rough stuff you have a huge armoury of off-road gizmos to keep you moving, the complexities of which will require an expert alongside you if you're not au fait with how they all work. With the right guidance we were able to scramble up and down some pretty demanding terrain in the Scottish Highlands, the Grenadier feeling suitably unstoppable over mud, snow, rocks and even through deep river crossings. Whether you actually use that capability or not the knowledge that it's there will be enough for many.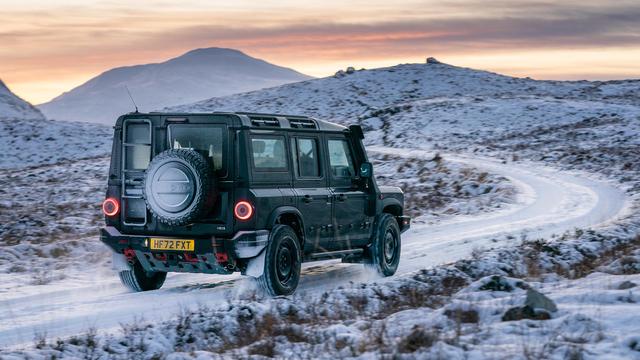 Lease deals
These deals are based on terms of 8,000 miles, for a 36 month lease with a 6 months initial payment.
Standard equipment
Expect the following equipment on your INEOS Grenadier SUV. This may vary between trim levels.
Related articles and reviews
INEOS Grenadier (2023 - ) review
A back-to-basics 4x4 with just enough refinement for the everyday, the Ineos Grenadier wants to be the toughest SUV on the block