Ferrari Roma Coupe
New from £172,690
Is the Ferrari Roma Coupe a good car?
Read our expert review

Words by: Erin Baker
"The Roma is, in Ferrari's words, all about the 'nuova dolce vita'. A 21st-century take, in other words, on the glorious 50s and 60s Italian culture of dapper gentlemen, glamorous women, soft sunshine and relaxed living. What that actually means is that it's a performance-focused GT - a sharper take on the Portofino if you like - with a turbocharged V8 and race mode added. Rivals at this level would include the Bentley Continental GT, Aston Martin DB11 and McLaren GT, each with its own distinctive character and appeal but all facing an uphill struggle against the style of the Ferrari."
Read the review by category
Running costs for a Ferrari Roma
A starting price of a little more than a Porsche 911 Turbo S with a few options sounds relatively competitive for a new Ferrari. But a 'starting price' is just that and the things you'll probably want, like Apple CarPlay, a sports exhaust, power adjustable seats, run-flat tyres, rear parking camera, passenger display and surround sound system, are all cost options. And it's not hard to have the price closing on £200,000 before you know it. Then there's insurance and VED to pay, and let's not get onto fuel, servicing and parts costs. But it's a Ferrari. So chin up.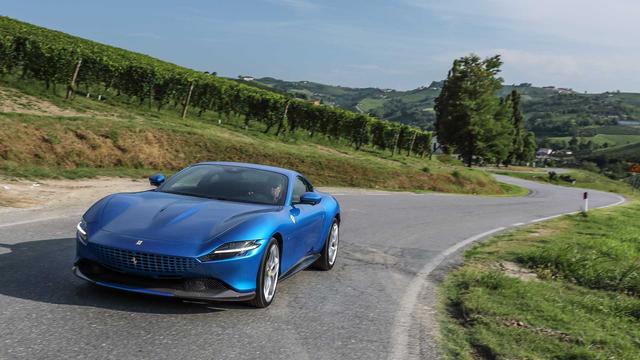 Reliability of a Ferrari Roma
The Roma comes with a standard four-year warranty and seven-year servicing package. You can pay a little over £4,000 for a fifth-year extended manufacturer's warranty for peace of mind if you like. A lot of this model is brand-new, which makes us somewhat nervous, but it's too early to pass comment on the new infotainment screen or complicated software built into the steering wheel controls which flip between driver displays. There's also a new eight-speed dual-clutch gearbox. All we can say, optimistically, is that Ferrari's seven-year maintenance programme covers "all regular maintenance at intervals of 20,000km or once a year with no mileage restrictions, regional spares and meticulous checks by staff…using the most modern diagnostic tools." Fingers crossed.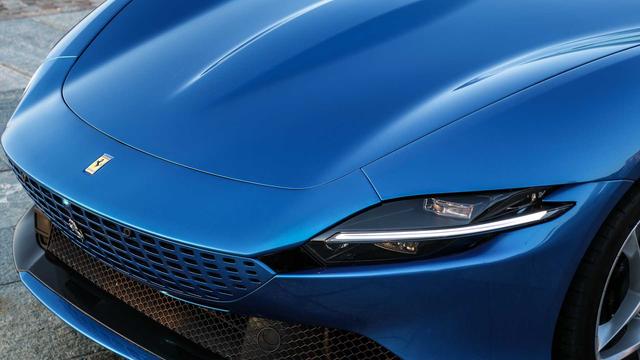 Safety for a Ferrari Roma
The Roma is rear-wheel drive, with a lot of power going to those tyres, so caveat emptor. Ferrari offers its ADAS package as an option, which seems very mean and points are deducted for making the following an extra cost: adaptive cruise control, autonomous emergency braking, lane-departure warning with traffic-sign recognition, blind-spot detection with rear cross-traffic alert and surround view camera. The situation is slightly redeemed by the wet setting on the signature 'manettino' switch on the steering wheel which dampens responses in, er, damp weather, and saved our backside more than once on the rainy test drive.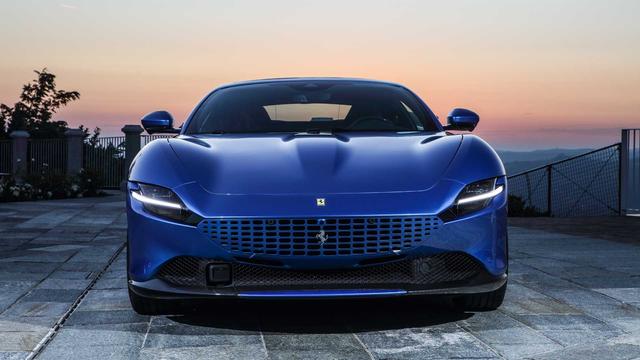 How comfortable is the Ferrari Roma
There are two small seats in the rear but the lack of legroom means neither teenagers nor toddlers in booster seats will be comfy. Hit the sweet spot of, say, seven- to 12-year olds, and you're laughing. This is, however, pretty much the perfect grand tourer for a couple looking to escape for a while. The ride is very comfortable in any drive mode, even Sport, and there is lots of leg- and headroom. The exhausts growl at the rear but the sound isn't tiring, and forward and side visibility are fine.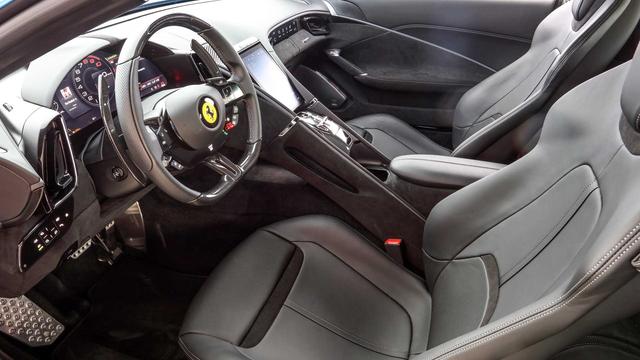 Features of the Ferrari Roma
It may be fiddly, but the new infotainment system, display and information is comprehensive, which is a big step up for a brand which only used to care about the powertrain. A tiny little touchpad on the steering wheel lets you flip between radio, media, sat-nav, drive modes and vehicle settings on the large, curved screen behind the steering wheel, and you can swap the displays over or fill the whole screen with the map if you prefer. A fun option, available on other Ferraris, is an additional screen on the passenger's side containing much of the same information and immersing them fully in the driving experience by letting them choose the music, watch the speed and more. Perhaps not one for more nervous co-pilots, though. Also on the steering wheel are a tiny wheel toggle for the wipers and that famous F1-inspired manettino switch, which now has the damper button in its centre. This means you can drive in Sport mode but choose the more comfortable setting for a smoother ride, for instance. Also, for the first time, Ferrari has added Race mode to a GT car, which gives you an idea of the character of the Roma. Further options include matching weekend bags, suitcases and a more powerful audio system.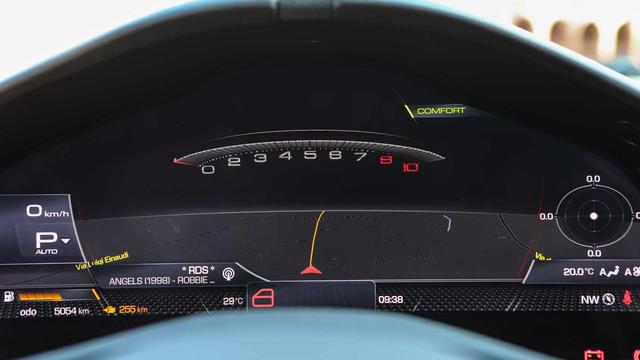 Power for a Ferrari Roma
As ever, the powertrain is sublime and the delivery and character of the acceleration are world-beating. With 620 horsepower at your toes 0-62mph happens in 3.4 seconds which is pretty much perfect - this isn't a flat-out bonkers supercar so doesn't have any need of breaking the 3.0-second barrier like some of them. Instead, it feels manageable and friendly, and is perfectly docile round town, the thin steering wheel taking the strain, that long bonnet pivoting easily in front of you, the bodywork hunching up over the front wheels into your vision. The sound, too, isn't obtrusive, which is important on long journeys. The question the Roma poses is why you'd buy anything more expensive from the Ferrari stable. It is enough of a drive to satisfy most enthusiasts on public roads and those who prefer to track their cars are never going to buy a GT-badged car anyway. Saying that we took it on a track and loved it - the brakes are strong and that lightweight dual-clutch transmission is silky smooth. The aerodynamics are enhanced by a three-stage spoiler, which deploys from the base of the rear screen into two different positions depending on the amount of downforce required. It's smart and, let's face it, looks ultra-cool. Much like this entire car.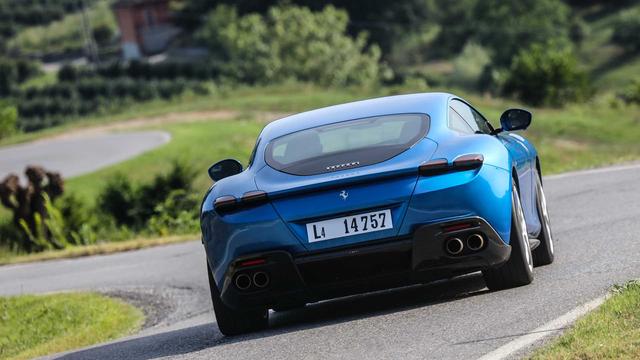 Standard equipment
Expect the following equipment on your Ferrari Roma Coupe. This may vary between trim levels.
Other vehicles in the Roma family Related articles and reviews
Video: Ferrari Roma Spider
Is the Ferrari Roma Spider as good as it looks? Rory heads to Sardinia to review the company's drop top alternative to the Roma.
Ferrari Roma Coupe (2020 - ) review
The Roma is a relatively affordable car by Ferrari standards but doesn't disappoint with its style, sense of drama or performance and in no way dilutes what makes the brand special