Citroen C3 Hatchback
New from £13,785 / £221 p/m
Is the Citroen C3 Hatchback a good car?
Read our expert review

Words by: Hannah Hill
"Now refreshed with a range of new features and a restyled grille for a more assertive look, the Citroen C3 is a distinctive option in the small hatchback field and makes up for a its somewhat unremarkable driving manners with its range of colourful personalisation options. It also offers a very accessible entry point to the range with a back-to-basics trim level that looks very good value indeed, while fancier versions add more features, tech and performance. There's no hybrid or electric option in the range as it stands, though this helps things simple and prices low."
Read the review by category
Running costs for a Citroen C3
Over the years Citroen's small cars have always been popular with young drivers for their affordability and cheap running costs, the addition of a basic trim level at a very attractive entry price helping maintain this tradition and potentially opening up new car ownership to those who might otherwise considered a used car instead. Paired with a small and efficient petrol engine the claimed fuel consumption matches that we've achieved with much pricier and more complicated hybridhatchbacks of this size, like the Renault Clio E-Tech Hybrid and Toyota Yaris. Prices rise quite quickly as you move up the range to access the more powerful engines and luxurious features like the automatic transmission option but, at its heart, the C3 is a traditional, affordable supermini with an appealing garnish of style.
Reliability of a Citroen C3
Citroen's warranty is three years or 60,000 miles, whichever comes first. This cover period is pretty standard in the industry and the Stellantis group of which Citroen is a member has a generally good reputation for building dependable cars, though if you seek more reassurance some rivals like Kia, MG and Hyundai offer longer warranties.
Safety for a Citroen C3
The C3 comes with a good array of safety kit as standard, with even that basic entry model getting the Safety Pack 1 with lane departure warning, a system that reads road signs and reminds you of the speed limit, a combined cruise control/speed limiter and a full complement of airbags. This also, kind of, extends to the exterior, with the signature Airbump side panels designed to shrug off dings from adjacent cars opening their doors into you in car parks. A pity, though, you only get automatic emergency braking as standard with the Safety Pack 2 on the top model.
How comfortable is the Citroen C3
In keeping with Citroen's comfort-oriented brand values road noise and other intrusions are well isolated, making for a relaxing and peaceful time at the wheel. Under its 'Citroen Advanced Comfort' branding the C3 also benefits from various measures to improve the sense of inner calm, including special foam within the seats that manages to be both soft and supportive. At a more practical level the cabin is also well-stocked with storage compartments, including a slot beneath the screen to stash your phone while it's connected to the car. As mentioned, the funky design on the inside and out is a unique selling point for the C3 and provides a chic-feeling environment.
Features of the Citroen C3
The personalisation options for the C3 are really appealing, and offer an astonishing 97 combinations of exterior colours via the seven different paint schemes, four two-tone roof options and four colour packs, the latter adding accents to the fog light surrounds and Airbumps. It's also neat how the shapes on the outside are replicated inside, though it's a shame the stylish wood effect option is only available on the top model. Meanwhile, digital dials are integrated into the touch-screen, so making a quick adjustment to the cabin temperature for example is longer and more fiddly than it should be, especially as the menus are confusing and the digital buttons are slow to react to your inputs.
Power for a Citroen C3
The engine range for the C3 comprises two versions of the same 1.2-litre 'Puretech' branded petrol engine, the more powerful one adding the option of an automatic gearbox. This was the version we drove, the 110 horsepower feeling adequate though perhaps losing a little bit of response with this gearbox and performance is best described as adequate rather than sparkling. The automatic is also more expensive, but will make life easier if you do a lot of your driving around town. There's a diesel as well, but only on the top of the range trim so it's expensive and makes less sense in a small car like this.
Lease deals
These deals are based on terms of 8,000 miles, for a 36 month lease with a 6 months initial payment.
Standard equipment
Expect the following equipment on your Citroen C3 Hatchback. This may vary between trim levels.
Other vehicles in the C3 family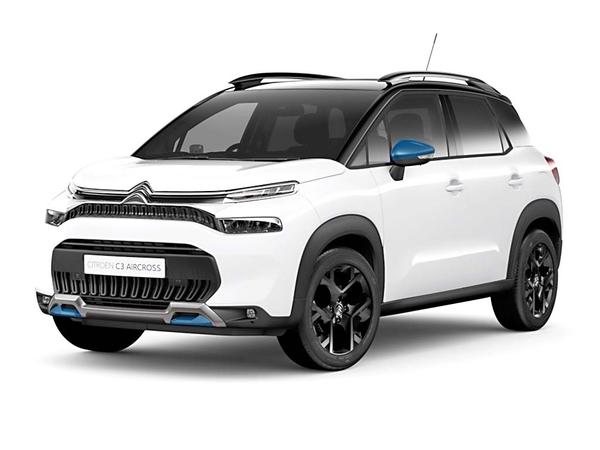 C3 Aircross SUV
Competitive pricing

Distinctive looks

Comfortable and practical
Related articles and reviews