BMW iX3
New from £58,850 / £924 p/m
How long will it take to charge?
Results based on 80.00kWh BMW iX3 battery
0

For a part charge (up to 0 miles)

0

For an 0% charge 0
You can charge this vehicle in 32 minutes at its fastest charging speed of 150 kW
* We have used data from the manufacturer to estimate these charging times, they are only a guide. Charging times for some speeds may not have been provided.
Is the BMW iX3 SUV a good car?
Read our expert review

Words by: Auto Trader
"As an all-electric version of one of its most popular SUVs, the iX3 looks like an automatic smash hit for BMW. Its range between charges is impressive, but its performance is only middling when compared to other expensive electric SUVs, even if the electric X3's refinement is superb. Click here for our review of the regular petrol, diesel and hybrid versions of the X3."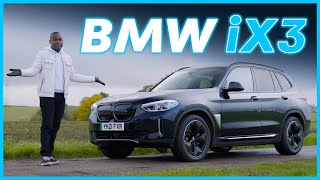 Read the review by category
Running costs for a BMW iX3
The BMW iX3 launches with well-equipped but expensive trim levels, though pricing is expected to settle down as the range expands to include more affordable variants. Overall the key focus for BMW in developing the iX3 was to learn lessons from its work on the i3. And so the iX3 has an 80kWh battery and delivers 279 miles of range. BMW also claims it has been built in a CO2-neutral factory, and that goes for the battery cells, too. That long range between charges should mean most owners of the iX3 won't have to rely on the public charging network. Those that can install a home charging point will be able to match their charging schedule to their home electricity tariff and potentially claw back a decent percentage of the monthly budget. On top of all that, fewer moving parts, in comparison to a petrol, diesel or hybrid alternative, will mean low servicing and maintenance costs. Tax incentives like VED and Benefit In Kind continue to make electric cars an appealing choice for those hoping to keep their running costs down.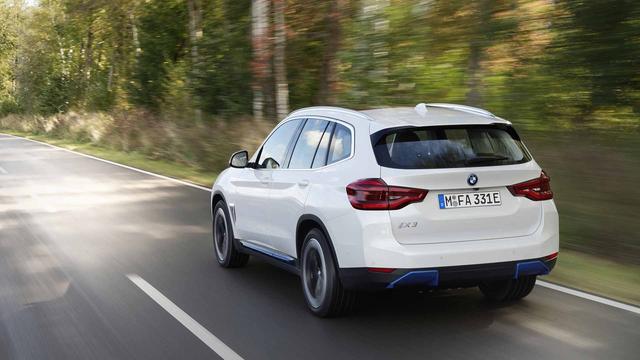 Reliability of a BMW iX3
As the first of the BMW platforms to arrive in all of its variants, we will need to wait for the next JD Power Vehicle Dependability Study to figure out where the all-electric iX3 really stands. It has a good chance, though. Virtually every option from the diesel, petrol and plug-in hybrid X3s can be added to the standard iX3 and it uses the same chassis and suspension hardware, too. Finally, electric cars are mechanically simpler than internal combustion models, so there is theoretically less to go wrong.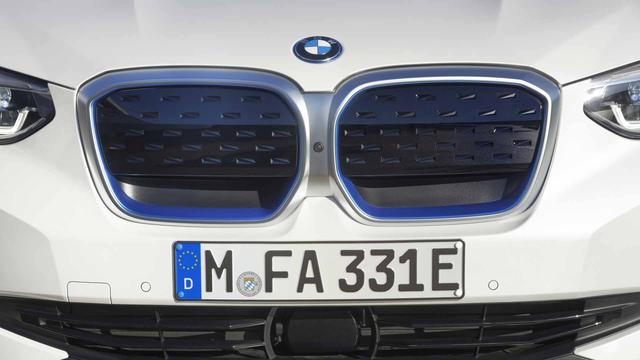 Safety for a BMW iX3
The BMW X3 has long been one of its class leaders for crash-avoidance and crash safety, and the iX3 picks up with the same hardware and adds some extra software. It begins with the driver-assistance systems, which allow the driver to come within touching distance of Level 3 self-driving at low speeds. Its self-centring in lanes is far better than it has ever been, and the hardware suite for driver assistance allows you to physically see not just each vehicle around you (ahead, behind and alongside) on the multi-media display screen, but which type of vehicle it is. Its active cruise control uses sophisticated blind-spot detection systems, along with mitigation for rear-end collisions and cross-traffic hazards in reverse. Its crash protection suite runs to front and side airbags for the driver and front passenger, head airbags for the four outer seats, seat-belt pre-tensioners, belt-force limiters in the front and even tyre pressure indicators.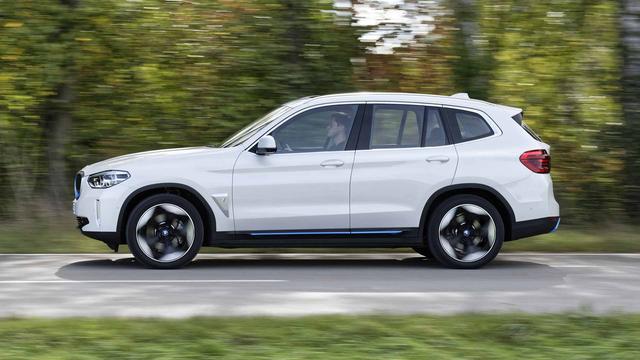 How comfortable is the BMW iX3
One of the hidden benefits of electric cars tends to be ride comfort, and the BMW iX3 is no exception. The heavy battery pack gives the car a much lower centre of gravity than that of any other BMW X3, and the iX3 does a remarkable impression of steamrollering bumps in the road, while maintaining its handling poise. The iX3 uses adaptive suspension with electronically-controlled dampers that can switch between comfort and sport settings, and the computer governing all of this judges it superbly. It rides with a class and elegance that defies the SUV body type, and that carries over inside the car, with the heated, electric seats promising support for easy multi-hour drive days. The overall package is similar in length, wheelbase, width and height to the standard X3, though the weight is another matter, the extra mass limiting the five-seater's payload to only 540kg. Nonetheless, the iX3 is rated to tow up to 750kg. The luggage area can take 510 litres, rising to 1560 litres with the 40:20:40 split-fold rear seat folded down.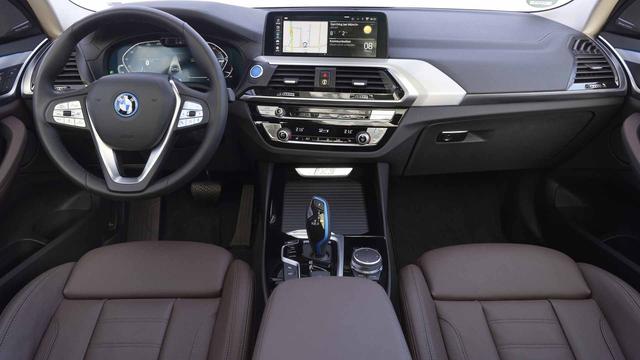 Features of the BMW iX3
There are few, but very measured, differences in the interior of the BMW iX3 compared to any other X3. Firstly, there is the abundance of blue around the gear controls, the centre console, the door sills and even the start-stop button. BMW has made quite a deal about using composer Hans Zimmer to help with the artificially enhanced electric motor sounds that come from internal and external speakers on the iX3, and that sound is altered with changes in driving modes and 'enthusiasm'. The reality is that the iX3 sounds at its best when it's behaving purely, as a very quiet, calm place to be, without enhancement. The top spec versions the iX3 launches with come loaded with equipment, including a panoramic sunroof, electric and heated seats, ambient lighting, automatic tailgate and BMW's full suite of infotainment and connectivity features.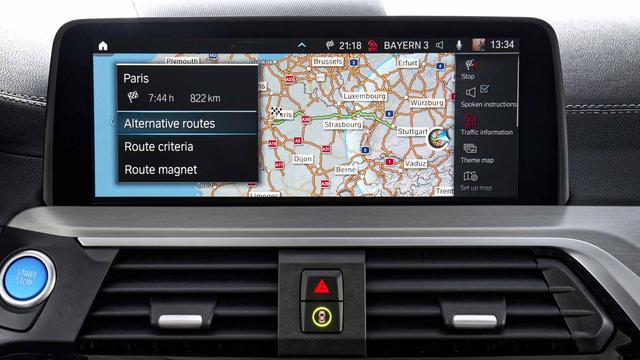 Power for a BMW iX3
The numbers tell an impressive story at first, as the iX3's electric motor puts out 286 horsepower, but the BMW is a heavy machine, so it doesn't feel like a high-performance SUV. Nonetheless, it'll prove adequately brisk for most. More impressively, the single-speed automatic transmission means it's silky smooth in its manners, whether the car is silently creeping along in traffic or threading along a B-road in a hilly area. It can be charged to 80 per cent in 34 minutes on a 150kW charger.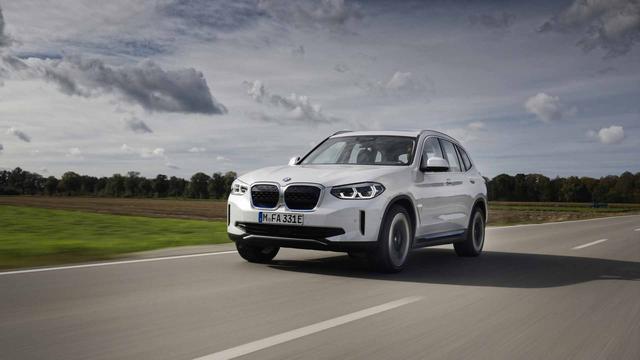 Lease deals
These deals are based on terms of 8,000 miles, for a 36 month lease with a 6 months initial payment.
Standard equipment
Expect the following equipment on your BMW iX3 SUV. This may vary between trim levels.
Other vehicles in the iX3 family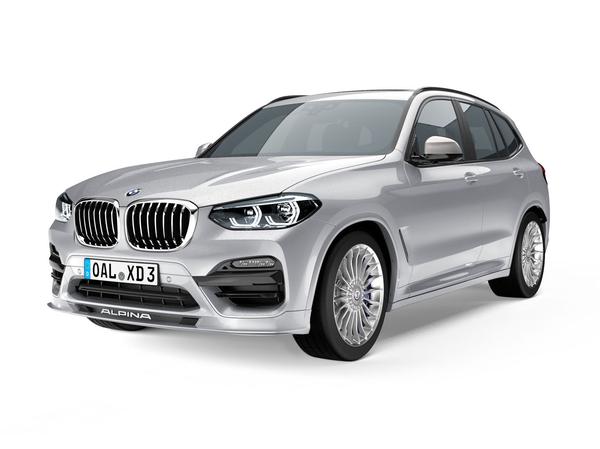 Alpina XD3 SUV
Rare badge

Strong residuals

Great performance
Related articles and reviews
BMW iX3 SUV (2021 - ) review
The BMW iX3 is an electric version of the company's already successful X3 SUV, delivering excellent refinement and a long range between charges