News
Win a Vauxhall Corsa-e from Auto Trader
You've got a chance to win a brand new electric car every month - this month, it's the Vauxhall Corsa-e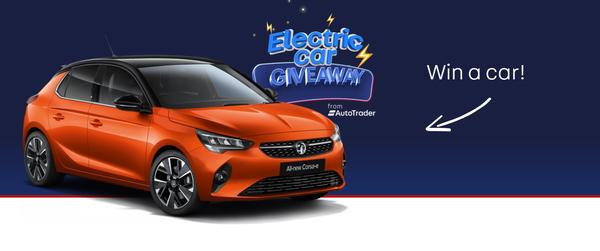 This August, Auto Trader are giving away a Vauxhall Corsa-e, in premium Power Orange, worth £33,000. You'll also get up to £1,200 towards your car insurance, covered by Compare the Market.
Simply fill in the
prize draw form
at any time between 1 August 2021 and 31 August 2021 and this brand-new Vauxhall Corsa-e could be yours for free! There are no catches or hidden fees – you just have to be over 18 years old, and a UK resident holding a full valid driver's licence. You can check out the full
terms and conditions here
. We've already given away a
Tesla Model 3
, a
Renault Twizy
and a Mini Hatch – and we're not stopping! We're giving away a brand-new electric car every month until 31st March 2022, so remember to check back and enter the next prize draw.
Get to know… Vauxhall Corsa-e
The Vauxhall Corsa-e comes with a 50kWh Lithium-ion battery, which should take around seven and half hours to charge from a standard overnight home charger and less than an hour at a rapid charging point.
There's an official range of 209 miles, a 0-62 mph sprint of 7.6 seconds and three drive modes: normal, eco and sport. Like other battery-electric cars, it produces 0kg of carbon emissions which means you'll be eligible for the
electric car tax break
and wouldn't have to pay to enter any of the UK's proposed
clean air zones
(including London's ULEZ). We judged the Vauxhall Corsa-e to perfectly suit the daily urban commute – it's cheap to run and quick to steer, and also uses a regenarative breaking system to recoup some power as you stop-start in traffic. The Corsa-e's interior is sophisticated, with smooth black surfaces and an array of quality materials that are well put together. There's also a good sized boot and enough seat space for passengers to get comfy. All Corsas come with a decent amount of standard safety kit, and the Corsa-e include lane departure technology that will warn you when you start to drift out of your lane, then tweak the steering to nudge you back in if needed.
Read more in Erin's expert review
.