Long Term Review
Living with a… Ford Focus Active X Estate
SUVs might be the most popular type of car right now, with the humble estate car a bit forgotten. So how about an SUV-inspired estate car? Does the Ford Focus Active estate tick all the boxes? Rachael Hogg finds out.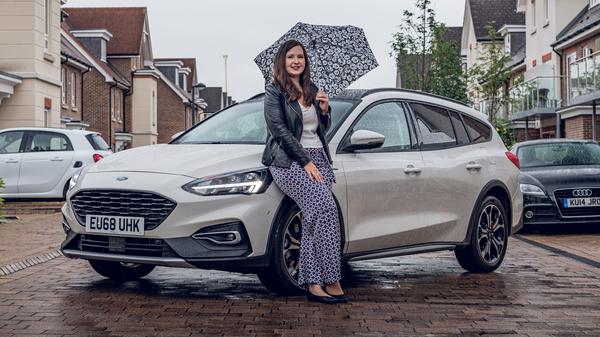 "Oh no no no, I'm a rocket (wo)man, burning up my fuel out here alone." This month I've said hello to my new spaceship for the next six months. It's the
Ford Focus
Active X Estate.
You might be wondering what the 'Active X' bit stands for. It's an
SUV
-inspired, slightly more rugged version of the Ford Focus Estate. What that translates to is some aggressive-looking bumpers, black plastic cladding around the sills and arches, roof rails, and a slightly raised ride height, thanks to bigger tyres and a different suspension from the 'normal' car. This isn't an SUV by any stretch of the imagination, but it's an estate that likes the look of an SUV, and has nicked a few bits for a night out. I've been used to life with a 1.0-litre, three-cylinder turbocharged petrol engine, so to switch that up for a 2.0-litre diesel with 150 horsepower feels like switching a barge for a rocket ship. Plenty of power for getting out of any sticky situation, although if you put your foot down a bit too forcefully, it's quite easy to spin up the front wheels.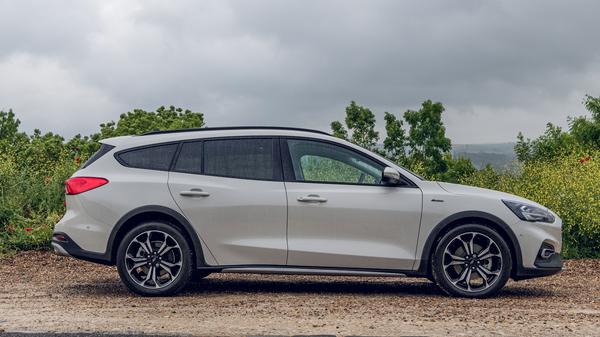 I may have ticked one or two boxes on the 'options' list, although according to the configurator, there are 12 extras and 52 dealer-fitted accessories I could have gone for, so I think I've been quite restrained.
Unusually for me I went for Metropolis White paint (£700), but it's not any ordinary white. It's a sparkly, dense cream colour which looks really lovely, and even better, it doesn't show up dirt too badly. Quite a few of the other features I've opted for are tech or safety bits: the hands-free tailgate is really convenient (except when friends or family try to open or close it like a normal boot, ARGH); and the head-up display is always handy, meaning you don't have to look down to check your speed or sat-nav directions. Ford's B&O audio system is one of the best on the market, and as a £550 extra it's definitely worth considering. Really clear treble, decent bass, very good sound. The blind spot information system has already proved a godsend in the first month on the M25, showing up with an orange warning light on your door mirror if there's a car lurking in your blind spot. With the standard of driving on the M25, it really does help… I also went for two of Ford's 'packs', which combine a few desirable items in one hit. The driver assistance pack gets you traffic sign recognition; auto high beam; and adaptive cruise control with lane centring assist and stop & go (if you've got an auto, which I do). The convenience pack gets you a rear wide-view camera; door edge protectors; and active park assist 2, which also takes control of the accelerator, gearshift and braking (again on the auto). I'm really looking forward to my next six months with my spaceship. I think we're going to get along just fine.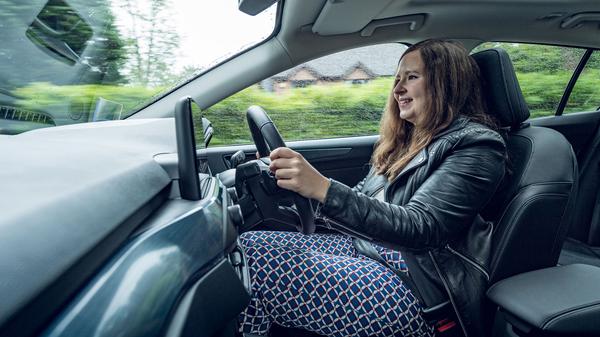 Month two: I get the whole estate car thing now
In general, motoring journalists love estate cars. It's something I noticed early on in my career: there were lots of them bemoaning the rise of SUVs, and trying to persuade the world to save the humble estate.
You sometimes forget in this job that the majority of people do not have the same obsession, love or knowledge for cars that we have. I'll admit it, we are guilty of throwing around words or phrases that people don't understand. So let's take it back to basics. An estate car is, basically, a standard hatchback or saloon car, with an extended rear end. So it's packing a bigger booty, which usually means more room to transport all that stuff you might have, be it sports equipment - ice hockey sticks, skis, snowboards, really long tennis rackets - ironing boards, or just family 'stuff'. Historically, estate cars have had a bit of a bad rep. They were boxes on wheels. Dull. Boring. The car for when you've given up a bit, but still need space. My housemate laughed at me the first time I bought my beautiful spaceship home, and said: "Wow, you've officially hit middle age," which is always lovely to hear when you're not yet 30. She quickly changed her mind after the first passenger ride though, and took it all back. All hail the spaceship.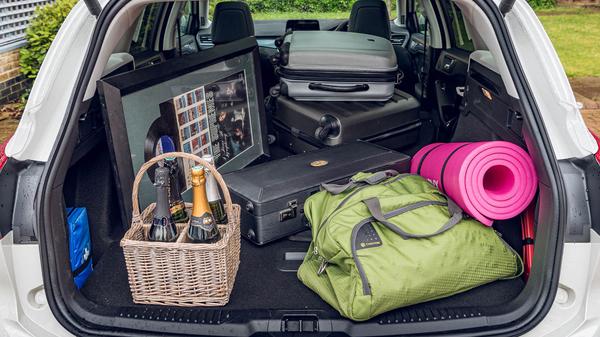 These days, estate cars are having a bit of a renaissance. While sales might be way behind SUVs as a segment, an estate should 100% be on your list of cars to consider if you enjoy driving, want something stylish (honestly, estates are looking really good right now), and need something with a decent amount of space. The last few years have seen new or updated versions of the likes of the
Volvo V60
/
V90
estates,
Peugeot 508 SW
,
Porsche Panamera
,
Mercedes CLA Shooting Brake
,
BMW 5 Series Touring
, and of course, the Ford Focus Active X Estate hit the market. These are all very good cars. Give an estate a go!
Honestly, I didn't get the motoring journalist estate fan club thing at first. But on month two of living with my Ford Focus Active X Estate, I am a fully paid up member. It's great. The space! It's easy to drive! It has all the kit I need! It's comfortable! So far, so good. Me and my spaceship have been on some adventures, and it's handled anything I can throw at it so far.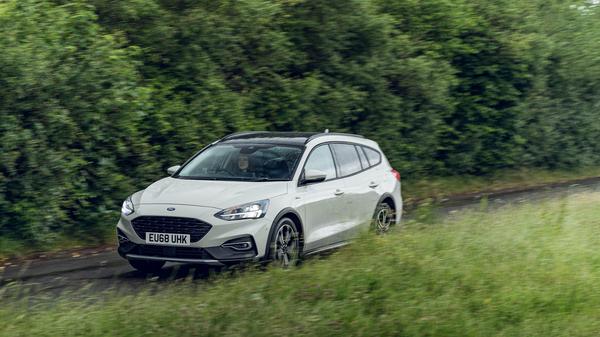 Month three: Clocking up the motorway miles
I am rather bored of the M25. I've been seeing a 75-mile stretch of it, twice a day, several times a week, for a few weeks now. The level of driving incompetence is quite something. More than any other motorway I've driven, the number of cars driving in the second or third lane, when there isn't a single thing in the first lane, is astounding. Couple that with the number of drivers who think driving at 85mph and then slowing down to 70 for the cameras on the smart motorway sections won't get them a ticket, and you've got a bit of a mess.
However, despite the moaning, the Ford Focus Active X Estate is a great car to do the M25 slog in. The 5am starts are made much easier with the very toasty heated seats, the really decent sound system - the Ford B&O unit is better than the ones in some considerably more expensive cars I've driven - comfy seats and comfy ride. My Focus has adaptive cruise control. You choose the speed you want and the car will drive at that speed. But, it does more than that. If the built-in radar sensor detects a vehicle ahead, it will slow down the car to keep a pre-set distance. Once the car in front moves, or you switch lanes, it accelerates for you again. Quite a few systems like this get caught out, but I've never had any issues with the one on the Focus. It's a great feature to have if you're doing a lot of motorway driving, especially on a road like the M25, which usually requires plenty of accelerating and decelerating.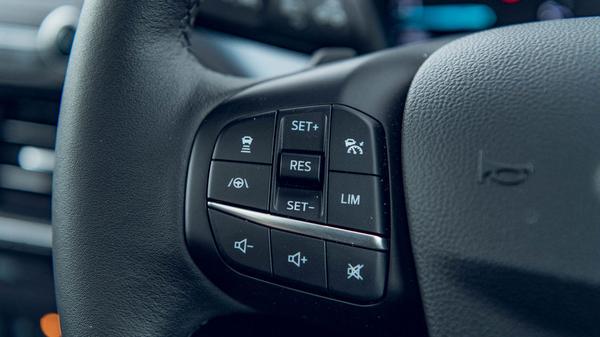 The blind spot assist system also really helps with motorway driving. If a car is in your blind spot, you'll see an orange light on the door mirrors. If you indicate and try to pull over, the light will flash to warn you that there's a car there.
I have noticed a couple of small annoying aspects to the car's technology though. The traffic sign recognition system, which reads signs, displays the speed limit, and flashes if you drive over the speed limit, does get caught out. If there's a speed sign on a side road, or it's hidden behind a bush or something, quite often it reads it incorrectly. With mandatory speed limiters coming into force in just a couple of years, it concerns me that the technology isn't up to scratch yet. What happens if you're driving on a motorway at 70mph, and the system misreads a sign for 40mph? Will the car slam on the brakes, and potentially cause a serious accident? I am all for improving road safety, and reducing the number of crashes, but this only works if the technology is there, and I'm not sure it is yet. It's clever, and for the most part it works. But the number of times it's caught out isn't insignificant either…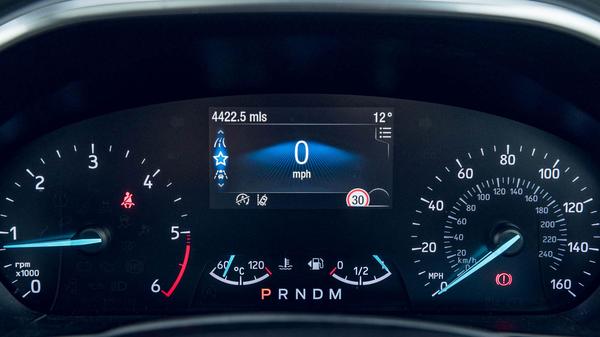 Key specs
-Model: Ford Focus Active X Estate 2.0L EcoBlue start/stop 8-speed auto
-List price: £29,355 -Price as tested: £33,705 -Engine/gearbox: 2.0-litre 4cyl turbo diesel, eight-speed automatic -Power: 150 horsepower -Top speed: 127mph -0-62mph: 9.3 seconds -Economy: 44.1-51.4mpg -CO2 / BIK tax liability: 117g/km / 28% -Boot space: 608/1650 litres Extras fitted to our long-termer: Metropolis White paint £700 Hands-free tailgate £450 Wireless charging pad £100 B&O Audio system with 360-degree sound, 10 speakers, 675 watts of amplifier power and a digital sound processor £550 Blind spot information system £400 LED headlights £750 Head-up display £400 Driver assistance pack £500 Convenience pack £500