Long Term Review
Audi TT S long-term test review – fifth report
To find out if our TT S is the perfect pick of the range, we drive the cheapest TT Roadster, and the most expensive back to back, to find out if you really do get what you pay for...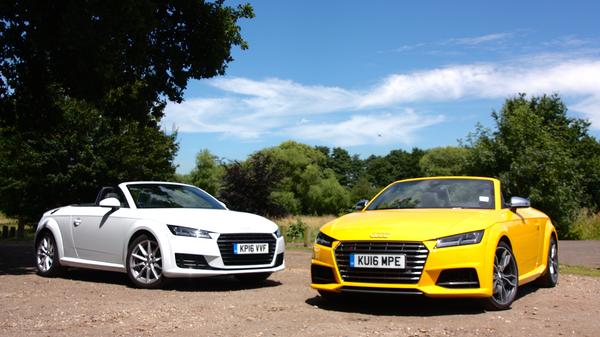 Fifth Report: September
Mileage: 5,015 Costs this month: None
There's no better way to assess a new car than by driving the full spectrum of the range. A go in everything from the lowliest 'S' with plastic wheel covers, no air-con, and a series of sad blanking plates where the extra features should be, right up to the all-singing, all-dancing range-topper, with electric everything, gadgets galore and the biggest engine.
Book-ending a model like this gives you the perfect overview of what customers can expect at each price range, which options are good value, and help us find the version that is just right. You could call this the 'Goldilocks and the three bears' approach to road testing… Sadly, and perhaps contrary to what you might expect, it's not something we get to do all that often in this job. Car makers always push high-spec models as press cars, so the rare occasions when you get in one with cloth seats, small wheels and steel suspension are worth savouring – driving these cars often tells you a lot about the model in question. This brings me nicely back to the TT Roadster, which by a happy accident I found myself driving in three very different forms last month: The new, entry-level 1.8-litre TFSI – a snip at £29,000 – and at double the price, the
fire-breathing, 395bhp, TT RS Roadster.
So how did they each stack up to our faithful yellow friend KU16 MPE, and which one is best?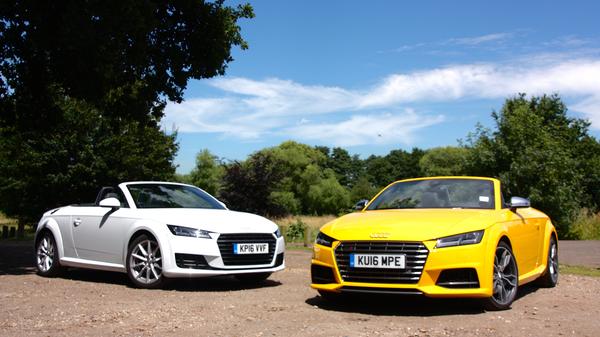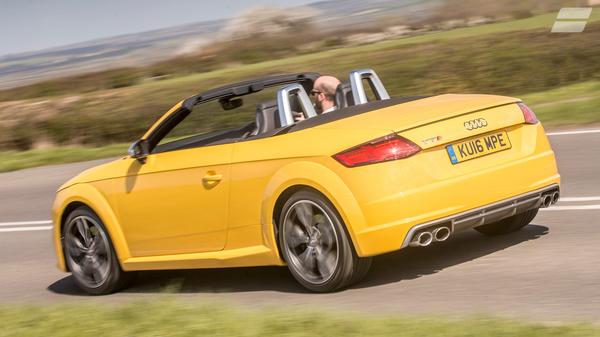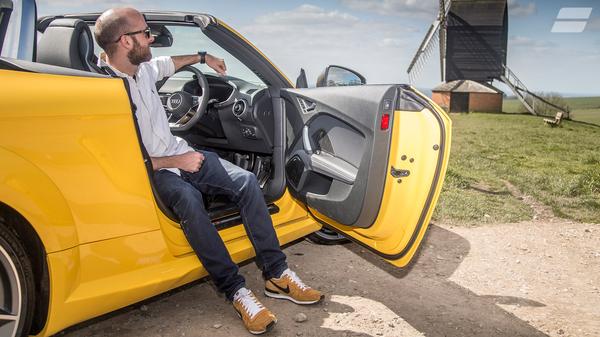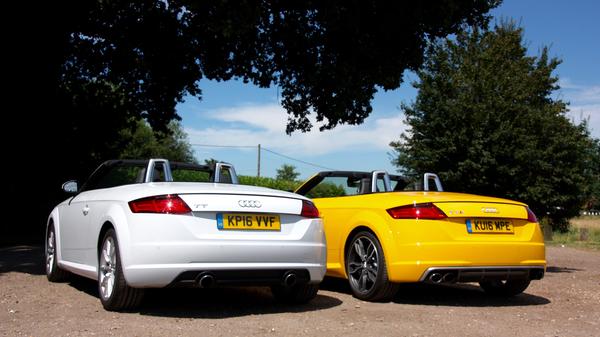 Lemon and Herb
Let's start with the lemon and herb 1.8, before we get all carried away with the extra hot RS. This size of engine has been used in the TT for years, and although the difference in power to TT S is a vast chasm of 128bhp (as much grunt as an entire Mazda MX-5) the two units feel remarkably similar in their delivery – smooth, punchy, and very eager to rev.
Of course, you need to work a lot harder to extract the performance in the slower car, but drop a gear every now and again, and it genuinely feels swift enough to still be sporty. It lacks the deep growl of the 2.0-litre, and the hiss of the turbo induction is quieter, so there are fewer incentives to drive it hard. If you do, the grip, steering, and composure are all just about close enough to the TT S to hang on its coat tails, even without four-wheel drive. What was more surprising is just how similar they look. A casual observer might not gawp at the 1.8 with quite the same intensity as our bright yellow S, but with 18-inch wheels, a pair of exhausts, and silver roll hoops, it's hard to see where the extra £15,000 has been spent. I was convinced that driving this model would make me miss our long-termer, but actually it just underscored how good the standard TT is. We went for a brisk late night journey from the coast in Brighton back to London, on a warm night, with empty country roads and the roof down – exactly the sort of drive convertibles are built for – and it never once occurred to me that I needed any more power, or two additional driven wheels to have more fun. I did expect much higher MPG though, averaging 37mpg over the week, with a mixture of fast driving and commuting, only around 5mpg better than the 'S' if we are driving it carefully. Sure, dropping trinkets like the digital climate controls in the air vents and the Super Sports seats makes the interior seem a little less special, but the standard virtual cockpit, and the spot-on driving position still put the base TT well ahead of the Mercedes SLC and BMW Z4.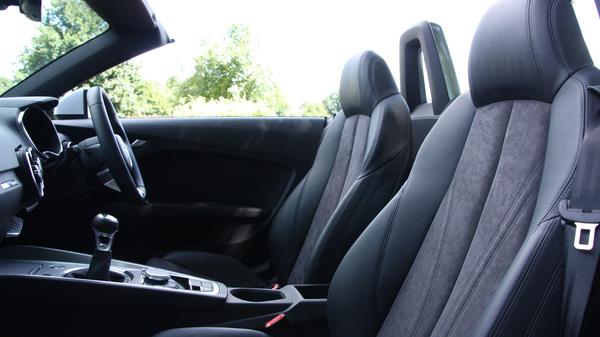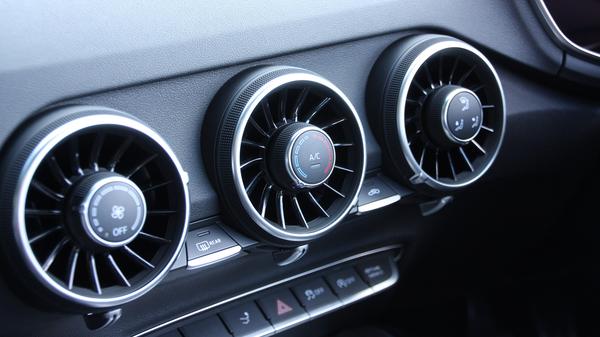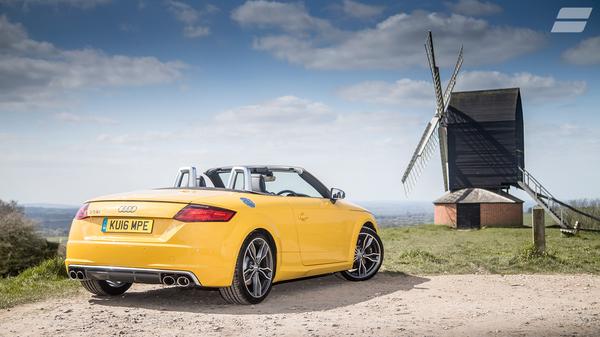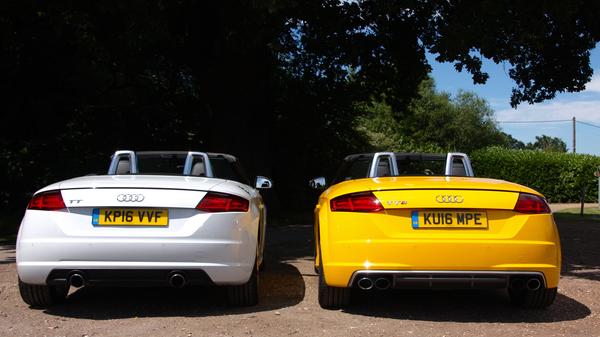 Extra Hot Chilli
Now the new TT RS – that's a different matter entirely. I have said previously our TT S probably had more power than it really needed, and its motor spins even more freely now that we've clocked over 5,000 miles, but it pales in comparison to the 2.5-litre, 395bhp RS.
Although the new RS is only available as an auto (sorry three-pedal sports car fans) its new, lighter five-cylinder engine is worthy of the price of admission on its own. It sounds so good, and pulls so hard that it imbues the TT with supercar-like pace and drama. Corners rush up and disappear in a flash, and that angry, shouty exhaust is worth having the roof down for. Even the styling upgrades, which seemed garish when the car was revealed, actually look the part in the metal. The fixed rear spoiler, wider air intakes, 20-inch wheels and matte Nardo Grey paint all give it the instant kerb appeal of a much pricier car – it's a stunner. Could you realistically use the extra performance in the UK? Depends where you live of course, but I highly doubt it. We got the benefit of deserted Spanish roads and a deserted Spanish racetrack (enough room to overheat the brakes and wear the tyres), but this is not really a track car, and on the road I would argue the TT S is all you really need. Likewise, our TT S comes with adaptive magnetic dampers as standard (an option on the RS) which helps it better deal with rough British Tarmac, something that the new RS feels like it'll sorely need to make it a liveable daily driver back home, unless you're a total masochist.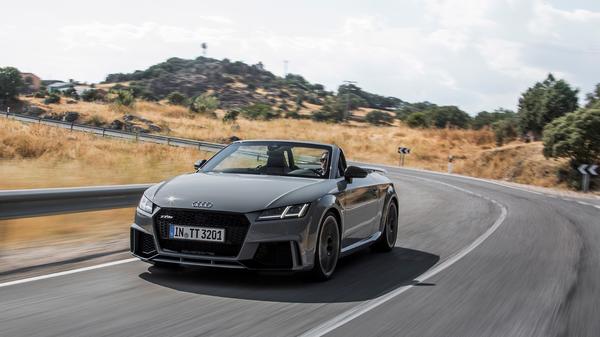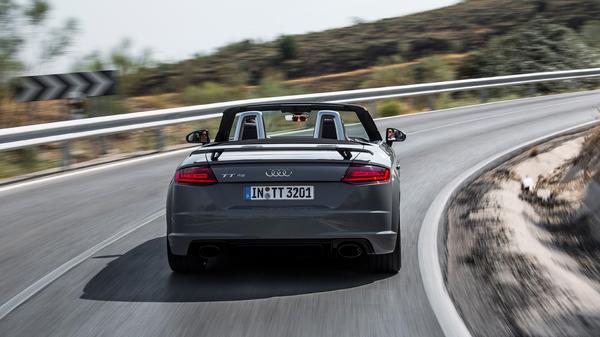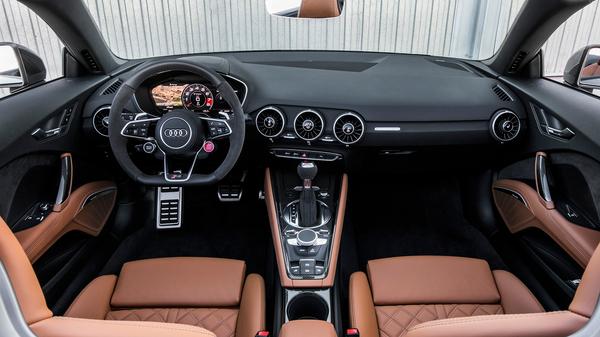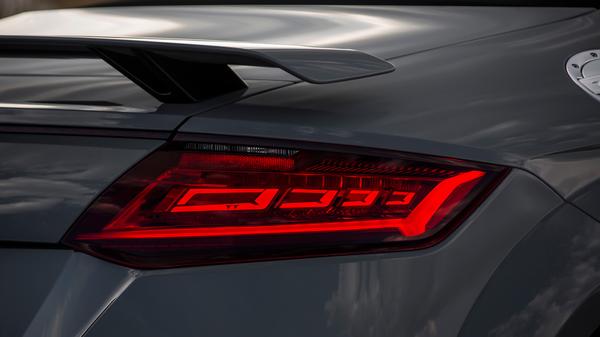 Which bowl of porridge is just right? All three have their strengths and weaknesses, but in all honesty, I think the absolute pick of the TT Roadster range is the 2.0 TFSI, with a manual. Just enough performance, just enough driver interaction, all the elements of a fine roadster.
I do, naturally prefer our 'S'. It's more exciting, but I like a dash of spice, and so I'm growing anxious about its imminent departure – a few more memorable drives definitely need to be arranged. However, you'd never once feel short-changed if you got the 2.0, except of course for those rare times you encounter one of the fruiter models in traffic. Unlike the
Mazda MX-5
we mentioned, the TT is not a drop-top that is best at its simplest, and while the TT RS features one of the best engines we've tried in years, we suspect it's too hot (and too harsh) for most UK roadster buyers. The RS coupe on the other hand...
Key Specs:
Model: Audi TT S Roadster 2.0 TFSI Quattro
Price as tested: £46,675
Engine: 2.0-litre turbocharged petrol, six-speed manual gearbox
Power: 306bhp
Torque: 280lb ft
Top speed: 155mph
0-62mph: 5.2 seconds
Economy: 37.7mpg
CO2/BIK tax liability: 173g/km/31%
Boot space: 280 litres
Optional Equipment:
An exhaustive list of everything fitted to our long-termer, and a breakdown of the price.
Base price: £40,450
Vegas Yellow paint: £550 Storage and luggage pack: £175 Comfort and Sound pack: £1,460 Technology Pack with Audi Connect: £1,795 Open-Top Driving Pack: £1,000 Audi Parking system plus, front and rear: £410 Cruise control: £295