Feature
Winter is coming: tackling Iceland in an MX-5
With colder weather arriving, most people will be putting their convertibles away to hibernate for winter. We went to Iceland in a Mazda MX-5 to find out why they shouldn't.
Boldly going where no roadster has gone before...
British and Icelandic peoples have a lot in common. Both love drinking heavily, are fiercely independent, were raided by Vikings, and are used to changeable, inclement weather. Oh, and of course have a keen love of football, especially after
the result this summer
.
One obvious point of difference though, comes in our automotive tastes. While we Brits certainly love our SUVs – the popularity of which shows no signs of slowing – the Icelandic people drive proper off-roaders, which they frequently actually take off-road. Their interest in 4x4s stems from an essential need to traverse the harsh environment that surrounds them, not to lord it over other drivers at the school gates. Winters here are so extreme that they go full hog-wild. Monster truck tyres, jacked-up suspension, and bull bars are all common sites, sometimes on stuff as incongruous as a Mercedes Vito Van.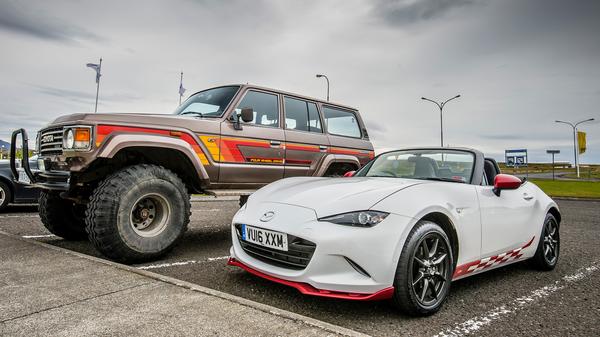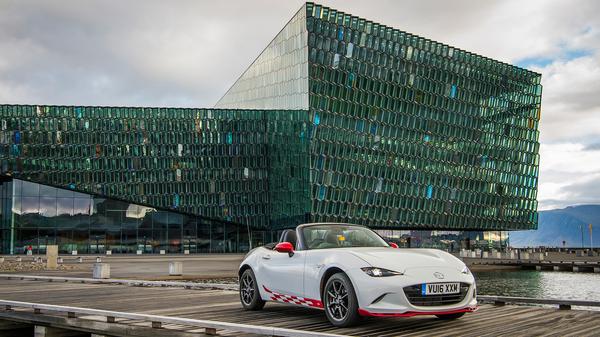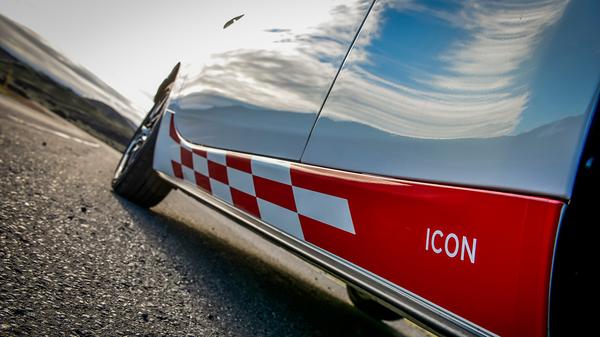 So that explains why we have soft-roaders, and they have rock-roaders. This is where things get interesting though. Even the most enthusiastic travel agent will hardly describe the UK as a sunbather's paradise, yet we buy more convertibles than any other country in Europe.
Iceland has almost no drop-tops. You'll see more fantasy trolls here than roadsters, despite it also having some of the most jaw-dropping scenery anywhere in the world. So what is the explanation for this difference. Boundless optimism on our behalf, or something deeper? To discover the answers to these questions, we went on a goodwill mission to the frozen North, in UK-plated versions of the
Mazda MX-5 Icon Edition
. Our mission was to see why roadsters are rare here, and to test if the little Mazda could cope with the conditions. Ensuring as many of the 332,000 populace saw our ambassadorial convoy as possible, we didn't do things by halves: a whole lap of the island, 830 miles worth of snaking coastal Tarmac through looming mountain ranges, smouldering vents and moonscapes beckoned.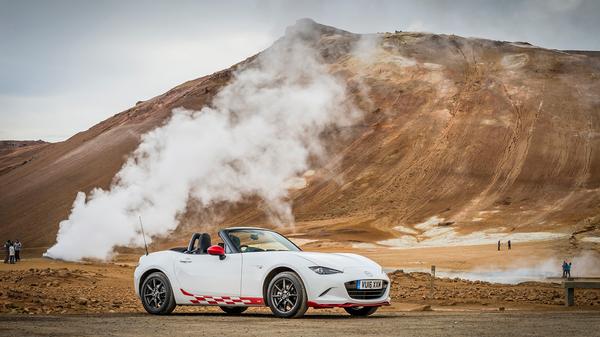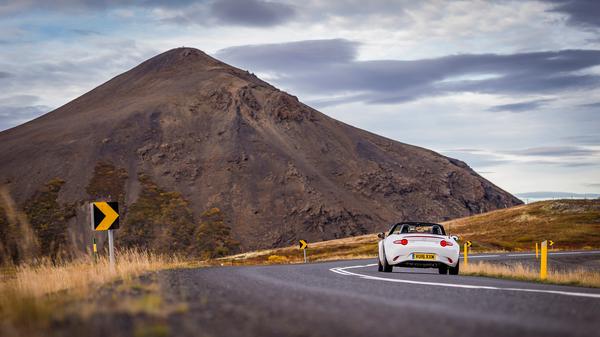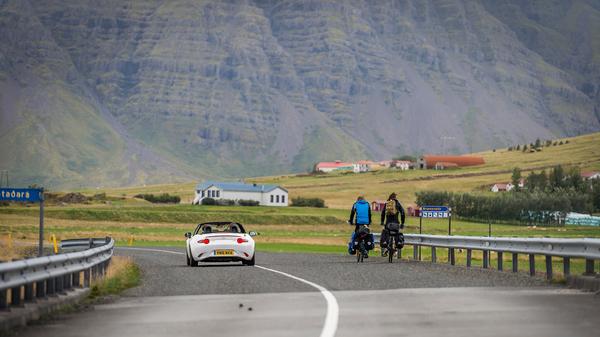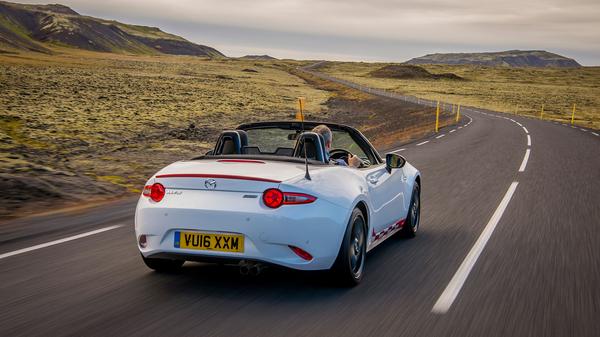 Roof down, hats on, let's go
Most sightseers do this journey in a week or longer. Some hardy nutters even cycle this road, but we tackled the entire drive in just two days. And to prove that convertibles really can hack these conditions, we kept the roof firmly open for the duration. Hats on, let's go.
This decision turned out to be controversial. People stared, gaping open-mouthed at the sight of a pair of scruffy Brits zooming along with the roof off, in a bright white sports car. In fact, this sight was so unusual that we made it into several tourist's holiday snaps. With light drizzle stinging our faces, and grey ominous-looking clouds hanging heavily on the jagged tips of the sheer rock cliffs either side of the deserted road, it didn't take long to start worrying that perhaps this whole enterprise might have been a bad idea after all. Undeterred, with vents blasting on full and heated seats set to 'Volcanic', we pressed on, and started to enjoy the unique set of driving conditions that Iceland provides. Its people are spread so thinly that traffic outside of Reykjavik simply does not exist. The roads are fast, flowing and well-sighted, so the temptation to put your foot down becomes overwhelming.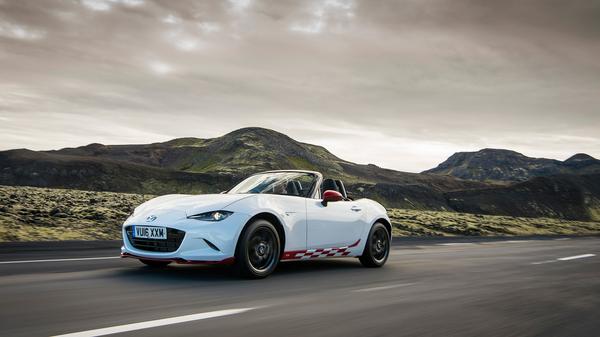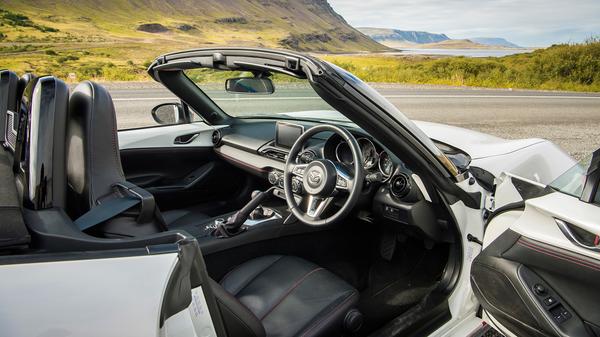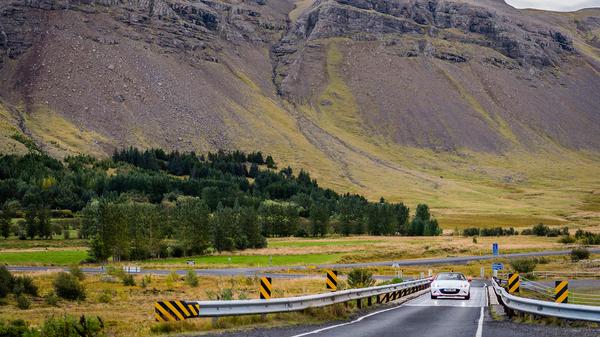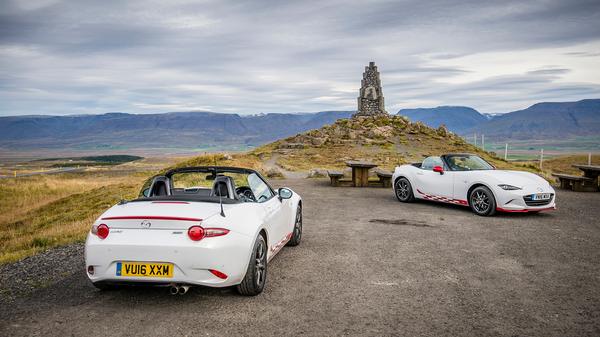 Power struggles and world-beating Vistas
Luckily for us, the modest outputs of the MX-5 (129bhp and 111lb ft respectively) mean you can give into that urge without falling foul of the local enforcement. There is a blanket 55mph speed limit, and the punishing fines for speeding mean any more power under the bonnet would be a waste. If there's one country where speed doesn't matter, Iceland is it.
The experience of watching this raw, untamed and ever-changing landscape unfold in full panorama can not be overstated. The spectacular geography of this place is such a feast for the eyes that not having a convertible to enjoy it in really does seem like a waste. Sure, we were enjoying the balmy September temperatures (8ºC), but in the summer there is sunlight around the clock, so during those months you could get a tan while driving at night. As the stunning sights, absence of sounds and unpleasant smells (sulphurous fumes pour from the rocky surface at several points along the route) roll through the cabin, you can engage with the environment in a way that would be impossible in any other vehicle. With rear-wheel drive and summer tyres, the icy, pock-marked gravel roads of Iceland's interior are off-limits to the MX-5, but even on the unpaved sections of our route the Mazda coped admirably. It's soft enough to absorb ruts and potholes, seemed resistant to punctures despite some nasty rocks, and slithering the car through corners on a low-grip surface was a hell of a lot more fun than it would have been tip-toeing around these bends in a 4x4.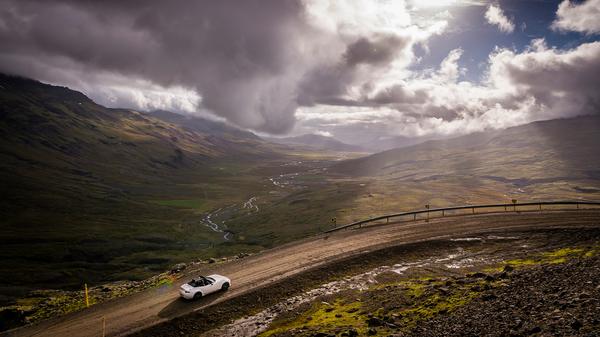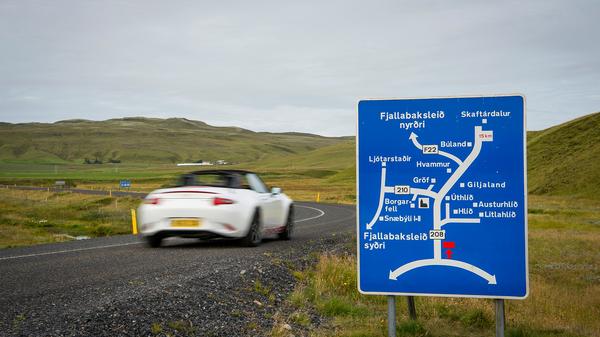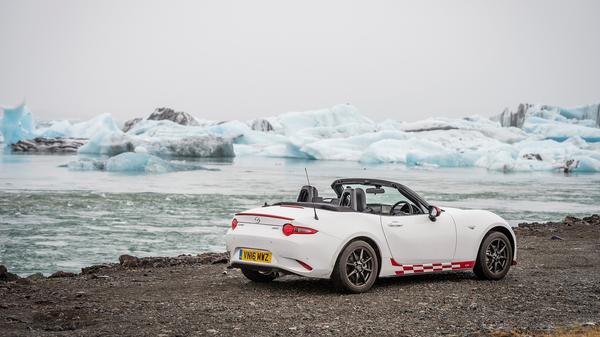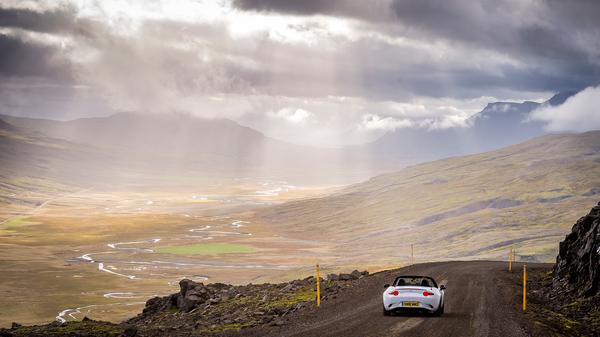 So far then, we could think of no reason or barrier to convertible ownership in this country. Yet as we approached the final third of the journey, where Europe's largest glacier breaks apart and empties its vast icy expanse into the Atlantic Ocean, the air cooled noticeably, storm clouds appeared, and the rain changed from drizzle to something more insistent.
Still, as the saying goes, "There's no such thing as bad weather, just bad clothing," so we zipped our jackets up a little tighter, hunkered down into the MX-5's snug, durable cabin, and pressed on with the final leg. The reward was to watch the sunset appear beneath the black clouds, a line of orange fire beneath a charcoal sky, and to attract yet more stunned attention from other road users. Petrol stations are few and far between here, and even with the 1.5-litre's frugal 47.1mpg, we came perilously close to running out of fuel. Getting stranded is not something you want to do when the nearest rescue stop is a three-hour drive away. These problems aside though, our drive taught us that cars like the MX-5 really can work here. If you drive a convertible back in the UK, you really have absolutely no excuse for not driving yours, roof-off, all year round. Winter might be coming, but it shouldn't stop you from having fun, and it certainly doesn't mean you need four-wheel drive. As for Iceland, I sense a gap in the market for a rental car company that specialises in drop-tops, and operates only in the milder summer months. You never know, the novelty might catch on. Actually, that gives me a new business idea...