First Drive New Ford Edge first drive review
It may lack a premium German badge, but the Ford Edge delivers superb comfort, exceptional refinement, loads of space and loads of kit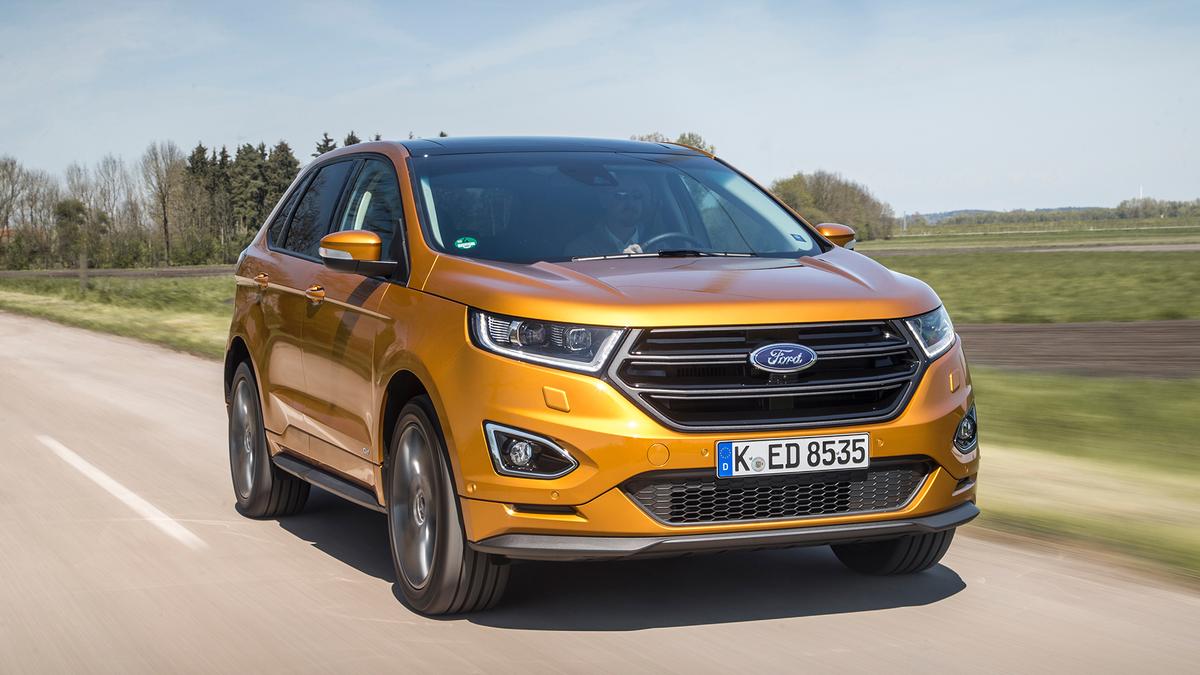 View gallery
Auto Trader verdict:
Given the the UK's current love affair with SUVs, we can easily foresee a future where the Edge effectively seals the fate of the Mondeo family car.

Not surprising when you consider the Edge delivers nine tenths of the requirements demanded by modern families. Well equipped, extremely spacious, exceedingly refined and comfortable, it's effectively a Mondeo on stilts.

Unfortunately, the Edge is not exactly fleet of foot. Delivering ponderous performance and languid responses, its extravagant dimensions can be sensed on every drive.

As such, it still feels more of a coached American than a cultured European, and as a consequence, it fails to deliver the sparkle that we've come to expect from our home-grown Fords.

Need to know:
State-side styling and space meet European tuning

Two diesel engines and two transmissions to choose from

On sale now, priced from £34,495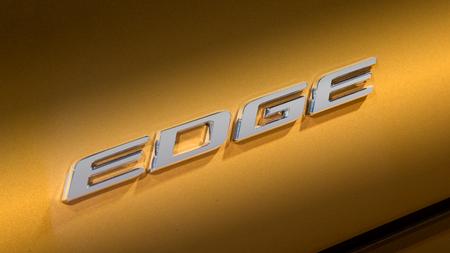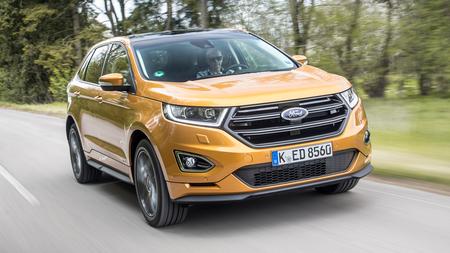 What is it?
Don't worry if you think the all-new Ford Edge looks vaguely familiar. It's actually been on sale in the States for a number of years and it also made an appearance as a hydrogen fuel-cell powered car in the Bond thriller, Quantum of Solace. However, it has had a couple of facelifts since then and it has now been Europeanised as part of Ford's world car programme.

In the process, a pair of 2.0-litre diesel engines have found their way under the bonnet – a 177bhp four-cylinder unit, using a single turbo and coupled to a six-speed manual gearbox, and a twin-turbo version of the same motor producing 207bhp and mated to a six-speed dual-clutch automatic gearbox. Additionally, the Edge's suspension and steering have been fettled to improve its handling and to help cope with the bruised and battered surfaces that UK drivers are forced to endure.

The Edge also ushers in advanced noise-cancelling software, which samples the engine's acoustic signature before producing opposing sound waves, which are played through speakers to smooth out combustion noise. Acoustic side glass to help minimise road- and wind noise also comes as standard on higher-spec cars.

Although its pricing is roughly in line with the BMW X3 and Audi Q5, the Edge is a fair bit bigger in all directions than those motors and offers lots more kit as standard.

Along with 'intelligent' four-wheel-drive, Titanium cars come with advanced safety systems, including emergency city braking, lane assist and traffic sign recognition, while 19-inch alloys, sat-nav, keyless entry, a powered tailgate, a rear-view camera and heated seats are also included.
What's it like?
A bit of a mixed bag, if we're honest.

While positives include a quiet, compliant ride quality, and impressive (albeit synthetically enhanced) powertrain noise suppression, the Edge always feels like a big car.

Despite its 207bhp and healthy reserves of torque, performance is surprisingly labored. Granted, our test car was weighed down by its high-end, bells-and-whistles specification, but on one particular occasion, where it lacked the cohunes to outgun a Dacia Duster, we were left to query the Edge's claimed sub two-tonne kerbweight.

The twin-clutch gearbox doesn't help, either. Hampered by just six ratios and a slurry shift strategy, its lethargic gearchanges only add to the impression of a lack of performance.

It's not just performance where the Edge feels heavy, however. Although body control is impressive, with little discernible roll in bends, a definite delay between steering inputs and actual changes of direction means the Edge lacks the rapid response that we've come to expect from well sorted Fords.

We also couldn't help but notice a couple of deficiencies in refinement, including a wooden feel to the brake pedal and the sound of liquid sloshing around in the fuel tank when ambling along in slow-moving traffic.

Ok, so more pertinent questions are sure to be asked by family-focused buyers, such as how much space does the Edge provide and how does the cabin stack up in terms of quality.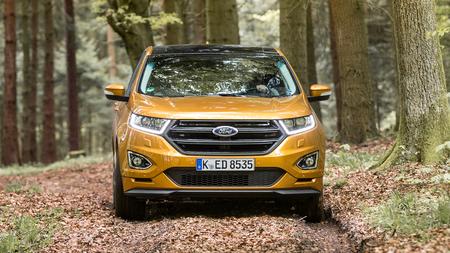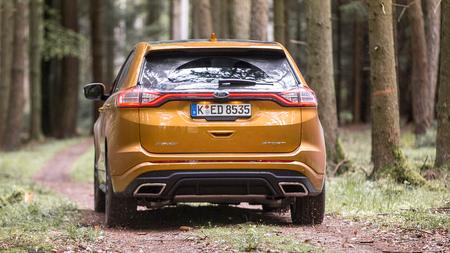 Certainly, anyone familiar with the latest Mondeo will feel instantly at home in the Edge.

So, in much the same vein, while the main touch-points and all the buttons and switches look and feel of decent quality, some of the materials used elsewhere are less convincing; and, remnants of the moulding process that are left inside door pockets also tend to let the side down. That said, by far the most frustrating aspect of the Edge's cockpit is the slow-witted responses of the infotainment touch-screen.

More positively, myriad deep storage bins, capacious cup-holders and padded rear seat belts – no doubt much appreciated by red-necked little uns' – are particularly considerate touches.

As for cabin space, it's there in abundance. With loads of legroom front and back, as well as an exceptional amount of space between the doors, three bods will fit across the rear bench without resorting to shoulder-charging tactics.

With a boot capacity of 602 litres with all the seats in place and more than three times that available when stacking to the roof with the seats folded, you've got to conclude that not even the Brighouse and Rastrick band would complain about boot space.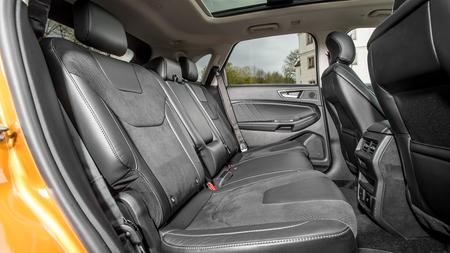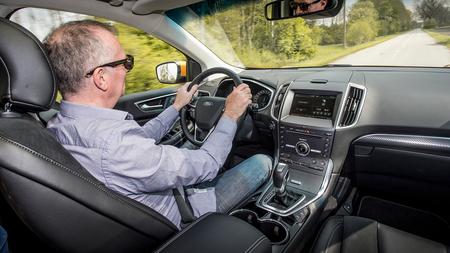 Should I get one?
Yes, providing you're savvy.

The Edge may not provide the finest drive and it's certainly no ball of fire, but it is big on equipment, comfort and refinement, while its elevated ride height, large glass area and exceptional spacious cabin provide airy, lavish accommodation for all the family.

Let's just have a reality check here, though.

As much as the Edge provides more metal and more kit for your hard-earned cash – and, despite what some so-called experts are suggesting, not especially strong expected residual values, which will bump up long-term running costs – we'd be amazed if that Ford badge has the cachet to persuade buyers to desert the premium German marques. However, Ford is not averse to offering attractive discounts, so be prepared to haggle hard to help take the sting out of the inevitably heavier depreciation that most Fords suffer compared to German rivals.

Key facts:
Model: Ford Edge 2.0 TDCi 210 Sport Powershift

Price: from £36,750

Engine: 2.0-litre 4 cyl, bi-turbodiesel six speed auto

Power/Torque: 207bhp/332lb ft

0-62mph: 9.4sec

Top speed: 131mph

Economy: 47.9mpg

CO2/BIK tax liability: 152g/km/30%

Boot space: 602 litres
Also consider:
Hyundai Santa Fe
The Santa Fe will appeal to anyone who wants to combine the style and go-anywhere ability of a 4x4 with the seven-seat versatility of an MPV.
Kia Sorento
The Sorento gives you space, practicality and loads of luxury equipment. It also has deeply impressive interior and is comfortable and relaxing to drive.
Audi Q5
More compact than the Edge but Audi's Q5 is one seriously desirable off-roader thanks to its superb build quality, exceptional driving manners and spirited performance.
Interested in buying a Ford Edge?