First Drive 2017 Seat Leon first drive review
The Leon gets a new three-cylinder petrol engine, enhanced tech and a subtle face lift for 2017. Question is, are these tweaks enough to keep it among the leaders of the family hatchback class?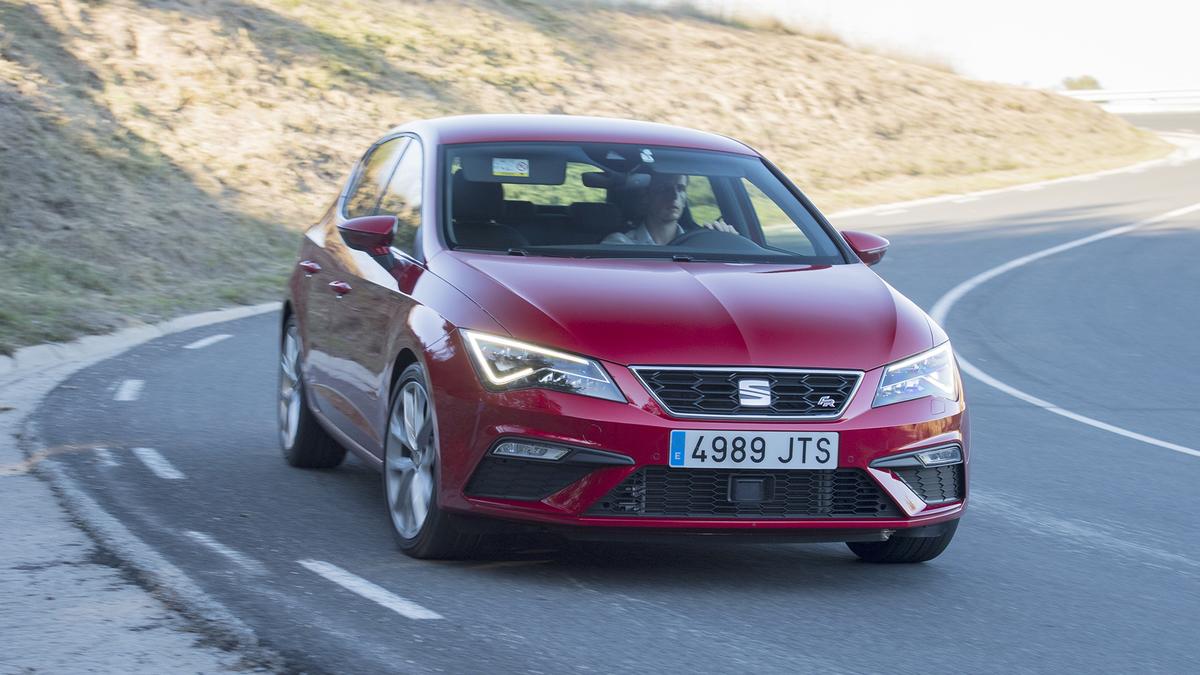 View gallery
Auto Trader Verdict:
We appreciate beauty is very much in the eye of the beholder, but we'd be willing to bet most folk would concede the Leon is one of the more rakish family hatches currently on sale. We also suspect that is why Seat passed up the opportunity to substantially change the Leon's appearance with this latest upgrade.

The 1.0-litre powered hatchback offers a great mix of style and economy, while its nimble handling and easy comfort alongside sweetly weighted controls and an engaging revvy engine make it one of the best all-rounders in a class full of excellent cars.

It's not cheap however, and the interior quality could be better, so we'd recommend you take a test drive in Vauxhall's excellent Astra or the highly engaging Ford Focus before you visit your Seat showroom, because both of these cars are available at a considerably more affordable price.
Need to know:
On sale Jan 2017; five-door hatchback versions start from £15,195

New 1.0-litre three-cylinder petrol engine

A facelift that's subtler than a Xavi through-ball
What is it?
Welcome to the all-new Seat Leon. No, really, we're not pulling your leg. It may take a forensic scientist to spot the differences between the outgoing model and the new, but Seat is adamant there are sufficient changes to warrant the 'all-new' moniker.

A subtly re-profiled front bumper, different grilles to define FR models from the newly-introduced top of the range Xcellence trim, and new front and rear LED lights complete the exterior tweaks.

There's not much change underneath either, as the same bewildering array of suspension tuning and layouts remain: lower powered cars make do with a cheap and cheerful basic rear axle, while higher output cars get a ride- and handling-enhancing multi-link arrangement. The familiar trio of body styles, including the 5-door hatchback, the 3-door SC and the ST estate are also still all available.

Some of the biggest changes to the Leon are those beavering away in the background, such as the extra safety packs that include tiredness recognition, automatic city braking, lane keep assist, traffic sign recognition and stop-start traffic jam assist.

There are seven engines in total to choose from: three diesel and four petrol, most of which are available with a choice of manual or DSG automatic transmissions. Of them all, the punchy, sweet revving 148bhp 1.4-litre petrol motor (which utilises cylinder deactivation to help it achieve 57.6mpg) remains our pick of the range because of its impressive economy, excellent refinement and vivid performance, but there's also the fleet-focused 1.6-litre four-cylinder diesel engine, complete with post emissions scandal recalibration, which helps it to knock a hole in 70mpg on the official combined cycle.

The big news is reserved for the debutant 113bhp 1.0 three-cylinder petrol engine, however. Equal on power with the 1.6-litre diesel and not far behind it when it comes to fuel returns, the obvious appeal of this new engine will not be lost on those looking for a stylish hatch but who also need to keep a watchful eye on budget and taxation implications.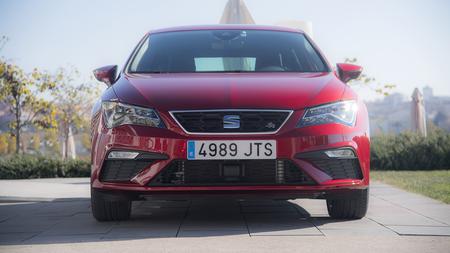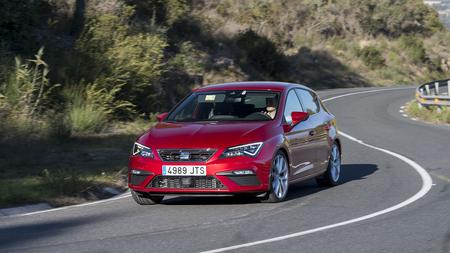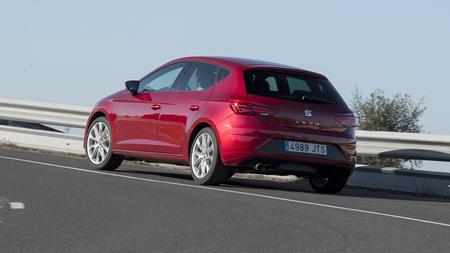 What's it like?
As with most three cylinder engines, it's a bit of a Marmite affair.

While some will adore the whacky off-beat thrum produced by the pistons prancing up and down like a trio of gambling lambs, just as many will find the eccentric twang about as appealing as Honey G on constant rewind.

For the most part, it's an eager and reasonably refined lump of reciprocating components, but it does require a considered driving approach to get the best out of it. Unlike modern diesel engines which will pull away with the merest whiff of encouragement, three-cylinder engines are pretty stall-able devices. As a result, you need to be nifty with your foot work, blipping the throttle repeatedly and releasing the clutch in smart fashion to elicit a smooth pull-away.

Once you get your head around this, and appreciate that the lack of low end pulling power means positivity is the way ahead, you can quickly rise to the challenge, revving the motor hard and fast and quickly shifting through the sweet six-speed manual gearbox in proper hot hatch fashion.

The three-cylinder engine is of course lighter than a four-cylinder lump, and this definitely pays dividends. On the relatively soft standard setting and small diameter wheels, you'd expect the ride to be compliant, and it is, but the added bonus comes on the handling and steering front. With far less weight over the front axle, the 1.0-litre's steering responses, front end grip and reduced body roll mean it's far more engaging to drive than the hefty 1.6 diesel powered version on similar chassis settings.

Even though it does get rather buzzy – our test car suffered quite a few trim rattles as the revs rose, the 1.0-litre engine is a good deal less intrusive overall than the diesel, which can get irritatingly boomy, especially at motorway speeds.

Inside, the Leon remains a very stylish place to spend time, even if some of the plastics are a little hard in places. The seats are quite a snug fit too, so a lengthy test is essential to see if all your bits will remain numb free.
Other than perhaps the Skoda Octavia, you'd be hard pushed to find a car of this ilk that strays too far from the unifying dimensions of the class. With a decent amount of head, leg and shoulder room for four, and a boot identical in size to a Volkswagen Golf, the Leon matches the vast majority of its rivals for space and practicality.

There is a larger 8-inch colour touch sensitive display screen on higher grade cars for you to play with, while base models make do with a basic 5-inch touchscreen. Featuring Seat's Easy Connect systems and the ConnectApp with voice recognition and gesture control, it's a simple enough system to come to terms with, if not as fast reacting as Ford's new SYNC3 system found in the latest Focus.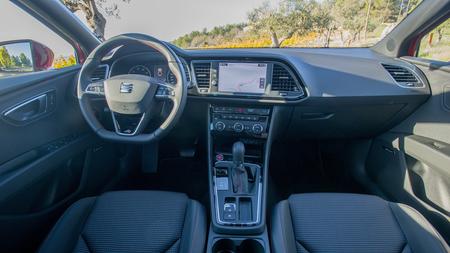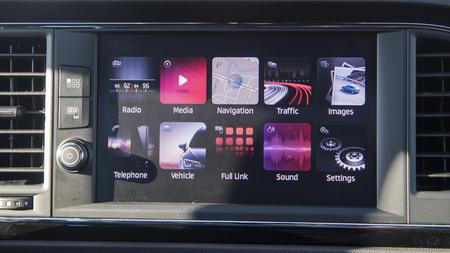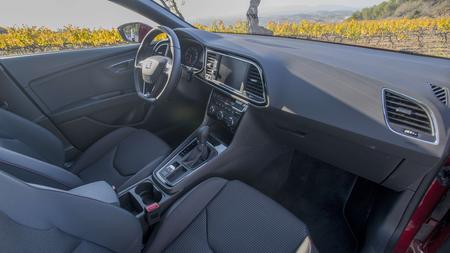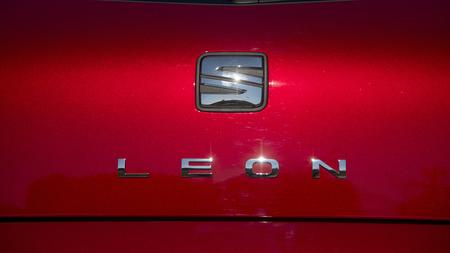 Should I get one?
The 1.0-litre Leon certainly looks the part, and because of its relatively light weight, it's comfortable and fun to drive. On paper at least, it seems encouragingly frugal and as it doesn't attract the 3% BIK tax loading levied against diesel cars, it makes a lot of sense as a company motor.

Despite its Volkswagen connections, the interior quality is still more Ford Focus than VW Golf, and some of the trim rattles in our test cars suggest the Leon is not as robustly constructed as its German cousin. Equally, the £18,995 price point is somewhat of a concern, as the excellent three-cylinder units in the Ford Focus and Vauxhall Astra are available for considerably less.
Key facts:
Model: Seat Leon 5dr 1.0 Ecomotive SE Technology

Price: £18,995

Engine: 1.0-litre 3-cyl 6-speed manual

Power/Torque: 113bhp/148lbft

0-62mph: 9.6 secs

Top speed: 123mph

Economy: 64.2mpg

CO2/BIK tax liability: 102g/km / 19%

Boot space: 380 litres
Interested in buying a SEAT Leon?