Expert Review
Volvo V90 Estate (2016 - 2020) review
The Volvo V90 is an executive estate car that's big on space, safety and style. Find out whether it's got what it takes to be a class leader.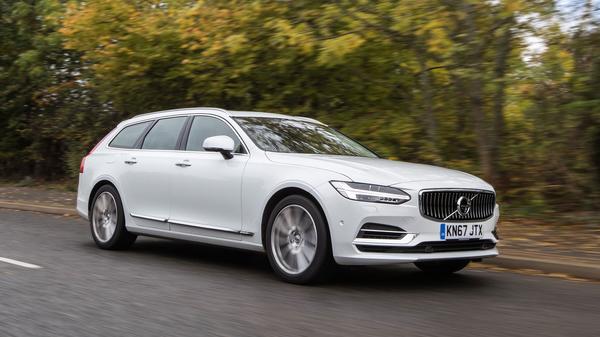 Words by: Phill Tromans

Additional words by: Phill Tromans
Last updated on 22 January 2020 | 0 min read
The Auto Trader expert verdict:
The Volvo V90 is classy, comfortable, practical and safe – everything that an executive estate car should be, in fact. Add in elegant looks and a high standard of equipment and it all adds up to one of the best cars in the class.
Reasons to buy:
Exceptionally quiet and comfortable
Very well equipped
Lots of safety kit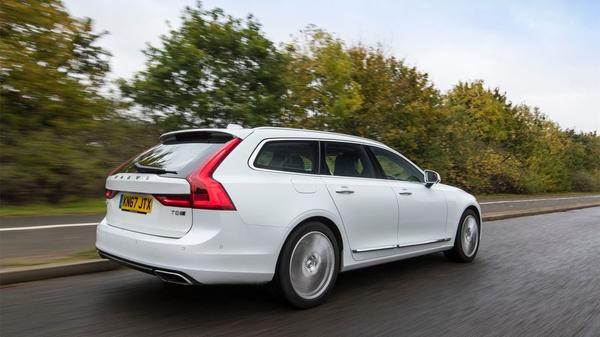 Running costs for a Volvo V90
Prices for the V90 are on a par with key rivals such as the Audi A6 Avant, BMW 5 Series Touring and Mercedes-Benz E-Class Estate, although you do get an unusually high standard of equipment for your money. The V90 is expected to holds its value at least as well as those competitors, so if you're buying with your own money you won't lose out when the time comes to sell the car on. It also means that leasing and finance deals are very competitive. The diesel engines are very efficient, although no more so than the V90's key rivals. The petrol-powered T4, T5 and T6 petrol models are thirsty, but again no more so than equivalent Audi, BMW and Mercedes-Benz models. While T8 Twin Engine plug-in hybrid versions are very expensive, they have sub-50 g/km CO2 emissions and official average fuel consumption of 100mpg+. Whether you achieve this depends on how and where you drive, but some drivers may be able to commute using electric power alone.
Expert rating: 3/5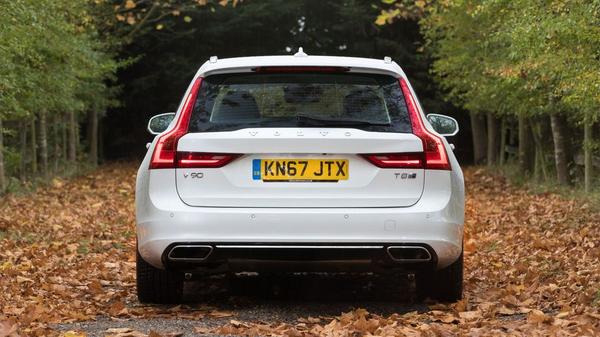 Reliability of a Volvo V90
Volvo's cars have a reputation for being solid and dependable that isn't always borne out in reliability or customer satisfaction surveys. Although it does often finish above rivals such as Audi, BMW and Mercedes-Benz, Volvo is generally a mid-table player as a brand. There are currently only a handful of owner reviews of the V90 on Auto Trader, but the majority are very positive. Warranty cover – at three years or 60,000 miles – is on a par with the V90's key rivals.
Expert rating: 4/5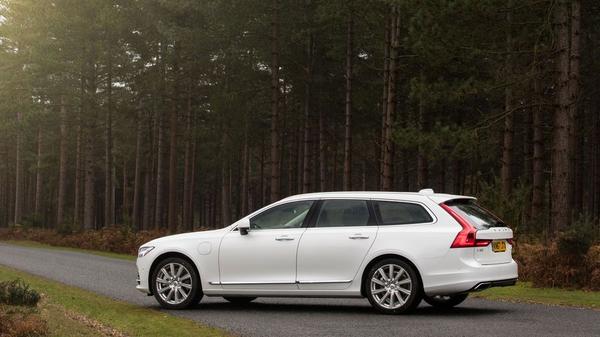 Safety for a Volvo V90
The V90 is one of the safest cars you can buy, achieving a five-star rating when tested by Euro NCAP in 2017 and one of the highest scores ever. As well as all the airbags and crash protection you'd expect of a big Volvo estate, it has a range of extremely advanced safety features that help prevent you having a collision in the first place. As standard, it comes with an automatic braking system that can help to avoid – or mitigate – collisions with other vehicles, pedestrians, cyclists and large animals. There's also technology that uses the car's steering and brakes to help prevent you veering off the road unintentionally, as well as front seats that are specially designed to reduce spinal injuries if your car leaves the road and lands heavily. On top of that is a system that automatically steers the car back into your lane should you drift out of it, an automatic braking function that steps in if it detects that a collision with an oncoming car is imminent, and an advanced cruise control that steers the car to keep you centred in your lane on the motorway. An optional safety pack includes a blind spot information system that can help steer you away from oncoming traffic and a rear collision mitigation system that activates the hazard warning lights and pre-tightens the seat belts if it detects an imminent collision.
Expert rating: 5/5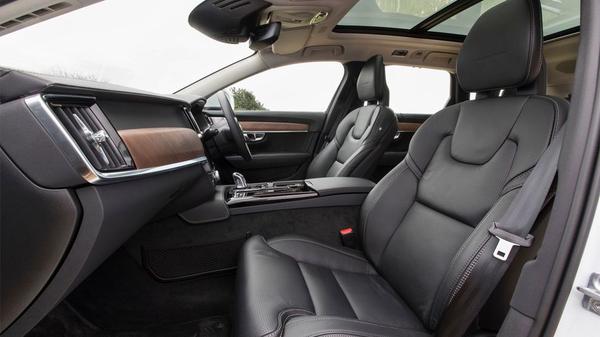 How comfortable is the Volvo V90
The V90 is as comfortable and spacious as an executive estate car should be. While it's not the roomiest car in the class, the cabin is huge by most standards, with ample headroom and legroom for four tall adults. It's easy to get in and out of, too, thanks to large, well-shaped door openings. The 560-litre Boot (which grows to 1,526 litres with the 60/40 split rear seats folded down) is competitive rather than class-leading for space, but features such as an electrically powered tailgate and a wide loading space make it very useful. Comfort is second to none on board, with wonderfully supportive yet cushy seats front and rear. The driving position is good, too, while the touch-screen controls most functions is big, bold and fairly intuitive to use. The emphasis on comfort and ease-of-use is also evident in how the V90 drives. It's a very smooth, refined car that makes light of long journeys. Cross Country versions have a raised ride height that gives extra ground clearance, while R-Design models have lowered suspension for a slightly sportier feel – they're not quite as cosseting, but still very comfortable.
Expert rating: 4/5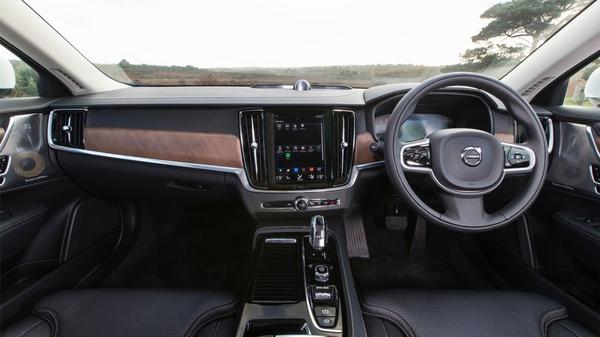 Features of the Volvo V90
The V90 is a remarkably well-equipped car, even by class standards. As standard, even the cheapest version comes with an automatic gearbox, LED headlights with an active high-beam function,18-inch alloy wheels, two-zone climate control, satellite-navigation, a built-in internet connection, front and rear parking sensors and a rear-view camera, leather upholstery and electric driver's seat adjustment. Higher trim levels are truly lavish, and allow you to give the car a sportier or more luxurious character. On top of plentiful luxury features, Cross Country models have a rugged makeover, with bespoke exterior and interior trim. Curiously, Apple CarPlay and Android Auto is a cost option across the range.
Expert rating: 4/5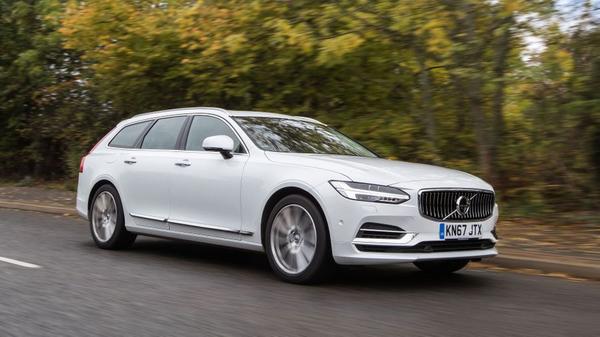 Power for a Volvo V90
You can choose from petrol, diesel and hybrid V90 models, and every version provides the kind of strong performance you expect of an executive estate. Even the lower-powered (D4) diesel engine gives you a 0-60mph time of about eight seconds. The higher-powered (D5) diesel and T4 and T5 turbocharged petrol options give quicker performance still, while the T6 petrol is very rapid. If that's not quick enough, there's the T8 Twin Engine plug-in hybrid model, which combines a petrol engine with an electric motor to give a combined output of 390 horsepower. It's blisteringly quick when you put your foot down, let also allows you to travel on electric power alone for around 30 miles or so. An automatic gearbox is standard for all models. The D5 diesel, T6 petrol, Cross Country and Twin Engine models have four-wheel drive, while other models use front-wheel drive.
Expert rating: 4/5