Expert Review
SsangYong Rexton SUV (2020 - ) review
The Ssangyong Rexton is a huge SUV that's offered with seven seats, and in that regard, it's a rival for cars like the Kia Sorento and Hyundai Santa Fe. But in reality, while those cars are mainstream family SUVs, the Rexton plies its trade as a specialist towing vehicle. It's also affordable to buy and very well equipped.

Words by: Ivan Aistrop

Additional words by: Phill Tromans
Last updated on 27 October 2017 | 0 min read
The Auto Trader expert verdict:
Available new from £39,500
Compare the Rexton with the numerous other offerings in the large seven-seat SUV sector, and it'll probably be too agricultural and too inefficient for most buyers. However, the Rexton isn't for 'most' buyers: it's for buyers that need a very specific tool for a very specific job. And if you're one of those people that needs a massive towing capacity – be it for horseboxes, speedboats or large caravans – there aren't many cars at any price that'll match the Rexton. You'll also be getting a car that's massively affordable to buy and exceptionally well-equipped.
Reasons to buy:
Incredible towing capacity
Impressive quality and space
Lots of standard equipment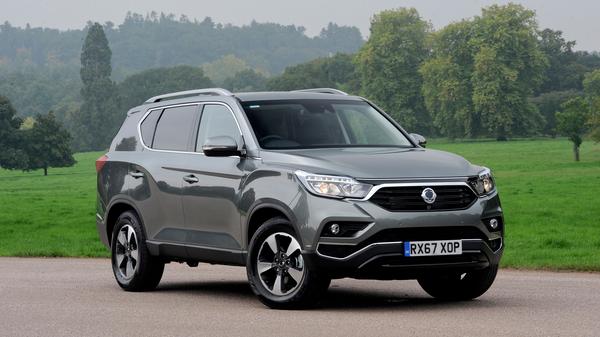 How good does it look?
It's fair to say some of Ssangyong's past models have been rather awkward in their appearance, but the firm's latest cars – the Rexton included – have an altogether more cohesive appearance. All the classic SUV design cues are there – including the chunky proportions, jacked-up ride height and gaping wheel arches – and there are one or two smart, crisp details at either end that lend a little bit of flair. All versions come with a chrome radiator grille, daytime running lights, roof rails, and high gloss skid plates front and rear. All versions also get alloy wheels: 17-inchers on the entry-level EX car, 18s on the ELX, and 20s on the Ultimate. The top-of-the-range Ultimate version also has brighter headlamps and integrated LED foglamps with cornering function.
Expert rating: 3/5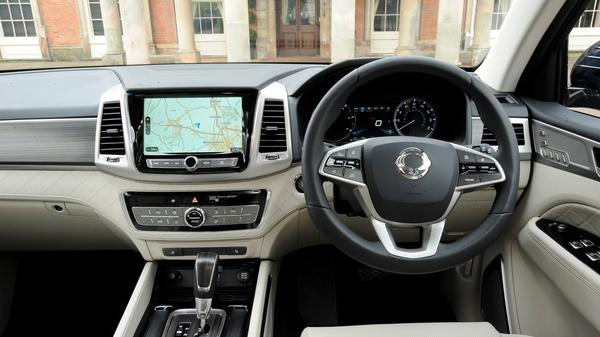 What's the interior like?
Being an unabashed budget brand, Ssangyong's previous models haven't exactly dazzled with their quality, and that's why you'll be very pleasantly surprised by the Rexton. The materials used in the cabin are attractive, tactile and nicely finished, and there are plenty of varying textures and colours to keep things interesting. Even the surfaces tucked away out of sight don't let the side down, and compared with rivals from Hyundai and Kia, the Rexton feels equally solid and just as plush. You have the high, commanding driving position SUV buyers love, and with bags of adjustment for your seat (which is electric on two of the three versions), getting comfy is a doddle. While the thick rear window pillars do cause one or two blind spots, the huge door mirrors help improve your all-round visibility. That said, things aren't perfect. The dashboard and steering wheel have lots of switches and buttons, although the touch-screen infotainment system seems straightforward to navigate, based on our limited interaction with it so far.
Expert rating: 4/5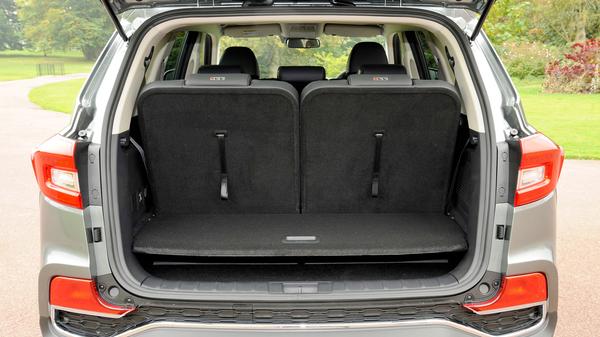 How practical is it?
Most versions (all except the range-topper) are offered with seven seats, with the rear-most two on a separate, third row that folds flat to the floor when not in use. As a five-seater, it's no surprise that an enormous car like this is incredibly spacious. The second-row seats have very generous head- and leg-room for adult passengers, while the wide cabin and more-or-less flat footwell means carrying three in the back is pretty comfortable, too. What's more, you have an enormous boot that'll let you carry huge loads, and movable luggage boards let you either restrain and secure your cargo, or flatten out the load bay when the rear seats are folded. The way those seats fold give good, wide access to the third row of seats, although as with most seven-seaters, they're best left to children for anything other than very short journeys.
Expert rating: 4/5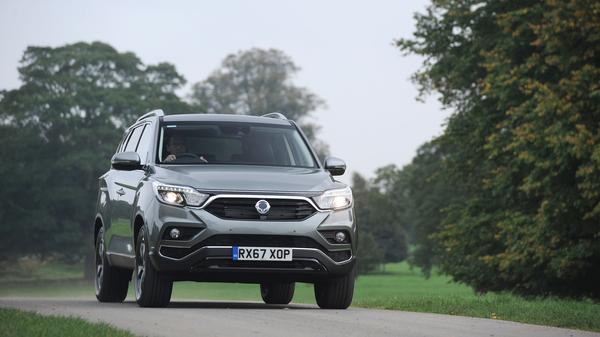 What's it like to drive?
Judged by normal road car standards, the Rexton doesn't perform that well here. Without going into too much technical detail, the car is built on a ladder-frame chassis with the body bolted on top, and that's a very old-school approach usually reserved for pick-up trucks. As a result, driving the Rexton is a pretty agricultural experience, with lots of shudders and tremors making their way through to the cabin, even on relatively smooth surfaces. The unsettled ride is also accompanied by handling that's predictably roly-poly, and the steering feels very slow and remote. However, as long as you accept these shortcomings as the necessary price to pay for the Rexton's real area of expertise, they become entirely acceptable. That area being? Well, the other big consequence of the Rexton's old-school construction is that it's incredibly heavy, and that's very good if you tow. This car will pull an enormous 3.5 tonnes worth of trailer, be it a speedboat or a double horsebox, and not many cars at any price can get anywhere near that, let alone match it. The Rexton's on-demand four-wheel drive system, which powers the rear wheels ordinarily and spreads the drive out to the front wheels when the need arises, which also mean these large loads can be pulled on slippery surfaces or in inclement weather. For more serious off-road terrain, a low-ratio gearbox will take you to places that many SUVs fear to tread.
Expert rating: 3/5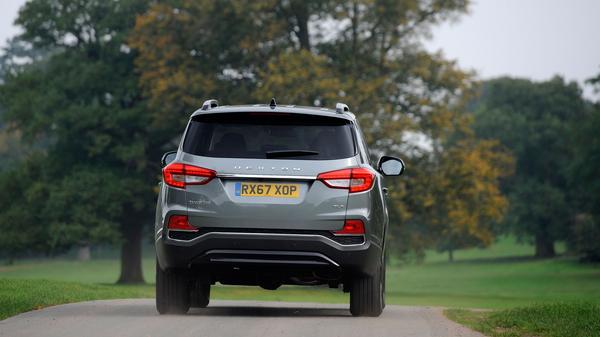 How powerful is it?
The Rexton is powered by a 2.2-litre diesel engine developing 181PS, which when the car weighs more than two tonnes, doesn't sound like a whole lot. Even so, the engine copes absolutely fine in most situations. Its urge is available from pretty low down in the rev range, giving it decent flexibility, and the engine also stays smooth and quiet. That complements the Rexton's generally impressive level of rolling refinement, which is thanks to very effective suppression of both wind- and road-noise. The car comes with a six-speed manual gearbox as standard, but so far, we've only tried one with the optional seven-speed automatic, which slushes through the gears reasonably smoothly. The only time the car really struggles is when you ask for a sudden burst of strong acceleration, because the gearbox really takes its time to figure out how to deliver. Even then, the acceleration you feel won't always be adequate for what you need. However, keep your driving style nice and relaxed, and you'll have no problems.
Expert rating: 3/5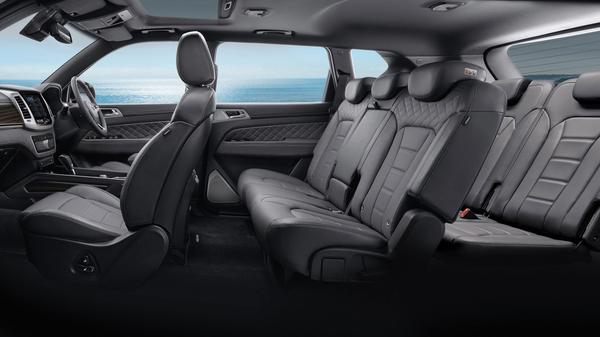 How much will it cost me?
While the Rexton's colossal weight is good for towing, it's not so good for efficiency. Official fuel consumption lies at around the mid-thirties mark, and because the engine capacity is rather small compared with the weight it has to haul around, we'd be surprised if you saw anything like that in day-to-day motoring. High CO2 emissions will also mean company car drivers won't want to go anywhere near it, but for private buyers, it's a different matter. The purchase prices are extremely aggressive indeed, especially when you consider how much car – and standard equipment – you're getting for your relatively modest outlay. Depreciation is pretty heavy in percentage terms, but because you'll pay so much less for your car than you will with competitors, it helps reduce the impact on your overall long-term running costs.
Expert rating: 3/5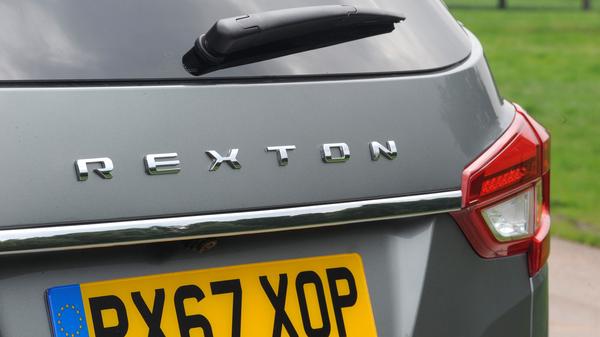 How reliable is it?
Ssangyong's performance doesn't look too great in this area, despite the simplicity of the firm's cars. The company sits at the lower end of the manufacturer standings in Warranty Direct's Reliability Index, and as an individual model, the Rexton's score has traditionally been pretty poor on previous versions. Our owner reviews suggest a slightly rosier picture, though, and you can take a lot of heart from the firm's generous five-year/unlimited-mileage warranty.
Expert rating: 2/5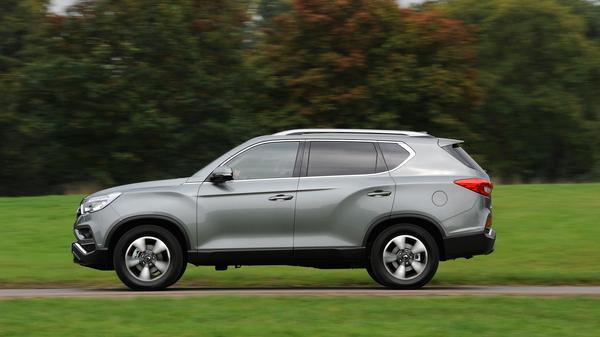 How safe is it?
The Rexton might have a very old-school construction, but there's nothing old-school about the roster of safety kit that you get as standard. All versions have a system that warns you of an impending collision and applies the brakes automatically if you don't take any action, along with a system that automatically switches your headlights between high- and dipped beam settings, and one that warns you if you're wandering out of your lane. You also get six airbags, and if you upgrade from the basic EX trim to the ELX, the airbag count rises to nine (by adding rear side 'bags and one for the driver's knees). The range-topping Ultimate version gets even more safety measures, with a blind-spot detection system and a rear cross traffic alert system that warns of approaching traffic when you're reversing out of a parking space. The Rexton hasn't been crash tested by safety organisation Euro NCAP.
Expert rating: 4/5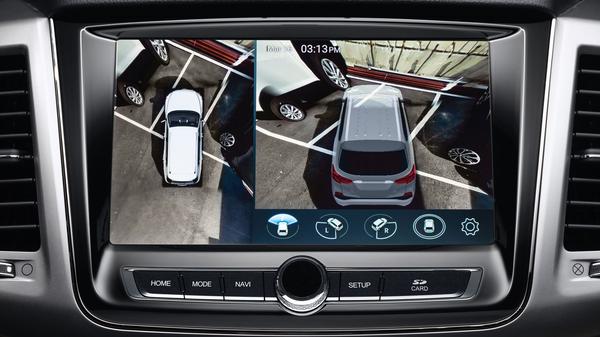 How much equipment do I get?
Even the base-level EX car comes with most of the equipment you'll really want, providing manual air-con, an 8.0-inch touch-screen infotainment system, power folding door mirrors, front and rear parking sensors, cruise control, and automatic lights and wipers. We can understand why you'd want to upgrade to the ELX trim for its dual-zone air-con with rear vents (which the kids will really appreciate), keyless entry, a bigger 9.2-inch infotainment system with sat-nav, leather upholstery, and heating for the steering wheel and seats. However, be advised that while the increase in standard equipment is quite significant, so is the price jump. Range-topping Ultimate trim gives you interior mood lighting, a 360-degree camera, a powered tailgate, quilted leather upholstery, and front seats that are both heated and ventilated, but again, the price hike is steep.
Expert rating: 4/5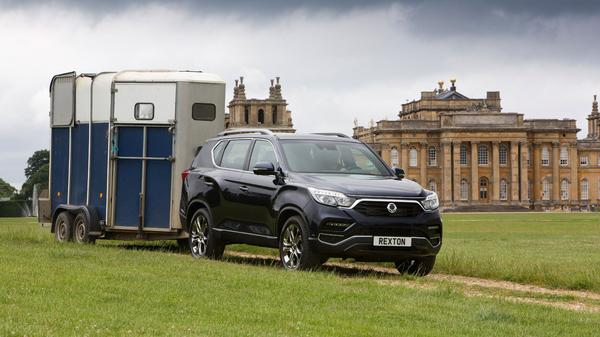 Why buy?
Because you need a very specific tool for a very specific job: that job being to tow large objects. On that front, there aren't many cars at any price that can get anywhere near the Rexton thanks to its 3.5-tonne towing capacity. Sure, it's not the most dynamically capable SUV on offer, and it's not very efficient, either, but it makes up for that with a very aggressive price, impressive quality, loads of space, and bags of standard equipment.
Expert rating: 3/5