Expert Review
Smart forfour Hatchback (2014 - 2020) review
The Smart ForFour is a city car that competes with rivals such as the Volkswagen Up and Hyundai i10, but that brings Smart's usual attributes – namely style, quality and image – to the party. Question is, is that enough?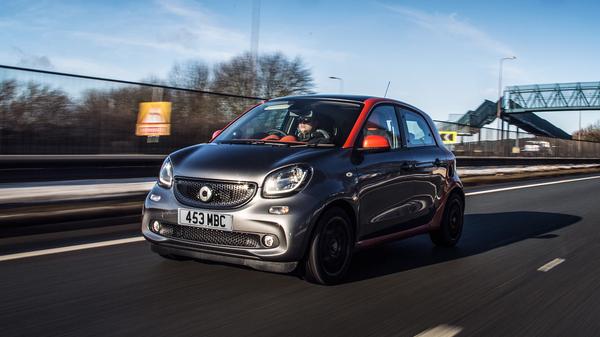 Words by: Ivan Aistrop
Published on 15 May 2017 | 0 min read
The Auto Trader expert verdict:
The Smart ForFour takes the style and quality that the Smart brand is famous for, and applies it to a four-seat city car. It's not without its shortcomings, most notably its high price, questionable ergonomics and woeful automatic gearbox. Spec it right, though, and you'll enjoy a car with effortless manoeuvrability, a strong image and affordable running costs.
Reasons to buy:
Quirky looks and strong image
High-quality interior finish
Affordable to run
How good does it look?
Like all Smart cars, the ForFour makes a feature of the safety cell around which the car is built, and it's usually highlighted in a colour that contrasts with the rest of the bodywork. Other standard features on the stylish little Smart include LED daytime running lights and a rear spoiler. Entry-level models miss out on alloy wheels and painted door handles, but you get them if you upgrade to Passion trim. After that, things stay pretty much the same until you reach Brabus Sport trim, which comes with a lowered suspension and sporty bodykit. And, being a Smart, buyers have seemingly endless scope to personalise their car, with a huge amount of choice over the colour of your paint, safety cell, grille and wheels.
Expert rating: 3/5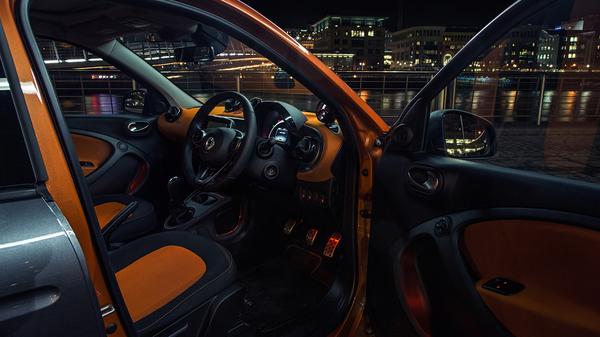 What's the interior like?
Like any Smart, the ForFour has an interior that's funky and sophisticated at the same time. The design is imaginative, with a large variety of shapes and textures on display, while the materials feel solid and high-grade. This substantial feel is also reflected in the way the various switches work. The ergonomics in the cabin aren't quite so impressive, though. Some buttons are hidden away out of sight behind the steering wheel, and the standard infotainment system isn't all that easy to use despite being pretty basic in its functionality. Specify the optional cradle that slots directly into the front of the unit to hold your smartphone, and most of the buttons on the system will also be obscured by your handset. There's a touch-screen system that's also available as an optional extra, and although it's better, it still isn't the most intuitive system you'll come across. Your over-the-shoulder view is pretty limited due to a tiny rear screen and very thick rear pillars, and on all but one version (the entry-level car, bizarrely), you have to head to the options' list if you want height adjustment for the driver's seat and steering wheel, which is pretty stingy and might mean some drivers struggle to find a comfy position unless they pay extra.
Expert rating: 2/5
How practical is it?
The ForFour's performance in this area depends on your expectation. On the one hand, you don't usually buy a Smart car if you want practicality; and, judged on that basis, the car is roomier than you might expect. On the other hand, though, it's still pretty snug when you compare it to the best city cars. The two rear seats have adequate legroom for adults, but headroom is rather more limited, and anyone approaching six feet tall will find their hairdo being messed with by the headlining. The boot is also pretty small at 185 litres, but the clever rear seats (standard on all but the entry-level car) make that less of an issue. The bases of the rear seats flip down into the floor, allowing you to carry taller items than you might expect in the rear footwell. This also means that the rear backrests lie flat when you fold those down on top, giving you a level extended load area of 975 litres. The glovebox is laughably tiny, but there are other spaces for odds and ends, like a drawer that's cunningly concealed in the passenger side of the centre console.
Expert rating: 3/5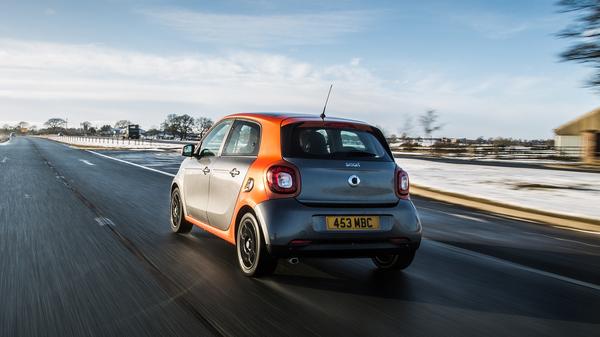 What's it like to drive?
The ForFour does an entirely decent job in this area. The ride is slightly on the firm side, so you do feel more of the road surface than you do in some city car rivals, but the car still does a decent job of keeping you comfortable; a bump or pothole has to be an absolute stinker for the suspension to really struggle in dealing with it. The handling is more capable than you might expect from a high-sided car with a tiny footprint, too. Yes, there is a slightly top-heavy feel in corners, but it still feels planted and settled when changing direction. The steering has a really nice weighting – light enough to make parking easy, but heavy enough to inspire confidence on the open road – and the super-tight turning circle makes the car effortlessly manoeuvrable. It's a car that's at its best in town, but which is also perfectly at home of faster roads as well.
Expert rating: 3/5
How powerful is it?
The ForFour is available with two three-cylinder petrol engines, a 1.0-litre with 70bhp and a turbocharged 0.9-litre with 89bhp. So far, we've only tried the more powerful version, and only with the optional six-speed twin-clutch automatic gearbox in place of the five-speed manual you get as standard. Unfortunately, it's not a happy combination. The engine itself is fine, being capable of pretty brisk acceleration and staying reasonably smooth and quiet unless worked to its limits. However, that gearbox ruins things. Whether you're pulling away from a standstill or trying to pick up the pace when already on the move, you'll all too often have to endure a ridiculously lengthy pause between putting your foot down and anything actually happening, because the gearbox dithers about choosing a gear, and also about engaging it. Mash the pedal when trying to exploit a gap in traffic, or when pulling out onto a roundabout, and your opportunity will be long gone before the car wakes up and does what you tell it. And talking of roundabouts, we'd strongly advise against doing that thing where you let your momentum take you into the traffic flow at low speed and then accelerate once you're in, because you'll often be left completely without power for a few seconds, and this can be properly scary. It wouldn't be so bad if you could account for this in the way you drive by anticipating the pause and hitting the throttle a few seconds earlier than you think you need to. Unfortunately, you can't, because every so often, the gearbox – more by luck than judgement – will already be in the prime ratio. So, when you hit the throttle, you shoot forwards with serious force, and you feel the car running away from you until you hit the brakes. This unpredictability, combined with the all-or-nothing power delivery, makes it nigh-on impossible to drive the car smoothly, and whatever the driving situation, you'll find the transmission enormously frustrating. We haven't tried the car with a manual gearbox yet, but even so, we'd strongly recommend choosing it.
Expert rating: 2/5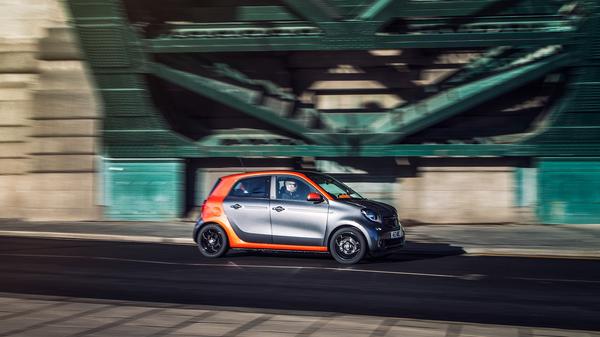 How much will it cost me?
The ForFour is not a cheap car to buy, especially when considered alongside many rivals that are considerably cheaper. That's especially important at the budget end of the market, where a few hundred quid can be a deal-breaker. However, don't panic too much. The Smart enjoys pretty solid resale values, which protects your investment long-term; and, because it costs less in fuel and tax than most of its competitors, the overall amount you'll pay to own it over an average three-year tenure isn't actually all that much different. Opt for the 1.0-litre Pure model and you'll benefit from some of the cheapest insurance on a car that you can get in the UK. Which is nice.
Expert rating: 3/5
How reliable is it?
Take a look at the Warranty Direct Reliability Index, and you'll see that the ForFour doesn't achieve a particularly impressive score as an individual model. However, that's offset by the fact that Smart is riding impressively high in the manufacturer standings, with a very solid top-half ranking. The owner reviews on our own website are similarly positive, with no horror stories reported from owners about the car's dependability.
Expert rating: 3/5
How safe is it?
The entry-level car misses out on Brake Assist – which keeps the brakes primed to deliver maximum stopping power – but other than that, all version of the ForFour get the same safety kit as standard. That includes anti-lock brakes, five airbags, stability control, tyre pressure monitoring, hill start assist and Isofix child seat mounting points on both rear seats. The options list contains more safety features, such as a lane-keeping assistant and a forward collision warning, but unlike the warning systems available on some other city cars, the brakes won't apply themselves automatically if the driver takes no action to avoid an imminent shunt. The ForFour was crash tested by Euro NCAP in 2014 and only achieved four out of five stars.
Expert rating: 3/5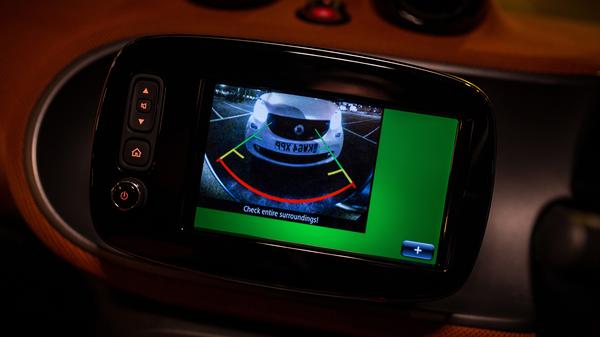 How much equipment do I get?
The trim structure of the FourFour range is a little weird, because high-end trims don't necessarily build on lower trims every time, they just have different stuff rather than more stuff. Each step up does, however, bring more interior visual upgrades than it does upgrades in luxury kit. All versions have powered windows, remote central locking, cruise control and an infotainment system with Bluetooth, but you have to upgrade from Pure to Passion if you want climate control, a multi-function leather steering wheel and alloys. Prime trim gives you a panoramic sunroof, heated front seats and leather upholstery, while Prime Sport trim has a lowered suspension, and Brabus Sport adds a more muscular body kit.
Expert rating: 3/5
Why buy?
Because you want a city car that's a bit different to the city cars that everyone else drives, and you're prepared to pay a premium for it. Also because you want your car to be high in quality, affordable to run and hugely manoeuvrable in town. It's not without its shortcomings, but in the areas mentioned, the Smart ForFour does a great job.
Expert rating: 3/5