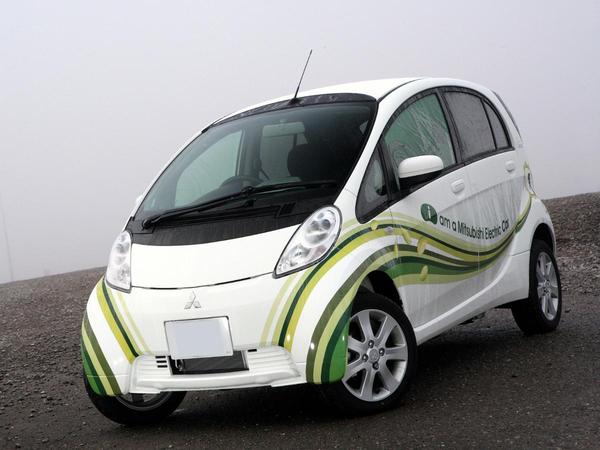 Expert Review
Mitsubishi i-MiEV hatchback (2010 – ) review
Read the Mitsubishi i-MiEV hatchback (2010 - ) car review by Auto Trader's motoring experts, covering price, specification, running costs, practicality, safety and how it drives.
The Auto Trader expert verdict:
One of the pioneers that began to make electric cars look viable, the i-MiEV is nonetheless expensive and of limited practicality. The Nissan LEAF is in another league.
Reasons to buy:
Unbelievably low running costs
Eco-friendly motoring
Space for four adults
What's the interior like?
Though you might expect a bit of oddity from an electric car with such unusual bodywork, the i-MiEV's cabin is all very plain and inoffensive. From the front it feels airy because the roof is high, but the plastic quality is poor for a budget city car, let alone one that costs more than a
BMW 1 Series
. The dials and switches feel flimsy, and cost-cutting is evident in the lack of steering wheel reach adjustment.
How practical is it?
The i-MiEV packages its battery cleverly underneath the boot, so while the luggage space is poor, the car can fit four adults comfortably. Longer journeys might start to feel claustrophobic, but then again, the i-MiEV's range doesn't allow it to do long journeys anyway. Its 227-litre boot capacity extends to 860 litres with the rear seat backs down, so this is not an entirely impractical electric car – just not in the same league as the Nissan LEAF.
What's it like to drive?
While there are no major gripes with the ride or handling, the i-MiEV is neither particularly comfortable nor fun to drive. The steering is a little weighty for a town car, but it's direct enough. The ride could do with being softer and should be able to deal with lumps and bumps without shaking about quite so much.
How powerful is it?
It's still an eerie experience driving an electric car. The lack of engine noise makes the i-MiEV's responsiveness and quick pick-up from low speed seem more impressive than it actually is. The 0-62mph sprint takes 13 seconds – slow by most standards – but because all 133lb/ft of pulling power is available from zero rpm, it feels quick. Great for town driving, though the car struggles on the motorway. Top speed is only 81mph.
How much will it cost me?
Once you've swallowed the big, big asking price, the i-MiEV is so cheap to run it will actually feel free. Mitsubishi claims it costs just £144 in electricity to run the car for 12,000 miles (its service interval) based on 96p for a full charge. Its range is 80-100 miles. And because the electric powertrain has so few moving parts relative to a normal petrol or diesel unit, servicing is easier and therefore cheaper. There is no car tax to pay.
How reliable is it?
It's difficult to comment accurately on electric car reliability – the technology is too new. Again, though, the lack of moving parts on both engine and gearbox means less can go wrong. Mitsubishi is renowned for the durability of its products as well. And if something does go pear-shaped, breakdown assistance is free with the i-MiEV.
How safe is it?
There's been no EuroNCAP crash test on this or its petrol-engined predecessor, the i hatchback, but the i-MiEV is loaded with safety equipment. Front, side and curtain airbags are standard, as are anti-lock brakes and electronic stability control.
How much equipment do I get?
With such a large asking price, the least a buyer could ask for is plenty of standard kit; the buyer gets just about that. Alloy wheels, air-con, electric windows and a leather steering wheel are standard, making this feel about the level of a mid-range supermini. Leather seats are a pricey option, but there are no parking sensors, cruise control or Bluetooth.
Why buy?
Until the Nissan LEAF came along the i-MiEV's flaws could be overlooked because it was a viable, decent little electric car. That's still the case, but the LEAF has moved the game forward, with superior quality, performance, practicality and range.