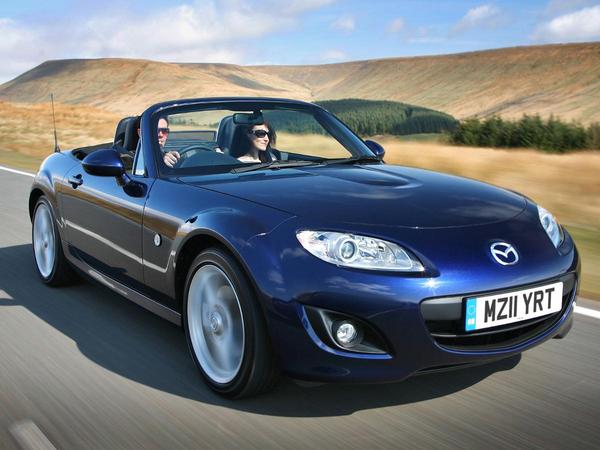 Expert Review
Mazda MX-5 Coupe (2009 - ) review
Read the Mazda MX-5 convertible (2005 - ) car review by Auto Trader's motoring experts, covering price, specification, running costs, practicality, safety and how it drives.
The Auto Trader expert verdict:
Mazda's MX-5 comes with fabulous handling, neat styling and a brilliantly simple roof that makes drop-top motoring a joy all year round.
Reasons to buy:
Great drive
Good residuals
Easy-to-use roof mechanism
How good does it look?
The
Mazda MX-5
is now in its third-generation yet it's still instantly recognisable as an evolution of the original. The rounded nose and tail have featured in all three generations of MX-5, as have the long bonnet, passenger cell and boot proportions. While the MX-5's design offers little in the way of novelty value, it's neat, attractive and unfussy – which is just how buyers seem to like it.
What's the interior like?
The MX-5's Japanese roots are obvious when you look at its interior. It's clearly laid out and well screwed together, there's a lot of black in evidence, with the right amount of alloy highlights to make things interesting. The MX-5's roof can be raised and stowed with ease, simply release a catch and flip the hood back. When you want protection from the elements, you simply press another button and the roof is easily raised and clipped back into place.
How practical is it?
For a two-seater convertible, the MX-5 is surprisingly practical, thanks to a very neat roof arrangement that doesn't take up much boot space. Even better, the boot itself is deep and wide, so there's more carrying capacity than you might expect. So although the boot can accommodate just 150 litres, this isn't as restrictive as you might think. There's seating for just two, but each person gets plenty of space so it's easy to get comfy, even if you're tall. The seats are supportive and there's ample adjustment for them as well as the steering wheel.
What's it like to drive?
The MX-5 follows the classic sports car formula, with the engine in the front, driving the rear wheels, giving great balance. The gearchange is light and precise, which is just as well, because you have to keep th engine revs high when enjoying B-roads. Despite the lack of lean through the corners, the ride is still smooth, even low-profile tyres. If you opt for the roadster-coupe, with its folding hard top, there's no weight penalty, so the MX-5's brilliant dynamics remain.
How powerful is it?
The MX-5 isn't necessarily that fast, especially the six-speed automatic option. Choose the 1.8-litre version and there's 120mph on offer, while opting for a roadster-coupé increases each it top speed marginally. Acceleration also isn't particularly fierce; once again it's the 2-litre six-speed manual car that's the quickest, and it can despatch the 0-62mph sprint in 7.6 seconds. That compares with 8.5 seconds for the automatic version and 9.9 seconds for the 1.8-litre car, which comes only with a five-speed manual gearbox.
How much will it cost me?
The biggest motoring cost is usually depreciation, but where the MX-5 is concerned this shouldn't be too much of an issue. There aren't huge numbers of nearly-new MX-5s around and it's a car that's guaranteed to be in demand, so resale values should be strong. The benefits of having a relatively small engine are the economy and low CO2 emissions that result. The 2-litre six-speed manual car averages a claimed 38.2mpg, with CO2 emissions of 177g/km – equivalent figures for the 1.8-litre car are 40.4mpg and 167g/km, keeping fuel bills and road tax costs reasonable.
How reliable is it?
Enthusiast cars can be temperamental because doting owners will put up with their foibles. Not here though as Mazda builds some of the most reliable cars on the planet, so MX-5 owners shouldn't have to put up with failing suspension bushes or a leaky roof.
How safe is it?
You might think that a small convertible would offer limited safety features, but Mazda has tried to make sure that MX-5 occupants are as well protected as possible. ESP is standard on all 2-litre models, along with a capable braking system and traction control. Should the worst happen, the Mazda has done its best to minimise the chance of injuries. Front and side airbags are standard on all cars, while the passenger airbag can be deactivated if children are being carried.
How much equipment do I get?
Mazda keeps things simple for MX-5 buyers, as the 1.8-litre MX-5 comes in SE form only while the 2.0 can be specified in SE or Sport forms. The SE features a five-speed manual gearbox while the Sport has an extra gear – all versions can be ordered in soft top or Roadster-coupe guises. In typical Japanese fashion, all MX-5s come with a decent level of standard equipment – remote central locking, alarm/immobiliser, alloy wheels and electric windows are standard, along with a decent stereo and power-operated mirrors. Buy the 2.0 Sport and you also get climate control, leather trim and cruise control.
Why buy?
The MX-5 is such a polished performer that it's hard to isolate one area in which it excels. It's great to drive, looks superb, comes well equipped and is more practical than you'd think. It should prove reliable too, so if you're after a sporty two-seater and you don't want to spend a fortune, it's hard to think of a better alternative.