Expert Review
Lexus RX 450h SUV (2015 - ) review
The Lexus RX is a bold and distinctive option and stands apart from the crowd of other luxury SUVs in everything from its styling to its hybrid technology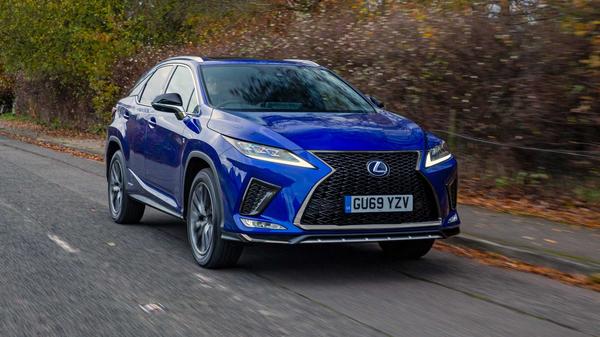 The Auto Trader expert verdict:
Available new from £52,665
For buyers looking for a large, premium SUV that's a little different, the Lexus RX is one to consider. Available only as a petrol hybrid, and with five or seven seats (see our separate review on the RX L), the RX takes quirky Japanese styling to the maximum while preserving high levels of comfort, space and tech inside.
Reasons to buy:
Comfortable ride
Efficient hybrid powertrain
Luxurious interior
Running costs for a Lexus RX 450h
Bear in mind that there's no Government grant for hybrids, so there's no discount other than the one you manage to negotiate. If you want the
seven seat
version,
the RX L
, that's about £2,000 more than the standard version. If you need a large family car but have access to a company car scheme, the RX makes a lot of sense. The Lexus has a Benefit In Kind rate of 30 per cent as of April 2020, compared with half that for some of its rivals like the hybrid Volvo XC90. Bear in mind, though, that because the Lexus' hybrid system is 'self-charging' rather than a plug-in arrangement, there's no London congestion charge exemption. Residual value is predicted to be about half of the original price after three years. Fuel costs, which would normally be high given the size and weight of the RX, plus the inclusion of a V6 petrol engine, are somewhat mitigated by the hybrid system on board, which means you can average about 35mpg.
Reliability of a Lexus RX 450h
Lexus has always been king of reliability surveys as a brand. We awarded it
Most Reliable Brand 2019
in the 2019 Auto Trader New Car Awards, with hardly any owners of Lexus models reporting any hiccups. The RX has traditionally not been far behind, with a slot in the top 10 models for reliability, and there's no reason why the latest RX should fare any differently. This means that the 60,000-mile limit on the three-year warranty shouldn't be an issue for many customers.
Safety for a Lexus RX 450h
There are a whopping 10 airbags on the RX, and there's inherent occupant protection from being inside such a big, heavy SUV, as well as the benefits of sitting high up and seeing further down the road. The standard Lexus Safety System + is the safety package Lexus offers on all its cars in a laudable effort to democratise safety and has been improved. Something called a Pre-Collision System uses a camera and radar combo to spot cyclists and pedestrians and brake automatically if you don't react to them, while Road Sign Assist uses road sign information to display speed limits on the heads-up display. Lane Tracing Assist alerts the driver if he/she trays out of lane, first with a warning sign then a sound or steering wheel vibration. Adaptive cruise control and cross-traffic alerts are also available.
How comfortable is the Lexus RX 450h
Comfort is Lexus's signature, much as it is for Citroën. Both brands, although at opposite ends of the market, continue to build wonderfully comfortable, relaxing, spacious cars for their occupants to travel in. The RX is once again at the top of the tree here, which is why it remains the most popular car Lexus makes. Revised suspension means the ride is fluid and soft, making light work of crumbling road surfaces. For the ultimate the higher-spec versions offer an Adaptive Variable Suspension system, with an incredible 650 settings from which it can automatically switch to suit the road conditions.
Features of the Lexus RX 450h
There's a generous amount of kit on board as standard, starting with the Premium Pack, which you'd expect, given the premium positioning and price tag of the RX. The wide touchscreen has clear graphics but you can also operate all the functions from Lexus's remote-control touchpad below the screen. There's
smartphone connectivity
as standard, and multiple USB ports. Voice control via Apple Siri or Google Assistant means you can forgo the screen entirely for commands. Standard on top models (and optional on the entry-level) is our favourite luxury – a heated steering wheel! The new head-up display is, meanwhile, a real step forward, with pin-sharp graphics showing sat-nav instructions, speed limits and cruise control information. While some features look a little dated, such as the small analogue clock in the dash, the overall feel up front is very satisfying: there's a quality fit and finish, and the wide, shallow dash that runs the width of the vehicle gives an immense feeling of space.
Power for a Lexus RX 450h
There's one hybrid powertrain, combining a 3.5-litre V6 petrol engine with two electric motors, one at the front and one at the back which together can power all four wheels for maximum traction. The combined hybrid output is 310 horsepower and a 0-62mph time of 7.7 seconds. That's not scintillating acceleration, but this is a big car, and Lexus prides itself more on good manners than brash speed. The slight downfall is the CVT gearbox which Lexus continues to use. This stands for Continuously Variable Transmission, and it acts essentially like a big elastic band, whirring up and down a cone. It's certainly smooth, with no pause for gear changes, but it tends to sound a bit odd and hunt around if you drive in a spirited fashion. It comes down to personal preference.