Expert Review
Honda Civic Hatchback (2015 - 2016) 2KR review
The Honda Civic sits at the posher end of the small family hatchback market, and competes with cars like the Volkswagen Golf and Audi A3.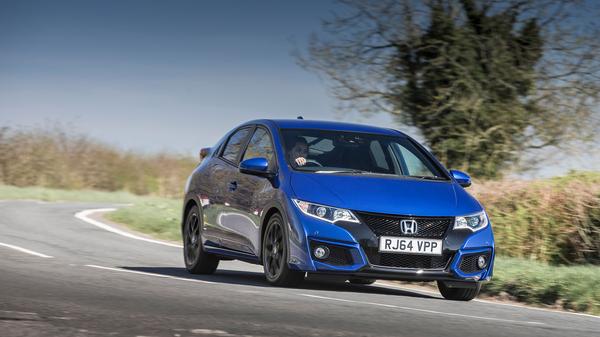 Words by: Ivan Aistrop
Published on 27 April 2016 | 0 min read
The Auto Trader expert verdict:
Overall, the Honda Civic is a decent car with plenty going for it. There are quite a few small, niggly things wrong with it, but they don't ruin the experience overall. Not the cheapest car of its type, but it should prove to be decent value long-term.
Reasons to buy:
Edgy and interesting looks
Generous on both luxury and safety equipment
Sensational reliability record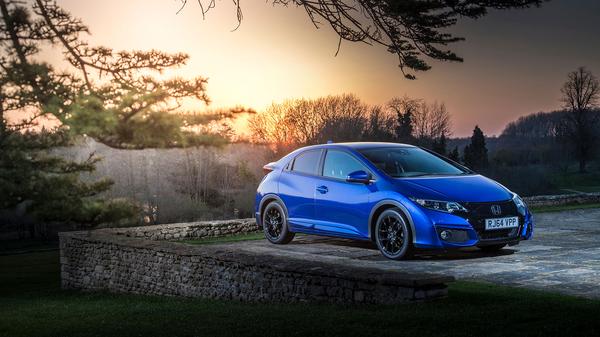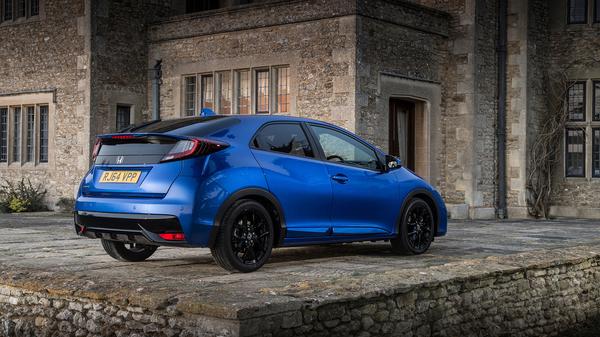 How good does it look?
"

The Honda Civic injects a refreshing dose of individuality

"
While many cars in the small family hatchback class look remarkably similar, the Honda Civic injects a refreshing dose of individuality into the mix. All over the car, you'll notice strange little bits jutting out at unconventional angles, but in a good way; overall, the Civic doesn't look weird, just interesting and edgy. All examples come with alloy wheels and LED daytime running lights, while a couple of the higher-end trims get a slightly sportier makeover that has been inspired by the Type R hot hatch. This flagship performance model looks a lot like what Darth Vader might use as a shopping car. It has an enormous rear wing, loads of vents and spoilers and red highlights sprouting along the body work and big wheels with low-profile tyres and lowered suspension. It'll certainly get you noticed.
Expert rating: 4/5
What's the interior like?
To be honest, the Civic's driving position is a complete dog's dinner. The seat won't go low enough, the cushion you sit on is too short and the pedals are offset. If you favour an upright driving position, the limited steering adjustment means you can't push the wheel far enough away from you, forcing you into a more reclined position. There are too many instruments and information displays to easily pick out the nugget of information you want, and the touch-screen infotainment system (standard on SE Plus trim and above) isn't intuitive enough. The rear spoiler splits the back window in two, ruining your over-the-shoulder view, especially when the rear wiper only clears one of the two sections. On the plus side, many of the materials inside feel plush, and the build quality is generally very solid, but it still doesn't feel like as posh a product as some rival hatchbacks. Choose the Civic Type R though, and you get a brilliant set of figure hugging bucket seats, which sit a bit lower to the floor.
Expert rating: 2/5
How practical is it?
The front seats have plenty of room for tall adults, but while rear legroom is just as generous, rear headroom is a little on the tight side compared with many competitors. Adults that are six feet tall or more will find the tops of their heads brushing the headlining. The boot is a fairly generous size by class standards, and the split-folding rear seats fold down in a clever way that leaves you with a fairly flat loadbay. However, there's quite a lip to negotiate when loading heavy items into the boot.
Expert rating: 3/5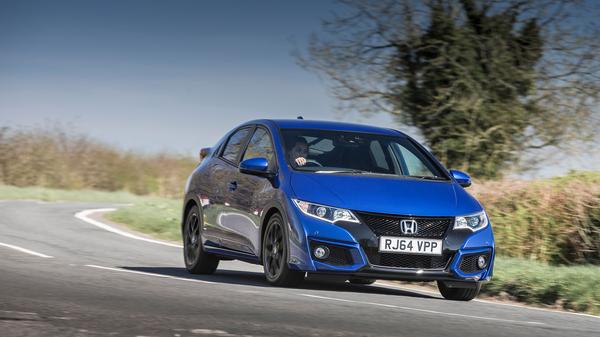 What's it like to drive?
"

The suspension is very much on the firm side, and on even the smallest bumps, ruts and ripples, the ride is fairly fidgety

"
If you want your family hatchback to major on comfort, there are plenty of rival cars that do the job better than the Civic. The suspension is very much on the firm side, and on even the smallest bumps, ruts and ripples, the ride is fairly fidgety at all speeds. The firm suspension does have a benefit, that being tight body control in the bends, and there's plenty of grip provided, too. However, the handling still isn't ideal, and it's down to the steering. It's quite quick, but the initial responses are quite slow; that means that when you turn the wheel, very little happens at first, and then the car dives in all at once. The same is true in the Type R, it has a differential at the front wheels that practically pulls you around tight corners, massive levels of grip and adaptive dampers to smooth out the ride. It's firm, but also probably one of the fastest hot hatches point-to-point on a twisting road bar none.
Expert rating: 3/5
How powerful is it?
Two petrol engines are available, a 1.4 with 99bhp and a 1.8 with 140bhp, while the only diesel choice is a 1.6-litre unit with 118bhp. The diesel is the only one we've tried so far, and it's the engine that the vast majority of buyers go for. It's not the quietest or smoothest engine of its type, but it's not bad enough to spoil the otherwise impressive level of refinement. It feels nice and muscular when it's on song, too, but it has a rather narrow power band for a modern diesel engine. You're left wanting for acceleration if you let the rev-counter drop below 1,500rpm (which, because of the way the gearing is set up, you often will), and the pull tails off towards the top of the rev range. The Type R gets a unique 2.0-litre turbo with a scarcely believable 306bhp, which means it'll do 0-62mph in just 5.7 seconds and go on to reach 167mph. As you'd expect it's shockingly fast, and although it doesn't sound as good as rivals like the BMW M135i, the sweet six-speed manual gearbox really adds to the driving experience. There is no automatic option available.
Expert rating: 3/5
How much will it cost me?
This is one area in which the diesel engine does impress. Equipped with this engine, the Civic returns an official fuel consumption figure of more than 78mpg, and with super-low CO2 emissions of just 94g/km, the tax bills it commands for company car drivers are exceptionally low for the class. The petrols will be pricier to run, the 1.4 returning 52mpg and the 1.8 achieving 46mpg, but they cost a good bit less to buy than the diesel, meaning they'll probably prove more cost-effective for low-mileage private buyers. The Civic's purchase prices sit towards the loftier end of the scale when compared with other small family hatchbacks, but since Honda's traditionally enjoy very solid resale values, you should get a decent return on your investment when the time comes to sell it on.
Expert rating: 4/5
How reliable is it?
Mechanical reliability is an area in which you can be very, very confident. As a manufacturer, Honda usually sits on or near the top of pretty much every reliability survey going. That's certainly the case with Warranty Direct's Reliability Index, and as an individual model, the Civic's score is fairly off-the-scale as well. In short, if you buy a Civic that experiences any severe mechanical gremlins, you'll be exceedingly unlucky indeed.
Expert rating: 5/5
How safe is it?
You get an impressive amount of safety kit as standard in the Civic. Along with the stability control and advance braking system that you expect in any modern car, the Civic weighs in with no less than eight airbags and an autonomous braking system that can sense an impending collision at low speeds and apply the anchors automatically if the driver takes no action. All but the entry-level trim can also be specified with a Safety Pack that contains blind spot monitoring, lane departure warning and traffic sign recognition. Euro NCAP hasn't crash-tested the Civic since all this fancy safety kit was made available, but it did achieve the full five-star rating back in 2012.
Expert rating: 4/5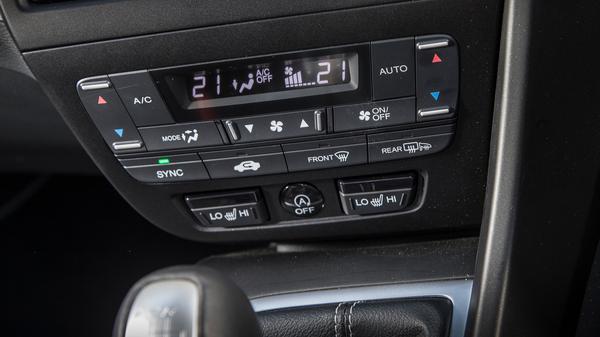 How much equipment do I get?
"

Even entry-level versions include a DAB radio, Bluetooth, climate control and four powered windows

"
The S trim forms the entry-point into Civic ownership, and even on this version, the standard kit includes a DAB radio, a multifunction steering wheel, Bluetooth, climate control and four powered windows. We'd still advise the step-up to SE Plus trim, though, because it adds desirable goodies like leather wrappings for the steering wheel and gearlever, cruise control, automatic lights and wipers, front foglamps and parking sensors complete with camera. The Sport model substitutes a couple of those bits for some sporty styling goodies, while SR trim give you heated leather seats and a glass roof. The top-of-the-range EX Plus version adds a powered driver's seat and keyless go. The Type R has its own trim structure entirely, but the standard car has almost everything you need. The 'GT' pack adds some active safety kit and sat-nav, but as far as we're concerned it's not worth the extra outlay.
Expert rating: 5/5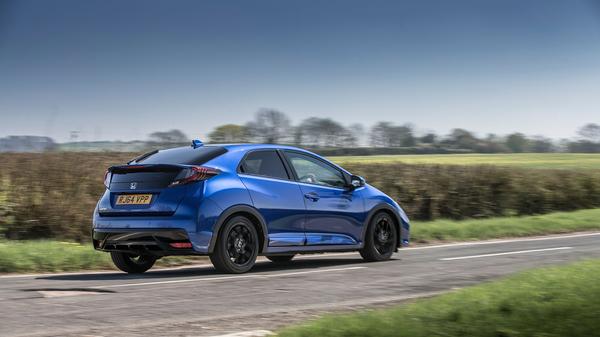 Why buy?
"

Well worth a look if you're after something a bit different

"
Because you want a small family hatchback that'll deliver bullet-proof reliability and inject a dose of style and luxury into your everyday motoring. Not the best or most well-rounded car of its type, and not the cheapest, either, but worth a look if you're after something a bit different - the Type R is a singular hot hatch too, and needs to be driven to be believed.
Expert rating: 3/5