BMW M3 Saloon (2007 – 2011) review
Read the BMW M3 Saloon (2007 - ) car review by Auto Trader's motoring experts, covering price, specification, running costs, practicality, safety and how it drives.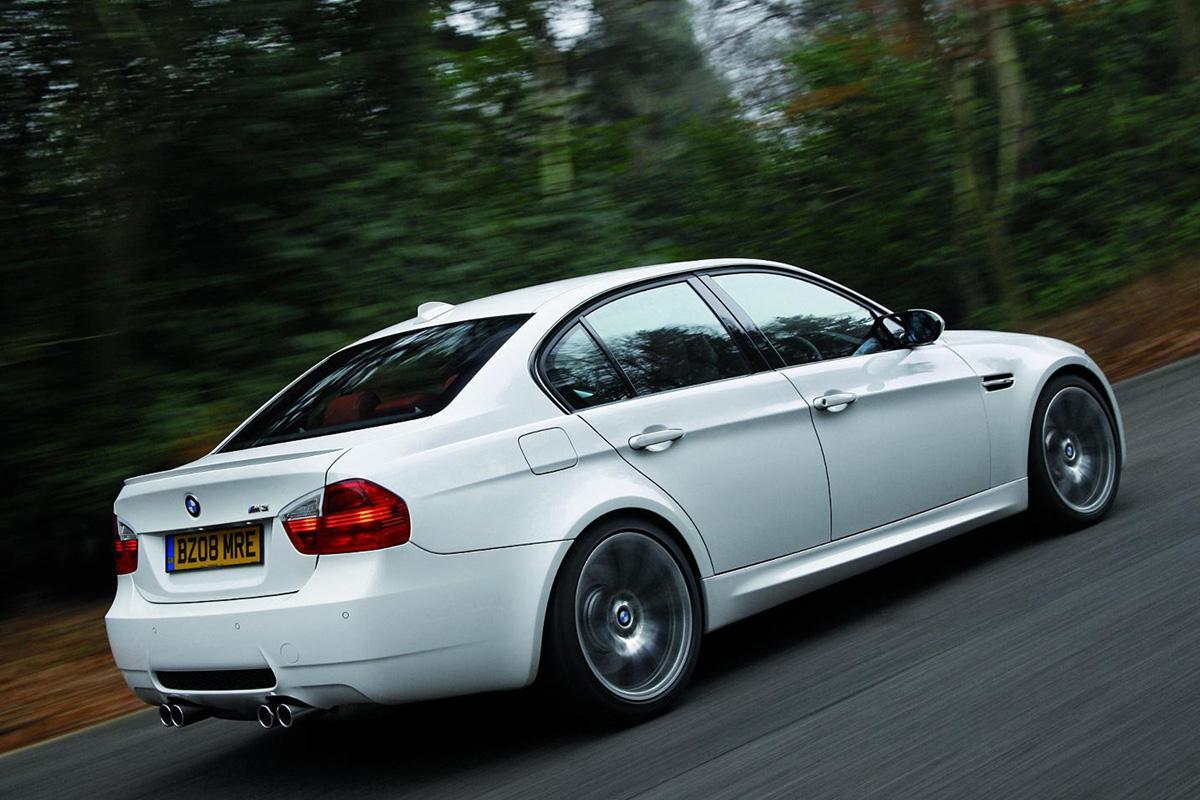 View gallery
The Auto Trader expert verdict:
★★★★★

★★★★★
4.3
The iconic BMW M3 now blends supercar pace with the everyday usability of a family saloon. Despite competition from the Mercedes-Benz C 63 AMG and Lexus IS F, the M3 remains king.
Pros
Amazing speed and sound from the V8 engine

Practicality of four doors and a big boot

Remarkably sharp handling
Cons
Massive fuel and insurance bills

Two-door M3 Coupé arguably looks better

Needs real skill to get the best from it
Interested in buying a BMW M3?
How good does it look?
The transformation from standard BMW 3 Series to M3 is a dramatic one, but the German company manages to stay within the boundaries of good taste. Some of the details are quite iconic now, like the unique double-stalked wing mirrors that hark back to the E36 M3 of the late 1990s. The wide wheel arches, massive alloy wheels, quad tailpipes and bulging bonnet all say this is a serious machine, though the two-door Coupé version suits the makeover slightly better.
What's the interior like?
The interior of the BMW M3 saloon is a slightly less dramatic transformation than the exterior, but behind the wheel you're still in no doubt that this is a proper performance car. The seats are comfy but deep enough to bolt you in place, the M-badged steering wheel is thick, and the trim finished in carbon-fibre effect material looks stunning. The dials are specific to the M3 too. However, some might feel it doesn't go far enough beyond more common 3 Series interiors, especially at the price.
How practical is it?
If the interior perhaps lacks super saloon sparkle, at least the M3 Saloon has 3 Series practicality in its favour. Rear doors feel out of place in a car like this, but they're welcome; two adults will fit in the back easily, though they may feel a little hemmed-in after a while. Those up front will have no such problem, especially the driver, who will find the seat and wheel adjustment range a massive plus. Split-folding rear seats are a cost option – surprisingly – but the saloon format inherently hinders practicality. The 460-litre boot feels big.
What's it like to drive?
This is the M3's forte. On a wet morning the M3 can be a perfectly docile, comfortable runabout (if that's the right word), yet take it to a track and it's one of the most entertaining, purest handling sports cars in the world. Its rear-wheel drive chassis feels perfectly balanced, with a sharp turn-in and so much feel through the seats and steering wheel you'll soon be sliding gracefully around those corners. This is not just a done up 3 Series, but a racing car for the road honed by BMW's specialist M Division using custom parts. It's truly special.
How powerful is it?
The 4-litre V8 petrol engine is worthy of the handling. It has a massive 414bhp and absolutely thrives on revs, so there's reward in keeping your foot down and changing gear as late as possible. That reward is a phenomenal, mechanical wail from the engine and the sort of acceleration that loosens your bowels. Right to the 8,400rpm rev limiter, this car is relentless. The 0-62mph benchmark comes in 4.9 seconds, but it feels quicker. We prefer the purity of the six-speed manual version, though the twin-clutch DCT automatic shifts gears so quickly that 62mph comes 0.2 seconds faster.
How much will it cost me?
The M3 package becomes a little more difficult to justify on this basis. Officially the saloon returns an average 22.8mpg (25.2mpg with the DCT automatic gearbox), but the reality is you'll achieve that figure only on a long motorway run. The M3 does enjoy its fuel. In addition, the 18- or 19-inch high-performance tyres it needs cost a fortune, as does insurance and servicing. This is a million miles from the cost of a 320d – though in keeping with the sort of performance on tap.
How reliable is it?
There's no questioning the M3's reliability. It's based on the 3 Series, which regularly features highly in reliability polls, but is also a specialist car made virtually by hand in Germany. If looked after properly, an M3 shouldn't provide any trouble. Be aware, however, that mechanical issues (suspension, engine or drivetrain) aren't going to be cheap to fix.
How safe is it?
The M3 hasn't been specifically tested, but the 3 Series has a five-star Euro NCAP rating. All kinds of safety equipment is standard, including front, curtain and seat-mounted airbags, sophisticated traction control systems and anti-lock brakes. The brakes themselves are particularly strong – they have to be.
How much equipment do I get?
The M3 comes with a lot of standard kit, including sports seats, parking sensors, ultra-bright xenon headlamps and climate control. But as with all BMWs, it's still possible to spend heavily on options, including an upgraded leather interior, active suspension, sat-nav and metallic paint.
Why buy?
There are other high-performance saloons, some of them quicker, but none that match the M3's handling purity. A truly dual-natured car, the M3 is part comfortable, practical saloon, part supercar. It's the fact it switches between those two states so effortlessly that makes it so deeply impressive. The Mercedes C 63 AMG and Lexus IS F are both brilliant, but we'd choose the M3 over them
Interested in buying a BMW M3?