First Drive
2016 Kia Sportage prototype first drive review
We take an early test drive in the all-new Kia Sportage, six months ahead of its official launch, to see how this crossover is shaping up before its reveal at the Frankfurt show
Auto Trader Verdict:
The crossover market is tougher than ever, but even based on this early evidence, the new Sportage feels like it could sit comfortably alongside the class best. The gains in refinement and ride comfort, plus a vastly improved cabin and slick new infotainment system could make it a big hit with British buyers – as long as it can back these talents up with a competitive price tag, and the efficiency to match its rivals.
Need to know:
Auto Trader joins exclusive sign-off drive for new Kia Sportage
We test front-wheel drive 1.6-litre turbo petrol version in Death Valley
On sale in January, UK prices are yet to be confirmed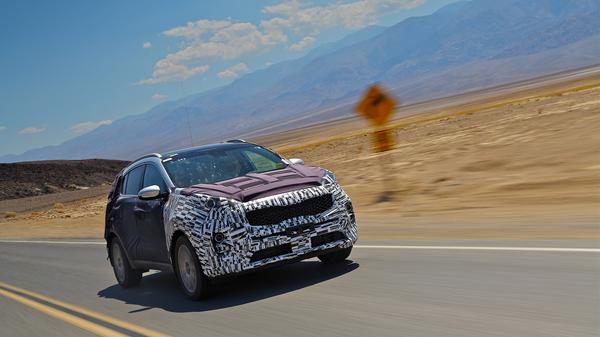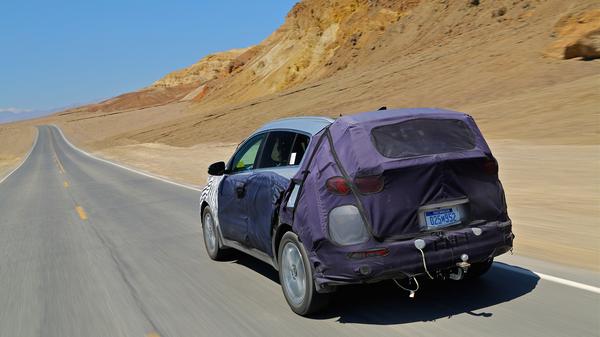 What is it?
An early US prototype of the most important model in the rapidly expanding Kia range: the all-new
Sportage
. In the UK, the current model has been a runaway sales success, and last year, the Korean brand sold as many of these handsome crossovers as Audi did
A4 saloons
.
Safe to say then, that the pressure really is on for this new version to perform, especially with rivals as strong as the
Nissan Qashqai
and
Honda HR-V
around, and fresh siblings like the stylish Hyundai Tucson waiting in the wings. SUV buyers really are spoiled for choice. In fact, the new Sportage is so important that Kia invited us to come and drive one six months ahead of the official launch date, joining up with its team of hot-weather testers as they put it through its paces in one of the harshest environments on earth: Death Valley.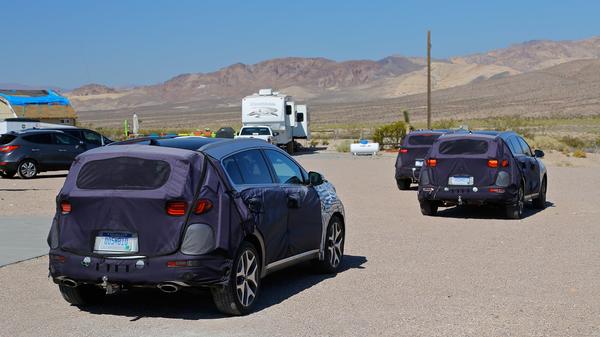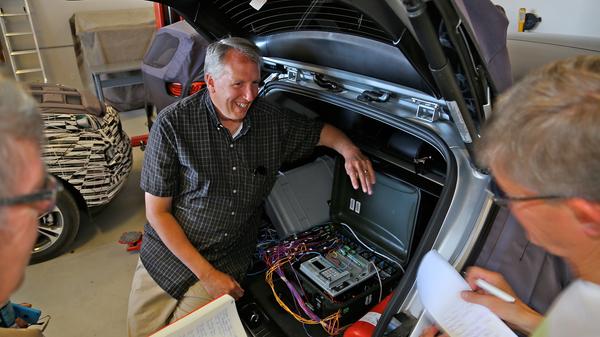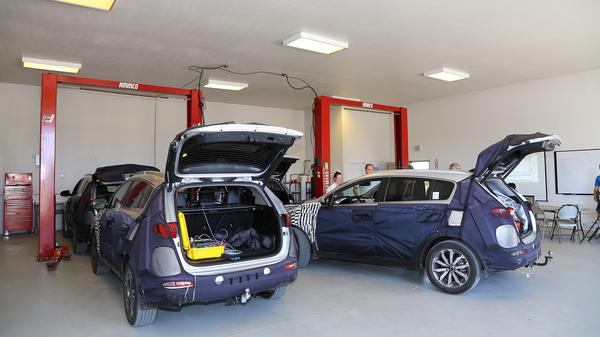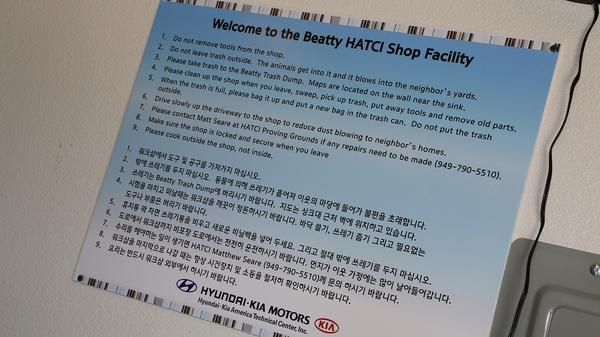 What's it like?
Over the course of two days we were given an extensive tour of the
Kia Proving grounds in the Mojave Desert
, before joining up with the durability engineers in Fire Creek and rolling out in a four-strong convoy of heavily camouflaged new Sportages to do the tests.
Drives like this one are both fascinating and frustrating in equal measure. On the one hand you are getting incredibly early access to one of most important new models of the year, but on the other, it feels like driving with a hand tied behind your back. With no detailed technical info, engine specifics, or even a hint of what the car might look like to help you. A quick field inspection (conducted by lying on the workshop floor and taking a sneaky look) told us that we would be driving a mixture of two- and four-wheel drive versions of the new Sportage. The dual exhausts and large 19-inch alloy wheels on two of the cars hinted at the largest (American market only) 2.4-litre petrol engine – and had four-wheel drive. We nabbed the keys to a front-wheel drive petrol turbo, on smaller wheels, to try and get closer to the sort of specification that buyers might actually recognise back home in the UK. When the Sportage does go on sale in Europe in January, expect a more diesel-focused engine line-up, with the return of the 1.7- and 2.0-litre units, plus an entry-level 1.6 petrol. Our testing route consisted of winding, empty roads that seem to stretch endlessly through the heat haze of the sunbaked valley. Kia chooses to do its hot weather tests here because the punishing 50ºC temperatures can be relied upon all summer, so it's doubly impressive that in a car covered in black bags and blankets the air-con still kept us refreshingly cool. Yet even in this alien landscape, you can tell that the 2016 Sportage has matured, both in terms of its interior quality and design, and the way that it drives. It feels grown-up, with more emphasis on comfort than before. The ride felt nicely judged, the steering is better weighted and more consistent than it was in the previous car, although we're told the final cars will have several steering modes to choose from. We encountered more fast sweeping bends than genuinely twisty roads, but while there wasn't a massive amount of grip, body roll was kept neatly in check, turn in was crisp and immediate, and the Sportage took dips, crest and undulations nicely in its stride. It even coped with rougher gravel roads surprisingly well, staying planted, easy and predictable to control, with only a small amount of buzz coming through the controls. The turbocharged engine in our car felt strong too – with what must be around 200bhp, as it never struggled to hustle the larger 2016 Sportage down the road, and while it was a little strained under more demanding acceleration, in general it seems nicely refined. Performance was hampered slightly by the six-speed automatic gearbox though. It took an age to kick down into the appropriate ratio when required, and this noticeable pause really blunted its overtaking ability. In the UK the majority of sales will be manual, but we hope the software on the auto will be tinkered with before the Sportage goes on sale. Inside, the upright dash and large centrally placed buttons and switches give it the feel of a classic SUV, with a high seating position, and excellent forward visibility, but it also still feels compact, and certainly smaller than rivals like the
Ford Kuga
and
Mazda CX-5
. Space in the back is very generous, with a lot more knee room than you got in the old car, and a deep boot, which was full of expensive measuring kit, fire extinguishers, and trailing wires, along with a first aid kid for treating snake bites. There is extra stowage under the boot floor too, and the rear seats slide back and forth to increase the space. However, the glass sunroof in our car was definitely impinging on headroom for passengers in the back (as it does in rivals like the Honda HR-V) so we'd hope that things were a little better for taller folk sat in the back of a more standard spec car.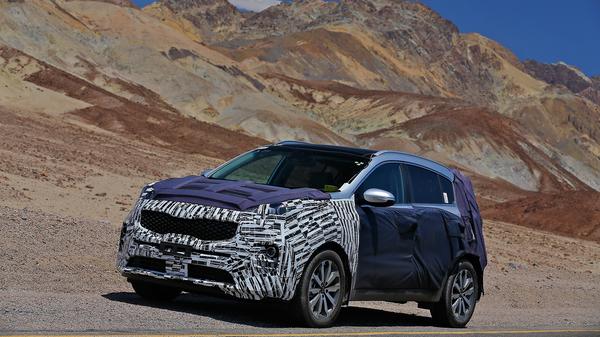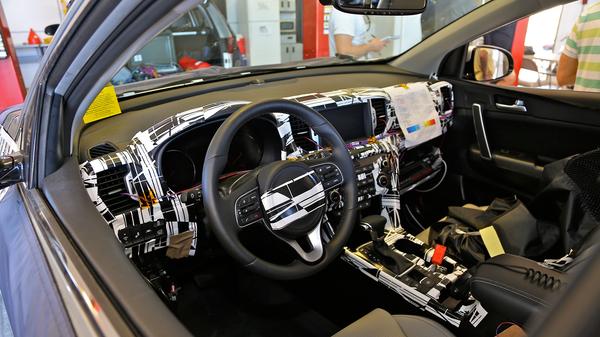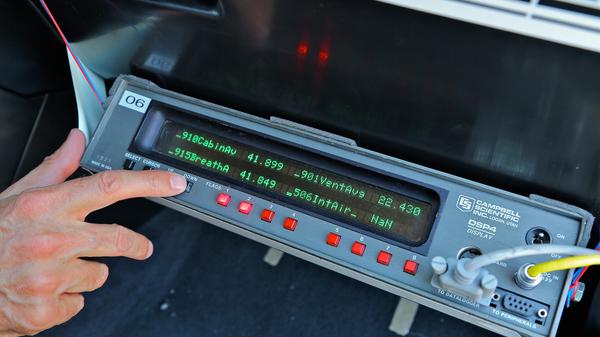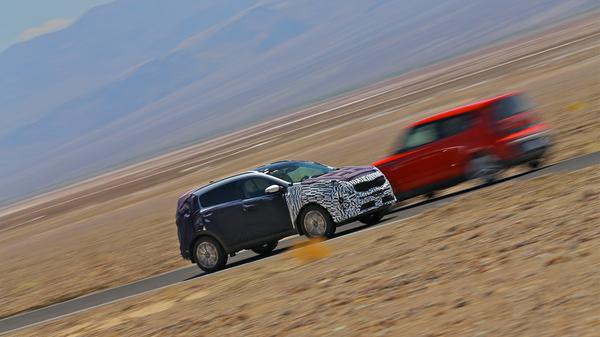 Should I get one?
Obviously you can't buy one yet, but this early drive was definitely enough to show that Kia has raised the stakes for the all-new Sportage. Once Kia in Europe has finished fettling the car, we hope it'll ride with the same impressive compliance and refinement in the UK.
Although the cabins in these prototypes were unfinished, material quality was excellent, and the interior definitely feels more luxurious, taking a few cues from the bigger Sorento. All the models we tried were very high spec, with a large 8.0-inch touchscreen display, an SD card-based sat-nav, full length panoramic sun roof, leather interiors, heated and cooled seats, climate control, lane departure warning, and lots of other safety kit. So it seems the new Sportage will be more relaxing to drive, more practical and packed with new standard equipment when it arrives in January. As long as the diesel engines can match the hushed nature of this petrol, whilst also improving efficiency, then Kia should have another hit on its hands, and it'll be well worth a look.
Key facts:
Model: 2016 Kia Sportage 1.6-litre Turbo
Price: £TBC
Engine: 1.6-litre 4cyl petrol turbo, six-speed automatic
Power/Torque: 175bhp/195lb ft (est)
0-62mph: 9.7 secs (est)
Top speed: 115mph (est)
Economy: 43.5mpg (est)
CO2/BIK tax liability: 150g/km/TBC (est)
Boot space: 500 litres (est)
Also consider:
Nissan Qashqai
A smart cabin, lots of room and bags of kit all make the Nissan the current class favourite
Skoda Yeti
Not the most efficient crossover, but the Yeti makes up for it with sharp handling and 4x4 clout
Hyundai Tucson
Shares plenty of its D.N.A with the new Sportage, with neat looks and a versatile interior