First Drive 2015 Audi R8 V10 Plus first drive review
We test drive the fastest, most powerful road car Audi has ever built, the 601bhp and 205mph new Audi R8 V10 Plus, on road and track and deliver our first verdict.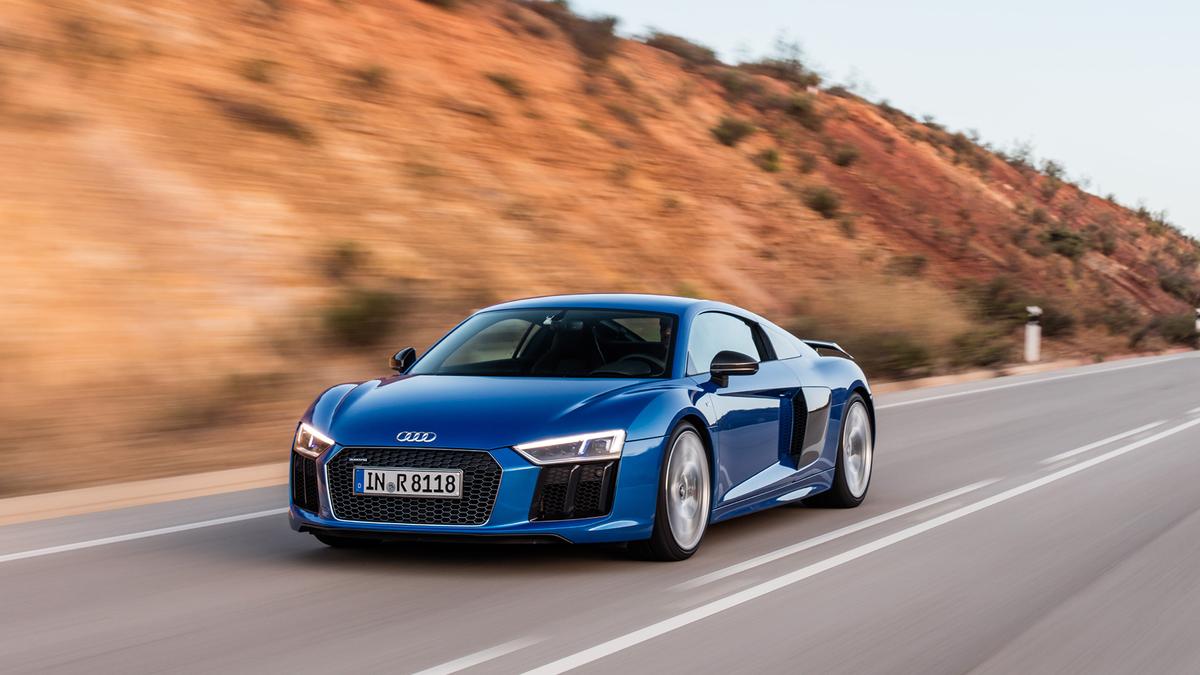 View gallery
First published: 13th July 2015
Auto Trader Verdict:
Audi defied all expectations with the original R8, and while this new car is more evolution than revolution, almost all the changes are positive ones. The howling V10 engine still takes centre stage, but the handling is just as keen, adjustable and engaging as before. A modern makeover means the interior is now as plush and packed with technology as the A8 saloon, and while it doesn't quite steer or handle with the same scalpel-like precision of a 911 GTS, the R8 sounds and feels a lot more dramatic, while still being remarkably easy to live with.

Author: Paul Bond
Location: Portimão, Portugal
Need to know:
New R8 features V10 engines only, four-wheel drive

601bhp 'Plus' model is fastest road-going Audi ever

On sale now, priced from £119,500 OTR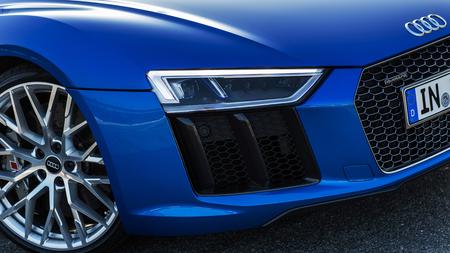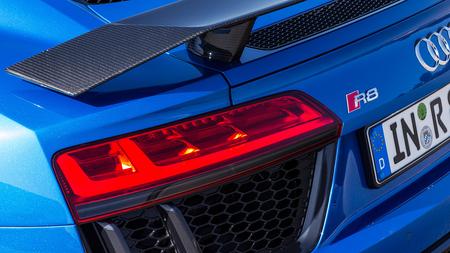 What is it?
The brand spanking new version of the supercar that almost single-handedly changed the perception of Audi in the modern era, and also the fastest road car the brand has ever made.

It's hard to overstate the importance of the R8 to Audi – it's far more than just a halo car. It proved that the engineers at Quattro GmbH had the chops to mix it with the likes of Ferrari, Porsche and Mercedes, often come out on top, and yet also remain somehow attainable.

For this new version, Audi has raised its game to meet the challenge posed by new rivals from McLaren and AMG, whilst trying to depose the 911 GTS as the definitive dynamic benchmark. The V8 model has been dropped, and you can now choose between two flavours of V10, the standard car has 533bhp, while the full fat 'Plus' model has 601bhp, and will now hit 205mph.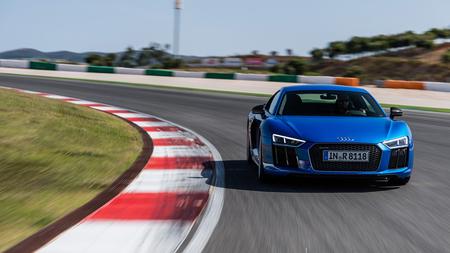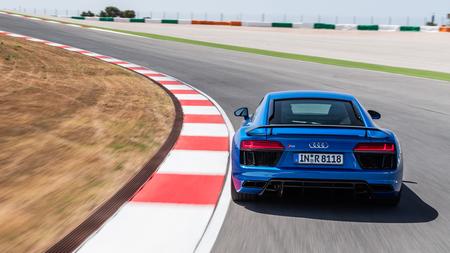 What's it like?
Theatrical, in every possible sense. The original R8 looked aggressive, for sure, but it was subtle enough to slip through traffic unnoticed when required – a feat that's near impossible in the new V10 Plus, with its blade-like fixed carbon spoiler, massive grille and 20-inch alloys. Ironically after several appearances in the Iron Man franchise, there is more than a hint of Tony Stark's helmet about the angular new front-end.

This is definitely a sports car for those people who want to make a statement. The 'bring the noise' switch for the trick trapezoidal exhausts is right next to the bright red starter button on the new steering wheel, and once pressed it doesn't take long for the 601bhp 5.2-litre V10 to progress through its full operatic repertoire; from low rumble to high-revving banshee howl.

Not a lot has changed when it comes to the engine itself – the additional 68bhp gives the Plus model the kind of alarming straight-line speed that would embarrass cars at double the price. It now has stop/start and can shut off a bank of its cylinders to save fuel, but we suspect that if you're planning to buy an R8, then coasting along trying to eke out the official 23mpg figure won't be a number one priority.

Throttle inputs are not met with the same wall of torque you get in turbocharged rivals like the 911 Turbo and Mercedes AMG GT S, but the V10 oozes star quality. Because it's naturally aspirated, every input with the right pedal can be measured with millimetre precision, and the way it builds its speed in a sudden, maniacal rush above 6,000rpm and charges towards the limiter is so breathtakingly savage that you'll find yourself wringing it out time and again.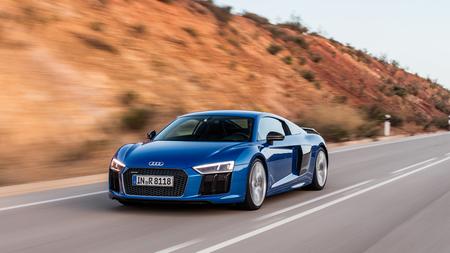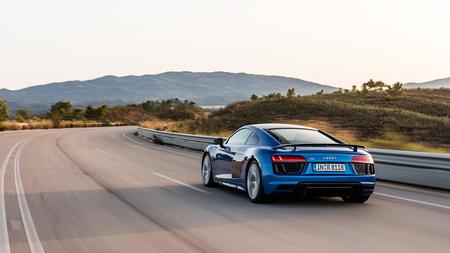 The seven-speed dual-clutch S tronic gearbox provides blink-or-you'll-miss it changes up or down, allowing you to keep the engine spinning at high revs so that the power is always right there when you need it. The four-wheel drive system has been revised with a new multi-plate clutch that can send 100 percent of the engine's 413lb ft of torque to either axle.

All the cars we tried came with the optional 'dynamic' steering, a variable ratio rack that is supposedly designed to increase motorway stability and low-speed manoeuverability, without robbing the driver of too much sensation. In practice, the system introduces a small element of doubt when cornering hard, suddenly going light mid-corner, and making it unclear exactly how much grip there is at each corner. It's not a major issue, but the Porsche 911 could still teach the R8 a lesson about how to replicate natural weight and feel on an assisted rack.

Still, any lingering worries we had that the R8's brilliant handling had being anesthetized soon evaporate after a trying it on some really challenging roads, and at the Portimão track. The lighter, stiffer body shell means the R8 changes direction with a near-supernatural absence of body roll – staying flat and level no matter what speed you decide to pitch it into a corner.

On the road, the immense grip is so hard to break (in the dry at least) that you won't work the wide rear tyres unless you get really brutal with you right foot; but, out on track the R8 still feels wonderfully adjustable, pivoting through corners and moving around on the throttle.

All of the above is fantastic news for when you want to drive quickly, but probably the R8's greatest trick is its dual personality. Switch off the sports exhausts, soften off the magnetic dampers, and leave the gearbox to its own devices, and the R8 is as docile as a diesel TT.
It cruises comfortably and the overall ride quality is superb (even on bumpy roads, optional 20-inch wheels and the standard steel sports suspension of the V10 Plus). It soaks up punishment really well, maintaining composure and grip and allowing you harness the engine's power.

The cabin architecture is faithful to the original R8, with the same low-slung dashboard and curved air vents, but the quality has been vastly improved, and the amount of technology on board has increased, with a 12.3-inch screen in place of a speedo and rev counter. The new wheel is covered in controls for everything from the dynamic set-up to sat-nav layout.

As standard, the V10 Plus has figure-hugging bucket seats, which are supremely comfortable, and forward visibility is decent, so it's not an intimidating car to drive or park in town. Boot space is limited to a small square hollow in the nose, but you can fit a pair of bags onto a narrow shelf that's been carved out behind the seats, which Audi reckons adds over 100 litres of extra luggage space. Even so, it's still hardly what you'd call a GT, though.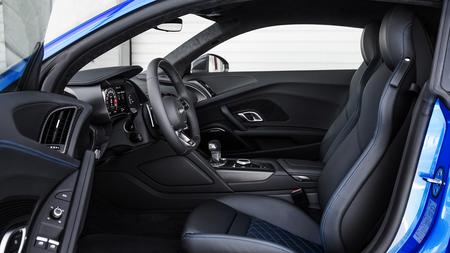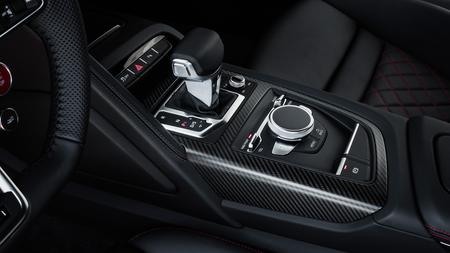 Should I get one?
We can't think of many people who would be able to resist the R8's beguiling mixture of real-world everyday usability, monstrous performance and enormous all-weather traction. It may not have changed much, especially in standard V10 guise, but the combination of a lower, stiffer chassis and more powerful engine in the 'Plus' model makes it feel like a big step up.

Along with the brilliantly judged sports suspension, sports exhaust, carbon ceramic disc brakes and bucket seats which come fitted as standard, we think the 'Plus' is definitely the R8 to go for, and the fade-free brakes alone are worth nearly half of the £15,000 price gap.

It won't be long before a cheaper version, with a smaller (likely turbocharged) engine, joins the range, which is worth waiting for if you're looking for a sportscar around the £100k mark, but with higher predicted residuals than any of its rivals, the R8 V10 is a sound investment.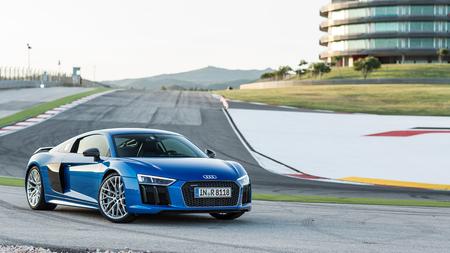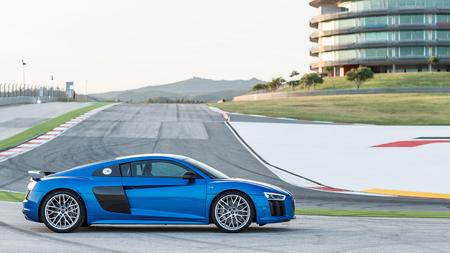 Key facts:
Model: Audi R8 V10 Plus

Price: £134,500

Engine: 5.2 litre V10 petrol, seven-speed auto

Power/Torque: 601bhp/413lb ft

0-62mph: 3.2 secs

Top speed: 205mph

Economy: 23mpg

CO2/BIK tax liability: 287g/km/37%

Boot space: 112 - 226 litres
Also consider:
Mercedes AMG GT
Less highly strung, and a better cruiser, with a seriously potent twin-turbo V8
Porsche 911 Turbo
Marginally sharper to drive than the R8, with better steering, but less involving, too
Lamborghini Huracan
Even more extrovert looks with an identical 5.2-litre V10 engine, but inert handling
Interested in buying an Audi R8?