First Drive
2015 Audi A4 2.0 TDI 190 Ultra first drive review
We drive the latest, all-new version of the Audi A4 to see if it has what it takes to mix it with the class-leading compact execs from the likes of BMW, Mercedes and Jaguar
Auto Trader Verdict:
The latest A4 is a refreshing change of tack from Audi. The focus on comfort and refinement has paid real dividends, and the new A4 really does drive - and feel - like a car from the class above. The stunning interior, hushed and efficient engine, and interior space are all major plus points, but if driving pleasure is your top priority, then the BMW 3 Series or Jaguar XE will probably be a better bet. As a rational purchase, though, the A4 is difficult to fault.
Author: Paul Bond Location: Italy
Need to know:
All-new Audi A4 is lighter, cleaner and much more luxurious
2.0 TDI 150 returns 99g/km CO2 emissions; car shares tech with Q7
On sale now, priced from £25,900 on the road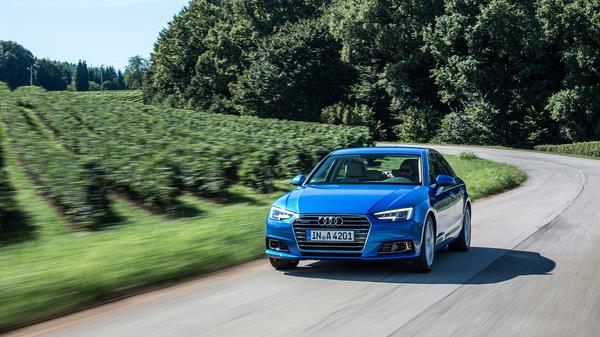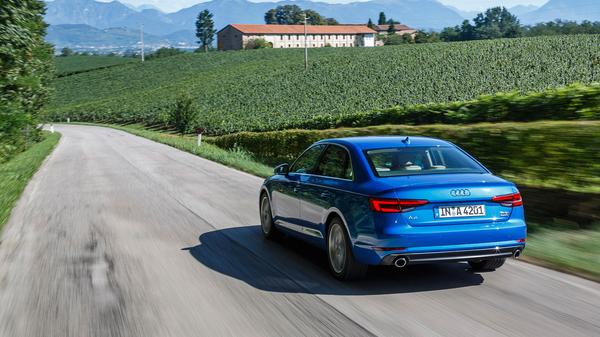 What is it?
If you'll forgive the analogy, the new A4 is a rather different way of skinning a cat.
This year has seen the launch of some very important new executive saloons, and none more so than the latest, fifth-generation Audi A4. However, rather than following the example of the
Jaguar XE
and
BMW 3 Series
(currently fighting for the title of 'sportiest compact saloon') the Audi A4 instead concentrates on something far more relevant: comfort. Hence the reference to an ill-fated moggie. Now, while it's easy to make the delicacy of perfect weight distribution, pin-sharp steering and limpet-like grip sound appealing, the truth is that more buyers will take a soft ride and a refined and plush cabin over the sensation of being connected to the road, or predictable on-the-limit handling. To that end, Audi has designed the new A4 to be as user-friendly as possible, starting with an exterior that is sure to offend no one. The exterior also sets a remarkable record as the most aerodynamic car the brand has ever made. This, along with a weight saving of 110kg over the previous car, helps to save fuel and increase performance.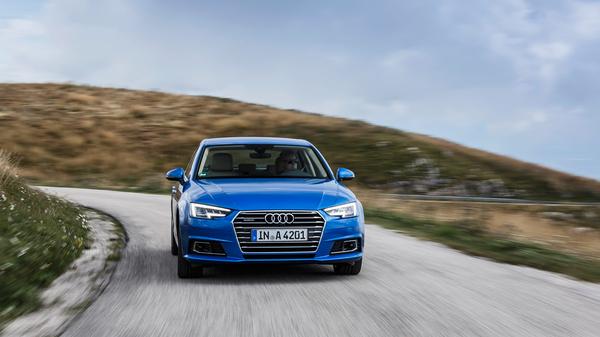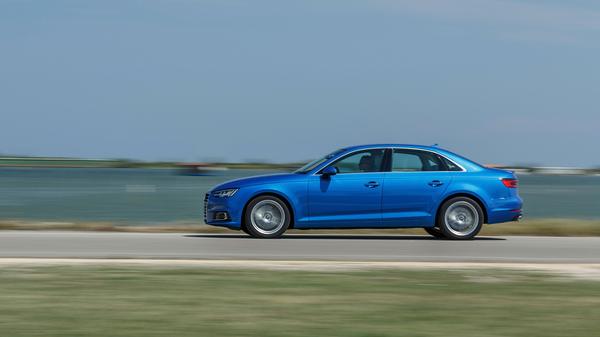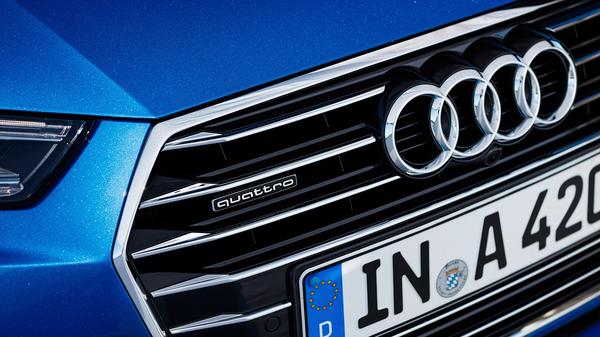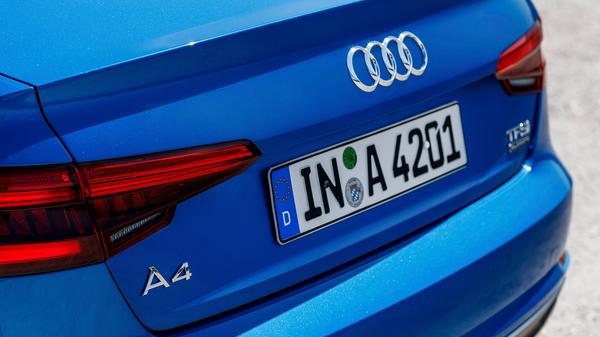 What's it like?
The new A4 is such a vast improvement over its predecessor, and in almost every respect, that it's in contention with the best in this class. The looks might not be too dissimilar from what's gone before, but the overall driving experience couldn't be more different.
The key foundations for this change are the huge leaps made to ride and the refinement. Underneath, the A4 shares much of its chassis and technology with the
Audi Q7 SUV
, so it really does feel like a car from the class above. It has one of the longest wheelbases in this class, too, so it has a very spacious rear cabin, and a 480-litre boot to match the 3 Series and
Mercedes C-Class
. Working out exactly which A4 to choose to get this magic carpet ride might be a little tricky, though, as there are four different suspension set-ups to choose from. Two are on standard springs, and two use an adaptive set-up, with a 'comfort' and a 'sport' option for each. The cars we drove were all on the 'comfort' adaptive suspension, which is lowered by 10mm.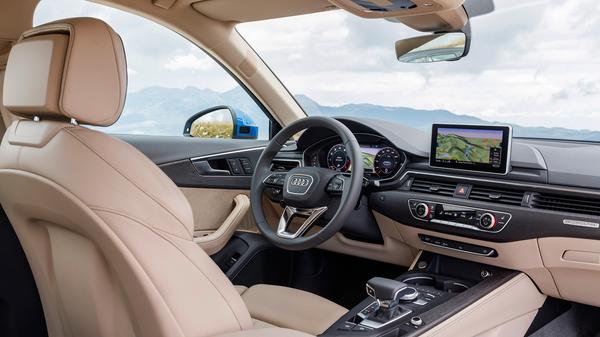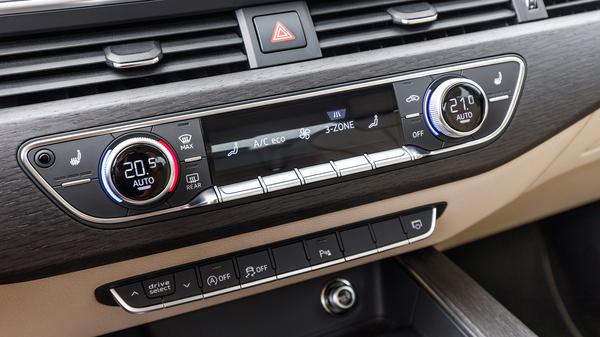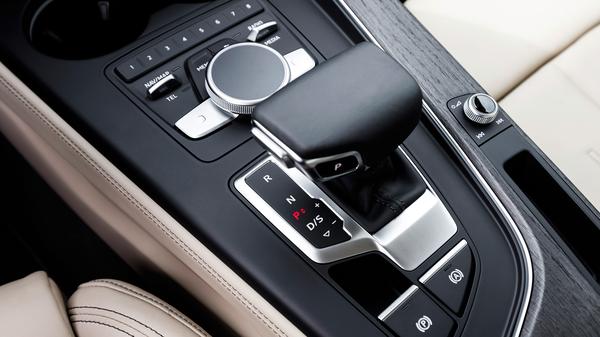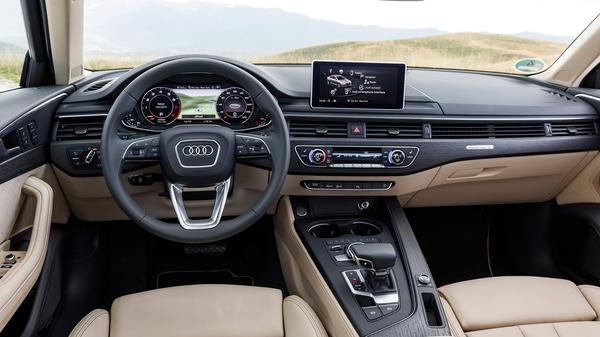 On the roads we drove, this system worked brilliantly, smothering uneven bumps and providing tight body control through corners, ensuring the A4 feels planted at all times. It also means the ride on the motorway is really cossetting, even on 19-inch wheels.
The 2.0-litre TDI 'Ultra' engine is also a major achievement. It's quiet and smooth, but delivers effortless torque from 1,500rpm onwards, and will pull strongly in any gear. There's a faint rumble under heavy acceleration, but otherwise very little noise leaks into the cabin. The standard six-speed manual gearbox has a slightly longer throw than we'd like, but if you plan your shifts well, then it'll reach 62mph in just 7.7 seconds. Efficiency is also high on the agenda; and, while there is a 99g/km version of the 2.0-litre TDI with 148bhp, the C02 output for this 187bhp model is still just 102g/km – and it's the one we would pick, given the choice. The steering in the new A4 is more consistent, accurate and precise than before, but when driven really hard, the Audi doesn't reward the driver quite like the best of its rear-drive competitors. It doesn't have the same connected feel as a Jaguar XE, or the innate feeling of balance in that car. If you do push too hard into a corner, the low-rolling resistance tyres squeal in protest, but in the four-wheel drive versions we tried on stickier tyres, this was much less of a issue.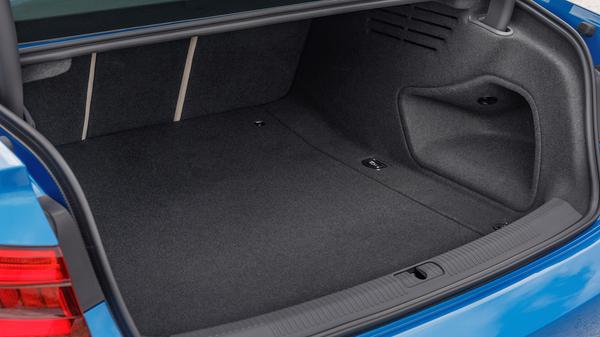 Inside, the Audi takes the bar for quality and luxury set by the C-Class, and raises it another couple of notches. As you'd expect, the interior looks and feels flawless. Every little switch, dial and control your fingers encounter moves and clicks with total precision, and material quality is top-notch.
As an option, you can have the same 12.3-inch 'virtual cockpit' that was introduced in
Audi's TT
and Q7 and replaces the analogue dials; but, with a fixed, clear screen in the centre console doing the same job, we're not entirely sure why you'd spend the extra. Other hi-tech options include a myriad of active safety systems, including a 'Stop & Go' and lane keep assistant that work together with the adaptive cruise control to essentially drive the car for you in traffic at speeds of up to 33mph. It'll brake, steer and accelerate, and all you need to do is nudge the steering wheel every now and then so the car knows you're still alive and kicking.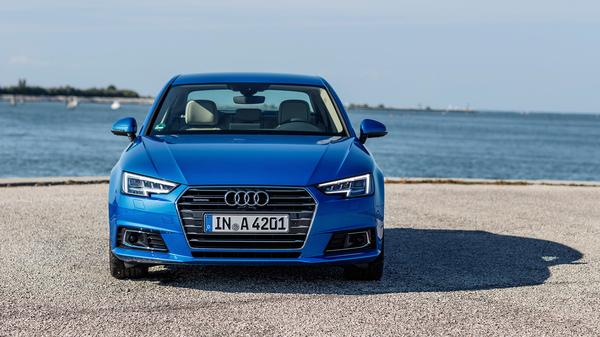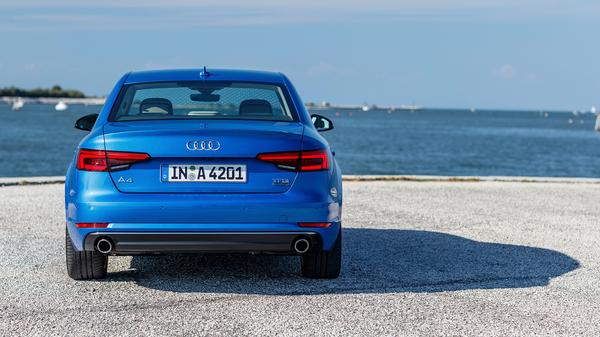 Should I get one?
Here is where things get interesting – Audi has priced the A4 to undercut a lot of its rivals, whether you choose a petrol or a diesel model. The standard spec list also appears pretty generous at first glance. Even SE models have Xenon headlights, LED running lights, 17-inch alloys, reversing sensors, three-zone climate control, Bluetooth and DAB radio.
Upgrade to a Sport and you get sat-nav, comfier sports seats and an upgraded stereo. Now, that seems generous, but BMW offers sat-nav as standard across the 3 Series range, and the EfficientDynamics model has leather upholstery and heated seats as standard, which you'll have to fork out extra for in the Audi, even on top S line models. Even with these niggles, though, the A4 should definitely be on your shopping list. It's more refined than its rivals, rides beautifully (on adaptive suspension, at least) and has an upmarket interior that would make it simplicity itself to live with day-to-day.
Key facts:
Model: Audi A4 2.0 TDI Ultra 190 Sport
Price: £31,000
Engine: 2.0-litre 4cyl diesel, six-speed manual
Power/Torque: 187bhp/295lb ft
0-62mph: 7.7 secs
Top speed: 130mph
Economy: 72.4mpg
CO2/BIK tax liability: 102g/km/18%
Boot space: 480 litres
Also Consider:
BMW 3 Series
Long-established class-leader combines thrilling handling with ultra-low running costs
Mercedes C-Class
A plush cabin, generous kit and safety tech, plus frugal engines, set the C-Class apart
Jaguar XE
Brilliant steering, decent refinement and a sleek image make the XE easy to recommend