Volkswagen ID. Buzz MPV
New from £58,915
How long will it take to charge?
Results based on 82.00kWh Volkswagen ID. Buzz battery
0

For a part charge (up to 0 miles)

0

For an 0% charge 0
You can charge this vehicle in 30 minutes at its fastest charging speed of 350 kW
* We have used data from the manufacturer to estimate these charging times, they are only a guide. Charging times for some speeds may not have been provided.
Is the Volkswagen ID. Buzz MPV a good car?
Read our expert review

Words by: Dan Trent
"The ID.Buzz successfully plucks the heartstrings with an all-electric reimagination of VW's iconic camper van heritage, the healthy garnish of hippy chic and surf culture underlining its lifestyle credentials. And it works, this stylish twist on the ID.3, ID.4 and others combining genuinely head-turning looks with fantastic practicality. It's not cheap, and nor is it as practical as the more spacious and hybrid powered Multivan. Neither is it big enough to count as a true van and operate as an electrified alternative to the Transporter Kombis beloved of lifestyling outdoors types. But, for fashion conscious families, it's still a compelling alternative to premium SUV, with tons of space inside and enough range and performance for most needs. Click here for our review of the ID.Buzz Cargo commercial version."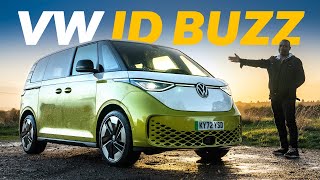 Read the review by category
Running costs for a Volkswagen ID. Buzz
The smile ID.Buzz puts on your face may be wiped off when you see the bottom-line price, especially with the signature two-tone paint and fancy upholstery you see here. In fairness, though, it's on a par with a top-spec ID.4 or ID.5, and not unreasonable compared with premium electric SUVs that might also be on your radar. And the expected desirability should mean very strong resale values, so monthly finance numbers may be less intimidating. Like all electric vehicles, you can also offset those higher purchase costs with the knowledge owning it could be a lot cheaper than an equivalent petrol or diesel, especially if you can run it as a company car and score the much reduced Benefit In Kind available on zero emissions cars. With public charging getting more expensive you'll need facility to plug in at home on an EV specific energy tariff to benefit here. But, if you're smart about it, an ID.Buzz could still slash your running costs.
Reliability of a Volkswagen ID. Buzz
The ID. Buzz is built on Volkswagen's dedicated electric 'MEB' platform, which is still new tech but widely used across other brands in the group, including Skoda, Cupra and Audi. There have been some reported glitches with infotainment systems on these models but VW has been working hard to address them with over-the-air updates that can hopefully fix bugs remotely. While we have experienced issues in other cars based on the same hardware we didn't have any issues with the ID.Buzz in our (admittedly short) time in it. Let's hope that's a sign VW is getting to grips with its new tech.
Safety for a Volkswagen ID. Buzz
Given the shared bits with the rest of the ID family we're now familiar with the wide range of driver assistance technology VW has to offer, much of which is standard on the ID.Buzz. As you'd expect, automated braking with pedestrian and cyclist detection is standard, the latter very welcome given the popularity of bikes in central Copenhagen where we tested it. A rear camera, parking sensors, lane-keeping assistance and 'swerve support' are also standard. You can upgrade further with the Assistance Package Plus (standard on the 1st Edition, a cost option on other models) which adds semi-automated lane changing and automated parking where you can 'record' complex manoeuvres like a tight driveway that the Buzz can then repeat on demand. It's not all good news, though, and those with young families will be disappointed the ID.Buzz only has two Isofix mounts on the outer rear seats – if you need three across the rear bench you need to stick with a more conventional MPV like the Touran.
How comfortable is the Volkswagen ID. Buzz
We first drove the ID.Buzz in pre-production form and it's clear VW has put a lot of effort into refinement between then and now, the finished car making the most of its silent electric propulsion by delivering a very calm and peaceful driving environment with minimal road or wind noise. It's also less boomy than the bigger Multivan, and feels a lot more car-like to drive. That will be a big confidence boost for those perhaps intimidated by the van vibe and fears the Buzz will be too big for busy supermarket car parks or school run traffic. While the windscreen is a long way away, and the double pillars do restrict visibility at junctions somewhat, the boxy shape, tight turning circle and plethora of sensors and cameras mean it's no more difficult to live with than an SUV. In fact, in some ways it's easier given features like sliding side doors mean back seat passengers can get in and out even if you don't score that all-important parent and child parking space. While a longer version of the Buzz with an additional row of seats will come in due course for now it's merely a five-seater, which is a disappointment given how big it seems. While the centre position on the rear bench is bigger than many hatchbacks and SUVs it isn't actually a full seat like that Touran, or a Transporter Kombi. Fine for four full-size people, a family of five might find it surprisingly cosy with three sitting in the back. Nor is the floor flat, so although the seats slide and tip you can't configure the interior by taking them out or repositioning them on full-length rails as you can in the Multivan. In better news the boot is absolutely huge, with extra practicality from a double-deck floor with storage bins under the first level where you can stash charging cables and other kit. And, while it's not a proper camper, when you fold the rear seats flat it creates space enough for a double camping mattress. Great for outdoorsy empty nesters, perhaps, but if you need proper van-like space for all the family the Multivan or Transporter Kombi are still way more flexible.
Features of the Volkswagen ID. Buzz
The basic layout of the interior will be familiar from other ID models. Frustrations from others in the family like the unlit, touch-sensitive controls for temperature and volume are – annoyingly – carried over as well. It's also a bit mean that the two standard trim levels ship with a smaller 10-inch screen, the bigger 12-inch unit an expensive cost option on all but the 1st Edition versions. Given VW insists on putting all your interactions through the touch-screen buyers have a right to feel aggrieved at having to spend even more to get the full functionality, the expanded range of app-powered connected features like remote charging control included for the first three years but on a paid-for subscription after that point. The funky looks will inevitably be a huge talking point for the ID.Buzz and we loved the two-tone paint and upholstery on the cars we drove. However, delving into the pricelist reveals base-spec cars are a dull monotone inside, and you either have to pay extra for the contrast colours or go up to the next trim level for the trendier looks. Dig deeper still into your pockets and you can have your seats trimmed in a fleecy material made from recycled plastics but, with this and the signature two-tone paint also a cost option, you can see how the already pricey ID.Buzz can quickly get a whole lot more expensive.
Power for a Volkswagen ID. Buzz
Like the iconic Transporters of the past the Buzz has its engine under the floor in the back, but that's about where the similarities end, given it's a pure battery-powered electric powertrain. Which, if you've ever driven a wheezy old VW camper, is definitely a good thing. With the same size battery as Pro Performance versions of the ID.3 and ID.4 and a 204 horsepower motor the ID.Buzz gets off the line faster than the numbers suggest and has enough acceleration to keep pace with fast-moving motorway traffic, the silence of the electric power making it all feel very effortless. With no gears to worry about it's a very relaxing drive, the only option being a 'B' mode for stronger regeneration and more power back into the 77kWh battery when you come off the accelerator. Driven with due care, and on a warm summer's day, the efficiency we recorded should see you within shouting distance of the official range of just over 250 miles, which is encouraging and enough to do a week's driving on a single charge for most people. In colder weather you may see that drop considerably, though, and longer roadtrips will take a bit more planning than in a hybrid Multivan or conventional diesel Transporter.
Standard equipment
Expect the following equipment on your Volkswagen ID. Buzz MPV. This may vary between trim levels.
Related articles and reviews
Video: Volkswagen ID.Buzz
Rory takes the VW ID.Buzz for a spin to explore its quirky combination of retro hippy chic and cutting edge electric tech