Volkswagen Arteon Estate
New from £33,125 / £615 p/m
Overview
Petrol, diesel or petrol plug-in hybrid
Is the Volkswagen Arteon Estate a good car?
Read our expert review

Words by: Erin Baker
"Is it a coupe? Is it an estate? Actually it's their lovechild, the Arteon Shooting Brake. Until now, the Arteon has only been available as a 'fastback' four-door coupe. This slick, quick Shooting Brake is a posh Passat estate, if you will. Just be careful which version you go for."
Read the review by category
Running costs for a Volkswagen Arteon
Typically for VW there is a huge range of trim levels and options for the Arteon Shooting Brake, meaning your budget slithers around with banana-skin acceleration as you configure your car. And they haven't even introduced the crazy Arteon R yet. If space is your priority, you'd be better off with the humble Passat estate. Meanwhile, engines on offer include petrols, diesels and a plug-in hybrid, and trim levels are SE Nav, Elegance or the high-performance R-Line spec. In other words, running costs will vary considerably. For example, while the plug-in hybrid (branded eHybrid) will cost you more up front, if you use it mainly in pure electric mode and recharge on an off-peak domestic tariff overnight, you'll be better off than if you'd bought the 2.0-litre petrol. On the other hand, the latter is more fun…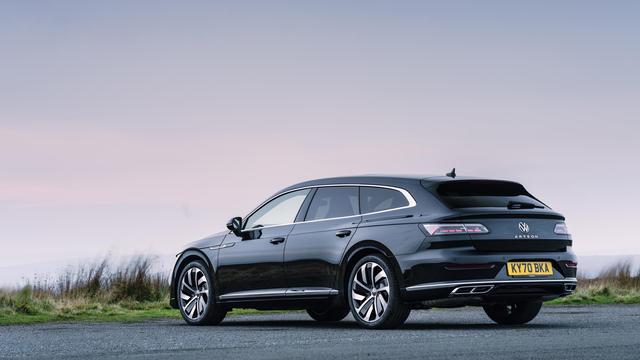 Reliability of a Volkswagen Arteon
The Arteon remains quite a niche purchase, so reliability data is scarce. Volkswagen hovers in the bottom third of many reliability studies, which is odd, given the reputation VW has for build quality, but the Arteon's sibling, the Passat, ranks higher. The warranty on offer is the bog-standard three-year/60,000-miler industry average cover.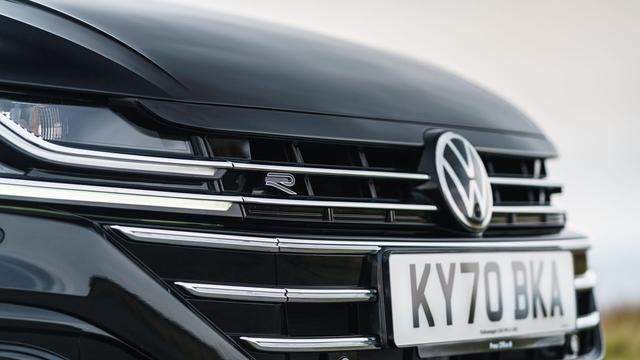 Safety for a Volkswagen Arteon
VW group's safety systems are all offered, either as standard or an option. As you'd expect there's an anti-lock braking system, electronic stability control and differential lock as standard, all of which help the car maintain grip and prevent skidding. The airbags include curtain airbags for both front and rear passengers and an active bonnet, which rises when it senses impact, to keep the pedestrian, cyclist or animal away from the engine. The car also detects when the driver is tired, as many models now do, and issues a warning. Also available are the usual smorgasbord of lane-assist warning systems to keep the car from straying into the next lane. VW's is pretty sophisticated, offering road-edge protection and progressive steering to guide it back into line. There are front and rear parking sensors as standard and a rear-view camera as an option, as well as a 360-degree camera. There's an Emergency Assist function and driver intervention, which guides the car to a stop should it detect the driver is incapable of driving, via sensors in the car measuring attention and reactions. And, last but very much not least, adaptive cruise control is an option.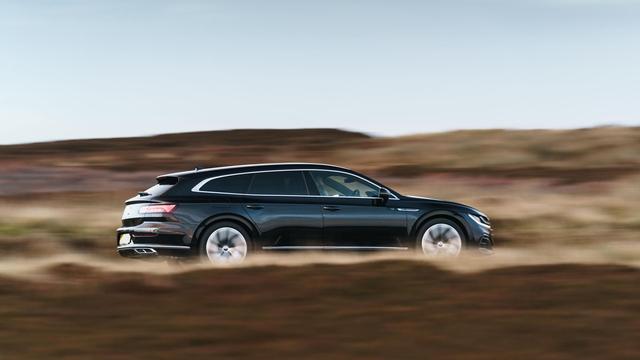 How comfortable is the Volkswagen Arteon
The Arteon Shooting Brake is an extremely comfortable car, offering market-leading rear leg room. The boot's load space is slightly curtailed by the curvaceous rump of this elegant estate, so it is looks or practicality here. It does, however, tick the box for long-distance cruiser with good refinement on motorways. You'll struggle to find a more comfortable cabin without spending at least another £10,000 on the list price.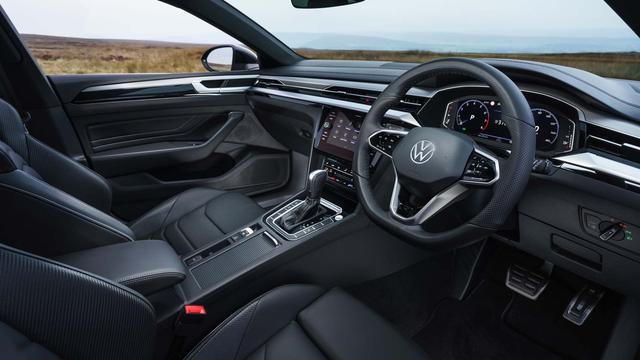 Features of the Volkswagen Arteon
VW group's infotainment system, also found in Skodas and Seats, strikes us as average. It's way more user friendly than many rival set-ups, but there are more beautiful and satisfying graphics out there and traffic congestion en route is easier to see on some. It can also be annoying that functions emerge as your finger approaches the screen. It's a cool novelty at first but can become intrusive when you just happen to be hovering over the screen. It does, however, offer App Connect, which allows CarPlay, Android Auto and Mirrorlink connectivity. A big plus for the wireless CarPlay and Android Auto functions - most cars still require a physical connection. You can specify ambient lighting with 30 colours, an electric tailgate, panoramic sunroof, head-up display, park assist function, Nappa leather, heated steering wheel and Travel Assist, which allows semi-autonomous driving at speeds of up to 130mph.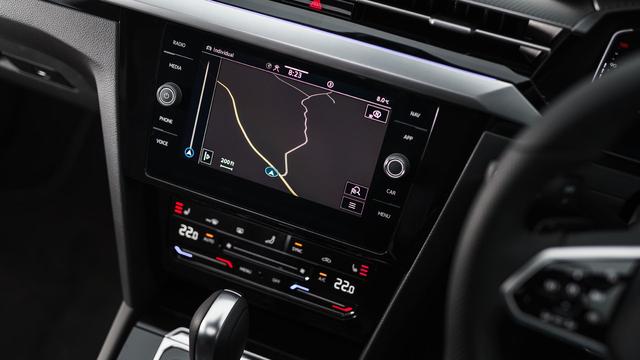 Power for a Volkswagen Arteon
The most powerful engine, a 2.0-litre petrol job with 190 horsepower, is surprisingly quick off the line, making this a fun car to drive. However, it makes little financial sense, and you'll probably plump for the 1.5-litre unit which will be fine - VW does small petrol engines very well, with plenty of oomph. There are also two diesel engines. On paper, the eHybrid version looks like the one to go for, but we have yet to test it. It comprises a 1.4-litre petrol engine with an electric motor for a combined 218 horsepower. Or, if you're a keen petrolhead, wait for the Arteon R Shooting Brake which will be fierce with a taste of Golf R in its character, but scary for your wallet.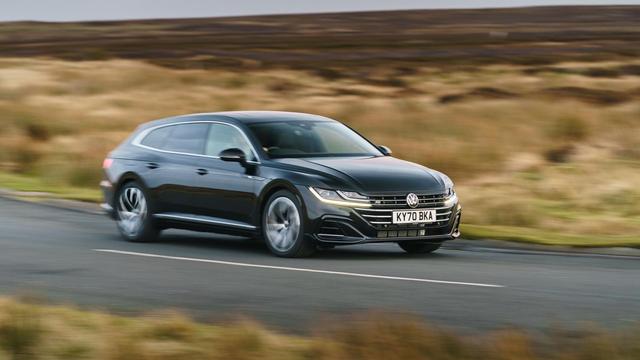 Lease deals
These deals are based on terms of 8,000 miles, for a 36 month lease with a 6 months initial payment.
Standard equipment
Expect the following equipment on your Volkswagen Arteon Estate. This may vary between trim levels.
Other vehicles in the Arteon family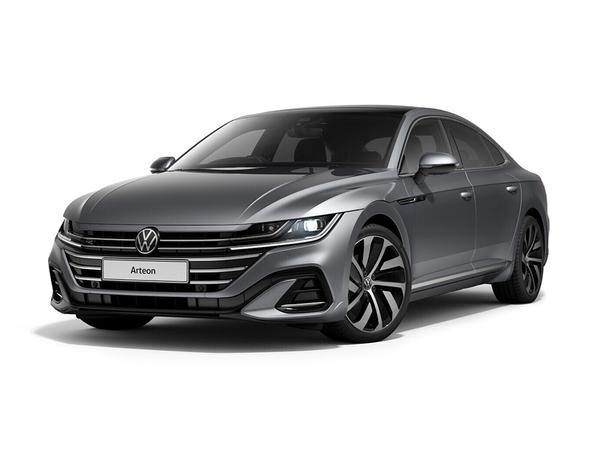 Related articles and reviews
Volkswagen Arteon Estate (2020 - ) review
Like a traditional estate but sleeker, the Volkswagen Arteon Shooting Brake is stylish family transport for those not sold on the SUV craze but needing something more exciting.