Used Volvo V40
Originally available between 1995 and 2004, then revived in new form from 2012 until 2019 there's a wide choice of used Volvo V40s for sale. The later run of V40s were handsome, with heaps of style, strong interior quality and plenty of equipment – particularly safety gear. Used Volvo V40s also offer some very frugal petrol engines, and align with Volvo's reputation for reliable, safe cars.
Used Volvo V40 cars available to reserve
Used Volvo V40 cars in stock
Is the Volvo V40 a good car?
Read our expert review

Words by: Ivan Aistrop
"The Volvo V40 is stylish, strong on interior quality, and really well equipped, especially when it comes to safety. Choose the right engine, and it's also sensationally cheap to run. Some rivals are better to drive and more practical for a family, but the Volvo still does well enough in those areas to be worthy of your consideration."
Read the review by category
How good does it look?
The Volvo V40 offers something a bit different in a class dominated by the same usual suspects from Audi, BMW and Mercedes. It has sweeping lines and the lowest nose in its class. Most new models' bonnet height and shape have been dictated by pedestrian safety law in recent years, but the Volvo has a pedestrian airbag to get around the issue. When viewed from behind, the V40 could only be a Volvo, thanks to a characteristic black hexagonal tailgate that's reminiscent of the C30's. Every model in the range gets twin exhausts and alloy wheels (starting at 16 inches in size), but if the basic shape is too bland for you, R-Design trim gives the car a sporty makeover. The V40 Cross Country models sit a little higher above the ground on raised suspension and have a slightly more rugged look, to mimic smaller SUVs, such as the Audi Q3.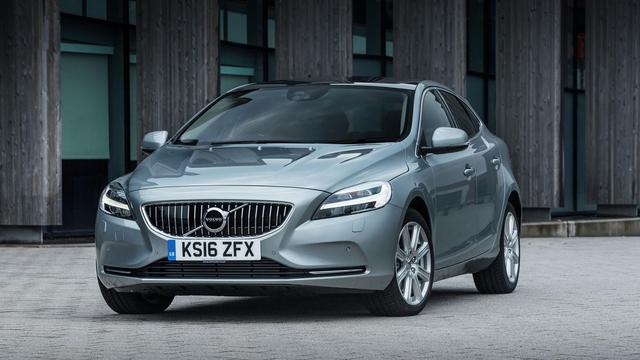 What's the interior like?
Volvo prides itself on good ergonomics, placing all controls carefully around the driver to aid safety. But, while everything in the V40 is within easy reach, the design is sorely out of date. The centre console has way too many (over 40) buttons, which all look the same and are too small to hit easily at a glance. The way the infotainment system works will also have you scratching your head, because the menus, and the controls you use to scroll through them, are pretty confusing, while the 5.0-inch screen is small and disappointingly low-definition. The small back window means your rear visibility could be better, too, but you'll have no complaints about the driving position or the amount of adjustment provided to let you fine-tune it. The seats deserve a special mention for being some of the most comfortable and supportive in the business. Interior quality is strong, too, with plush materials and solid assembly, which does no harm to this car's premium aspirations.
How practical is it?
The V40 is not the kind of hatch that can double up as everyday family transport, as it's just not as spacious or flexible as cars like the Skoda Octavia or Infiniti Q30. The rear seats are comfortably sculpted for two adults, but head- and legroom are both really tight, and well below average for the class. What's more, you won't want to spend much time sitting in the middle-rear seat, because it's very narrow and rather hard, and you have to sit with your legs splayed either side of a wide transmission tunnel. The boot, too, is smaller than those of the Audi A3 and BMW 1 Series, but there are some really handy features on offer. We particularly like the optional folding false bottom, which can be placed in a variety of positions to hold your shopping more securely in place. It's just a shame the boot isn't deep or wide enough to carry bigger stuff, for the occasional Ikea run.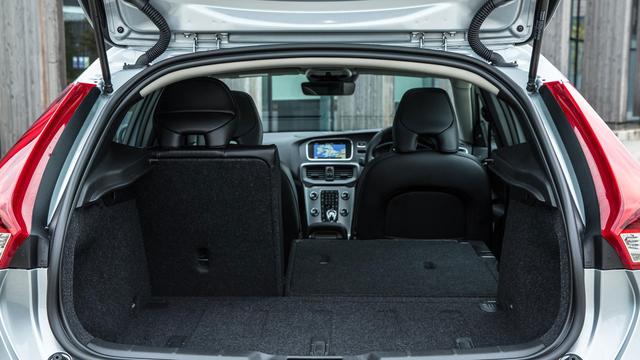 What's it like to drive?
There are various suspension options with the V40. Most versions get the Dynamic setup, which gives you crisp body control in bends, but the lack of feel in the steering will limit the amount of fun you have. It is, however, light enough to make short work of low-speed manoeuvres. Unfortunately, it's at low speeds where the V40 struggles to keep you comfortable, because the ride feels rather unsettled over broken urban surfaces. Things do improve as you go faster, though, making the V40 a relaxed motorway car. Sport suspension comes as standard on a couple of the R-Design variants, with the quickest engines, and it's lower and stiffer than the standard setup, but we'd avoid it. It makes the V40 even less comfortable in town, less relaxed at high speed, and the handling doesn't benefit that much as a result. By contrast, the Cross Country versions, which are a little more jacked-up than the rest, are the smoothest-riding V40s.
How powerful is it?
There are three diesel engines, with 118-, 148- and 187bhp, badged D2, D3 and D4, respectively. The 1.6-litre D2 is by far the best-seller thanks to its affordable price and super-impressive efficiency figures, and it's a cracking choice. Sure, it can feel a little lethargic at low revs, but it's gutsy enough when you get it into its sweet spot to keep life easy and relaxed. It's also impressively smooth and quiet, which isn't something you can say about the other diesels on offer, both of which are 2.0-litre units. The D4 has a huge surge of torque in-gear, but also sends unpleasant vibrations through the pedals and steering wheel when worked hard. Petrol-engine buyers can choose between three turbocharged 2.0-litre units, the T2, T3 and T5, with 120-, 150-, and 242bhp respectively. If you opt for an automatic gearbox, however, you get a 1.5-litre engine instead, albeit with the same power output as the larger engines you get in manual-gearbox cars. We haven't driven the T5, but the rest are smooth enough and fast enough, provided you give them plenty of revs - although not as sweet to rev or as flexible to use as the VW petrol engines which power many of its rivals, from the Audi A3 to the Seat Leon. There are two transmissions to choose from, but while the six-speed manual is a little notchy, it's a better choice than the six-speed automatic, which is slow and jerky.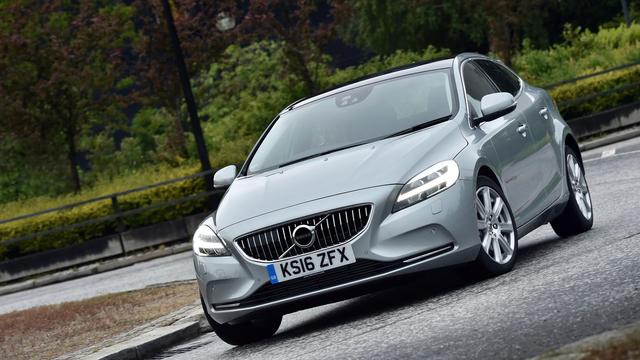 How much will it cost me?
The V40 is priced pretty aggressively when compared with its rivals from Audi and BMW, and it's also an extremely efficient car with the right engine. The D2, for instance, is capable of returning more than 80mpg, and its CO2 emissions of just 89g/km make it super-affordable as a company car. The same is true of the D4, as it ducks just below the 100g/km mark. Beware of adding an optional automatic gearbox to your diesel, though, because it puts a big dent in your economy. Obviously, the petrols aren't as frugal as the diesels, but all-but-one of them achieve upwards of 50mpg. Insurance is slightly higher than in the equivalent BMW 1 Series, but lower than what you'll pay for an Audi A3 Sportback or Mercedes A-Class, while servicing and parts should be comparable to those rivals, if a bit more expensive than on mainstream models from Vauxhall and Volkswagen.
How reliable is it?
The Warranty Direct Reliability Index doesn't carry much data on this particular version of the V40, but it shares many parts with the Ford Focus, which achieved a reasonably high score. The engines are the company's own, though, and relatively new, having only been introduced during the last couple of years. Volvo doesn't feature particularly highly in the manufacturer rankings of the same study, but at least the brand has achieved mid-table respectability, which puts it ahead of many of its premium rivals. The owner reviews left on Auto Trader are overwhelmingly positive, with only very small issues reported, otherwise buyers were unanimous in their praise for its dependability.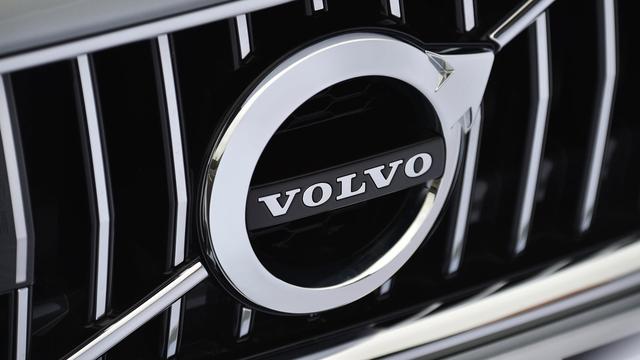 How safe is it?
The Volvo brand is synonymous with safety, but even by Volvo's high standards, the V40 is something very special indeed. The City Safety system is a standard feature, and it's able to recognise traffic in front of the car and perform an emergency stop if an imminent collision is detected. It also has that pedestrian airbag we talked about earlier, along with seven others to protect those inside the car. The options list contains even more active safety nets, including a Blind Spot Information System, Lane Keeping Aid, Park Assist, Road Sign information, Active High Beam and a Cross Traffic Alert system. This last item allows safer reversing out of bay parking spaces. It's no surprise, then, that the V40 has earned the full five stars in Euro NCAP crash tests, but it's also one of the safest cars that the organisation has ever tested.
How much equipment do I get?
Volvo has revised its trim levels to make it easier for you to pick the right V40. So, there are three main specifications to choose from: Momentum, Inscription, and R-Design. The basic cars have a reasonably good level of kit, with a leather steering wheel, climate control, DAB radio, Bluetooth, power-folding door mirrors, and a generous suite of safety equipment. Plusher Inscription models are pricier, but give you all the equipment you could want, with rear parking sensors, the TFT digital dials, sat-nav, automatic wipers, and leather seats. For a sportier take on the V40, the R-Design models will be the one to go for, with lots of styling upgrades, metal pedals, and so on. Some of the options available will add a serious slice of cash to the asking price, with the panoramic glass sunroof and Intellisafe Pro pack both the most of teams. We'd avoid these, but some packs, especially the Winter Pack, which gives you heated seats, a quick clearing windscreen and headlight washers, offers much better value.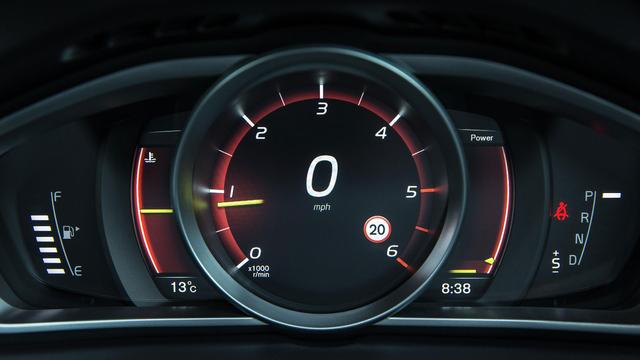 Why buy?
The Volvo V40 is the outsider when compared with the BMW 1 Series and Audi A3, but some people will like it all the more for that very reason. It's stylish, relaxing to drive and very safe: and, if you go for the D2 engine (which you should), it'll be very cheap to run.

Good points
Best car ever
Bad points
None
Good points
Safety and quality of the whole car and a real...
Bad points
The fuel economy is not brilliant but we knew...
ROBERT
Published 2019-12-30
Good points
None
Bad points
Relocate the key socket.
RICHARD
Published 2019-09-12
Volvo reveals new look for V40
Facelift and revised trim structure bring Volvo's biggest-selling car in the UK into line with its biggest car, the XC90 SUV