Used Renault Twingo Hatchback
With 215 used Renault Twingo Hatchback cars available on Auto Trader, we have the largest range of cars for sale available across the UK.
Used Renault Twingo cars available to reserve
Used Renault Twingo Hatchback cars in stock
Is the Renault Twingo a good car?
Read our expert review

Words by: Andy Pringle

Additional words by: Pete Tullin
"Swish looks, surprisingly spacious, and reasonably good to drive – although not without its shortcomings – the Renault Twingo can make an awful lot of sense in the right circumstances."
Read the review by category
How good does it look?
This is the first five-door Twingo, but Renault has gone to great lengths to hide the rear door handles and make the Twingo look like a three-door car. Mind you, however many doors people think it has, it's undoubtedly a very smart-looking little car, with niceties like body-colour bumpers and door handles on every model. That now-familiar Renault nose and wide rear shoulders give the car some real personality, while the range of affordable personalisation options – covering everything from the wheels to the paint colour, decals and mirror caps – allows buyers to create something approaching a unique car. If you want the full sporty look, then the GT adds a pronounced air intake mounted on the rear quarter panel, some go-faster stripes, and a set of bad boy 17-inch alloy wheels.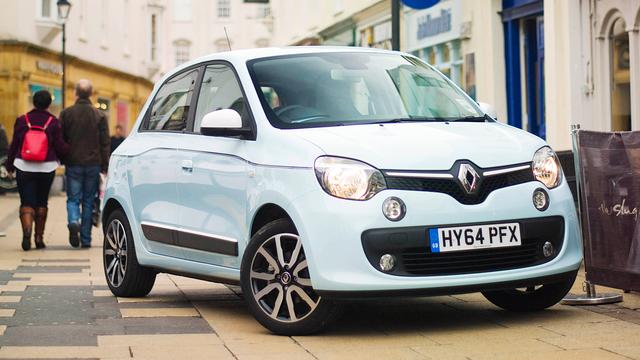 What's the interior like?
In common with rivals like the Citroen C1, Peugeot 108 and Toyota Aygo, there are plenty of bits and pieces that can be tailored to the buyer's own taste, which only goes to smarten what is already a distinctive – if not the highest-quality – cabin. The large round speedo dominates the view through the steering wheel, while the centre console features the latest in connectivity. With the standard R&Go system, you mount your smartphone on a cradle, and once you've downloaded the free app, you can use the screen as a touchscreen to control the phone, stereo and sat-nav. Alternatively, Dynamique models allow you to specify the optional – and excellent – R-Link system, which lets you to control several functions and download-able apps from an integrated seven-inch touch-screen. This is also available with GT cars, along with an added splash of colour-coded detailing to the vents, gearstick surrounds and sports seats.
How practical is it?
You might think the Twingo's dinky dimensions would translate into a cramped cabin, but not a bit of it. There's plenty of head- and leg-room for six-foot tall adults – despite the fact that you sit a little higher than in the Twingo's rivals – and the only caveat is to avoid the basic Expression models, which don't come with a height-adjustable driver's seat. There's also a surprising amount of headroom in the back, and the Twingo provides as much rear legroom as its best rivals. The 188 litre boot (which expands to 219 litres with the rear seat backs upright, rather than in the reclined position they normally sit in) is a little short of what you'll find in a Volkswagen Up, but every model from Play upwards has easy-to-fold 50/50-split rear seats, while the entry-level Expression model has a front passenger seat that can be folded flat to take long loads. The designers have also included lots of oddment stowage around the cabin, including optional cubbies under the rear seats and some removable containers.
What's it like to drive?
Thanks to the rear-engine layout – which allows the front wheels to turn much more than in a conventional car – the Twingo is wonderfully manoeuvrable: its light steering and tight turning circle make it a doddle to get in and out of tight spaces. However, if you're expecting mini-Porsche 911-like driving thrills – after all, the cars share a similar layout – then think again. Undoubtedly the worst aspect of the Twingo is its inability to tackle corners with any kind of conviction. Not that we'll ever know for sure, because as soon as the paranoid electronic stability control senses the merest whiff of a body lean or tyre flex, it freaks out and instantly shoots a scolding pulse of inside wheel braking to bring everything back to front and centre. Sure it's safe, and yes there's zero chance of the car rolling over, but boy, does it make for a frustratingly dull drive. The ride is pretty fidgety too: particularly on the larger 16-inch wheels that come with Dynamique trim, as the suspension makes a real meal out of ridges and any surface imperfections. Models with 15-inch wheels are a little more comfortable, although they still have a firm feel, riding less smoothly than, say, an Up, Mii or Citigo. Surprisingly, or perhaps not, given Renault Sport's involvement, it's actually the sportier GT that provides the most comfortable ride. The Twingo is a very light car and when passing trucks or getting buffeted by gusty side-winds, you certainly notice this. Consequently, at motorway speeds, a firm guiding hand is compulsory in order to try to maintain a steady course.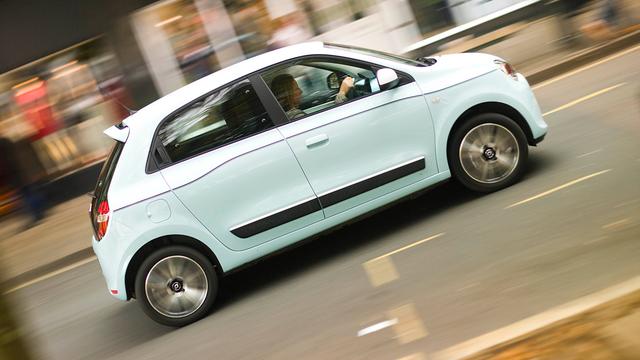 How powerful is it?
The Twingo comes with one engine in three states of tune and each is more than up to the job within the city limits. However, contrary to what you might expect, the less powerful non-turbocharged motor is the sweeter and smoothest of the three, as it's free of the peaks and flat spots in its power delivery that make the TCe 90 difficult to drive smoothly. That said, if you do regularly head out of town, the TCe engine or the top performing GT makes more sense. Both these engines demand less work to keep up with the ebb and flow of traffic, and allow you to take advantage of any overtaking opportunities without the need to scream them to the rafters.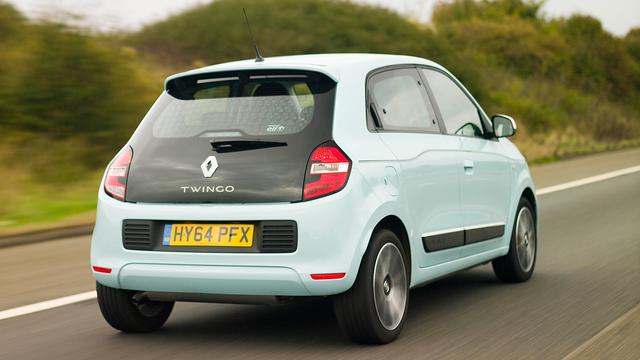 How much will it cost me?
Given the minimal impact of the Twingo's gossamer kerb weight, it comes as no surprise that it's also pretty light on the juice. The two lower powered engines produce CO2 emissions of less than 100g/km, and even the sporty GT won't choke the planet too much as it emits just 115g/km. Entry models with the SCe 70 engine are also encouragingly cheap to insure, which will no doubt be particularly interesting to young inner city dwellers. If you buy your Twingo using Renault's Selections finance package, you'll pay no extra for the first four years/48,000 miles servicing, or, you can add it to the regular warranty package for a few hundred pounds if you don't use the company's finance scheme.
How reliable is it?
The Twingo has been jointly developed by Renault and Smart, and although neither company has a particularly good record for reliability (according to Warranty Direct), the previous-generation Smart displayed better than average reliability. That's encouraging news when you consider most Twingos will spend their lives in arduous stop-start traffic conditions. Renault offers a middle-of-the-road three-year/60,000-mile warranty.
How safe is it?
The Twingo achieved a slightly disappointing four-star score from Euro NCAP. The standard kit on every model includes twin front and side airbags, but it misses out on the knee bag that comes standard in a Fiat 500. A tyre pressure monitoring system, as well as a Lane Departure Warning system is available on Dynamique models. However, there is no option for anything like the auto-braking City Safety system that is available on the VW Up, Seat Mii and Skoda Citigo.
How much equipment do I get?
Every model comes with a DAB radio, Bluetooth, remote central locking and electric front windows, but the basic Expression models look rather spartan and don't have many options available with them. The next trim up isn't that much dearer, but brings a height-adjustable driver's seat and air-conditioning. However, you need to stretch to top Dynamique trim or the GT to get standard alloys, cruise control and leather trim on the steering wheel and gear lever. These top models are also available with a wider choice of options, especially when it comes to creature comforts and technology.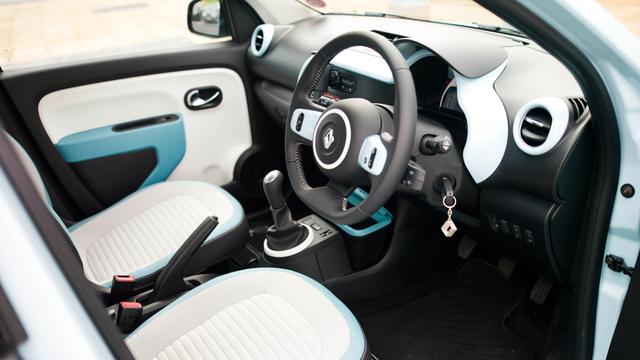 Why buy?
The Twingo's number one selling point is undoubtedly its style, especially with the scope for personalisation on top. But, beyond that, it's also a reasonably enjoyable car to drive in town. It also offers plenty of space inside and decent running costs.

Good points
I like the fact that the seating is higher than a...
Bad points
I wish the indicators were louder.
SHEILA
Published 2019-03-29
Good points
Great to drive. Perfect around my small Island of...
Bad points
I am used to a larger fuel tank, so have been...
SHARYN
Published 2019-03-29
Good points
Its small easy to park. Great on fuel.
Bad points
Back windows i would prefer if the windows could...