Used Mitsubishi Shogun
With 164 used Mitsubishi Shogun cars available on Auto Trader, we have the largest range of cars for sale across the UK.
Used Mitsubishi Shogun cars available to reserve
Used Mitsubishi Shogun cars in stock
Is the Mitsubishi Shogun a good car?
Read our expert review

Words by: Ivan Aistrop
"The Mitsubishi Shogun offers seven-seat practicality and plenty of standard equipment, along with the ability to tow vast trailers, and even venture off-road while doing it. However, while it's cheaper than most of the mainstream competition, it's not as cheap as some other workhorse 4x4s – namely the Ssangyong Rexton – which also has it pegged on interior quality and on-road quietness."
Read the review by category
How good does it look?
Unlike all those soft-roaders that clutter up the UK's streets these days, the Shogun was one of the original 'proper' off-roaders, and as such, it looks suitably chunky. The square edges and lofty ride height contribute to that, as does the fact that the car is absolutely massive. All versions are fitted with alloy wheels, side steps, roof rails, front fog lights and LED daytime running lights, but as you move further up the range, you get more and more styling-related goodies. SG3 trim adds privacy glass and a rear spoiler, while SG4 cars have bigger wheels and SG5 cars have steel side step inlays and a large 'SHOGUN' badge across the bonnet.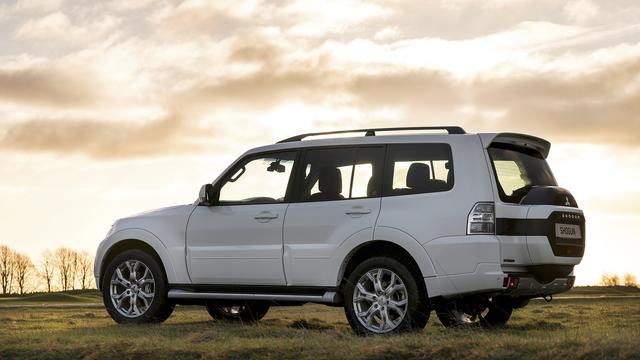 What's the interior like?
People love the king-of-the-road driving position you get in big off-roaders, and that's all present and correct in the Shogun. You're perched up very high indeed, even compared with other big 4x4s, and your view of the road is excellent thanks to huge windows, slim pillars and a flat front end you can clearly see the extremities of. That's when things start to turn a little less positive, though. Your rearward view isn't nearly so clear because the thicker rear pillars and the large number of rear headrests get in the way. And, while there's loads of adjustment for your seat (electric on all but one model), there's no reach adjustment on the steering column, which might make it difficult for some drivers to get comfy. The trip computer unit at the top of the centre console looks very dated indeed, and the touch-screen infotainment system that's standard on all but the entry-level SG2 model is pretty confusing to use. The biggest disappointment with the cabin, though, is the quality. These days, most large 4x4s are rather luxurious in the way they look and feel, but the Shogun feels really low-rent by comparison, with hard, scratchy plastics on show. They feel a bit flimsy and unsubstantial in places, too, and they mark and scratch very easily. All in all, sitting in the Shogun feels like sitting in a bygone age, and when you're paying such a considerable amount of money, that's not really on.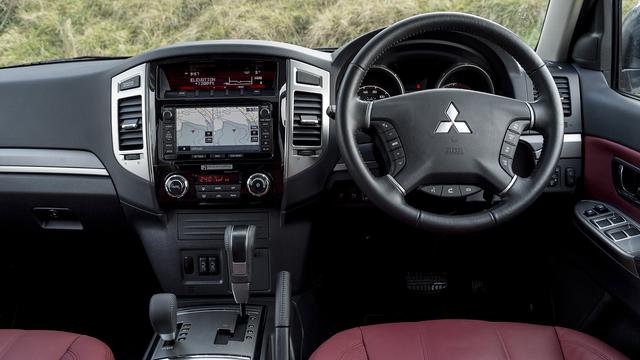 How practical is it?
Technically, the Shogun comes in three-door and five-door forms, but hardly any three-door models get sold, and we've never encountered any, so we'll concentrate on the five-door here. It's a seven seater as standard, with an extra pair of seats that cantilever neatly out of a well in the boot floor. They're pretty easy to install, and getting in and out of them is reasonably easy, too, because the way the middle seats tip out of the way gives you a wide space to clamber through. You'll also like the fact the air-con system has vents in all three rows, which means everyone is kept cool. However, while head-room is pretty generous in the third row, leg-room is not, so these seats are best used only occasionally, and even then, only by children. The middle row has bags of both leg- and head-room (even on models fitted with the panoramic glass roof), though, and there's no shortage of room up front, so when used as a five-seater, there's lots of space for everyone to stretch out. The boot is enormous in five-seat mode, too, and even with all seven seats in place, there's a decent amount of cargo space on offer due to the well in the floor that's vacated by the seats themselves. Use the car in two-seater carry-all mode, and the cargo space is enormous. The load area you get is perfectly flat, too, although it is a bit shorter than it could be because the middle row of chairs tips forwards and rests against the backs of the front seats, rather than dropping down into the floor.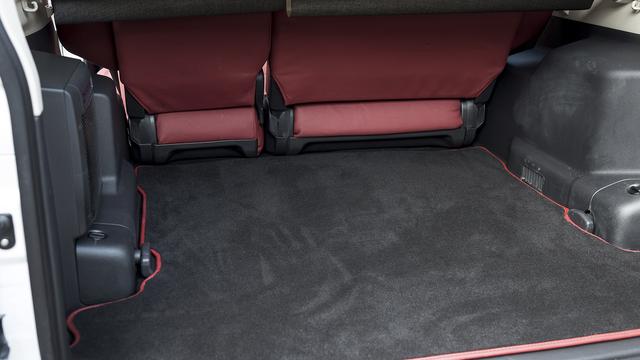 What's it like to drive?
The Shogun is definitely what you'd call a 'proper' 4x4, and thanks to its high ground clearance, short overhangs, low-range gears and all sorts of differentials, the Shogun will get further into the wilderness than most of its rivals. However, cars that sit at the more rugged end of the 4x4 spectrum often struggle to deliver the same level of ability on the road, and that's certainly the case here. It's no surprise the handling is pretty clumsy, with the combination of a tall body and a soft suspension resulting in pretty drastic amount of body lean. The steering, too, is incredibly slow (3.6 turns lock-to-lock) and rather heavy, which – aside from limited precision and confidence in bends – means three-point turns might have you gasping for breath due to all the wheel-whirling you have to do. More of a problem, though, is the ride comfort. The suspension may be soft, but the car jitters and fidgets even on relatively smooth surfaces and bigger bumps and potholes can really whack into the cabin. The Shogun does have one trump card up its sleeve, though, and that's its ability as a tow car. It can pull a trailer of up to 3.5 tonnes, and very few cars can match that figure.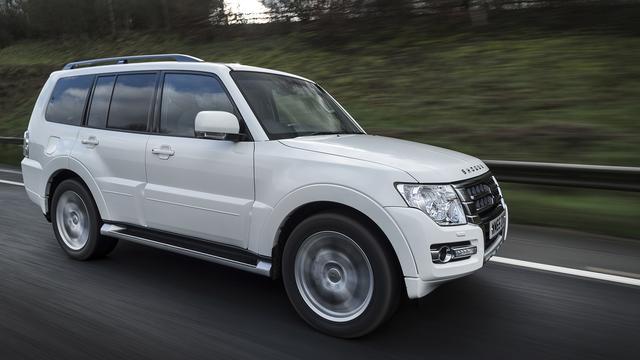 How powerful is it?
The Shogun is powered by a 3.2-litre four-cylinder diesel engine, mated to a five-speed automatic gearbox. It's a very old engine, and it really feels it, especially when compared with those in newer rivals. The level of performance isn't exactly problematic to begin with because there's a decent amount of hussle at the bottom of the rev range, which allows the car to get itself rolling reasonably easily as long as you're not in any particular hurry. However, if you give the throttle pedal any more than the slightest tickle, the gearbox immediately kicks down a couple of gears, working the engine to its limits, and regardless of that, you don't ultimately end up going a lot faster. The other result is noise; lots of it. The ancient engine sounds grumbly and gruff even when it's ticking over, and with lots of revs on, it becomes very loud indeed. It also sends lots of vibrations though the steering wheel, pedals, floor and seats, so you'll feel the strain on the engine as well as hear it.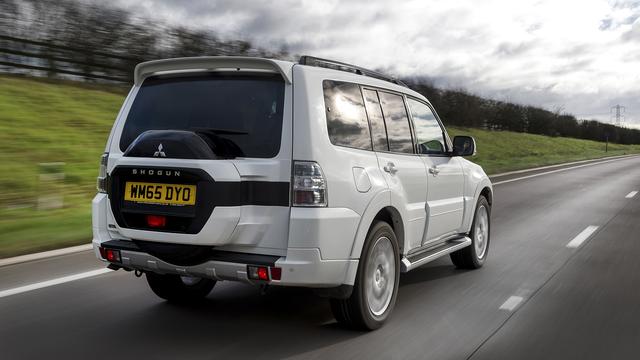 How much will it cost me?
Big seven-seat 4x4s aren't cheap things these days, not least because most of them are marketed as luxury vehicles. That's not the case with the Shogun, though, and as a result, it's far cheaper than most of its rivals. However, it should also be noted that the Ssangyong Rexton – which is nicer inside and can also tow 3.5 tonnes – is thousands cheaper to buy. And, if towing or off-roading are lower down your list of priorities and you just want a normal seven-seat passenger car, you can also have a Skoda Kodiaq for a good bit less. The Shogun and Rexton are fairly even on the percentage of value they lose over three years, but the Ssangyong does have the edge for fuel economy, CO2 emissions and insurance groupings.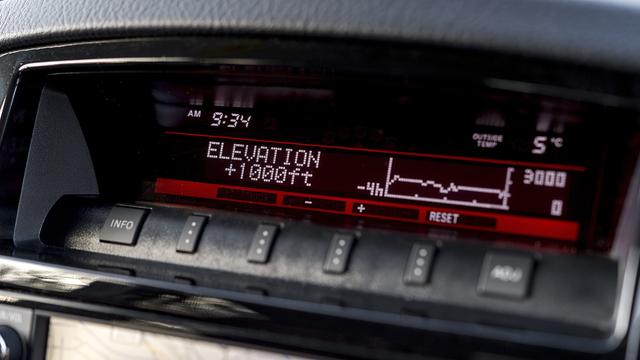 How reliable is it?
The available data paints a pretty mixed picture about the Shogun's reliability. Despite a solid mid-table position in the manufacturer rankings of Warranty Direct's Reliability Index, the Shogun has a score that's well below average when you consider it as an individual model. The owner reviews on our website suggest a rather better performance, though, with most owners reporting largely trouble-free motoring.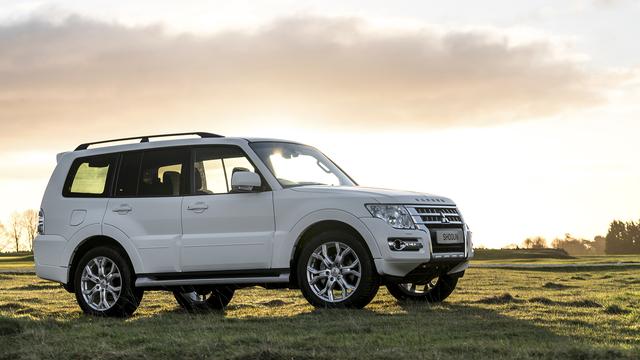 How safe is it?
Every Shogun comes with exactly the same roster of safety equipment, but unfortunately, the list isn't all that exhaustive. Aside from the mandatory stuff like electronic stability control, tyre pressure monitoring and anti-lock brakes, the Shogun comes with six airbags and two Isofix child seat mounting points in the middle seating row, neither of which are particularly impressive numbers. What's more, the latest clever safety measures you get on many newer rivals – things like automatic emergency braking and lane-keeping systems – aren't available on the Shogun at all, even as optional extras. The car hasn't been crash tested by Euro NCAP, either.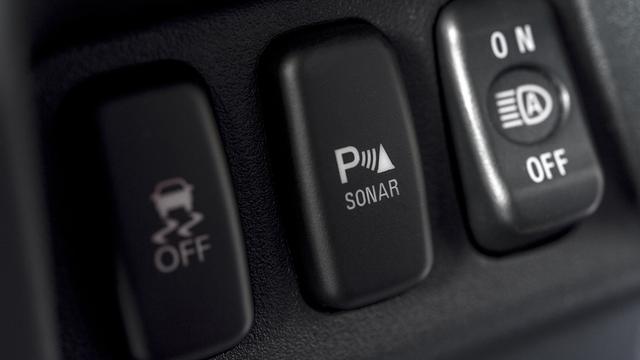 How much equipment do I get?
Even the base-level SG2 car comes with a decent slice of luxury kit, including automatic lights and wipers, four electric windows, climate control with air vents in all three rows, cruise control, a leather-covered steering wheel, heated front seats and a CD player with USB connectors and a Bluetooth phone connection. However, you'll probably want to upgrade to SG3 trim for its rear parking sensors and reversing camera alone, not to mention the electric sunroof, powered front seats, leather upholstery and upgraded stereo with touch-screen functionality, sat-nav and DAB radio. All SG4 trim adds is a rear-seat entertainment system and bigger wheels. The SG5, meanwhile, doesn't have the rear screens, but it does have higher-grade leather, heated rear seats and mood lighting.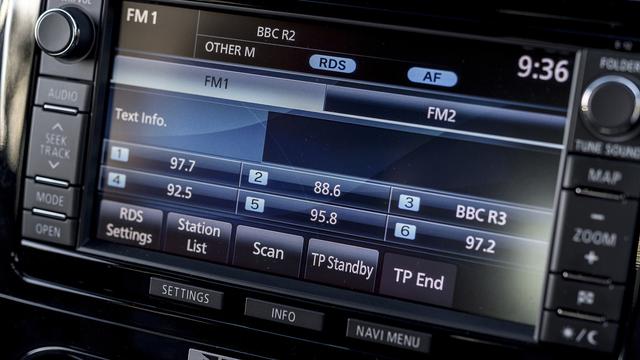 Why buy?
Because you want a big seven-seat off-roader with the ability to pull a massive trailer across a muddy field, and you don't want to spend as much as you would on a Land Rover Discovery. And, thanks to the equestrian set, there are plenty of folk who fit that profile. However, there is another budget towcar – the Ssangyong Rexton – that costs a lot less to buy and is nicer inside, while being just as well equipped and no worse to drive.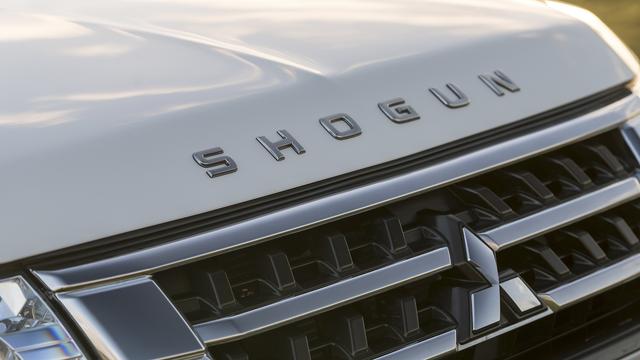 Good points
Fun to drive - practical towing vehicle - looks...
Bad points
Fuel consumption Alloy wheels - unsure of...
SIOBHAN
Published 2018-08-21
Good points
Good all round,solid ,absolutely bomb proof
Bad points
Rear door stay is absolute rubbish,it's broken on...
Good points
Style , size, looks , Sunroof
Bad points
Heating is not very good.. Windows take a long...
LINDSEY
Published 2018-09-04
Mitsubishi Shogun SUV (2010 - ) review
The Mitsubishi Shogun is a large off-roader that's as rugged as they come, and it also offers seven-seat practicality, lots of standard equipment and impressive towing ability.