Used Mercedes-Benz SLC Convertible
With 190 used Mercedes-Benz SLC Convertible cars available on Auto Trader, we have the largest range of cars for sale available across the UK.
Used Mercedes-Benz SLC cars available to reserve
Used Mercedes-Benz SLC Convertible cars in stock
Is the Mercedes-Benz SLC a good car?
Read our expert review

Words by: Ivan Aistrop

Additional words by: Auto Trader
"An evolution of the popular SLK of a few years back, the SLC's combination of a prestige badge, sporty looks and a folding metal hardtop are appealing in isolation but there's no escaping it's feeling a bit long in the tooth now and rivals like the BMW Z4 and Porsche 718 Boxster are fresher and faster"
Read the review by category
Running costs for a Mercedes-Benz SLC
The SLC isn't long for this world so we'd take the published prices with a pinch of salt. Which is just as well because it's an apparently expensive choice when you compare it against the equivalent Audi TT Roadster, though it's a tad more affordable than a BMW Z4 and way cheaper than a Porsche 718 Boxster. Mercedes models tend to hold their values pretty well, meaning more palatable whole-life costs though – again – the SLC's age will count against it on that score. With the diesel model now dropped the manual version of the four-cylinder SLC200 is the best for CO2 but any savings there will likely be wiped out come resale where most buyers will be after the more desirable (and appealing) automatic versions. No SLC is especially good on fuel or emissions by mainstream standards but, for the target audience and type of car, this is likely to be less of an issue.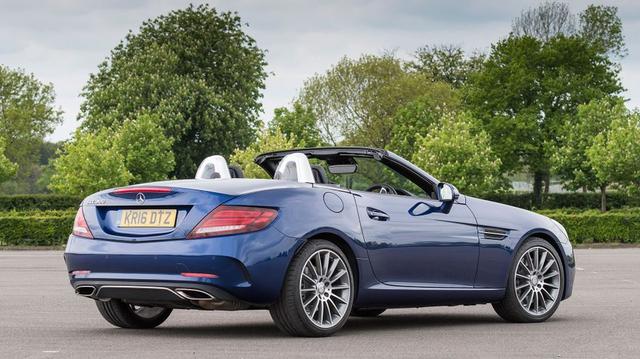 Reliability of a Mercedes-Benz SLC
Mercedes has had a rather mixed reputation for reliability over the years, and things still aren't as good as they should be, according to Warranty Direct's Reliability Index. The company features pretty low down in the study's manufacturer rankings – alarmingly low, some would say – and, although reliability data for the SLC itself isn't yet available, the SLK hasn't exactly proved to be one of the firm's hardier models. That said, the owner reviews on our own website paint a much rosier picture about the SLK's reliability, and like all Mercedes models, the SLC comes with a fair-to-middling three-year/unlimited-mileage warranty.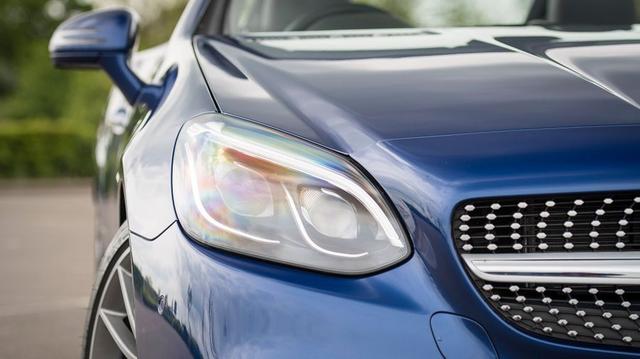 Safety for a Mercedes-Benz SLC
The SLC comes with all the safety kit you might expect from a prestige roadster, including six airbags, stability control, active anti-whiplash head restraints and a high-performance braking system. It also comes with one or two bits you might not necessarily expect, such as autonomous braking, a pedestrian-friendly pop-up bonnet and a system that warns you if you're getting tired.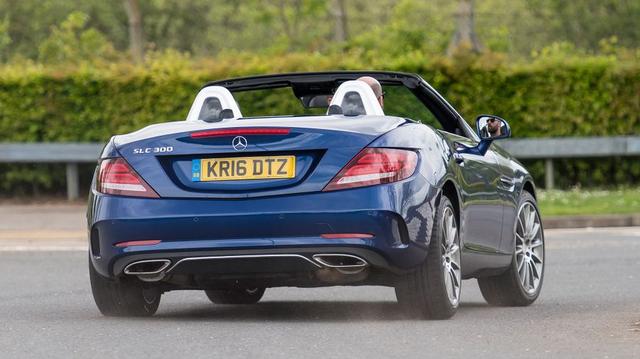 How comfortable is the Mercedes-Benz SLC
It may have a different name, but the SLC is barely any different to the old SLK underneath, and that means it feels like distinctly old technology. The biggest problem is the ride comfort, or rather, the shortage of it. The car jitters and fidgets over small bumps, then thuds and thumps over bigger ones. Note that SLC43 variants get an even stiffer set-up too. All this is exacerbated by the fact that the body shakes and flexes more than it should, and as soon as you hit a less-than-perfect surface, squeaks and rattles start intruding from all over the place. The handling is decent, with strong grip and reasonable body control, but the SLC is nowhere near as poised or as playful as rivals like the Audi TT Roadster. As a strict two-seater the SLC is decently accommodating with plenty of storage for odds and ends around the cabin. The boot is a decent size with the roof up, where the SLC operates more or less as a coupe. Space is limited and hard to access with the roof folded though.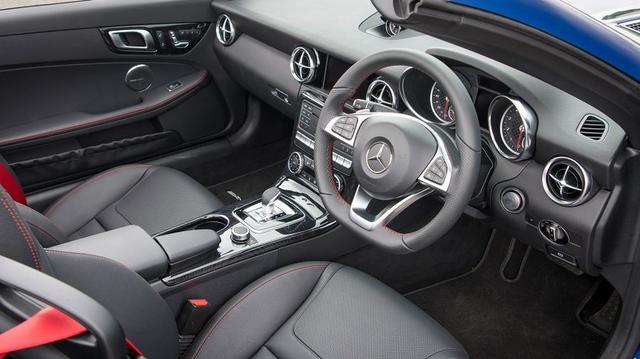 Features of the Mercedes-Benz SLC
Mercedes has branded all SLCs as 'Final Edition' models for this swansong era and bundled a generous and attractive range of features into the standard price. This includes metallic paint, aluminium interior trim, fancy Nappa leather/suede upholstery, wheels and bodystyling from Mercedes' AMG performance division, power adjustable seats and mirrors with memory function, a centre screen for infotainment and plug-in phone connectivity via Apple CarPlay and Android Auto. All SLCs also get heated seats and a system known as 'Airscarf' which blows hot air down your neck so you can drive with the roof down on cold days. Premium versions also get built-in navigation and a panoramic glass panel in the folding roof, among other upgrades.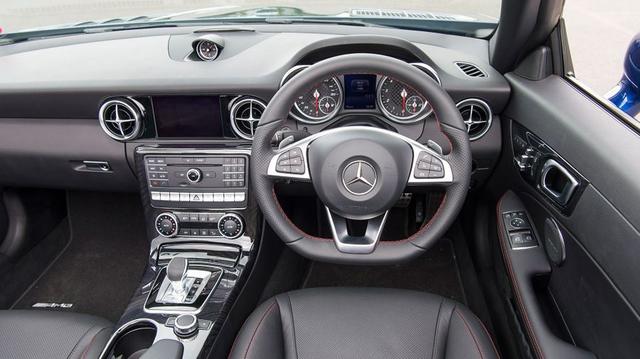 Power for a Mercedes-Benz SLC
There are now just two engines available on the SLC, comprising a petrol 2.0-litre with 184 horsepower or 245 horsepower and a 3.0-litre with a significantly more potent 390 horsepower for the SLC43. The entry-level SLC200 won't set your pants on fire with its performance but is perfectly fine for mooching about. It's the only one available as a manual but this is no enthusiast's car like a Mazda MX-5 and we'd go for the nine-speed automatic, which is standard on the more powerful SLC300. The SLC43 is the only to really deliver on the sporty looks but this car has never really been pitched as a serious contender and if you're looking for a more exciting driving experience you're better off in a TT Roadster, Z4 or 718 Boxster.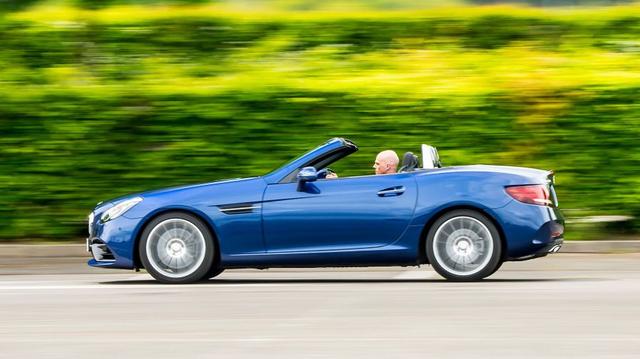 Good points
Good road handling, economical, fun and safe to...
Bad points
Slightly expensive to buy.
Good points
Love the look and the performance
Bad points
Fuel economy
BARBARA
Published 2016-09-18
Good points
drive ride comfort acceleration torque...
Bad points
insane stalling thingy!! are you all mad!! major...