Used BMW i3
A small electric hatchback, the BMW i3 is among the most appealing and user-friendly electric cars available. A number of facelifts and technical updates have helped it keep a competitive edge, with an evolving design and bigger battery pack for increased range. Originally available either as a full electric car or a range-extender hybrid (often referred to as the 'REX' model) BMW i3s released since 2018 are electric-only. It's comfortable, nippy and drives like a real BMW while the distinctive styling and quirky engineering attracts a cult following.
Used BMW i3 cars available to reserve
Used BMW i3 cars in stock
Is the BMW i3 a good car?
Read our expert review

Words by: Auto Trader

Additional words by: Auto Trader
"An early electric pioneer, the BMW i3 remains a distinctive and stylish offering despite new rivals appearing in the EV market. It's moved with the times too, with an improved battery pack and increased range meaning the earlier range-extender version is now redundant and the i3 is now a pure electric vehicle."
Read the review by category
Running costs for a BMW i3
The electric car market has exploded since the i3 first arrived in 2013 and BMW's innovative hatchback faces increased competition. Against more mainstream EVs like the Renault Zoe and Nissan Leaf and electrified versions of regular hatchbacks like the e-Golf it looks rather expensive. Then again, many will argue that it's also more desirable, especially since an update in 2018 introducing a significantly more powerful battery and longer range. Where previously BMW offered a 'range extender' version with a small petrol engine to overcome range anxiety the i3 is now all-electric thanks to a theoretical range of over 200 miles and a usable one of more like 160. As such it's still very cheap to run and the price looks more reasonable if you factor in the £3,500 government grant currently in place for electric and low-emission vehicles. They may be 'one off' set-up costs but, against that, you need to factor in installation of a BMW i Wallbox if you want faster home charging and the cables you need for public charging, that lot adding over £1,000 to the initial cost.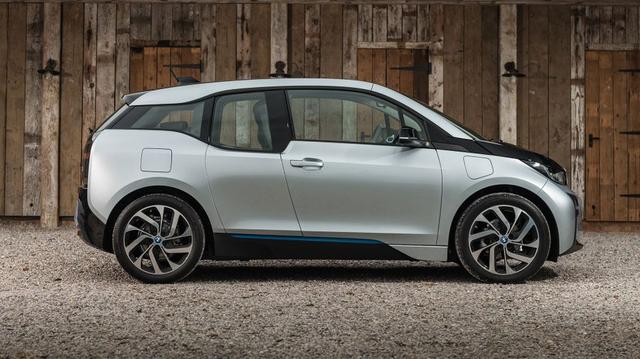 Reliability of a BMW i3
The i3 is too new for there to be much reliability data available, but in theory at least, it could be better than a conventionally engined car, as there are fewer components and moving parts. If you have concerns about the electric drivetrain, they may be partly allayed by the eight-year/100,000-mile battery warranty. However, the range-extender is known to have had reliability issues with overheating, but only when driven on petrol power alone for an extended time - not what the i3 was originally intended for - so that's worth bearing in mind. BMW in general has a pretty poor record for reliability, coming flat last in the 2019 JD Power Vehicle Dependability Study.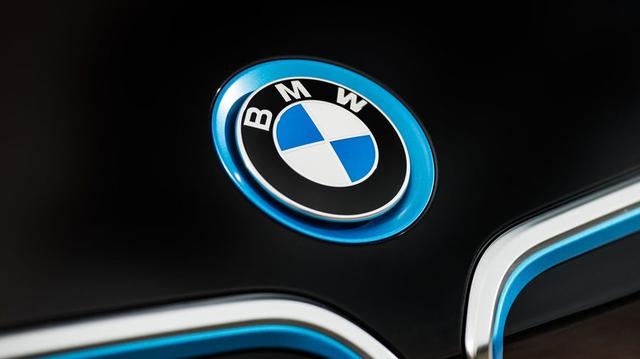 Safety for a BMW i3
In theory, making the passenger compartment out of carbon fibre-reinforced plastic, which is exceptionally strong and keeps the occupants separate from the battery, should give the car excellent safety. That's why it's all the more disappointing that the i3 scored only four stars (out of five) in Euro NCAP tests. The testers said that, in the side pole impact, protection of the chest was weak; the front seats and head restraints provided marginal protection against whiplash; and, the front edge of the bonnet gave poor protection for pedestrians. It's also a bit disappointing, especially on a car this expensive, that you don't get automatic emergency braking as standard, when you do on many cars that are much cheaper. To get it, you have to specify the optional Driving Assistant Package, which also gives you a function that automatically maintains your speed and distance in city traffic. BMW also charges extra – albeit not much – for a sound generator to warn pedestrians of your silent approach.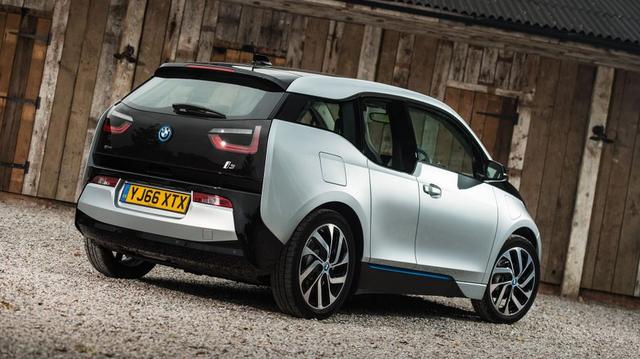 How comfortable is the BMW i3
The i3 is only a four-seater, but despite being a relatively short car, it has plenty of space inside, at least for those in the front. A cool design touch, the rearward opening back doors are nice in theory, but make getting in and out quite awkward, as you have to prise the front door ajar to get access to the cramped rear seats. Anyone sitting behind a tall driver will find the room in the back considerably less generous than in similarly priced rivals like the Audi A3 e-tron. A turning circle of less than 10 metres means the i3 is easy to manoeuvre through even the most congested city streets, but the question on many people's lips will be whether the i3 drives like a 'real' BMW. The simple answer is that it does: with rear-wheel drive, a low centre of gravity and even weight distribution, it's very well balanced. It will happily cruise at the legal limit on the motorway, too, and although you're conscious of wind noise from around the door mirrors, that's more because of the lack of engine noise than any fundamental lack of refinement. If there is a drawback, it's the shortage of ride comfort, because the car feels rather jittery on bumpy surfaces, especially at low speed on the kind of city streets that most i3s will call home. The steering is also rather light and the weighting can be oddly inconsistent, which can take some getting used to. Still, it's fast and accurate enough to give the driver confidence when cornering, BMW hasn't forgotten the basics, either: the driver has a good forward view out and plenty of adjustment in the driving position. However, the small rear window and massive rear-pillars mean reversing can be tricky, and the i3 feels bigger than it actually is when reversing into a tight spot, making it a good job rear parking sensors are now standard.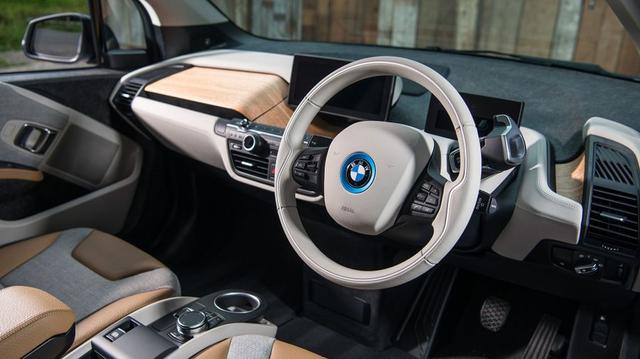 Features of the BMW i3
There are now two models in the range, comprising standard i3 and sportier i3 S. Standard equipment on all is reasonable and includes Bluetooth connectivity, BMW's Connected Drive online services, DAB, LED headlights, BMW's 'Professional' Multimedia and navigation system and heated front seats. To that the S model adds bigger 20-inch wheels, sports suspension, an additional Sport driving mode and various gloss black trim details to set it apart. Beyond that, you can specify optional 'worlds' for the cabin, which give you different trim, upholstery and floor mats for a more distinctive and premium feel to really set the i3 apart from more conventional rivals.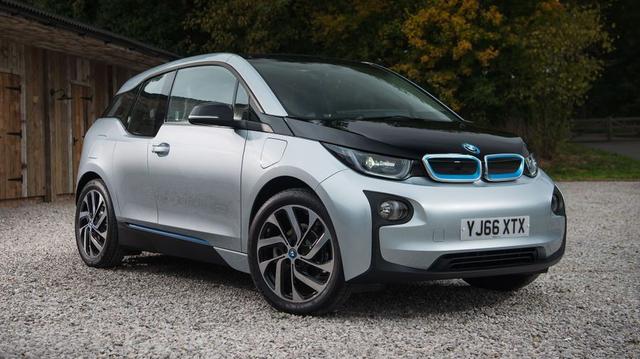 Power for a BMW i3
Like any electric car, the i3 is silent when you turn it on, but once you pull away, you'll be shocked: even the standard 170 horsepower i3 is very quick and can beat most cars away from the lights. That can very useful (not to mention fun) around town, which is where most i3s will spend most of their time. Like any electric car, the i3 produces all of its torque immediately, which means it responds keenly and instantly when the driver hits the accelerator. What takes more getting used to is the strength of the regenerative braking, which slows the car as soon as you lift off the throttle. Mind you, it's so strong that you can almost always drive through town without ever touching the brakes, which is actually more relaxing than it sounds. The 184 horsepower i3 S is faster off the line, has a slightly higher top speed and sportier handling but the official 'WLTP' range drops from 192 miles to 177 miles compared with the regular version. Choose your priorities accordingly.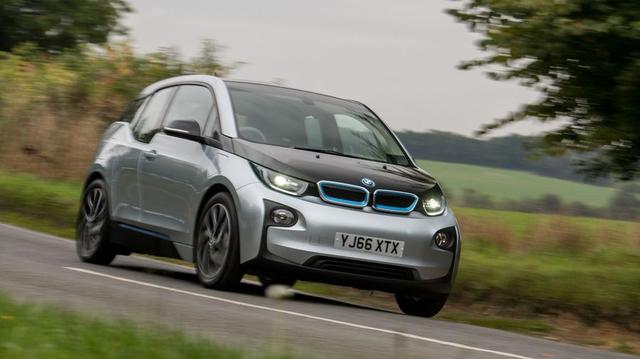 Good points
Acceleration Drive
Bad points
Suspension
JONATHAN
Published 2019-03-07
Good points
environmentally very clean - no emissions. fast...
Bad points
don't expect the same specification and build...
Good points
well built high tech economic fast well...
Bad points
nothing
BMW i3 production ends
RIP i3? Not necessarily, given the ideas and tech developed for BMW's pioneering electric car live on
BMW i3 Hatchback (2017 - ) review
Having ditched the range-extender option the BMW i3 range is now all-electric and remains a distinctive and individual choice in the EV market