Used Audi E-Tron
With 500 used Audi E-Tron cars available on Auto Trader, we have the largest range of cars for sale across the UK.
Used Audi E-Tron cars available to reserve
Used Audi E-Tron cars in stock
Is the Audi E-Tron a good car?
Read our expert review

Words by: Phill Tromans
"The E-Tron is a well-made, comfortable SUV that offers a more premium experience than its rivals with a great interior and plenty of features available. If you want a really nicely made electric family car, the Audi E-Tron is well worth checking out."
Read the review by category
Running costs for a Audi E-Tron
The Audi E-Tron is similarly priced to the Jaguar I Pace, but much cheaper than Tesla's Model X. Both the Audi's rivals promise slightly better range than the E-Tron, but with the cost of electricity being minimal compared to petrol or diesel, that's unlikely to make a big difference over the life of ownership. Where the Audi is likely to shine is in resale values, with industry experts predicting a bigger percentage of value retained by the E-Tron over three years than either the Tesla or the Jaguar. That should make it the cheapest of the three when it comes to overall costs.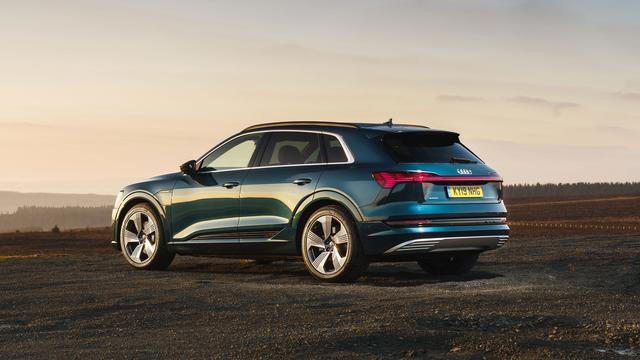 Reliability of a Audi E-Tron
The Audi E-Tron runs on all-new technology, so it's impossible to use past model performance to gauge how reliable it's likely to be. The best we can do is look at Audi's recent performance overall, and that's concerning. JD Power's 2018 and 2019 Vehicle Dependability Studies puts Audi second from bottom of all the car manufacturers. Combine that with the fact the E-Tron represents new technology, as-yet unproven in the marketplace, and that's not a particularly encouraging picture. Should anything go wrong, Audi offers a three-year, 60,000-mile warranty on the E-Tron, and an eight-year, 100,000-mile battery warranty.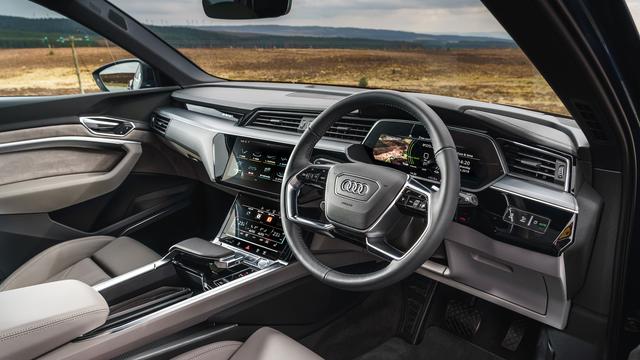 Safety for a Audi E-Tron
Standard safety equipment includes front, side and rear side airbags and two Isofix child seat mounting points in the back, as well as automatic emergency braking. Further systems are available as options.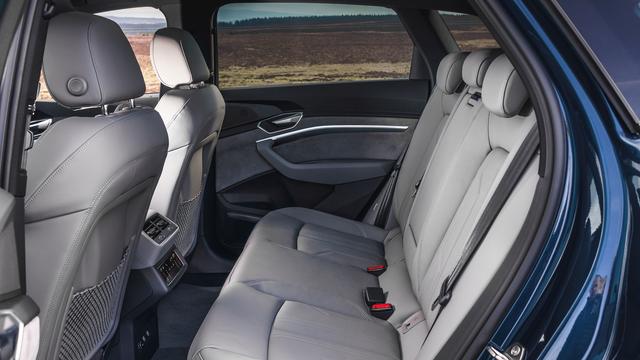 How comfortable is the Audi E-Tron
The interior build quality is as good as it gets in the Audi E-Tron, and better than the Jag and the Tesla. Only some slightly flimsy buttons on the steering wheel let it down a bit. It's got just enough tech to remind you that you're in a cutting-edge vehicle, such as a 10.1-inch infotainment touchscreen that gives you feedback when you press it, and another 8.6-inch touchscreen below it, although these pick up fingerprints very quickly. There's also an instrument display screen instead of old-fashioned analogue dials. The seats are very comfortable and adjust in plenty of different ways to help you find your preferred driving position. There's plenty of space for five adults in the E-Tron, and lots of storage space around the cabin to house cups, bottles and odds-and-ends, including a large space between the front seats. At 605 litres with the rear seats up, the boot isn't quite as big as the Jaguar I-Pace, but fold the seats down and you'll have more room. The E-Tron has space under the bonnet too (as there's no engine), with 60 litres of space. That's more than you'll get in the I-Pace, but less than the Model X. The Tesla has the added practicality of seven seats, if you want, which the Audi doesn't offer. Adaptive air suspension is standard in the E-Tron, and while it doesn't offer the magic carpet-like ride you might expect or hope for, it was comfortable enough during our drive on the car's launch event. The car is kept flat and composed through the bends, and the steering is nicely weighted. However, our test drive was on very smooth roads in the UAE, so we'll reserve our final judgement until we've had a chance to try it on more bumpy British tarmac. The E-Tron is a very heavy car, weighing in at nearly 2,500 tonnes. That's considerably heavier than the I-Pace and Model X, and it shows through the bends. Unlike the Jag and the Tesla, this is not a car built for perky performance, and if you try to get exuberant, the tyres will howl in protest almost immediately. The upside to this bulk is that there's a sense of solidity to the drive of the E-Tron, which inspires confidence and a feeling of safety. We had a brief excursion off-road in the E-Tron, and it'll deal with gravelly paths with no issue. Don't expect it to be a proper Land Rover-style off-roader though.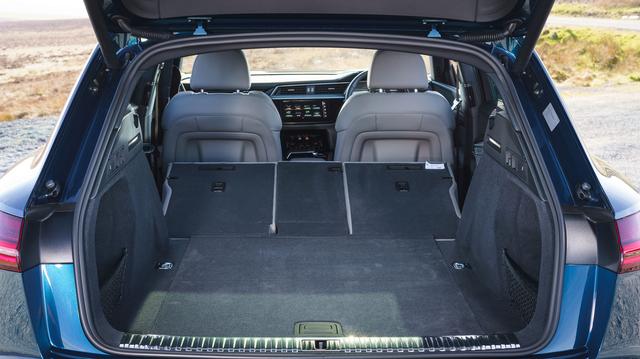 Features of the Audi E-Tron
Unlike the more radical designs from Jaguar's I-Pace or Tesla's Model X, Audi has played it relatively safe with the E-Tron, as it has a silhouette that's almost indistinguishable from a regular SUV. It's slightly longer than the Jaguar, but narrower, and very similar in size to the Tesla. There are a few details to make it stand out, including big 20-inch alloy wheels with an unusual design, and the option of cameras instead of side mirrors. The E-Tron features electric charging points on both sides of the car, which is a nice practical touch, while standard features include full LED headlights and an electric boot lid. There are plenty of clever and cutting-edge features available on the E-Tron, although many of them are paid-for extras. These include some eye-catching side cameras that replace traditional side mirrors and slightly improve aerodynamics for a better range. While these are very glitzy, we found that the screens, mounted in the doors, tended to reflect things inside the cabin and as such weren't as easy to use as regular mirrors. Cruise control is included, but adaptive cruise – often included on far cheaper cars – is a paid for option, which is a shame in a car that costs more than £70k. Still, the digital instrument panel and twin touchscreens are included, as is leather upholstery and the air suspension. Further options include larger 21-inch wheels, and several option packs. The Comfort and Sound Pack includes an upgraded Bang & Olufsen sound system and keyless entry, while the Tour Pack includes adaptive cruise control and a traffic sign recognition system.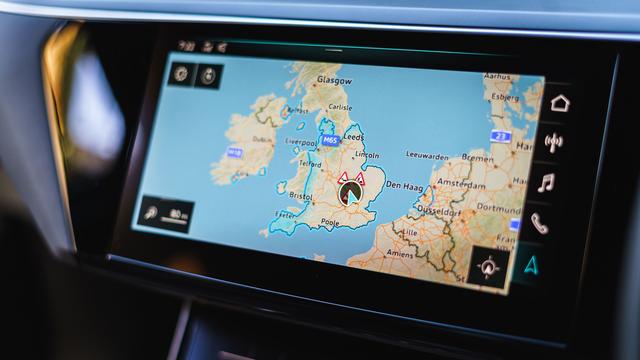 Power for a Audi E-Tron
The E-Tron (or the E-Tron 55 quattro, to give it its full name) is powered by a 95kWh battery that drives two electric motors – one for the front wheels, one for the back – and deliver up to 300kW, which translates to 408 horsepower. However, that's only when the car is in S (for Sport) mode. In normal D (for Drive) mode, it's restricted to 360 horsepower to save electricity. In either mode, the delivery isn't particularly savage, due to the car's weight, but it's brisk and sprightly enough for general cruising, and never feels like it's struggling for grunt when you need it. Again though, if you want exhilarating acceleration, then look towards Tesla and Jag. Audi promises an official range of up to 248 miles. It's one of the first cars to market that will charge at up to 150kW at the appropriate fast charging station.