Used Alfa Romeo 4C
With 16 used Alfa Romeo 4C cars available on Auto Trader, we have the largest range of cars for sale across the UK.
Used Alfa Romeo 4C cars in stock
Is the Alfa Romeo 4C a good car?
Read our expert review

Words by: Ivan Aistrop

Additional words by: Andy Pringle
"The Alfa Romeo 4C Spider is a very focused machine that's about the driving experience above all else. Some will find its driving manners to be engaging in a very raw, energetic and intense way, but we fear that far more people – including us – will find it way too demanding, exhausting and, at times, downright scary. Yes, it's immensely fast, makes a great noise and it looks very exotic, but so is/does a Porsche Boxster, which is also much more precise and satisfying to drive. The Porsche, along with some other rivals, is also nicer inside and more affordable to buy and run."
Read the review by category
How good does it look?
Alfa Romeo is famed for producing impossibly pretty cars, and there'll be little argument the 4C brings together every ounce of the firm's traditional flamboyance and artistry. It all centres around Alfa's trademark triangular nose design, but every surface on the car has a variety of curves and contours that perfectly complement the car's squat, low-slung stance. Arguably, it looks more glamorous and dramatic than pretty much any rival, and it'll certainly be a lot less common. For many buyers, that'll be the most important thing.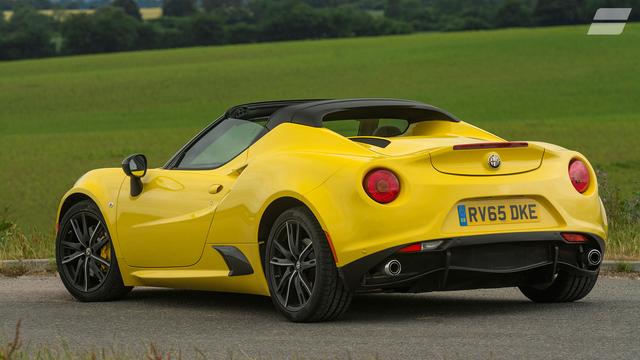 What's the interior like?
Step – or rather, clamber – into the 4C, and you'll find an environment befitting of a hardcore sports car. Parts of the carbon fibre chassis are left exposed – very intentionally – to give a high-tech race car feel, while stitched leather and functional, no-nonsense plastics make up the rest of what you see. It feels very appropriate to the car, but most of the materials on display, and the way in which they're constructed, don't feel anywhere near as lustrous as they do in other sports cars like the Porsche Boxster. Most of the other controls are reasonably conventional – with the possible exception of the gear selector buttons – so they're pretty easy to find and use. It's rather unforgivable, though, that at this money, you only get an aftermarket Alpine stereo that has nowhere near the ease-of-use or depth-of-functionality you get with the fully integrated systems in most rivals. There's a very limited amount of adjustment for your driving position, too. For instance, you can't crank your seat up and down or adjust the angle of your backrest.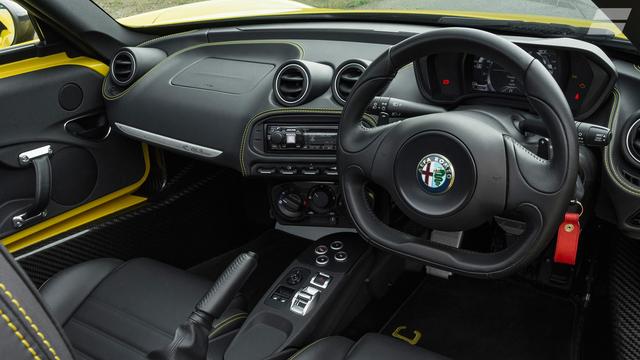 How practical is it?
This isn't an area of critical importance for any sports car, but even so, the 4C doesn't do a particularly good job. The two seats are surrounded by a reasonable amount of space, but getting in takes some gymnastic ability due to the low floor and wide door sills. There's barely any storage provided inside the cabin, either, and while the boot space behind the engine looks bigger than its 110-litre capacity suggests, it's not a patch on the 275-litre space provided by a Porsche Boxster, albeit spread between two separate load areas. What's more, dropping or raising a Boxster's roof is an incredibly simple, electrically operated affair, but with the 4C Spider, you have to undo a number of catches and latches before hopping out and rolling the whole thing up and stashing it away in the boot. It's not impossible for one person to do on their own, but it's easiest done as a two-person job. And, of course, stashing the rolled up fabric roof in the boot further robs you of cargo space.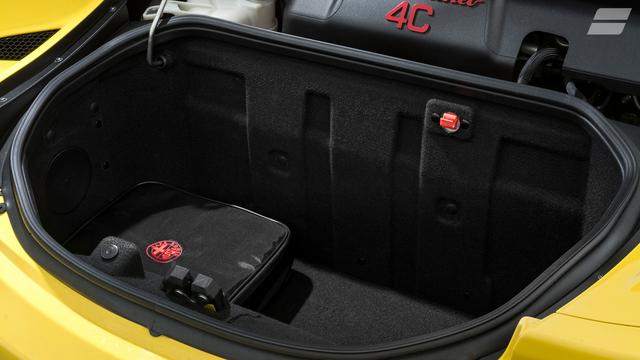 What's it like to drive?
The 4C is built on a carbon fibre chassis – just like some exotic supercars are – in an effort to keep the car as light as possible, and you can really feel that when the car changes direction. Combine with plentiful grip and very tight control over body lean, and you'd think the 4C would be an incredibly crisp and precise thing to drive. Unfortunately, the whole experience is completely ruined by the steering. It's hugely heavy on account of the fact there's no power assistance, but that's not the problem. The problem is every time the front tyres are subjected to any road surface that's not absolutely immaculate, the car follows the contour of the road and tries to change direction. Not gently, either; it tugs you around with unbelievable force. Even at moderate speeds, you have to really fight against the car to keep it going in a straight line, and when you're going faster, plotting your desired course takes even more muscle. Some drivers will love the brutally demanding nature of driving the 4C, but for most people, it'll be rather scary. It's a shame because the ride isn't actually too punishing. It feels as firm as you expect a hardcore sports car to feel, but it's nothing that'll have you begging for mercy. That said, it's still nowhere near as comfortable – or for that matter as engaging or as enjoyable – as a Porsche Boxster.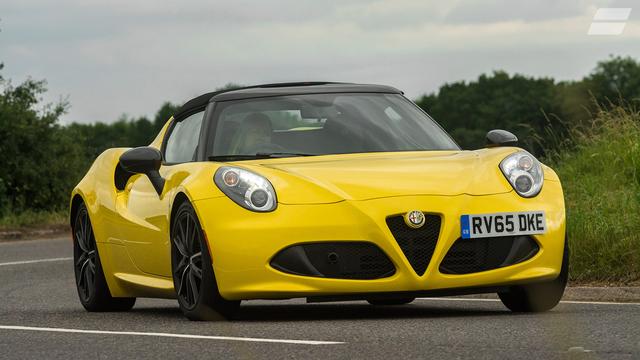 How powerful is it?
The 4C is powered by a 1.7-litre petrol engine, which channels power to the rear wheels via a six-speed twin-clutch automatic gearbox. Don't be concerned by the engine's relatively small capacity, though, because you're left in no way short of performance. The turbocharger means the engine's muscle is served up with relatively few revs on the dial, and it also means a power output of 240PS, which piles on more ferociously as the revs climb higher. The gearbox changes gears pretty quickly and with an appropriate amount of drama when you're moving up and down, but it could respond a little quicker when you ask for a sudden burst of acceleration. However, you can eradicate that by changing gear yourself with the steering-mounted paddles. If it's the bare numbers you're after for bragging rights purposes, the car will do 0-62mph in 4.5 seconds if you engage the launch control function, and it'll do 160mph when flat out.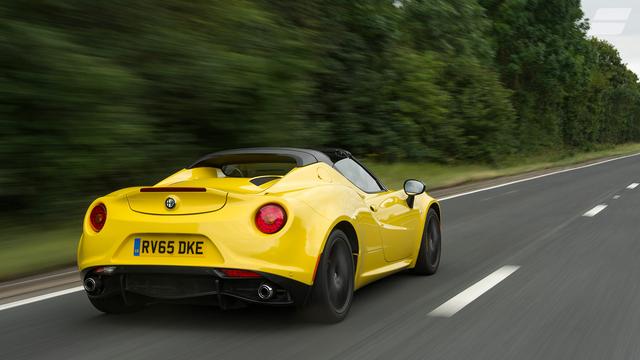 How much will it cost me?
Comparing the 4C Spider with the class-leading Porsche Boxster is an essential exercise, but doing so needs care. Why? Because the 4C is closer to the basic Boxster for power output, but its lightness means it's closer to the S for overall performance. Whichever way you cut it, though, the numbers make for rather grim reading. The Spider costs many thousands more to buy than the more expensive Boxster S, and compared with the basic Boxster, the price difference is effectively doubled. With an official figure of around 40mpg, it matches the basic Boxster for fuel economy, and the Alfa will also cost you less to service and repair. However, the big sting in the tail comes in the form of depreciation. The 4C won't hold its value anywhere near as well as either Porsche over any given ownership period, and that'll make it considerably more expensive to own long-term.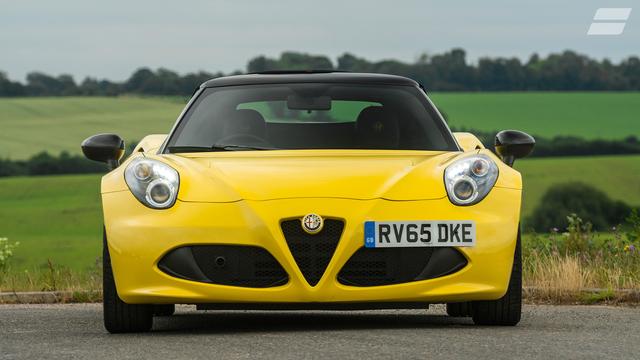 How reliable is it?
Unsurprisingly, owner reviews for the 4C are few and far between on our website, but if you take a look at the Warranty Direct Reliability Index, you might have cause for concern regarding mechanical dependability. Again, the 4C – Spider or Coupe – isn't included in the study, but Alfa Romeo is one of the worst performing manufacturers, sitting very close to the foot of the table. It does use lots of bits and bobs that are bespoke to the 4C and not used on other Alfa models, but in these circumstances, it's very difficult to know whether that's a blessing or a curse.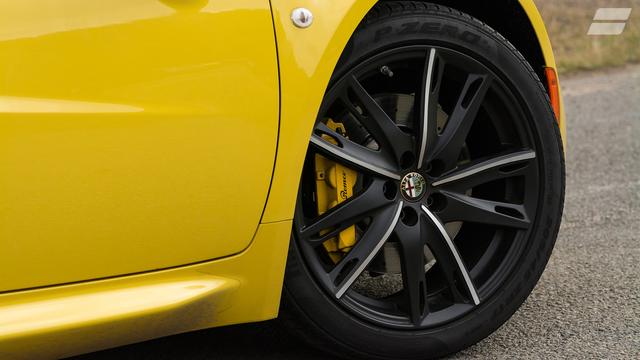 How safe is it?
Any car built on a carbon fibre chassis will be much stronger structurally than more conventional rivals, and that should bode well for safety as it'll be more likely to maintain its shape and integrity in a crash. The 4C also comes with a range of electronic traction aids, including stability control, along with tyre pressure monitoring. However, you only get two airbags, and most of the latest clever safety kit – things like automatic emergency braking – aren't available, even on the options list. The car hasn't been crash tested by Euro NCAP, and because it sells in such low numbers, we don't expect that to change.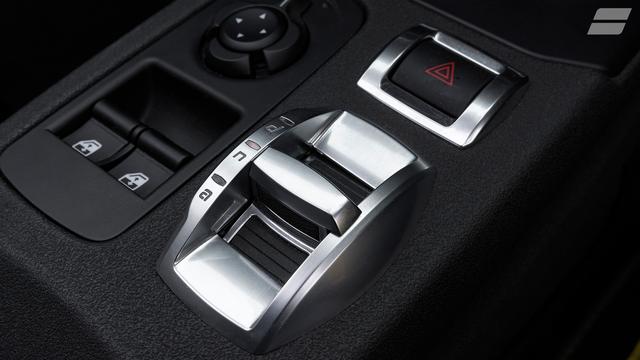 How much equipment do I get?
As a stripped-out, focused sports car, it'd be slightly strange to expect the 4C to come stacked with luxury kit. Even so, you might expect a bit more for the considerable amount you pay. The standard roster includes remote locking, cruise control, air-conditioning and electric windows, but not a lot else. It's especially stingy you have to pay extra if you want leather upholstery. The options list is fairly long, but very little of it relates to luxury kit. Most of it revolves around bespoke paint choices, extra bits of carbon fibre and other aesthetic embellishments.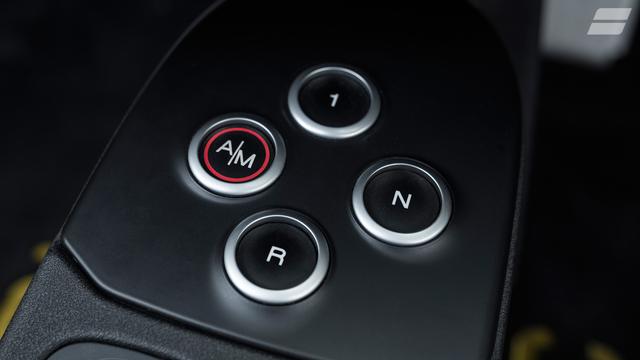 Why buy?
Because you want your sports car to be exotic, interesting and – crucially – very different from the Porsche Boxsters and Audi TTs everyone else drives. It certainly delivers on that score, and driving it is certainly an experience that delivers plenty of theatre. However, the car's road manners are very much a love-or-hate affair, so make sure you fall into the former camp before you buy.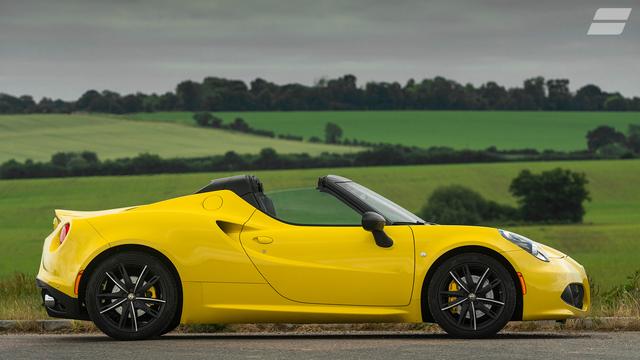 Alfa Romeo 4C Convertible (2017 - ) review
The Alfa Romeo 4C Spider is a hardcore two-seat open-top sports car that's all about the driving experience, and on that score it competes with cars such as the Lotus Elise. However, it'll also find itself competing for buyers' affections with more conventional roadsters like the Porsche Boxster and Audi TT.
Alfa Romeo 4C Coupe (2014 - ) review
Read the Alfa Romeo 4C (2014 - ) car review by Auto Trader's motoring experts, covering price, specification, running costs, practicality, safety and how it drives