Renault Austral
New from £34,520 / £399 p/m
Is the Renault Austral SUV a good car?
Read our expert review

Words by: Erin Baker
"The Austral is a medium-sized SUV with three trim levels but one power system, this being a 1.2-litre petrol hybrid. Although it's not a plug-in hybrid (or PHEV in the jargon) the small engine packs a punch, and you get a surprisingly good amount of electric range. Great looking, with Google tech and some nifty storage, it is almost the perfect package, and a huge improvement on the outgoing Kadjar. Read what the Renault Austral is like to live with in our long-term test."
Read the review by category
Running costs for a Renault Austral
Compare this with the hybrid version of its Nissan Qashqai sister car or the likes of the Hyundai Tucson Nissan Qashqai and the pricing is fair to good. This is possibly the most efficient hybrid we've driven, in terms of how much electric range it gives you. It's not a plug-in hybrid, so the engine recharges the battery, and it's constantly automatically switching between engine and motors. But you get a healthy amount of electric driving, which means great fuel economy. With a low CO2 range of 105-110g/km it's good for company car tax bands, and residuals are strong so monthly finance numbers should be competitive. The entry-level version Techno offers a surprising amount of kit, although Renault thinks most buyers will plump for the mid-range Techno Esprit Alpine, word salad branding notwithstanding.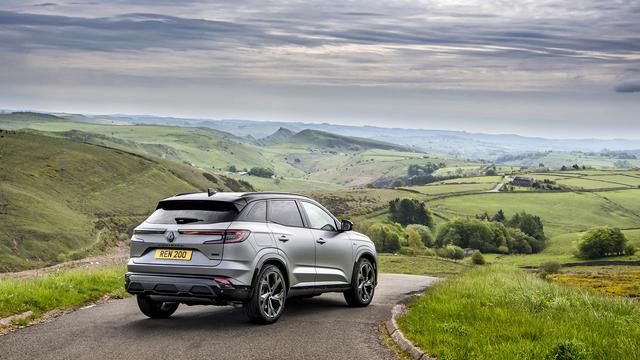 Reliability of a Renault Austral
We've been running a Renault Megane E-Tech 100% Electric for six months with a lot of the same tech inside and out, and haven't experienced any issues. Renault's alliance with Nissan bodes well, because the Japanese manufacturer is very strong on build quality and engineering. That said, it's a new car, so watch this space. At brand level Renault sits mid-table in terms of reliability, and fares a lot better than many people assume of French brands. The warranty is very good, at five years or 100,000 miles. Kia offers seven years but that's the exception.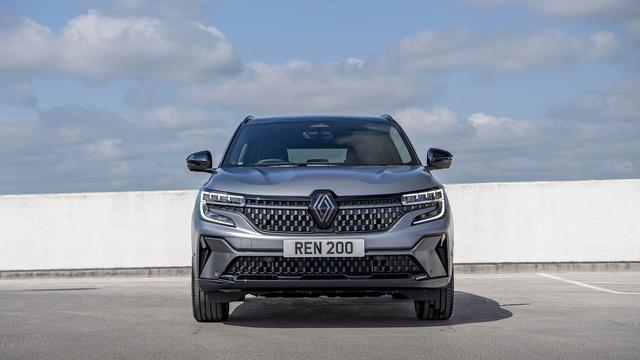 Safety for a Renault Austral
All versions come with a head-up display, which is amazing. Lane keeping assistance is also standard, which some people like but we find intensely annoying on every single car out there on the basis it's constantly 'correcting' your path even when you're perfectly on track. Every owner also gets traffic-sign recognition and emergency braking. Adaptive cruise control, a 360-degree camera that includes a birds-eye view of the car and its surroundings, a blind-spot warning system and another that alerts you to traffic as you're reversing onto a road, plus automatic hands-free parking, are all available. There's even a rapid-access hatch for the battery and a QR code for the location pf the battery and airbags printed on the windscreen, so that emergency services can ascertain where they can and can't cut the vehicle to get someone out of the wreckage, should the absolute worst happen.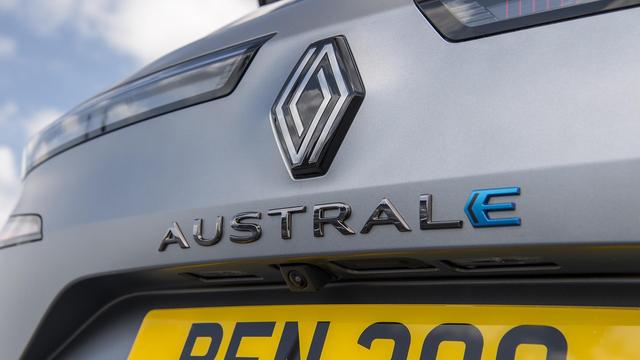 How comfortable is the Renault Austral
There is plenty of leg space and headroom for four adults in the car, and a rear central arm rest pulls down to reveal two cup holders. The boot space is average, although Renault can have a gold star for making its rear seats slidable - not something many competitors offer. It's a shame, however, that Renault's interior designers have been so … energetic. The front dash comprises about seven different materials in as many different shapes. The one contemporary, pleasant fabric on our top-spec model - a grey material which is also in our Megane - was confined to the pillars in our Australe. The mix of faux suede, hard plastics, slashes of silver and a blue LED strip was all a bit too 90s for our liking.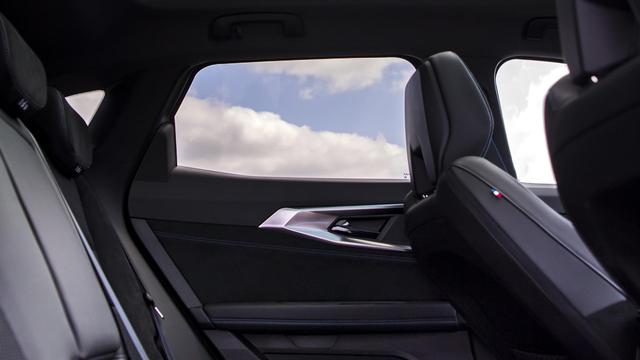 Features of the Renault Austral
Renault is good at thinking outside the box, and the Australe features a very nifty device indeed in the shape of a wireless charging pad for your smartphone which is on a sliding tray that forms the lid for two storage areas between the two front seats. It's smart, effective and easy to use. You also get two massive screens with Renault's fantastically sharp graphics displaying all the information in easy, bite-sized chunks. Many car brands could take a lesson out of Renault's book when it comes to cleaning up their own messy, complicated menus and interfaces. The tech is powered by Google which means it's familiar and intuitive, and comes with a voice function for ordering air-con changes and more, even if we've never got on with voice control on the basis it feels unnecessary and cumbersome. We did love that the driver display can convert into a huge sat-nav map, however.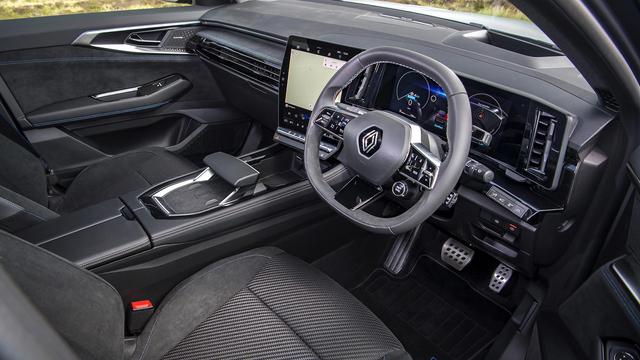 Power for a Renault Austral
Two major surprises: the amount of electric driving from this hybrid-without-a-plug, and the rapid acceleration of the car in Sport mode. We didn't expect either. Normally, a hybrid that charges from the engine just has the battery as a sort of boost function, or to lower emissions, so the car will start in electric then the engine will kick in two minutes down the road. Renault claims up to 80 per cent of town driving can be completed in electric mode. We sneered, then drove it, and found that certainly half our hour-long route was spent in electric mode. Switch from Comfort or Eco into Sport and this humble family SUV dashes down the road like it's at Le Mans. Obviously the 1.2-litre engine kicks in at that point. Speaking of which, forget the idea that a 1.2-litre engine isn't up to much. Combined with the electric boost this one has 200 horsepower, which is plenty for fun family driving. One last point of brilliance is the four-wheel steering, available on the top trim level. You turn into a roundabout, and you're out the other side before you know what's happened. It has the turning circle of a London cab, so if you have a tight drive or hate parking, this is the car for you.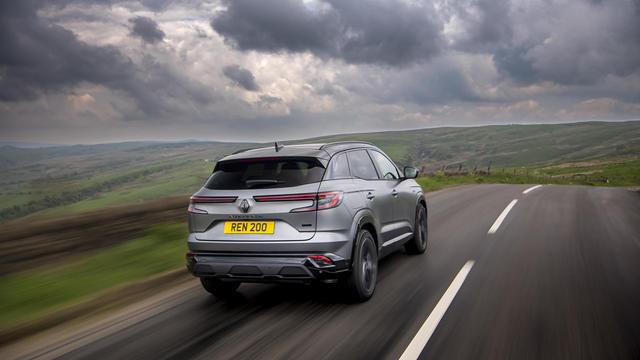 Lease deals
These deals are based on terms of 8,000 miles, for a 36 month lease with a 6 months initial payment.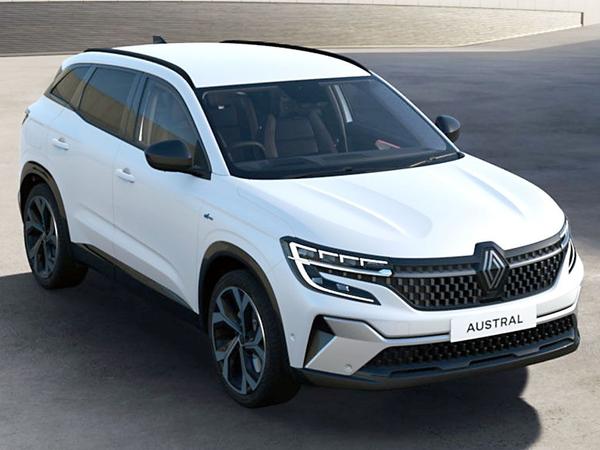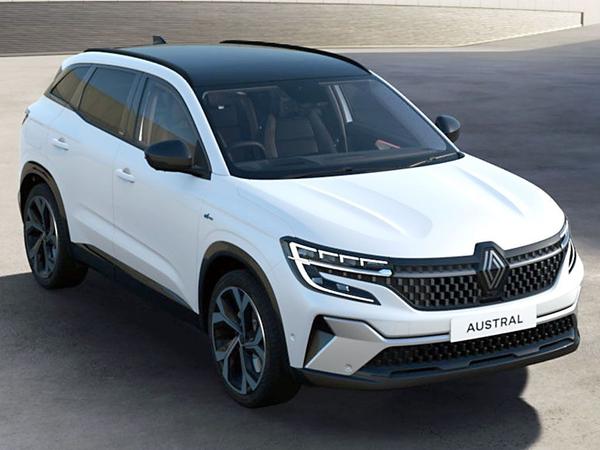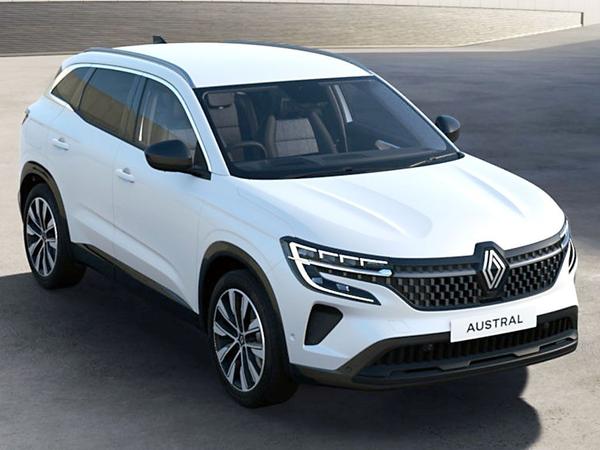 Standard equipment
Expect the following equipment on your Renault Austral SUV. This may vary between trim levels.
Related articles and reviews