Porsche Taycan Estate
New from £79,395
How long will it take to charge?
Results based on 93.40kWh Porsche Taycan battery
0

For a part charge (up to 0 miles)

0

For an 0% charge 0
You can charge this vehicle in 25 minutes at its fastest charging speed of 350 kW
* We have used data from the manufacturer to estimate these charging times, they are only a guide. Charging times for some speeds may not have been provided.
Is the Porsche Taycan Estate a good car?
Read our expert review

Words by: Dan Trent
"The all-electric Taycan is a huge deal for Porsche and already accounts for nearly a third of its overall sales in the UK, while globally it out-sells the iconic 911 sports car. This Sport Turismo version adds another option to a range that already has over a dozen different models and combines the estate-style body of the off-road optimised Cross Turismo with the regular Taycan's sportier set-up. Each to their own but, given how good it looks and the slightly improved practicality it could be the best of the bunch. Performance is extraordinary, with the bigger battery option you could potentially do over 300 miles on a charge and it drives as beautifully as you could hope for any Porsche."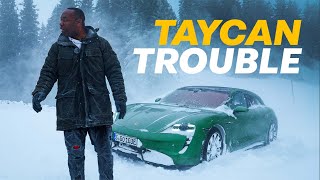 Read the review by category
Running costs for a Porsche Taycan
It goes without saying the Taycan Sport Turismo is an extravagant choice but, such are the incentives with Benefit In Kind rates and other tax breaks for electric cars if you can swing it as a company car it could be more attainable than you think. And if you're willing to channel some of those savings into your monthly finance budget instead a Porsche with a six-figure pricetag could be within reach. You'll need to install a home charger and be smart about plugging in during cheaper, off-peak hours but, for a luxury performance car of this type, running costs could also be surprisingly cheap. You'll find it gets more expensive if you have to use public charging, especially given the size of the battery, but every Taycan comes with a three-year membership to the Ionity network that halves the regular per kWh price, while some of its dealers offer super-fast 'Porsche Turbo Charging' where you can plug in and grab a coffee while you browse the latest new models in the showroom.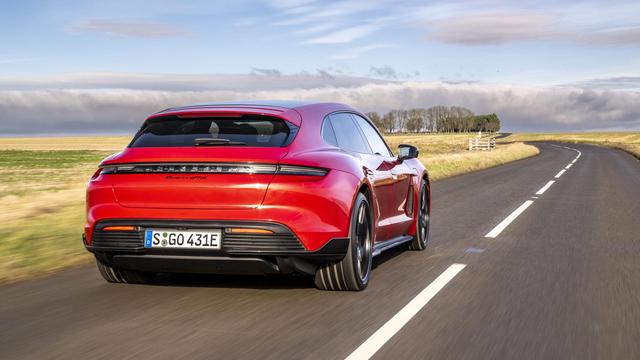 Reliability of a Porsche Taycan
It's too soon to really have a picture of how reliable the Taycan Sport Turismo is, given the technology powering it is still relatively new and the cars in the market will still be within their standard three-year warranties. All new Porsches are also covered by European-wide recovery for the same period. Both can be extended at further cost if you wish, this being easier within the first 12 months of ownership if you're planning to hold on to the car for the long haul. Generally speaking Porsche prides itself on taking care of its customers and building reliable cars, though costs for servicing, tyres and suchlike will be hefty and you need to stick diligently to official maintenance schedules to preserve the car's history and ongoing residual value.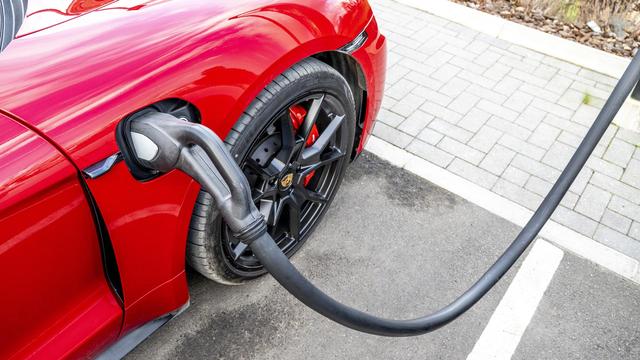 Safety for a Porsche Taycan
The Taycan Sport Turismo is a big, technologically advanced car so comes packed with safety tech to keep you out of trouble. Given Porsche's tradition of building cars for keen drivers the safety aids are also less intrusive than they are in more mainstream vehicles, meaning less of the constant tugs to the wheel from the lane-keeping or false alarms from the collision detection systems. Porsche being Porsche, however, much of the really clever stuff is on the cost options list, including the sophisticated InnoDrive system that can brake, steer and manage speed according to traffic, hills, speed limits and corners for maximum safety and efficiency. Whether you're a believer in such systems or not we found it pretty intuitive and impressive and you'll likely be encouraged to add it to your spec.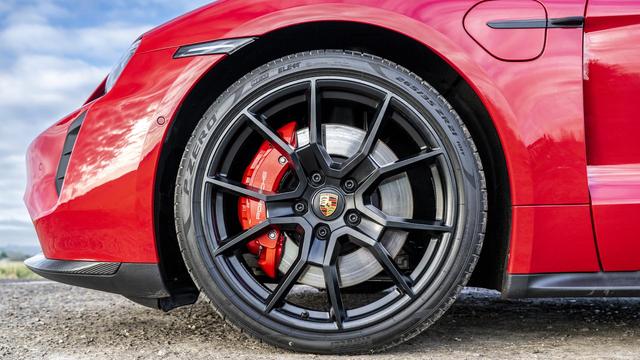 How comfortable is the Porsche Taycan
The Sport Turismo uses the same body as the Cross Turismo and both are pitched as more practical alternatives to the regular Taycan thanks to the extended roofline. That equates to a smidge more headroom for the driver and front seat passenger and a useful amount more in the back, though it still feels pretty cosy given how big the car looks from the outside. The car we drove had the vast panoramic roof with nifty selectable panels you can darken on bright days, which helps it feel a little less claustrophobic inside. Don't kid yourself the Sport Turismo is as practical as a conventional estate car, though. In volume the boot is only a fraction bigger than that of the Taycan (though with better access) and quite narrow and shallow. Ticking the box for the optional Bose stereo robs even more space, too. There are options, though, and (for a price) Porsche will equip your Sport Turismo with roof rails onto which you can attach a top box or other additional storage. Cycling fans can also use roof racks, though there is also a dedicated plug-in rear bike carrier that looks super neat and can easily be removed when not needed. By keeping the bikes out of the air flow it should avoid taking too much out of your range, too. On the road the Taycan Sport Turismo rides and steers with an incredible sense of authority, the adjustable air suspension on the GTS model we tested one of the sportier options but still surprisingly comfortable. From the sporty, low-slung seating position to the view out over the curving bodywork the Taycan riffs successfully on Porsche's formidable sports car heritage but with room behind you for the family and a decent amount of clobber too. Suffice to say, this all feels like the 'winning at life' combination you'd hope for.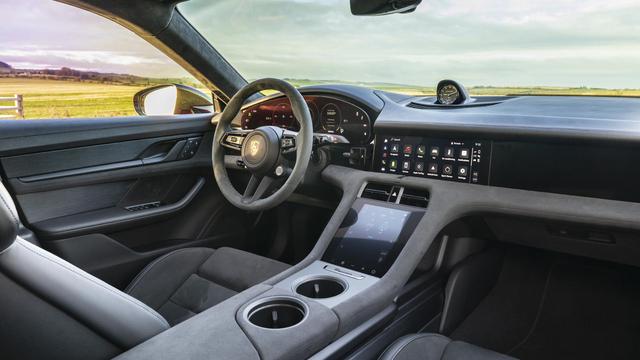 Features of the Porsche Taycan
If you've bought a Porsche before you'll be familiar with a range of increasingly powerful models supported by a vast (and expensive) options list, though if you're new to the brand it can appear intimidatingly complex. Best advice is to sit down in front of the configurator, where you can pick and choose the bits you want to create a 'build' you can share with the dealership. Having picked yourself up off the floor at the bottom-line cost. To be fair all Taycan Sport Turismo models feel very futuristic and luxurious, with a driver-focused cockpit and neat, screen-based interpretation of the classic Porsche instrument customer. A large touch-screen dominates the centre of the dash, with touch-sensitive 'switches' below. We'd prefer a few physical ones for key controls like volume or ventilation but it's very much on-trend and looks slick. You can even add an additional screen for the passenger to control their own infotainment, should you wish. Navigation, connected services and smartphone integration (including wireless CarPlay) are all standard, as is an energy saving heat pump, LED headlights and two-zone climate control. Beyond that the depths of your pockets are the only limitation on how flash or well-equipped your Sport Turismo ends up being.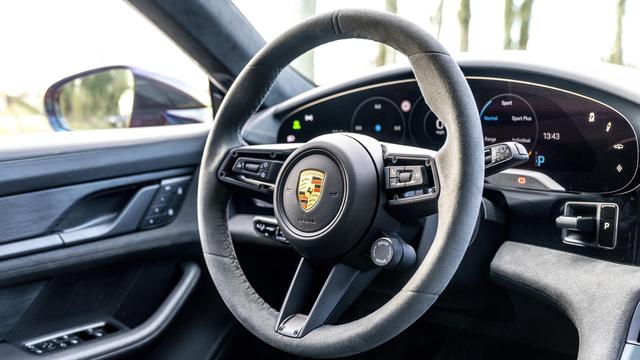 Power for a Porsche Taycan
Figuring out how powerful the Taycan Sport Turismo you're buying actually is proves surprisingly complicated, given the quoted output varies according to which of the two batteries you choose. Indeed, on the base model alone there are four quoted outputs ranging from 326 to 476 horsepower, depending on which boxes have been ticked. This version has a single motor driving the rear wheels while the rest have an additional motor up front for effective all-wheel drive when you need it. Power outputs increase as you go up the range, topping out at a frankly outrageous 762 horsepower for the Turbo S. Range varies up to a best case of just over 300 miles, though on a cold, wet day with all the lights and wipers going our test car's fell by a third to just over 200 miles. The one we tried was the 598 horsepower GTS version, experience of other Porsches showing this trim is often the sweetspot of the range. And so it proves here, the Sport Turismo able to go from silent to deadly in a twitch of your right foot. Acceleration if you really bury it is, frankly, quite shocking but once you get over that novelty it's the quality of the performance that impresses as much as the quantity. At heart the Taycan Sport Turismo drives like a Porsche as much as it does an electric car, which means fantastic response to all the controls, an ability to use all that performance effectively in all road conditions and the feedback to satisfy driving enthusiasts and newcomers to the brand alike. In a word? Mighty.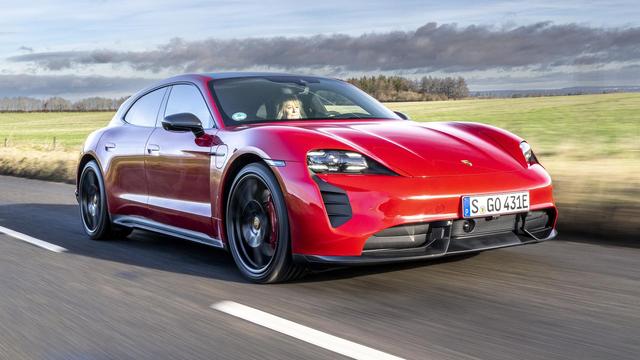 Standard equipment
Expect the following equipment on your Porsche Taycan Estate. This may vary between trim levels.
Other vehicles in the Taycan family Related articles and reviews