Porsche 718 Spyder Convertible
New from £80,255
Is the Porsche 718 Spyder Convertible a good car?
Read our expert review

Words by: Dan Trent
"For hardcore sports car fans and – especially – Porsche aficionados the 718 Spyder is a truly special machine and evidence the brand hasn't totally forgotten its purist roots. With its big engine, manual-only transmission and spicy handling it's a car for drivers, its unique style and limited availability setting it apart from the 718 Boxster on which it is based."
Read the review by category
Running costs for a Porsche 718 Spyder
This entirely depends on your frame of reference, and also how friendly you are with your local Porsche dealership. At face value the 718 Spyder is a very expensive car and costs a hefty premium over the regular 718 Boxster on which it is based. Porsche is also masterful at convincing its customers to spend big on extras and it's easy to add a hefty five-figure number to the price with just a few 'essential' options. The 4.0-litre engine is thirsty, chuffs out a lot of CO2 and you'll be murdered on tax and other running costs in comparison with any regular car. Porsche is also very clever at making sure demand outstrips supply of its special edition models like this, meaning a bunfight at dealers to get one. If you're deemed worthy you're in luck because you'll likely be able to sell for a premium and even turn a profit, known as 'flipping' and deeply unpopular with those who don't get on the dealer's list. The only dilemma for those who do? Drive it and enjoy it as one of the best modern sports cars at any price or sell it for a fast buck?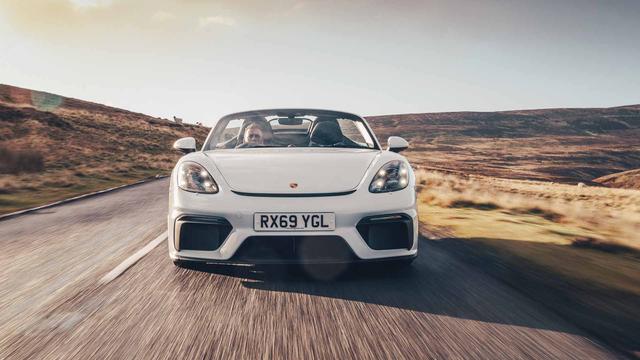 Reliability of a Porsche 718 Spyder
Porsche prides itself on a reputation for quality German engineering but experience shows it can have the occasional wobble on reliability and when things do go wrong it can cost you a lot of money. As a new car you should be covered by the warranty for manufacturing faults but consumables like tyres and brakes are very expensive, especially if you take the car on track. Of course, for a number of buyers this will be of no concern because their focus will be on covering as few miles as possible to maintain that all important resale value.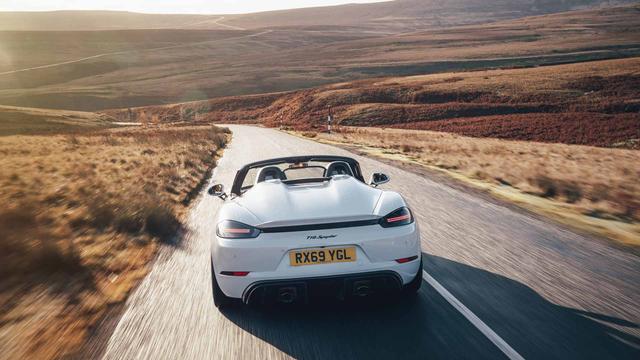 Safety for a Porsche 718 Spyder
The 718 Spyder is a modern sports car with airbags, anti-lock brakes, stability control and all the rest. But it's also a highly focused performance machine Porsche aims squarely at enthusiast drivers who are comfortable grabbing a car by the scruff of the neck. Everything about the Spyder is geared to performance, meaning the handling will feel lively for those not accustomed to such cars and you'll need to know what you're doing – even with the safety systems on the 718 Spyder will slide around on cold or wet tarmac and expects the driver to be able to handle it. If that's not for you the regular 718 Boxster offers most of the fun without the sweaty palms.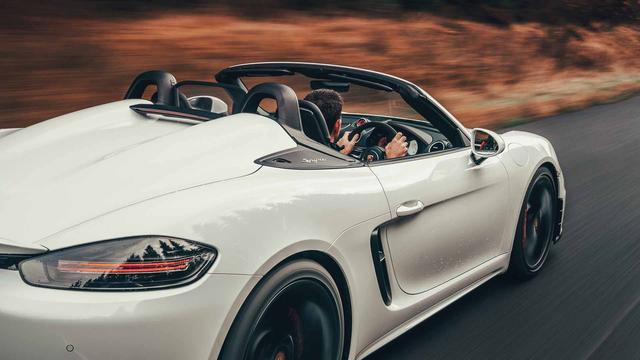 How comfortable is the Porsche 718 Spyder
Again, comfort takes second place to the sense of speed and excitement in the 718 Spyder and if it's luxury you're after you're probably better served by the standard 718 Boxster, which is a lovely car in its own right. Indeed, in some respects the Spyder has been made deliberately less comfortable to increase the intensity of the driving experience – the steering is heavy, the clutch gives your left leg a workout, the brakes are fierce and the car is so responsive it demands your full attention at all times. The track-honed suspension is also very stiff and even with adaptive dampers there's no setting to take the edge off the bumps and you feel everything. Great when you're in the mood, tiring when you're not. But that's what sets the Spyder apart and what enthusiasts will love. The optional fixed carbon fibre seats of the test car we had force you into an upright, racing driver's position whether you like it or not. You can option in more conventional seats if you like (or are lucky enough to buy new) but that's not really the point of the car and if you're considering the investment potential future buyers will be chasing cars with the most focused (and expensive) options. The distinctive Spyder look also demands a special manual hood mechanism, which is more time consuming to fold than that of the regular Boxster. On the face of it these various practical compromises make no sense whatsoever but to complain about that would be missing the point of this super cool car.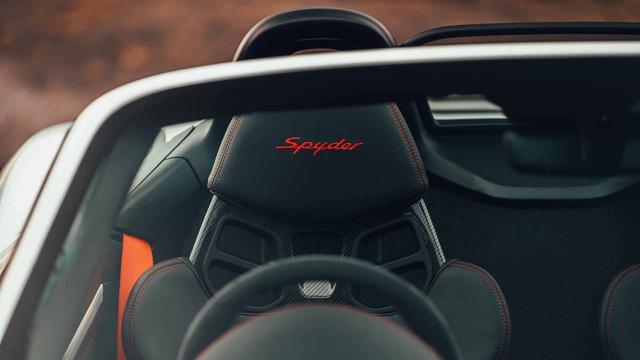 Features of the Porsche 718 Spyder
If you put in-car tech at the top of your buying wishlist be prepared for a shock – although the 718 Spyder comes as standard with factory navigation and infotainment system with CarPlay installed Porsche does offer the opportunity to delete the whole system in the name of weight saving, playing to the hardcore credentials of the car. Meaning you may well come across Spyders in the used market with a big hole in the dash where you'd expect the radio to be. By any conventional measure this is ridiculous for a car nudging six-figures but the real magic of this car is in the engineering, with many of the parts coming directly from the track optimised 911 GT3. And that, for the true geeks this car is aimed at, is worth way more than fancy touchscreens.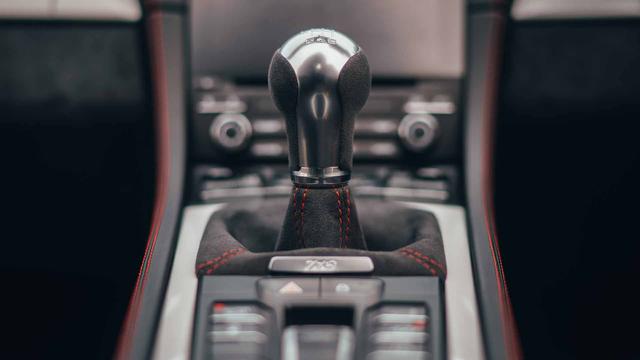 Power for a Porsche 718 Spyder
In an age of turbocharged cars – 718 Boxster included – the Spyder's real party piece is its incredible 4.0-litre, six-cylinder engine which it shares with the hardcore 718 Cayman GT4. It develops a mighty 420 horsepower and revs to the sky, which you need to do to extract its best. For enthusiasts it's a fabulous engine, responsive, powerful and gushing with charisma. The other noteworthy feature is the manual gearbox, there being no PDK automatic option like there is in other 718 Boxsters. This is a deliberate statement of intent from Porsche and something to celebrate if you consider driving a recreational pursuit rather than just a means of transport. If you don't – and in case you hadn't already got the message – this isn't the car for you.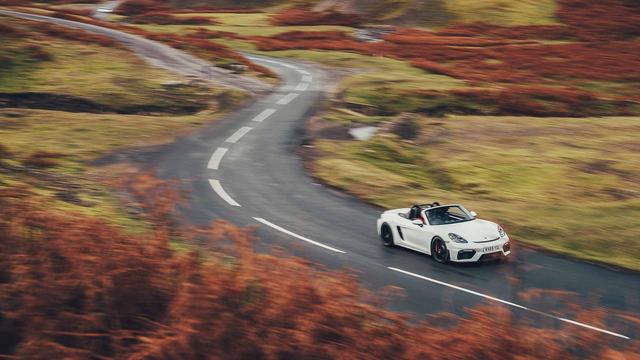 Standard equipment
Expect the following equipment on your Porsche 718 Spyder Convertible. This may vary between trim levels.
Other vehicles in the 718 Spyder family 718 Boxster Convertible
Incredible handling balance

Surprisingly practical

Superb interior quality
Related articles and reviews
Porsche 718 Spyder Convertible (2019 - ) review
If the standard 718 Boxster is one of the best sports cars around the 718 Spyder is something truly exceptional and an enthusiast's dream, albeit a raw one stripped of creature comforts and refinement