Expert Review
Ford Transit Custom Trail Panel Van (2020 - ) review
For the Transit Custom buyer in need of something a little tougher looking - and capable of getting its tyres muddy - the new Trail and its higher-spec Active brother are great additions to an already impressive range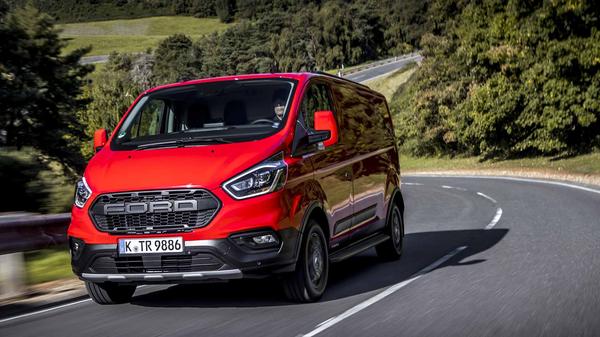 The Auto Trader expert verdict:
Available new from £31,070
New Trail and Active models add further appeal to the already dominant Transit Custom line-up. New features include a Ranger Raptor inspired grille and other outdoorsy styling additions for the Trail and a limited-slip differential that noticeably improves traction on low-grip surfaces to keep you moving on grassy fields, unsealed roads and in wintry conditions alike. Priced below the Sport trim, equipment is still generous on both and broadens the Transit's offering to both commercial and private buyers.
Reasons to buy:
Rugged looks
Improved low-grip traction
Broadens lifestyle apeal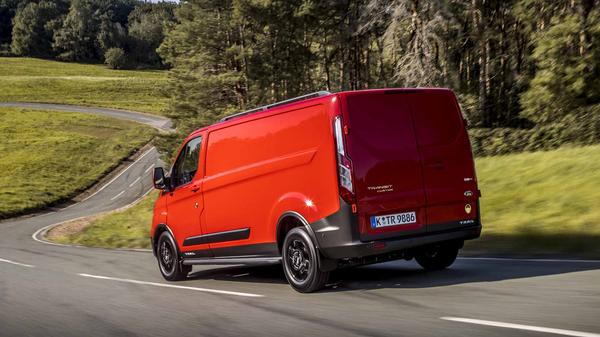 Cargo & practicality
Effectively the Active and Trail versions are simply new trim levels expanding the existing
Transit Custom
range, so they've got the same payload and features as every other model in the line-up. The Trail is available as a panel van in whichever combination of Ford's L1 or H2 wheelbases and H1 and H2 roof height options suits your needs. You can also have the Trail DCIV (Double Cab In Van) in L1 or L2 but only with the low roof. Active follows the same pattern but also includes the more passenger-oriented and luxuriously trimmed Tourneo option. To put numbers against that, the standard L1 H1 panel van has 6.0 cubic metres of internal space, increasing to 7.2 cubic metres with the H2 option. These figures increase to 6.8 and 8.3 cubic metres respectively for the L2 version, which at 5,339mm is 366mm longer. Both can carry up to three Europallets where the standard DCIV only has space for one. The longer-wheelbase DCIV can, however, carry two. Maximum gross vehicle mass for all models is 3,400kg. Double side doors are standard on the Active and a cost extra on the Trail (you get a single one as standard), both models also offering an unglazed liftgate in place of the standard rear doors as an option on H1 models. All versions have a bulkhead as standard, unglazed on the panel van and glazed on the DCIV. If payload is your priority the L1 H1 panel van is king, at 1,530kg.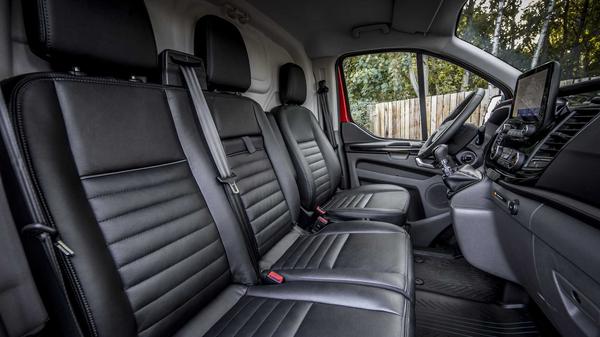 Interior
We gave the Transit Custom full marks for its interior the
the last time we reviewed it
and see no reason to change that appraisal! Positioned between the strictly commercial, workhorse variants and more luxurious 'lifestyle' models like the Sport, both Trail and Active come well equipped with a commendable range of standard features. Leather upholostery is standard on the Trail, as is air conditioning and Ford's clever Quickclear windscreen. The slick Sync3 touch-screen infotainment is also included, though you'll have to pay extra to equip it with built-in navigation and other features. You can, instead, plug in your phone via CarPlay or Android Auto to use your apps instead, of course. An onboard modem meanwhile offers scope for a Wi-Fi hotspot for up to 10 devices and various features through FordPass Connect – subscription to Live Traffic is free for the first two years and the Wi-Fi comes with a three-month trial, after which you'll have to pay for your data. Active versions get all this plus a unique part-leather and branded upholstery option to further lift the interior ambience. Like all Transit Customs, though, both models are fundamentally excellent places to rack up the miles, thanks to the excellent driving position and thoughtful practical details.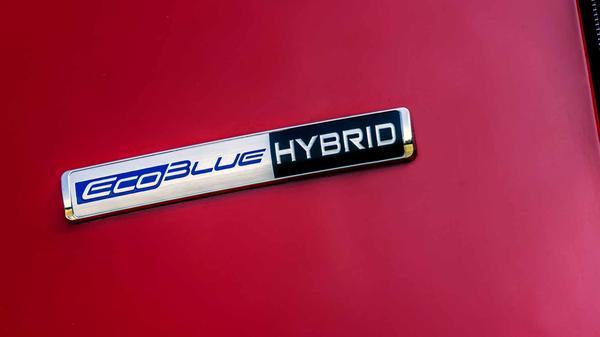 Running costs
Panel van versions are available as an EcoBlue Hybrid, which is a 'mild hybrid' (or mHEV) in the jargon and uses a more sophisticated start-stop system to help improve fuel consumption and CO2 emissions. On certain models it's enough to nudge the VED banding down a level, which saves on first year registration and ongoing tax costs. The mechanical limited-slip differential that comes as standard on the Trail and is optional on the Active does not carry any penalty in terms of efficiency.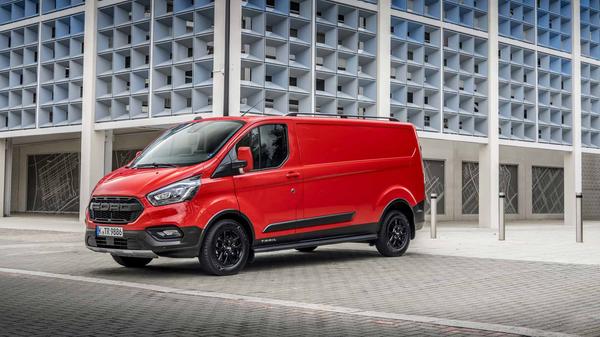 Reliability
The service intervals are impressively far apart on the Transit Custom, at 36,000 miles or two years, which should help keep costs down and build reassurance. Other little elements to help keep the van running smoothly include sensors on the brakes and oil to warn when they degrade in between services, and lights that are deliberately positioned to keep them away from areas that are easily hit, so panels can be replaced for less in the case of a crash. The unpainted plastic trim on the Trail gives it a tougher look but should also shrug off minor scrapes better than the painted panels on other models. Ford also offers Transit24 – a servicing facility that aims to get your van serviced and back to you within 24 hours.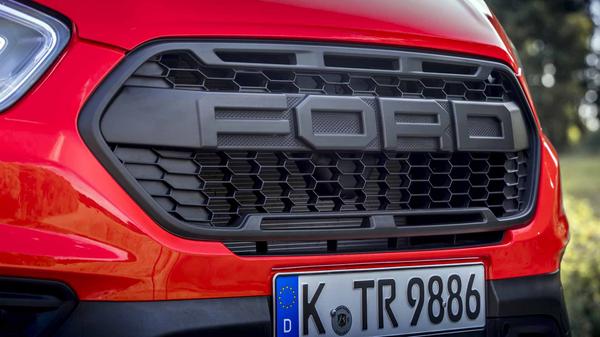 Performance
Trail and Active versions of the Transit Custom both use Ford's 2.0-litre EcoBlue diesel engine, available with either 130 or 170 horsepower and putting it between the lower powered commercial models and faster Sport version. With or without that option experience shows the 130 horsepower is fine for most purposes, the more powerful ones we drove shrugging off the 300kg payload Ford had loaded into the rear. Availability varies across the different configurations but the mHEV 'mild hybrid' version of each is a further option, based on the 130 horsepower engine. This effectively increases the scope of the stop/start system by letting it intervene sooner, the simulated urban route we tested it on showing its worth.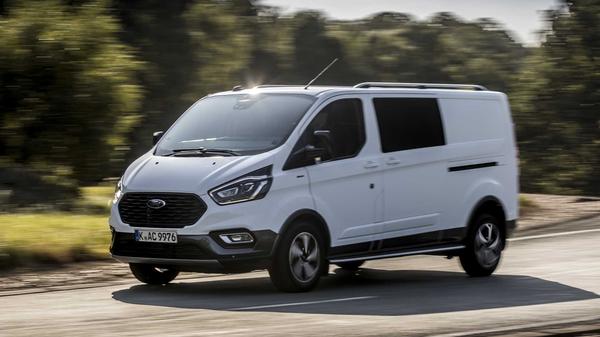 Ride and handling
Ford has a strong reputation for both handling and ride quality across both its passenger car and commercial ranges and thankfully hasn't messed with the formula for the Trail and Active versions of the Transit Custom. The steering is particularly impressive, being direct and responsive both around town and on the open road. A new feature Ford has introduced for these new models is its 'mLSD', which is a type of limited-slip differential supplied by Quaife and more typically found on its hot hatches like the Fiesta ST. For the Transit it's less a performance upgrade and more about improved traction, which will be handy if your work takes you off metalled roads on occasion. Put simply, rather than use traction control to limit wheelspin it directs the power to the wheel that has the grip on split surfaces, meaning you can pull away smoothly without intervention from the electronic systems. It doesn't turn the Transit Custom into some off-road machine but you can venture onto grassy fields, muddy sites or tackle wintry conditions with greater confidence and is a real plus. It's standard on the Trail and an option on the Active.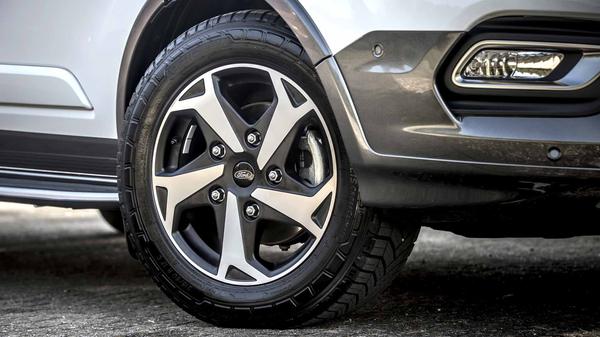 Safety
The Transit Custom is an inherently safe van and Ford is generous with the standard kit for the Trail and Active models. A Roll Stability Control system keeps the vehicle on the straight and level, even if a full load has raised the centre of gravity. The Electronic Stability Control can also keep the Custom running true in strong crosswinds while Emergency Brake Assist applies maximum braking pressure in emergency stops. There's also traction control, though with the mLSD system you should have less need of that than before. Front and rear parking sensors are also standard, as is cruise control. Options include an alert if you're running out of your lane, which can be upgraded to an active intervention system bundled with the ICE Pack 25 package. This also includes adaptive cruise control and a system to 'read' speed limit signs and display them on the dash.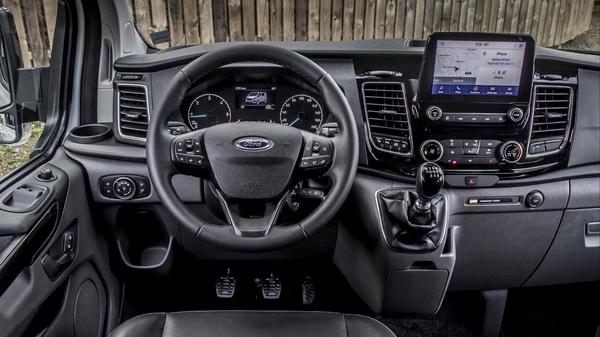 Equipment
Where the Trail is intended as more of a workhorse tool for operators who want a van with a bit of style and token off-road ability the Active is a more bells and whistles trim designed to appeal to a broader audience, including lifestyle users. In both cases the styling adornments add a welcome and distinctive new look for the Transit Custom that may yet tempt those otherwise following the herd into VW Transporters. The visual upgrades for the Trail are obvious in terms of that Raptor grille, black painted 16-inch alloy wheels, the protective plastic cladding, the option of rubber flooring to protect against muddy boots and unique badging. The Active is the next step up and includes a lot more kit. This includes body-coloured bumper trims, special 17-inch wheels, silver roof rails, a mesh grille and full length running boards.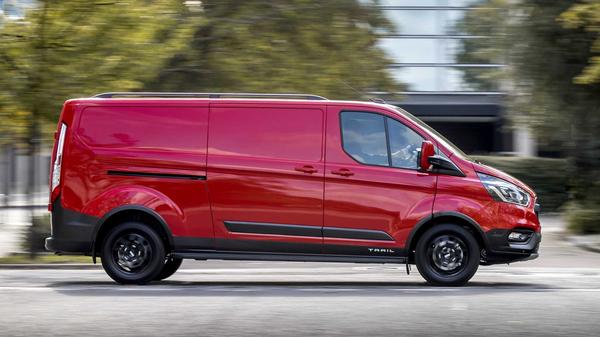 Why buy?
The functional benefits of the new limited-slip differential and the toughened up outdoorsy spirit of the Trail will be equally appealing to users who need that extra traction and weather proofing and also those who like the image. It's competitively priced for the extra kit and unashamed 'cool' factor and doesn't have any compromises in ability or payload compared with regular Transit Customs, too. The Active will appeal to a broader range but, like the Sport, is more directly aimed at 'dual use' or lifestyle buyers attracted by the generous specification and attractive looks. Both models just add to the already appealing range of options in the Transit Custom range and expand on this iconic van's already formidable talents.