Expert Review
Ford Transit Custom PHEV (2020 - ) review
The best of both worlds? The Ford Transit Custom combines battery and petrol power to let appeal to those who drive in town but need longer range ability from time to time. Read all about it here...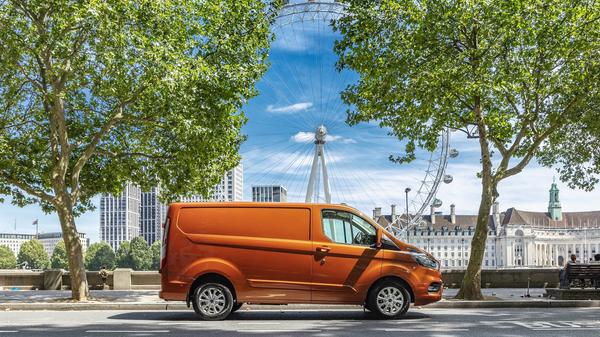 The Auto Trader expert verdict:
Available new from £31,070
Unlike cars, which eased buyers into the idea of alternative fuels by offering hybrid vehicles, the van industry has leapt straight to electric in many cases. The Ford Transit Custom, the UK's best-selling van, is bucking this slightly by offering a plug-in hybrid version. The Transit Custom PHEV is aimed at those who want the benefits of zero-emission driving for the town and the back-up of an engine for longer trips. Sounds perfect? It comes at a price.
Reasons to buy:
30 miles of electric-only running
Quiet and smooth to drive
No payload compromises
Cargo & practicality
Electric vehicles often suffer from having to carry the extra weight of the batteries, which then means that you can't carry as much stuff in the back. Add in an engine as well and you'd think that this would be even worse in the Transit Custom PHEV. The Ford engineers have done some clever sums, though, and managed to get the battery to engine weight ratio figured out to the extent that the payload on the PHEV is the same as it is on the equivalent diesel. This means you get a maximum payload of just over 1200kg, which is more than handy and should allow the Transit Custom PHEV to be used for a wide variety of tasks – not just light urban deliveries. Unfortunately, you don't get the same breadth of body shapes as you do on the diesel models. You are restricted to the L1H1 model – there is no long version and no high roof on offer. This means you get a maximum of 6.0 cubic metres of space in the back. Good, but the lack of extra space might rule it out as an option for some. The fitment of a load-through hatch as standard does help matters, though, as you can slide longer items of up to 3m in length through to the front of the cabin. You can also get the Kombi model with space for nine or the Tourneo, which is a more luxurious people carrier.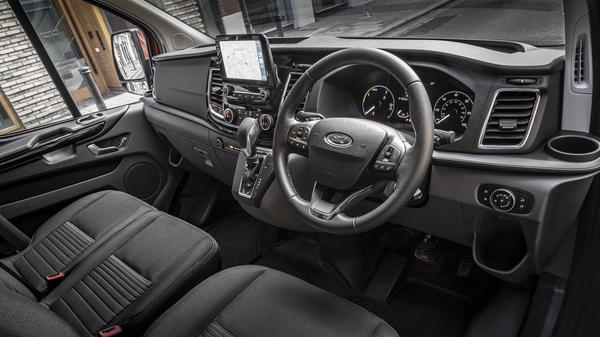 Interior
The Transit Custom's interior is an excellent place to spend a working day, with a high level of quality and decent amounts of practicality. The PHEV version's interior is identical to the standard model, which is great from a functionality perspective, but it also means that there is little to differentiate the plug-in version from the diesel. The instrument display is slightly different, with dials and gauges for the battery use and charge level. The fundamental design is largely the same, though, with physical needles rather than digital displays – there is nothing fantastically high tech here. The PHEV can be run in four different modes (more on which lower) and the lack of bespoke interior means that the button to switch between the different modes is small and tricky to hit on the move. The quality of materials is excellent, offering a level of durability without coating every available surface in tough, hard plastic. There is a good amount of storage too, with a mixture of covered and open cubbyholes around the cabin. There are just the two cupholders, which sit high up at the far edge of the dashboard. This makes them better suited for hot drinks than cold ones, as they wouldn't remain cold for long in the sun in that position.
Running costs
It's tricky to definitively say how much it will cost to run the Transit Custom PHEV without knowing how you plan to use it. Getting the official fuel economy of 91.7mpg requires careful management of the two sides of the van's character. On one hand, it is capable of travelling at least 25 miles on electric only, and more with some careful management of the battery. The electric-only range also means that it is exempt from the London congestion charge, the Ultra Low Emission Zone charge and is not likely to be charged to enter other cities if and when they introduce similar charges. If you have easy access to charging then running it will cost a fraction of the amount an equivalent diesel. The flip side of this is when the battery runs out, at which point the 1.0-litre petrol engine is tasked with hauling around a heavy van and its contents. At this point the official fuel economy will feel a long way off. Something around a third of that is a more likely reality. There are several ways of maximising economy, though. You can manually choose between the different modes – EV only, EV Auto, EV Later and EV Charge – and keeping the charge for the stop-start driving in town will help boost economy. However, Ford has launched a clever geofencing system that will automatically switch the van to EV or the next-most efficient mode if the battery is depleted – handy for those that forget to change manually. It will sense when it is close to the zone and assess the level of charge, putting the van into EV charge to give the battery a boost if needs be. You can create your own zones, too, meaning you can have the van running in electric only when it is in, say, a built-up area.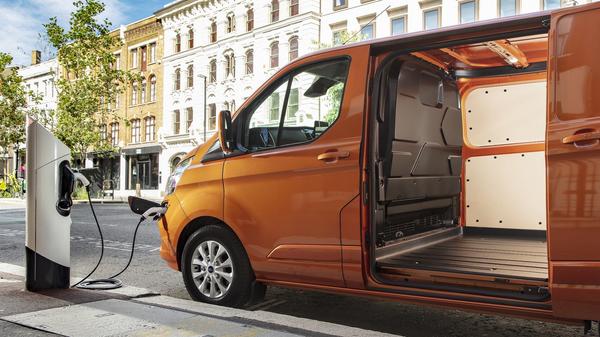 Reliability
The standard warranty on the Ford Transit Custom is the same for the PHEV, which means you get three years and 100,000 miles of cover. This isn't as much as some rivals, which offer four or even five years, but this can be extended to five years cover at extra cost, so Ford is clearly confident in the Transit Custom's reliability. There are elements of the PHEV's nature that mean that some elements might even last longer than the standard diesel model, too. The van uses engine braking to recover energy to charge the battery, which means that there should be less wear on the brakes. Servicing costs should be lower as a result too. Service intervals are slightly lower than the diesels, though. They are still two years, but services are required every 18,000 miles rather than 25,000 miles.
Performance
The Transit Custom PHEV performs in a slightly different manner to the diesel equivalents, which takes a little getting used to. While many electric vans have dialled back the power versus their passenger car equivalents, the Transit Custom PHEV offers at least a taste of that instant surge of acceleration. You get a swift kick of torque from a standstill, which means that you can zip away from the lights in a way that will surprise other drivers. Accelerating when you are already moving is a slightly different matter – the petrol engine doesn't have quite the same pulling power as a diesel so it doesn't feel quite as strong at overtakes and the like. Although it is a lot quieter than the diesel engines, it isn't totally silent. There is a little bit of noise, even when it is on EV only, but the petrol engine is really quite vocal when it is charging the battery as well as powering the van.
Ride and handling
The Transit Custom is an enjoyable van to drive in standard form and it is arguably more so when it is fitted with the plug-in hybrid powertrain. That instantaneous acceleration is great, but the sharp steering and controlled body roll means that you can even throw the Transit around with some confidence. This comes as a result of the battery sitting low down, which helps bring down the overall centre of gravity. The standard Transit has an excellent ride quality anyway, but this low-down distribution of the weight helps it even more – rather than having all the weight in the engine bay it feels a little like you are carrying a light load all the time, which presses down a little more on the suspension and takes the edge off bumps. Pop more weight into the back and it feels even better. This is a fantastic van to drive.
Safety
The standard safety kit list for the Transit Custom is a step up from some rivals, with autonomous emergency braking, cross wind assist and hill start assist all offered as standard on every version. As with many vans you have to head to the options list to get the extra kit, but there is a decent amount available. Both driver and passenger get airbags as standard, but you get curtain airbags on the mid-level Trend trim and upwards. Other kit includes a rear-view camera, lane-keep assist, park assist and cruise control with a speed limiter. All cost extra and there are a couple of packs, such as the Visibility Pack that includes the rear-view camera and lane-keep assist, which bundle a few things together to save some cash.
Equipment
Rather than just offer one high-spec model, there are three trims available on the Transit Custom PHEV. The basic Leader model gets an ok amount of kit – DAB digital radio, eight-way adjustable driver's seat with armrest, the load-through hatch in the bulkhead and air conditioning. Given that the PHEV starts at just shy of £40,000 (although that doesn't include the plug-in grant) it is a shame that there isn't a little more though. You have to go to Trend trim to get the Sync3 touchscreen for example. Trend also adds parking sensors, body coloured front bumper and door mirrors, the quick defrosting windscreen, lumbar support, cruise control, a leather steering wheel and an easy clean loading bay cover. Limited's additions are largely cosmetic, with alloy wheels, LED compartment lights and a body coloured rear bumper. Some will find the additional £4,000 or so hard to justify and find that the Trend fits most of their needs.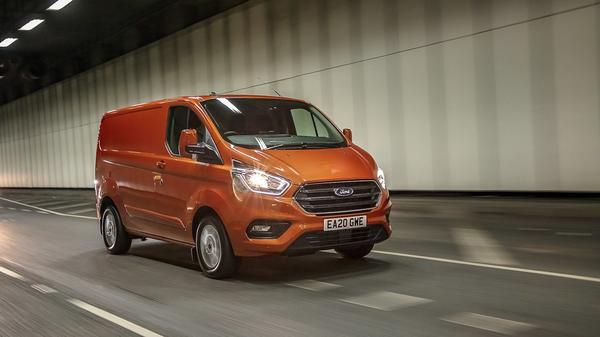 Why buy?
The challenge that the Transit Custom faces is also one of its biggest selling points – it is not quite one thing or the other. It may entice buyers who aren't sure if they are ready to commit to a fully electric van, but £40,000 is a lot to spend to dip your toe in the water. Those who are sure they can regularly charge may well find that a proper EV will do the job better, while those that know they want to do some longer trips will save the cash up-front and stick with a diesel. There is a small niche for who the Transit Custom PHEV will be perfect – those who are based around a city but have unpredictable usage patterns that might see them heading on a longer trip at the drop of a hat. It's great in some ways, and it is a handy alternative to diesel, but it isn't perfect.