Long Term Review
Skoda Octavia Estate long-term test review – third report
Jon swaps four wheels for two to discover Skoda's sportier side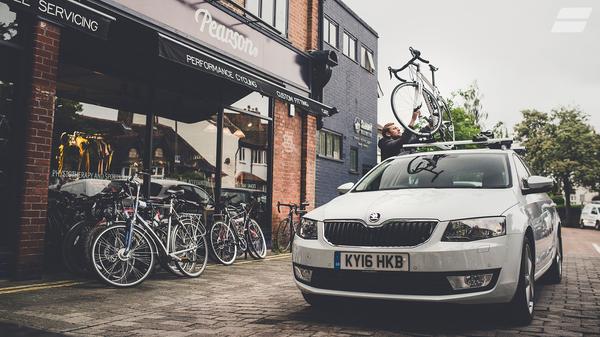 Third report: July 2016
Mileage – 5124 Costs: £1,345 [Skoda road bike]
First report
Second report
Sports cars are out and pedal bikes are in. Seriously. You can blame Wiggins, Trott, Froome and a Great British cabinet-full of Olympic gold medals for that, as the UK market for road bikes expands faster than a retired footballer's waistline. As ubiquitous and contemporary cultural symbols go, the bicycle has to be up there with the trainer, the emoji and the Pokemon. Meeting somebody who hasn't ridden a bike is like meeting a 40-year old who has never left home. I'm sure they're out there, but it's a little bit weird…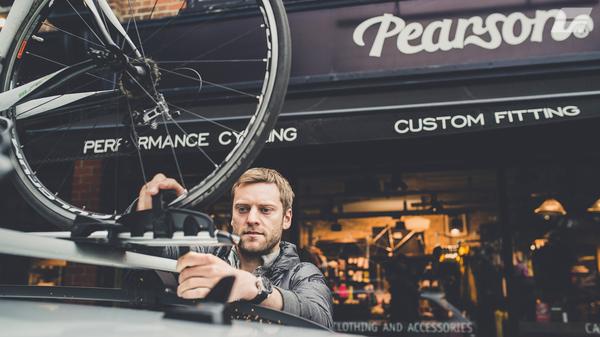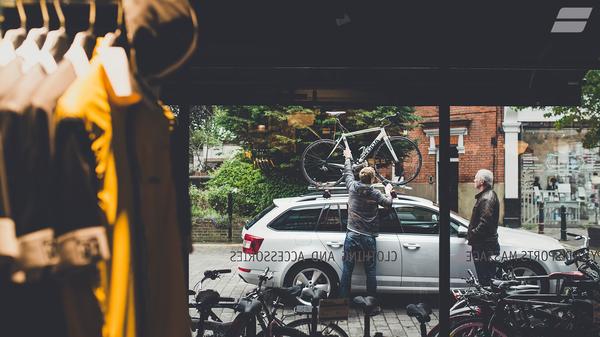 It's precisely why car companies like Skoda, Maserati and Jaguar are now sponsoring major pedal-power events across the globe, with the Czech car-maker even building its own bicycles. A bold move, but the marketing results have been impressive: in a 2015 cycling survey, 79% of UK cyclists said they now associated Skoda with cycling and 51% of that audience said they would consider a Skoda for their next car purchase.
But would being the custodian of an Octavia Estate now help make me a bicycle convert? To find out, I have loaned a Skoda road bike and signed up to 'Ride London', a 100-mile bicycle ride that gives me ample opportunity not only to invest in a pair of bib shorts that make you look like a Victorian strong arm wrestler, but to embrace discomfort like it's a badge of honour.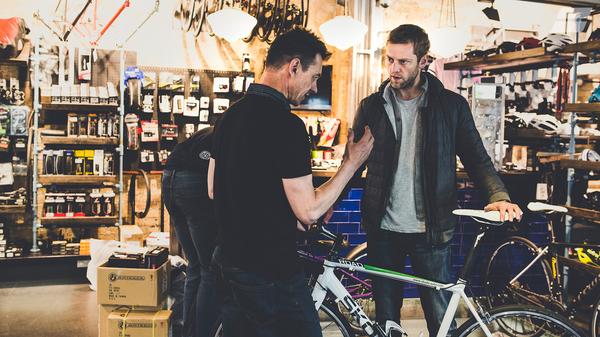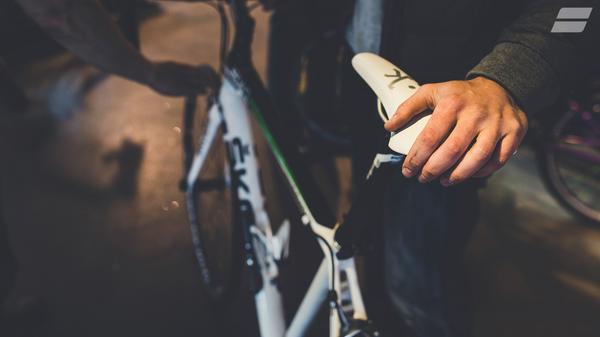 I'm told that as a cyclist, I'll never feel the maddening impotence of traffic jams again; not unless my saddle is adjusted improperly. So with the bicycle lashed and locked onto the optional Thule roof bars – a simple tethering process that's made even easier by the fact my bike weighs about the same as a bag of crisps – I visited my local 'wheelmen', Pearsons in Sheen, for a free bike fitting.
The south west London store feels like a home from home for this local community, serving frothy cappuccinos in a friendly and distinctly un-salesy atmosphere. It also has some of the most beautiful custom bicycles I have ever dribbled over, starting in the late three-figures and rising to the wow-that's-almost-the same-price-as-a-Skoda-Fabia stratosphere. Co-owner Guy Pearson has witnessed Skoda's ascendency into the bicycling scene first hand. "They're smart looking things these days, and your bike will just as easily fit into the boot without taking the front wheel off" he says, admiring the Octavia's clean, rational shape that's been dictated by its core function. "They're just like Volkswagens, but cheaper. The shop would love a car like that." The Skoda marketing suits would probably prefer the words 'better value', but even as a car enthusiast, I can see this kind of language is incredible progress.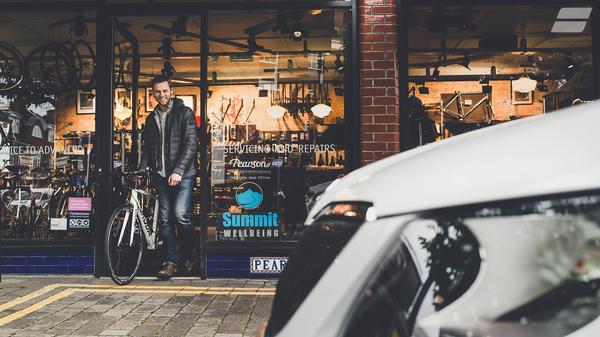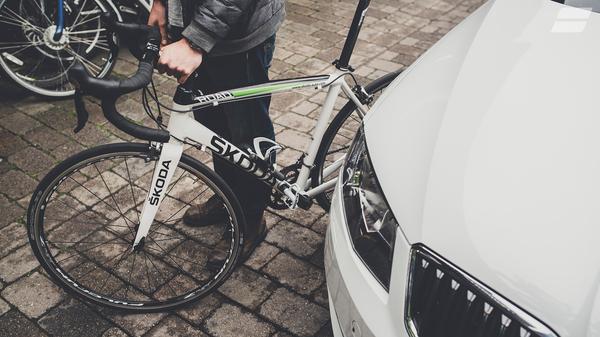 Fitting and pep talk complete, I set off on my first training session in Richmond Park, less conscious of my impending crimes against fashion. To start, I'm about as graceful clipping into my pedals as I am rolling a cigarette, but my seasoned cycling friend Phil is following my progress in the Skoda, offering words of encouragement, telling me to adjust my riding position as we go.
Thanks to the excellent visibility born out of those boxy proportions, the inclusion of front and rear parking sensors and the DSG auto gearbox, it seems anybody is able to jump into the Octavia, stick it in drive and feel instantly familiar. Fortunately for Phil, its crawling speed in first gear is pretty refined, too. With confidence building, I glance another cyclist an enthusiastic, "Good afternoon!" but he does his best to ignore me. When we do finally call it a day, my positive vibes are dashed further when somebody approaches the Octavia assuming I am their 'Uber'. Do I look like a cabbie? "Well, it is white and the spec has high-mile muncher written all over it," Phil replies. Oh jees, perhaps I am driving a mini cab…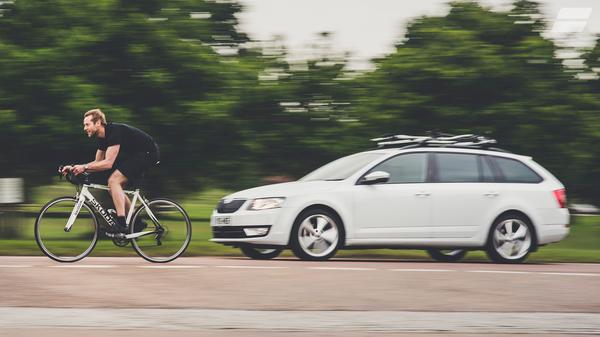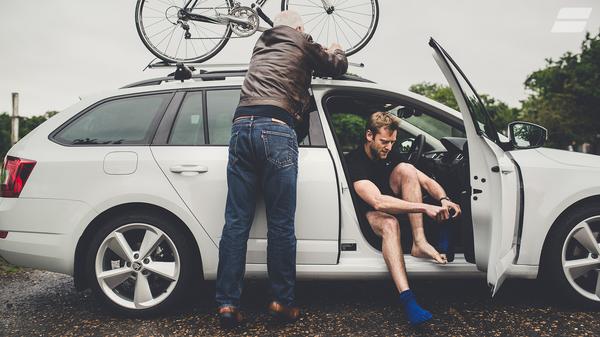 Key specs:
Model: Skoda Octavia Estate SE L 2.0 TDI 150PS DSG
Price: £23,730
Price as tested: £25,621
Engine/gearbox: 2.0 diesel / six-speed DSG
Power: 148bhp
Torque: 251lb ft
Top speed: 134mph
0-62mph: 8.5secs
Economy: 54.3mpg
CO2/BIK tax liability: 117g/km/23%
Boot space: 610/1740 litres
Optional equipment:
An exhaustive list of everything fitted to our long-termer, and the price of each item
Moon white metallic £535
Sunset Glass £200 Roof bars £169 Lockable bicycle carrier £110 Temporary space saver spare wheel £127 18-inch Golus alloys £400 Front parking sensors £350 Thanks again to
Guy and the team at Pearsons Cycles
for all their help and encouragement.