Long Term Review
Mazda 3 2.2d Sport Nav long-term test review – third report
This month, web producer Rachael Hogg compares her car to one of the Mazda 3's biggest rivals, the Ford Focus.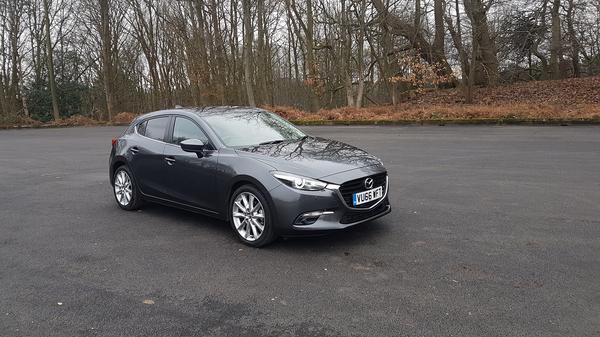 While I've been enjoying myself in the Mazda 3 these past three months, I thought it would be good to see what my colleague Ivan Aistrop thought about it all. I'm not sure he's as big a fan as I am, saying the 2.2-litre diesel seems unnecessarily fast to have in the 3, and that the front tyres are easy to spin. I would agree with him on the second point, but I am a fan of that engine, unnecessary or not.
It's getting towards the levels of hot-hatch performance, but if your head says you need something sensible, and your heart still yearns for a bit of fun, it's definitely one to look at. And I'm not getting bad fuel economy, either, averaging around 47mpg from a good mix of town and motorway driving. Recently, by way of comparison, I spent a few days with one of the biggest rivals to the Mazda 3, the Ford Focus. This area of the market is ridiculously competitive, and the Focus often comes out well in comparisons. It's certainly always been a bigger seller than the Mazda 3. Our test Focus was fitted with the popular 1.0-litre Ecoboost petrol engine mated to the Powershift automatic gearbox. While the engine is peppy, the gearbox tried its hardest to ruin the proceedings, making everything feel lethargic. You also need a very sensitive right foot, as the tiniest touch on the accelerator will see those revs jumping. Fuel economy wasn't great, either, and on a long-run up north, I was still only getting around 34mpg.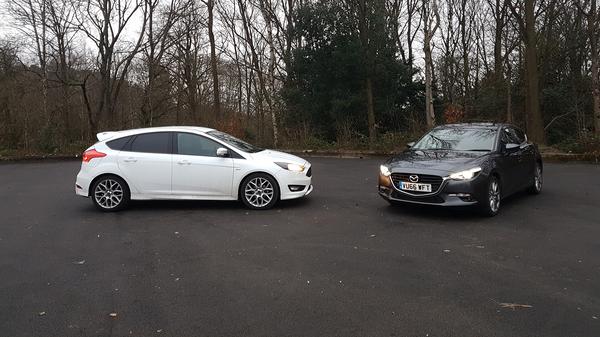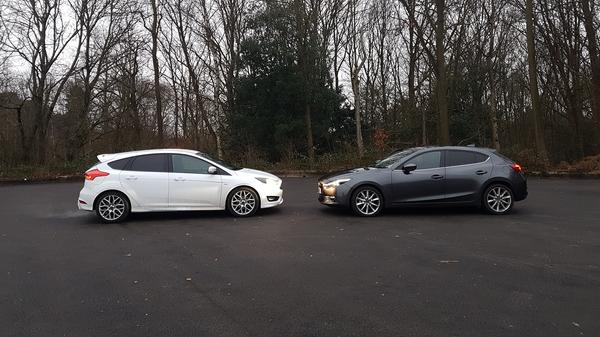 The Focus has always been a good car to drive, and that certainly hasn't changed, although the Mazda 3 matches it for dynamic driving. They're great on twisty roads, and consequently, both good options if you are a keen driver, but the suspension is firmer than your average hatchback, so on both the Sport Nav Mazda 3, and ST-Line Focus, there are some thumps and thuds over potholes.
You're sat pretty low down in the Focus and the Mazda 3, which helps convey the sportiness of both cars, and there's plenty of adjustment to both the seat and steering wheel. However, inside, that's where the similarities end. Compared with the Mazda's infotainment system (7.0-inch display controlled via touch-screen and a scroll wheel in the centre console), Ford's dated Sync2 system (updated Sync3 is available as an upgrade) accessed via the Focus' 8.0-inch touch-screen is slow to respond, with small touch areas. The Mazda system is not without its faults, but I'm considerably more forgiving of it now. In terms of practicality, there's a decent amount of space upfront, and two adults will be happy in the back. Three-in-the-back wouldn't be the most comfortable experience in either, but they'll be fine at a squeeze (plying them with Haribo seemed to work for me). The Mazda's boot beats the Focus at 364 litres, compared to 316 litres, but the Mazda does have a sizeable high lip to lug stuff over. In UK sales, it's unlikely the Mazda 3 will ever come close to the figures of the Ford Focus, which is consistently in the top three, but in terms of being an exciting and fun-to-drive alternative for keen drivers who would like to stand out from the hatchback norm, it's definitely worth a look.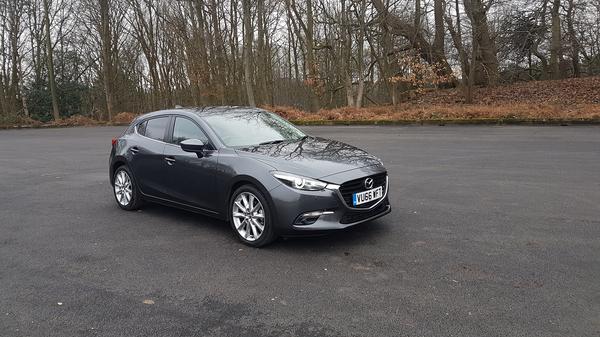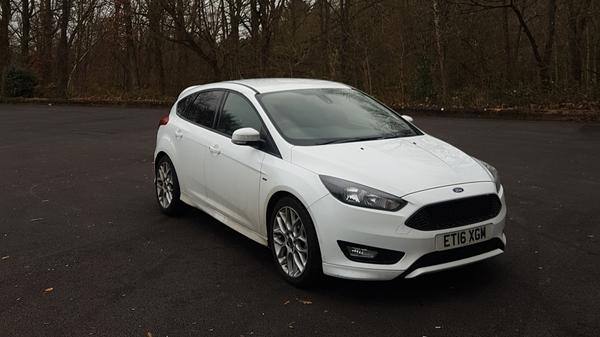 Key specs:
Model: Mazda3 2.2d Sport Nav
List price: £22,995
Price as tested: £24,665
Engine/gearbox: 2.2-litre, four-cylinder SkyActiv diesel
Power: 148bhp
Torque: 280 lb/ft
Top speed: 130mph
0-62mph: 8.1 seconds
Economy: 68.9mpg
CO2/BIK tax liability: 107g/km/21%
Boot space: 364 litres
Optional equipment:
An exhaustive list of everything fitted to our long-termer, and the price of each item:
Machine Grey metallic paint: £670 Black leather interior: £1,000