Long Term Review
Ford Edge long-term test review – third report
Contributing editor Pete Tullin is spending six months living with Ford's biggest SUV to see how well it can cope with the challenges of everyday life.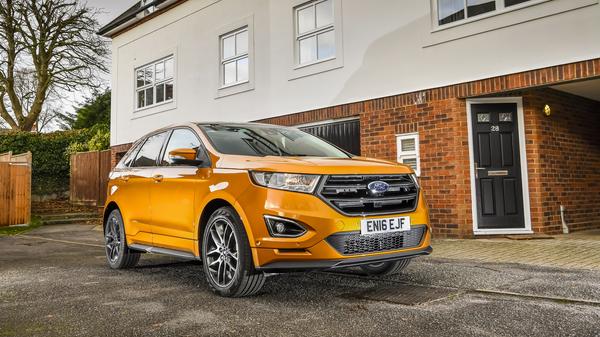 I'm sure some people who know me think I'm a bit of a cynic. I prefer to think of myself as a sceptic. Even so, I couldn't help but suppress a wry smile when it was first suggested I take charge of our long-term Ford Edge.
I was tickled at the memory of years spent living in London. This was at a time when wooly-hatted, sandal-wearing protesters regularly picketed school gates armed with rotten eggs and placards, declaring gas-guzzling SUVs to be the devil's handy work. How attitudes have changed! But just why have they? The fuel consumption of big SUVs has improved exponentially – I regularly get 36mpg out of the Edge – but if anything, top-dog SUVs are bigger than ever, and therefore less adept than ever at threading their way through narrow London thoroughfares. As for the daily comedy generated by an army of Q7/X5/Range Rover drivers arguing over who should back-up to establish a big enough passing space; well, I can only think Transport for London is missing a substantial revenue stream by not broadcasting these gladiatorial engagements, live via pay-per-view.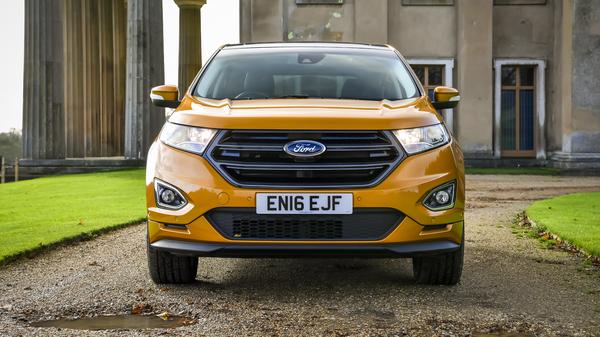 When it comes to parking, it's as well that most of these supertankers, including the Edge, are fitted with their own arsenal of all-seeing cameras. I never thought I'd need them as often as I do, but because it's so difficult to judge the Edge's extremities, I regularly find myself calling on both front and rear fish-eye lenses to help me slot into the Capital's lamentably sized parking bays.
I know that despite its bulk, however, the Edge has plenty of other virtues. I'm always intrigued by the view I get from its lofty perch, as I gaze over neatly-trimmed hedges when crawling along in the ironically named rush hour. I'm certainly not immune to the reassuring sense of being sheltered from harm's way by a couple of tons of crash resistant steel, either. This is something backed up by the Edge's latest 5-star Euro NCAP rating – eat your heart out all you two-star Mustang owners – with things like Autonomous Braking, the ability to protect occupants of all sizes, and anti-whiplash resistance measures noted as real positives. Maybe this is why so many parents appreciate the benefits of SUV ownership, especially if their primary desire is to deliver little Johnny and Jenny safely to their pre-school breakfast club. Undoubtedly, the greatest benefit of driving the Edge in the urban jungle is the stress it takes off my nether regions. My pride and joy and weekend car is a Porsche Cayman. It's as neat and agile as they come, and it looks as pretty as a picture sitting on its 19-inch rims and skinny tyres, but given the incalculable numbers of lunar craters that pass for roads in London, there's a million things I'd rather do than take it into town. There's no such problem with the Edge. It's long travel suspension soaks up every sink hole and every Kilimanjaro-sized traffic-calming-measure without so much as a murmur. So until Mr Khan decides to lay down a few miles of decent Tarmac, I and countless other souls will no doubt continue to choose the comfy, giant-sized option.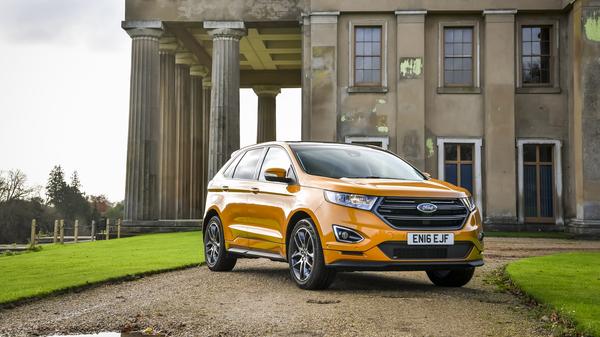 The Edge has been pretty trouble free so far, although the boot mounted lever that is supposed to deploy the left-hand-side rear seatback seems to have given up the ghost. Thankfully there's also a lever in the cabin, which means a fix can wait until I've got time to visit my nearest Ford dealer, and also means I can still fold the rear seatback down whenever I need to get the packaging from my latest purchase to the tip.
My only nagging criticism is reserved for the Edge's voice activation. It works brilliantly when I need to make a hands-free phone call, but it's not quite so adept at receiving sat-nav instructions. More often than not, when I tell it where I want to go, it will set my location as the destination, so I inevitably end up pulling over and manually inputting instructions. It's probably just a software glitch, or maybe it simply doesn't understand Geordie. Wey-aye man!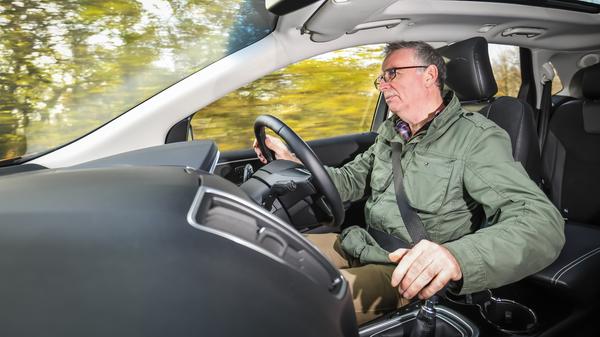 Key specs:
Model: Ford Edge Sport 2.0-TDCI AWD
List price £35,250
Price as tested: £38,595
Engine/gearbox: 2.0-litre 4cyl turbodiesel, six-speed manual
Power: 178bhp
Torque: 295lb/ft
Top speed: 124mph
0-62mph: 9.9 seconds
Economy: 47.9mpg
CO2/BIK tax liability: 152g/km / 30%
Boot space: 602-1788 litres
Optional equipment:
An exhaustive list of everything fitted to our long-termer, and the price of each item:
Metallic paint: £545 Front facing camera: £150 Park assist, parallel and perpendicular: £150 Adaptive cruise control with pre-collision assist: £500 Lux pack, including powered perforated Dinamica variable climate seats, heated rear seats, panoramic roof and powered folding door mirrors: £2,000