Long Term Review
Ford Edge long-term test review – first report
Contributing editor Pete Tullin is spending six months living with Ford's biggest SUV, to see how well it can cope with the challenges of everyday life.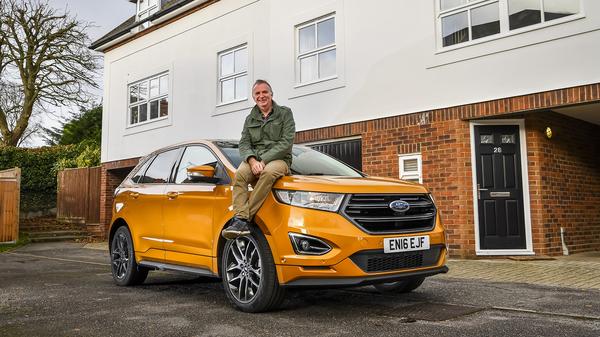 Mileage – 1753
I make no secret of the fact that I'm a bit of a Ford fan. Sure, like every manufacturer, the blue oval crew has produced its fair share of wrong'uns down the decades, and I've been the first to shout about them – just ask the Ford press office. But I can genuinely say, that in all the years I've been doing this gig, I've driven significantly more good Fords than bad. So where does the Canadian built Edge rank in the annals of best ever Fords? After all, previous Fords manufactured outside the scrupulous control of the European chassis and powertrain development teams haven't exactly set the world alight. Remember the Explorer, anyone? As things stand, I'm not entirely sure about the Edge, and that's a big part of the reason I am spending six-months with Ford's latest and greatest SUV. The reason for my hesitation is as much to do with the price as anything else. At a shade over £35,000 for a 2.0-litre diesel Sport version, it's by no means the most expensive, but it's also not the cheapest. I've had to listen to no end of spluttering guffaws from experts and laymen alike when I've fessed up to the Edge's list price. Cries of, 'For that sort of money I could have an Audi Q5 or a BMW X3 standing on my drive,' or, 'How much is that beast going to depreciate in a year?' are typical.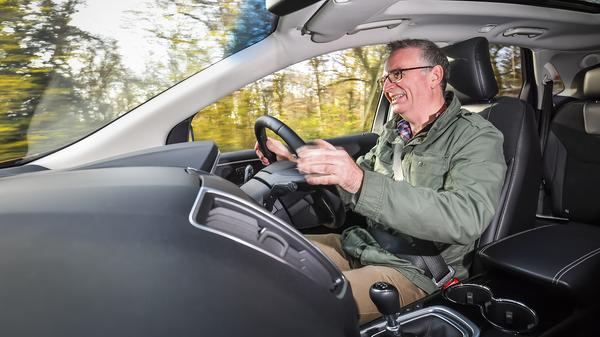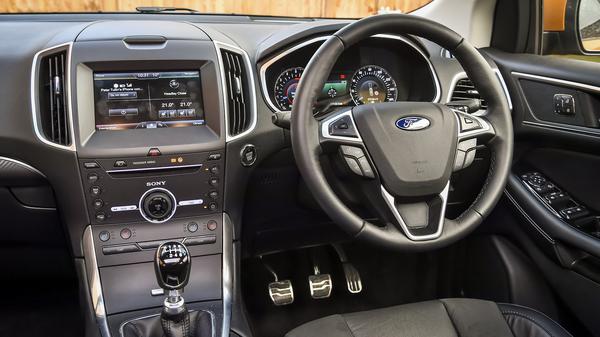 Well, I can shoot a hole in at least 50% of those protests straightaway, because the Edge is closer in size to a BMW X5 than an X3 – more of this later. It's well stacked with toys too, including items that a BMW salesman would be jealous of. This is one of the main reasons Fords are so likeable, because you always feel you're getting an awful lot of car for your money.
Think about it this way. Say a low volume sports car manufacturer wants a new piece of tech and asks the supplier for a price for 100,000 components. A quote will be forthcoming, but when Ford's buyers come knocking, asking 'how much are a few billion of these babies going to set us back?', well, no prizes for guessing who's going to get the preferential rate. This is why Ford is able to kit the Edge out with technology like active noise control. I can only guess how noisy the Edge would be without this, but I'm not daft enough to think a car the size of a small bungalow can cut through the air creating nowt more than a ripple without some kind of witchcraft being brought to bear. All I know is that various microphones dotted around the Edge's cabin read the sound signature of undesirable road- and wind-noise, then opposing sound waves are piped through the stereo speakers to magically transform the Edge's cabin into a haven of peace and tranquillity.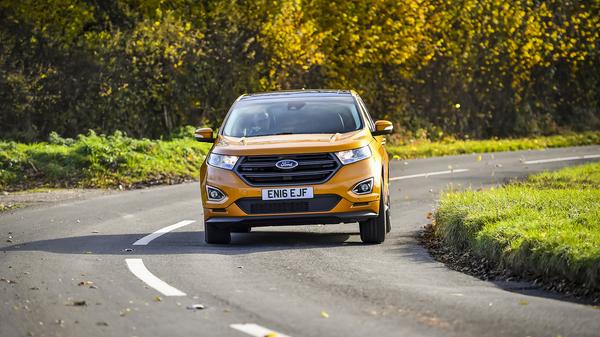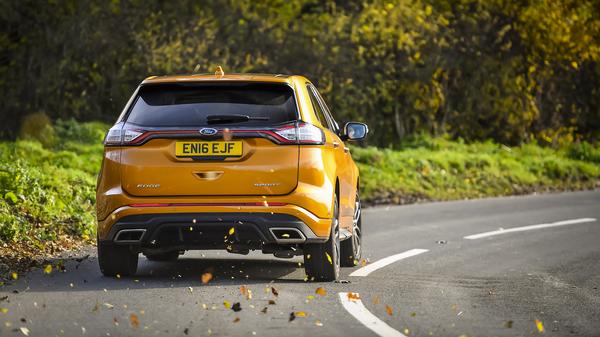 Of course, electrickery will only you get you so far, and thankfully the UK versions of the Edge have Ford of Europe's brilliant chassis and powertrain engineer's greasy fingerprints all over them.
Our Edge has no right to ride as well as it does, especially when you consider it bounds along on sports suspension and gargantuan 20-inch alloy wheels. The rear axle sometimes get a wee bit agitated when I'm travelling solo, but as soon as I get a couple of my tribe on board, it becomes a wonderfully cushy motor to tootle along in. I must confess that it sometimes feels a bit underpowered, especially when pulling away from a standstill. I probably could, and perhaps should have opted for the more powerful twin-turbo motor, which comes with a Powershift automatic gearbox, but I resisted the temptation because I didn't feel particularly comfortable bursting the £40,000 mark. Anyway, once those big alloys are spinning and the motor is singing along at B-road speeds, I rarely need any additional oomph. Also, the relatively modestly powered single turbo unit definitely sounds less vocal than the stronger twin-turbo lump. And, harking back to the BMW debate, I reckon the engine in the Edge is a good deal more cultured, both in terms of vibration and combustion clatter, than the four-cylinder oil-burners finding their way into Munich-built machines these days.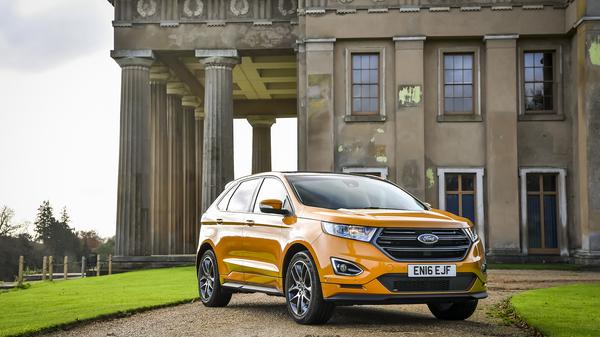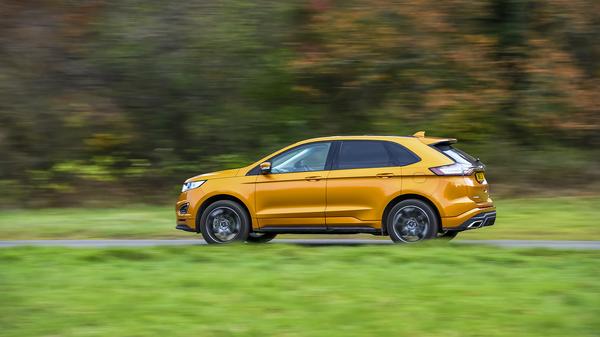 I'm glad I plumped for the Sport trim too, because I think the combination of the startling golden syrup paint scheme – it's actually called Electric Spice – set against treacle black body trim and those bad-boy smoked alloys look pretty ace.
What's more, Sport trim comes with adaptive steering and this is infinitely preferable to the standard steering tune (I know because I drove both cars on the international launch). Not only is the adaptive steering more accurate, it's also a lot less aggressive on return to centre than the standard set-up, so it's a good deal easier on my carpal tunnel syndrome. Inside, the Edge feels as big as a warehouse. It's so big, even my 6'5'' son-in-law doesn't moan when he's relegated to the back row, which is all the more impressive when you consider he's from Yorkshire. As for the boot, it's so cavernous I swear there could be colony of bats nesting in there and I wouldn't know it. Also, because I've reached an age where I can remember exactly where I was when John Lennon was shot, but I'm blowed if I can recall where I put my reading glasses, I love the keyless entry, which saves me from looking like some kind of manic Morris dancer when checking all my pockets to try to locate the key. As for the automatic powered tailgate, either plipping the key twice or waggling my foot under the bumper to activate it in 'open-sesame' style, never fails to tickle the Tommy Cooper in me.
Key specs:
Model: Ford Edge Sport 2.0-TDCI AWD
List price: £35,250
Price as tested: £38,595
Engine/gearbox: 2.0-litre 4cyl turbodiesel, six-speed manual
Power: 178bhp
Torque: 295lb/ft
Top speed: 124mph
0-62mph: 9.9 seconds
Economy: 47.9mpg
CO2/BIK tax liability: 152g/km / 30%
Boot space: 602/1788 litres
Optional equipment:
An exhaustive list of everything fitted to our long-termer, and the price of each item:
Metallic paint: £545 Front facing camera: £150 Park assist, parallel and perpendicular: £150 Adaptive cruise control with pre-collision assist: £500 Lux pack, including powered perforated Dinamica variable climate seats, heated rear seats, panoramic roof and powered folding door mirrors: £2,000