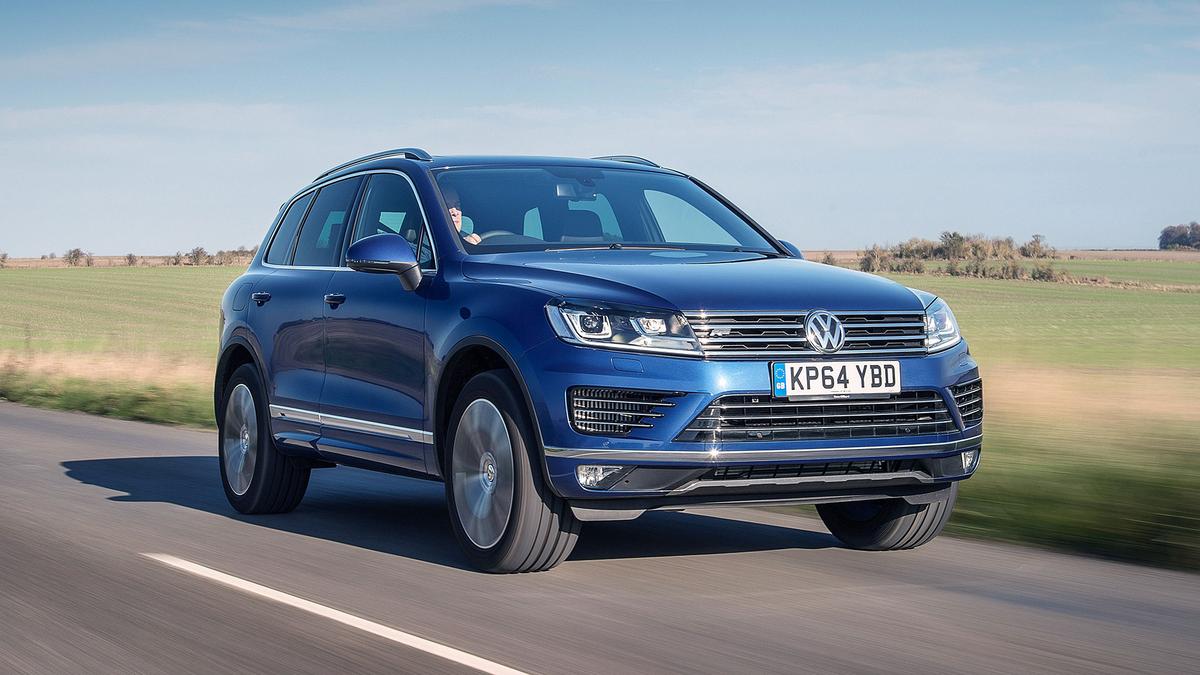 View gallery
The Auto Trader expert verdict: ★★★★★

★★★★★
3.1
The Touareg is a very competent car, but it competes with some seriously impressive rivals. The big VW doesn't have the on-road finesse of a BMW X5 or Porsche Cayenne, neither does it have the off-road prowess of a Land Rover Discovery. What's more, it doesn't play the middle-ground role as well as some other big SUVs. So, while it does a solid job in most areas, we can't see much of a reason to recommend it over the best-in-class.
Reasons to buy
Spacious, practical cabin

Lots of standard equipment

Solid, hard-wearing interior
Pick of the range
3.0 V6 BMT SCR 262 4Motion SE
Entry trim has everything you need
Most economical
All versions except the Escape have identical figures
Best avoided
3.0 V6 BMT SCR 262 4Motion R Line
Lots to pay for a body kit
How good does it look?
Most 4x4 buyers want chunky looks, and on that score, the Touareg fits the bill. You can see strong hints of that familiar Volkswagen family face, but the deep, wide grille and gaping wheelarches give it some real visual ruggedness. So do the skid plates and roof rails. Each version has its own character; the base SE version has alloys, xenon headlamps, tinted rear lights and chrome accents, while the Escape model looks more rugged with black styling elements instead of the chrome ones. The R-Line gets a sporty makeover, with a body kit, rear spoiler and darkened glass.
What's the interior like?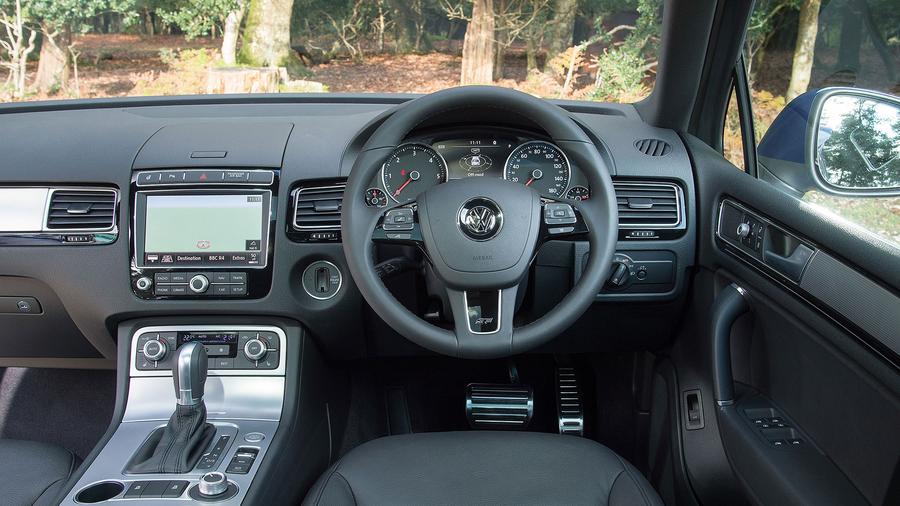 "
The plastics on display are smart and solid, but they're not as plush as those in a BMW X5 or Audi Q7
"
The Touareg's interior has fairly simple, conservative design, but while it won't win any awards for flair, that simplicity does mean that all the various controls are easy to find and operate. It's a similar story on quality; the plastics on display are smart and solid, but they're not as plush as those in a BMW X5 or Audi Q7. That said, the fact that a few of the switches are made out of machined aluminium, and the buttons are backlit in white, helps give the cabin a premium feel. What's more, the driving position has loads of adjustment, and you have clear all-round visibility.
How practical is it?
The Touareg has only five seats where many rival SUVs of this size have - or at least offer as an option - two extra chairs. For those five, however, the Touareg is as roomy as any of its large SUV rivals; there's loads of space for lofty adults in both the front and the rear seats. The boot is also gargantuan, and sliding rear chairs allow you to choose how much of the available space you use for passengers, and how much you use for luggage. Folding the seats down altogether opens up an even more enormous cargo space, but because the backrests lie at a slight angle, you don't get a totally level load floor.
What's it like to drive?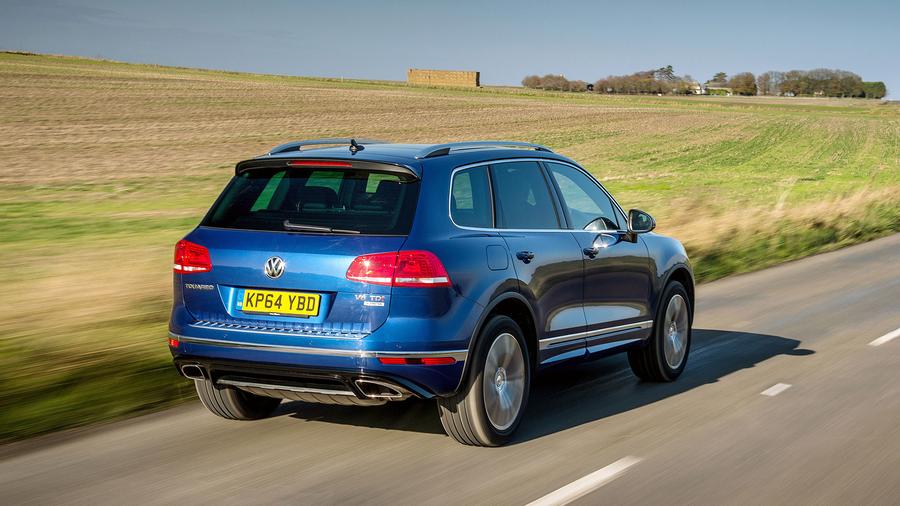 We're yet to try a Touareg on its standard suspension setup, but we have tried the R-Line version, which has a suspension that's lowered by 25mm. It's not as cosseting as many SUV buyers would like, with a slight jitter to be felt at all speeds, and there's a fair old clonk over potholes. It's not uncomfortable, but rival SUVs feel smoother and more relaxed. We've also tried the Touareg on the optional air suspension, which does make things more comfortable, but there's still a distinct patter at low urban speeds. The handling is a fairly mixed bag as well. Both cars we've driven have impressively solid body control in the bends, but the sheer size of the car, combined with steering that's too light and too slow, will deter you from pushing too hard. All Touaregs come with permanent four-wheel drive, which means plenty of grip and traction on the road, and if you choose the Escape model, you get extra differential locks and a low-range function that also make it pretty useful off-road.
How powerful is it?
The Touareg comes with a choice of two 3.0-litre V6 turbodiesels with outputs of either 201bhp or 258bhp. So far, we've only sampled the more powerful engine of the pair, and it's something of a mixed bag. It delivers a good spread of power across the rev range, giving the car decent flexibility on the move. But, despite its generous power, it doesn't feel particularly quick, even when you extend the engine to its limits. What's more, the dim-witted eight-speed automatic gearbox is irritatingly slow in swapping ratios. The engine does have refinement on its side, though, staying impressively quiet and smooth in all situations. Road noise is reasonably well supressed, too.
How much will it cost me?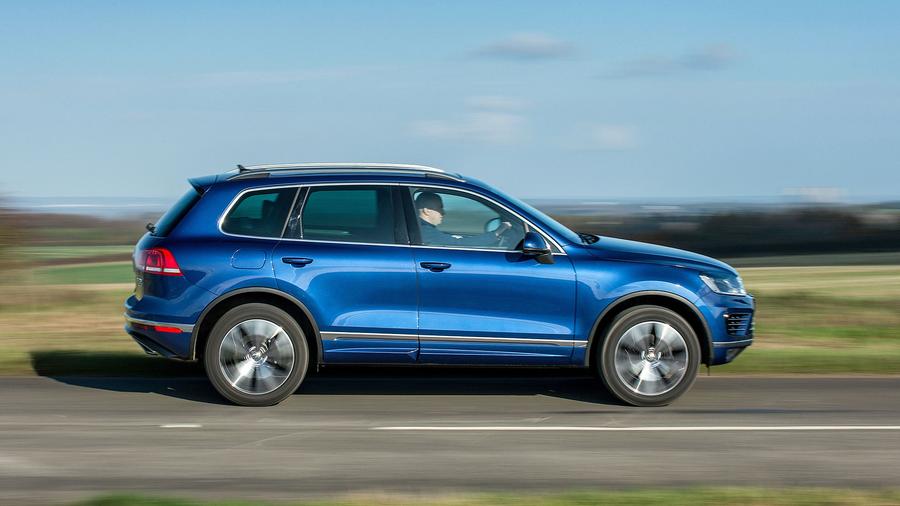 "
The Touareg is a fair bit cheaper to buy that most of its premium-badged SUV rivals, but that's not the end of the story
"
The Touareg is a fair bit cheaper to buy that most of its premium-badged SUV rivals, but that's not the end of the story. The VW's resale values are quite a bit weaker than those of the Audis, BMWs, Range Rovers and Porsches with which the Touareg competes, so you'll lose a fair chunk more in depreciation. In fact, if you don't get a big enough discount when you buy, there's every chance the VW could cost you more than its rivals long-term. Both engines return an identical average of 42.8mpg according to official figures (the Escape version is slightly thirstier due to its extra 4x4 gubbins), which is pretty good by class standards, and the correspondingly impressive figures for CO2 emissions mean that company car tax bills shouldn't be too ruinous. That's important, because around 80% of Touaregs are sold to fleets.
How reliable is it?
Check out Warranty Direct's Reliability Index, and you'll wonder why anyone ever bought a Touareg. The model has an abysmal score, with frequent faults and high repair costs. However, Volkswagen has at least achieved mid-table respectability in the manufacturer standings, and the Touareg performs better in other reliability surveys we've seen. Indeed, in our own owner reviews, the vast majority of buyers seem happy, with only a couple of nightmare cars reported.
How safe is it?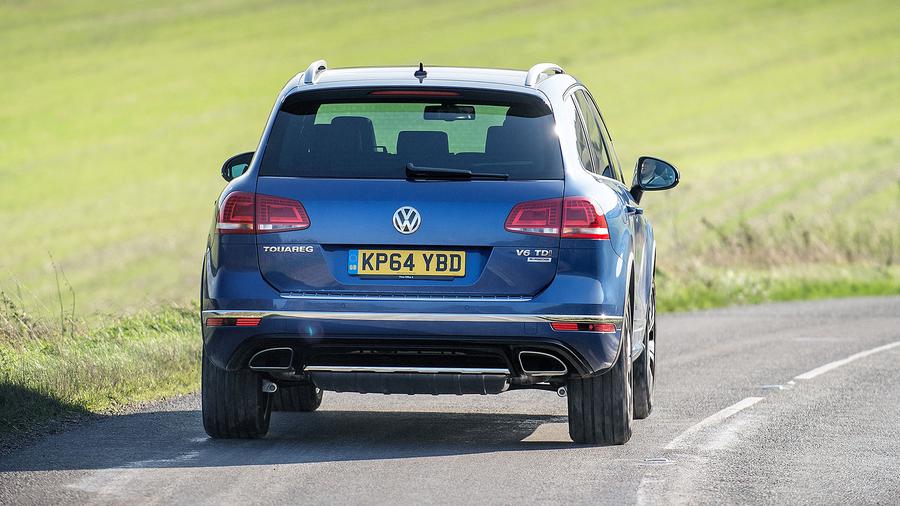 "
A vast suite of safety-enhancing driver assistance systems are also available from the options list, including automatic braking and lane-change assistance
"
The Touareg comes with all the safety kit you'd expect, and the roster includes stability control, six airbags, active anti-whiplash head restraints and a tyre pressure monitoring system. If you tow regularly, there's also a system for helping to stabilise your trailer. A vast suite of safety-enhancing driver assistance systems are also available from the options list, including automatic braking and lane-change assistance. The Touareg has been crash tested by Euro NCAP, but not since 2004, so you can disregard the results; the car, and the tests for that matter, have changed immeasurably since then.
How much equipment do I get?
All Touaregs come pretty well equipped as standard. Entry-level SE trim includes leather upholstery, climate and cruise controls, parking sensors front and rear, four powered windows, automatic lights and wipers and a touch-screen infotainment system that incorporates sat-nav, DAB radio and Bluetooth. Escape models feature the extra off-roading gubbins, while R-Line models have a panoramic roof and a powered tailgate.
Why buy?
Because you like the idea of a big, practical 4x4, but you want something that's a little different from the ones everyone else buys. However, the reason that people buy the others is that they're better than the VW in some key areas; some are more fun, some are more comfortable, some are more practical, some are more pleasant to sit in. And, make sure you do your sums before you buy, because the Touareg's heavy depreciation will eat into the savings you make on the list price.