Review
Volkswagen Golf SV hatchback (2017 - ) review
Part-family hatchback and part-MPV, the VW Golf SV is like a regular Golf, but with a little more practicality. It competes with cars like the Citroen C4 Picasso the Renault Scenic, and most other midsize SUVs.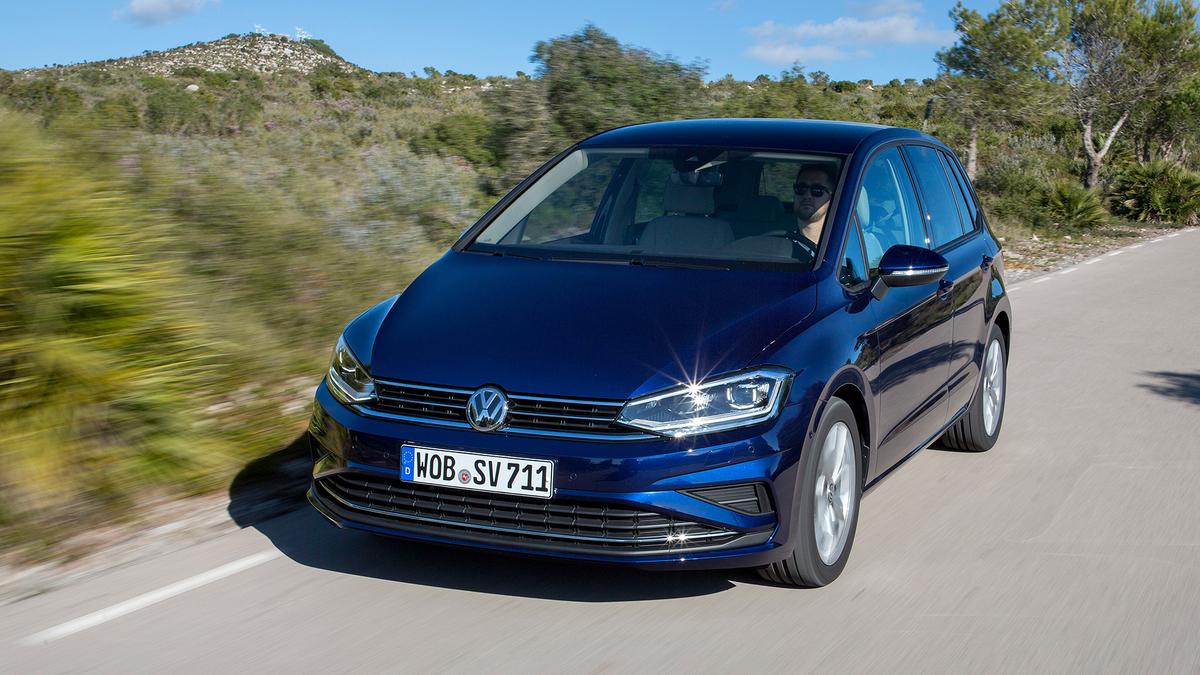 View gallery
The Auto Trader expert verdict: ★★★★★

★★★★★
3.6
The Volkswagen Golf SV is a very capable car. It's comfortable and quiet to drive, the petrol engines are fab, it's practical enough for a family, it's well made, and it feels like a high-quality product. However, we can see it having rather limited appeal with buyers because it does exactly the same job as a midsize SUV (it's like a regular hatchback but taller and more practical), except it's not as stylish. And that's why a lot of people are buying SUVs. However, if you're not so fussed about following fashion, it'll serve you very well indeed.
Pros
Smooth, quiet and comfortable to drive

Pleasant interior

Lots of cabin space
Cons
Not very fashionable compared with an SUV

Not as clever as a more conventional MPV

Costs a good slice more than a regular Golf
Pick of the range
1.5 TSI 130 SE Nav manual
The right balance of performance and running costs, and plenty of kit, too.
Best seller
Most customers will pay the extra for the convenience of the automatic gearbox.
Most economical
Until the diesels arrive, the lowest-powered petrol is cleanest.
Interested in buying a Volkswagen Golf SV?
How good does it look?
The SV in Golf SV stands for 'Sportsvan'. That's a pretty good description of how the car looks. All the various sharp-angled details are recognisable from the regular Golf, but the car is higher-sided and a little boxier in order to provide a bit of extra practicality. In isolation, it's a pretty smart-looking car, with LED daytime running lights and LED rear light clusters provided across the range. Progress further up the range and you'll get alloy wheels and extra chrome exterior trims. That said, it won't be as stylish to most eyes as a mid-size SUV, and as a taller, more practical alternative to a hatchback, it does pretty much the same job as your average SUV.
What's the interior like?
Volkswagen interiors usually deliver a fairly posh feel, and that's the case in the SV. There are enough soft-touch plastics and glossy inlays to prevent you from being too bothered by the one or two panels lower down in the cabin that aren't of quite such high quality, so it's still a pretty lavish – if rather conservative and sober – environment.

The various dials and switches are logically placed and easy to use, and the touch-screen infotainment system is one of the more intuitive systems of its type. The graphics are clear and modern-looking, too. There's also lots of adjustment for your driving position, but whatever you do with the adjusters, you feel perched up pretty high. Also, some drivers might wish that they could alter the angle of the seat base, because it feels pretty steeply sloped from front to back. The big windows and slim pillars mean your all-round vision is pretty clear, though.

How practical is it?
This is the main area in which the SV differentiates itself from the regular Golf. There's a bit more distance between the axles for a start, meaning more legroom. The rear bench slides back and forth, allowing you to juggle the space available between the passenger compartment and boot as necessary, and with it in its rearmost position, the kneeroom on offer is positively palatial. The tall body also means headroom is very generous, so a pair of tall adults will have room to stretch out. The cabin is a tad narrow for a third passenger to fit comfortably, but it's not out of the question for short trips.

The boot is a good size at 500 litres, which is enough for a double pushchair or plenty of shopping bags, and that extends to 590 litres with the rear chairs pushed forward. They also fold down in a 60/40 split format, but the backrests lie at a slight angle. You'll also want to choose a version of the car that gets the false boot floor, otherwise you'll have to deal with a sizeable step at either end of the loadbay.

What's it like to drive?
It'll be no colossal surprise to learn that the Golf SV behaves much like a regular Golf on the road, but that's a very good thing. You can feel that the SV is bigger and taller because it's a fraction more laboured in the way it changes direction, but it still feels secure, stable and reasonably crisp. The lightness of the steering, pedals and gearshift also contribute to the SV's generally very easy-going feel. So does the comfortable ride, which, in a car designed to ferry families, is always the most important thing. The suspension does a great job of isolating you from the effects of a nasty road surface, so the only thing that'll irritate the kids is each other. We've also tried a car with the optional Dynamic Chassis Control, which adjusts its behaviour according to the driving mode you select. You can certainly tell the difference between the various modes, but we reckon the standard suspension is plenty good enough in its balance of ride and handling without having to pay the extra.
How powerful is it?
So far, we've driven three of the many engines available in the SV, all of which are turbocharged. All those we've tried are petrol-powered, and the first of them is a three-cylinder 1.0-litre petrol with 110 horsepower. It's a lot perkier than you might expect, capable of fizzing along nicely when you keep the revs high, and still pulling along nicely when you don't. It's not quick, but it keeps life nice and easy. It's also impressively smooth and quiet, which works especially well with the slick-shifting character of the six-speed manual gearbox. The other engines we've tried are two versions of the same 1.5-litre engine, one with 130 horsepower and the other with 150 horsepower.

The lower-powered version has more urgency than the 1.0-litre, making it feel effortlessly brisk, and it's even smoother and quieter, too. In fact, the more powerful version doesn't feel a whole lot quicker, so we'd question the need to spend the extra on buying it. That said, both the 1.5s we tried were fitted with the seven-speed twin-clutch automatic gearbox, and it works a little better with the higher-powered version because it's quicker and sharper in the way it works.

How much will it cost me?
The SV costs you a fair slice more than the regular Golf – which is fair because you'll get more metal and associated kit for your money – but the gap is big enough that you'll have to make sure you really want the extra space before signing on the dotted line. The SV won't hold its value as well as the regular Golf, either, because it's less desirable, and this will put another dent in your whole-life running costs. Figures for fuel consumption and CO2 emissions are still a little sketchy at this point, because VW has only released them for a handful of engines so far, those being the ones we've driven. There looks to be very little between them, with each hovering around the mid-fifties mark in official tests.
How reliable is it?
The available data tells a very mixed story about how reliable the SV will be. Look at Warranty Direct's Reliability Index, and you'll find Volkswagen sits in the bottom half of the manufacturer standings, and the Golf Plus – the SV's predecessor – isn't exactly the firm's top-performing model, with a rather disappointing score. However, the SV is built using vastly different components to those of the Plus, so we'd hope the model's hardiness has improved since then. Also, our owner reviews suggest a much more positive picture of the SV's – and for that matter, the Golf Plus' – reliability, with high-end scores all-round. Like all VWs, the car comes with a three-year/60,000-mile warranty, which is par for the course but nothing special.
How safe is it?
The exact amount of safety kit you get as standard is yet to be announced, but you can expect all the usual electronic stability systems and a generous collection of airbags, alongside an automatic emergency braking system that warns you of impending bother – be it with another vehicle or a pedestrian – and slams on the stoppers if you don't. The SV is also available with some other clever safety systems, including one that'll pretty much drive the car for you when trundling along in traffic, one that'll park the car for you, and another that'll jolt the brakes to rouse you if it thinks you've nodded off at the wheel. The car hasn't yet been crash tested by Euro NCAP, but with this amount of kit, we'd be staggered if it didn't post a solid score.
How much equipment do I get?
The exact equipment specifications are yet to be announced for the Golf SV, but we'd be surprised if it deviated too far from what you get with the regular Golf. That means entry-level S cars are likely to come with air-conditioning, four-powered windows, remote locking and a touch-screen infotainment system that includes digital radio and a Bluetooth phone connection. SE trim should be well worth the upgrade thanks to automatic lights and wipers, electrically folding door mirrors, front and rear parking sensors, and cruise control that matches your speed with that of other traffic, along with Apple Carplay/Android Auto functionality that mirrors your phone's operating system through the car's screen. No prizes for guessing what SE Nav trim adds, while GT trim will probably only give you a whole bunch of styling extras inside and out, along with ambient cabin lighting.
Why buy?
Because you want a car with a little more practicality than a regular hatchback can offer, but you're not enamoured with the idea of an SUV. In truth, the Golf SUV does pretty much the same job as a family SUV, but it's not quite as stylish or as fashionable, so we reckon its appeal will probably be rather limited. However, this is still a very capable car with a lot going for it.
Interested in buying a Volkswagen Golf SV?