Expert Review
Volkswagen Golf R Hatchback (2012 - ) MK7 review
There's no shortage of 300 horsepower hot hatches these days, so where does the Volkswagen Golf R rank among them? Pretty darn highly, as it happens.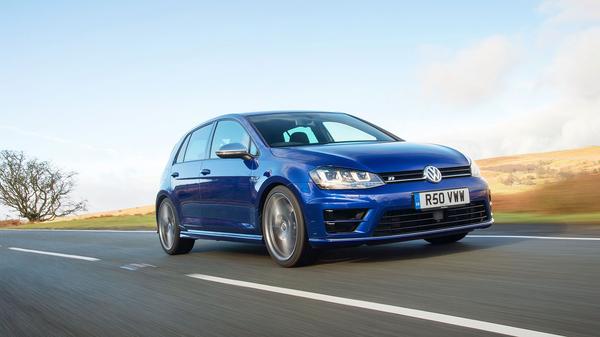 The Auto Trader expert verdict:
The Golf R is a very accomplished car indeed, and arguably the best all-rounder in the hot-hatch class. True, some rivals are faster, more extrovert and exciting and perhaps more engaging on the right road, but the Golf delivers enough ability to compete in all those areas, and brings plenty more abilities to the party besides. An excellent car that you'll absolutely love.
Reasons to buy:
Effortless pace and cornering ability
Interior is practical and posh
Great image and strong resale values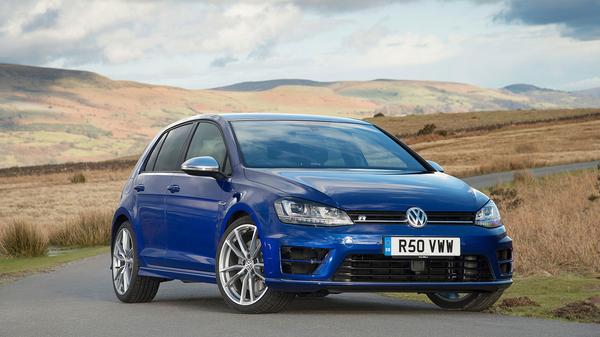 How good does it look?
The Golf R's abilities in this area much depend on your outlook. If you're one of those people that likes your car to hide its high-performance light under a very ordinary-looking bushel, the R will be right up your street. Other than one or two subtly sculpted spoilers dotted around here and there, silver mirrors and a set of quad-exhaust pipes, it's tough to distinguish the R from any other Golf. This is very much the Stealth Bomber of the hot hatch world. We suspect, however, that there are far more hot hatch fans out there who want their car to shout about its performance capabilities from the rooftops, and for whom scoops, spoilers, and striking paintjobs are all the order of the day. If you're one of the Bling Brigade, then the Golf R really isn't going to cut it for you - it struts its stuff in a discreet and subtle fashion, which is all part of its upmarket appeal.
What's the interior like?
The Golf R's cabin is as low-key as the bodywork, and again, you could see that as either a good thing or a bad thing. On the positive side, you get the same high-quality materials and superb level of finish that you get in any Golf, along with the same hugely adjustable driving position, flawless ergonomics and unhampered all-round visibility. That said, Volkswagen could at least have thrown in some contrasting stitching or some in-your-face trim pieces to pep things up a bit. Still, the inherent rightness of that driving position is something that you will come to appreciate every time you set foot in the cabin.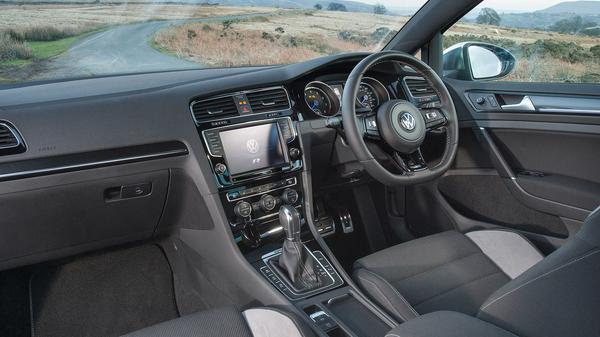 How practical is it?
"

This car is impressively practical for a regular hatchback, never mind a hot one

"
The Golf R is available in both three-door and five-door hatchback guises, and unlike many rivals it's also available in Estate form as well, if you happen to be a dog owner and feel like testing the constitution of the poor pooch. Unsurprisingly, each body style is every bit as practical as any equivalent Golf, with enough room for four lofty adults and boot that's impressively large and very well shaped for easy loading and unloading. A low loading lip and massive access also make the cargo space easy to get at, and there are a range of other features, such as lashing eyes and takeaway hooks, are also available to make life easier. Up front the deep, flock-lined door pockets, spacious glove box and a host of other storage cubbies mean it'll swallow your everyday bric-a-brac with no trouble at all. This car is impressively practical for a regular hatchback, never mind a hot one.
What's it like to drive?
The thing that strikes you most about the Golf R is the duality of the driving experience. When you're pootling along in town or cruising down the motorway, it's a thoroughly pleasant companion, delivering a comfortable, supple ride (despite suspension that's lowered by 15mm compared with a regular Golf's) and excellent refinement. Drive it in a harder, more unruly manner, though, and it turns into an absolute snarling monster. The four-wheel drive system gives it sensational grip and traction, while the suspension gives you tight body control for impressive mid-corner composure. Driving this car very quickly is extremely easy, but it also offers plenty of adjustability and poise to give the handling an extra dimension. The steering, too, is nice and weighty, but if we have one criticism, it's that it could be a touch more responsive around the straight-ahead to give the car an extra little bit of fizz on initial turn-in. The slightly soft edges in both the steering and the suspension prevent the R from being the most frenetic hot hatch on offer, but it's still might impressive and very good fun. Few hatches are as easy to live with, and most buyers - we think - would probably take the small trade off in immediacy to own a sensible family car as fast and capable as this one.
How powerful is it?
The R's turbocharged 2.0-litre engine bangs out 296bhp, and this combined with the extra traction you get from the standard four-wheel-drive system makes it good for dispatching the 0-62mph sprint in less than five seconds. The thing that really gets you, though, is the engine's sheer breadth of muscle. It pulls strongly right from the bottom of the rev range, making it enormously flexible, but send the revs soaring and it keeps getting more and more vicious all the way up to the redline. It sounds suitably meaty as well. So far, we've only tried the car with the six-speed twin-clutch gearbox, which swaps ratios quickly and smoothly most of the time but occasionally gets caught out when you're really gunning it. We're yet to try the car with the six-speed manual gearbox that's also available. Refinement is another strong point, with the engine fading down when you're cruising and road and wind noise also lower than you'd get in other posh hot hatches, such as the Mercedes A45 AMG.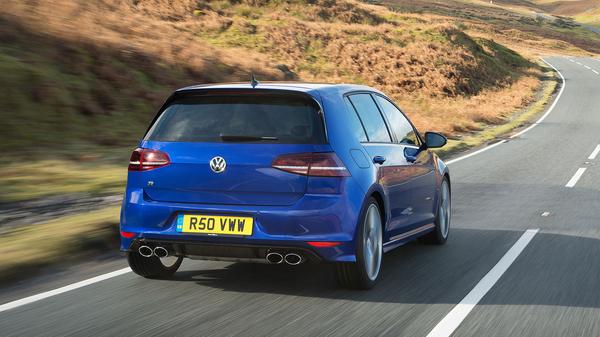 How much will it cost me?
"

Whichever gearbox you choose, you'll get around 30mpg

"
The Golf isn't the cheapest of hatchbacks in any of its various guises, and that's also true of the R when compared with its main hot hatch rivals. However, it's far from being outlandishly expensive, and what with the generous levels of equipment and strong quality you get, it feels like decent value for money. Whichever gearbox you choose, officially you'll get around 40mpg; the twin-clutch gets just over that, the manual falls just short. Naturally, it's probably best to take those figures with a pinch of salt, depending on your driving style. As with any high performance model, insurance costs won't be cheap, but the four-wheel drive means you shouldn't chew through quite so many tyres, and servicing and maintenance costs shouldn't be too much more than with a normal Golf.
How reliable is it?
Volkswagen has managed to carve itself out a reputation for reliability, but that rep isn't necessarily borne out by the data we've seen. One look at the manufacturer standings of Warranty Direct's Reliability Index will show you that the brand sits firmly in the bottom half of the table, and that the reliability of the Golf as an individual model is fair-to-middling at best.
How safe is it?
The R comes with most of the same safety gear as all Golfs, including seven airbags and a range of electronic stability systems. The standard four-wheel drive also provides some extra peace of mind, and you also get radar cruise control that incorporates autonomous emergency city braking, a feature that you'd normally have to pay extra for. The Golf has been crash tested by Euro NCAP, and has achieved the full five-star rating.
How much equipment do I get?
The Golf R has enough standard kit to make the car feel as special and as complete as you'd expect, but there are one or two omissions from the equipment roster that are perhaps a little surprising. Included in the price are climate control, xenon headlamps, all-round parking sensors and a touch-screen infotainment system that incorporates DAB and Bluetooth, but you have to pay extra if you want sat-nav added to the list. Likewise, it costs you quite a bit more if you want to upgrade your part-Alcantara seats to full leather ones. In a car costing this much, you might (reasonably) expect these items to be included.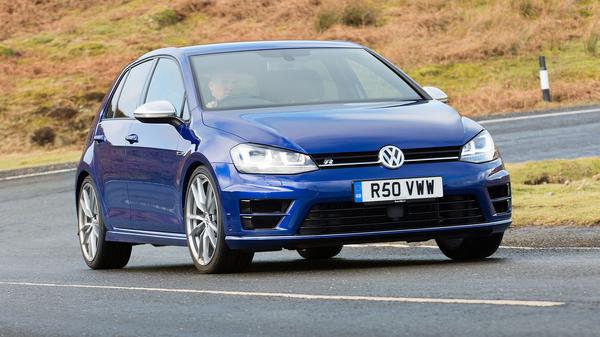 Why buy?
"

It has all the qualities that make the regular Golf great, but it also adds searing pace

"
If what you're after is the fastest Golf available, you won't be disappointed by the R. It has all the qualities that make the regular Golf great, but it also adds searing pace and wonderfully capable handling into the mix. If, however, you're after the sharpest, most involving hot hatch you can buy for the money, then the Ford Focus RS does the job better.