Expert Review
Volkswagen Golf Convertible (2011 - ) review
Read the Volkswagen Golf Cabriolet convertible (2011 - ) car review by Auto Trader's motoring experts, covering price, specification, running costs, practicality, safety and how it drives.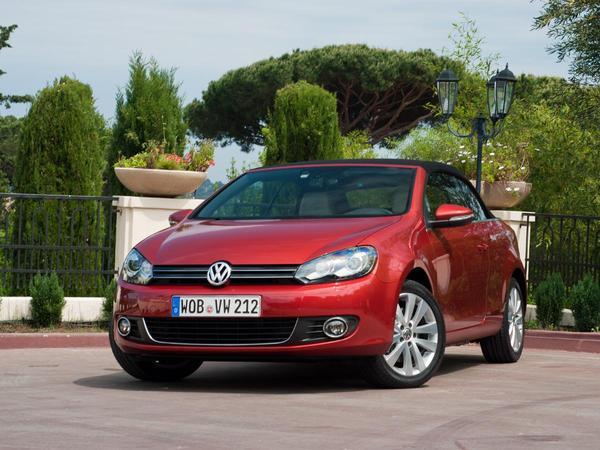 The Auto Trader expert verdict:
Finally, the Volkswagen Golf Cabriolet is back. With a quick roof, excellent engines and a sturdy chassis, we expect it to be just as successful as its predecessors and upset its rivals.
Reasons to buy:
Quiet with the roof down
Comfortable and fun to drive
Will hold its value
How good does it look?
This is the
Volkswagen Golf
Cabriolet for a new generation, finally released after the iconic model's  nine-year absence from showrooms. It's still instantly recognisable as a Golf, featuring a folding soft top which mimics the lines of the hatchback's conventional roof. It's lower, with a more swept back windscreen enhancing the Golf Cabriolet's looks with the roof down. LED daytime running lights surround the front headlight bulb in a distinctive pattern, adding character. A GTI version is also available, and from 2013 even an R Cabriolet will be sold in limited numbers. The R is distinguished by a gloss black grille and rear diffuser, side sill extensions, tinted light clusters and 18-inch alloy wheels, with 19s as an optional extra. The R certainly makes a statement, but its high price tag will keep it a rare sight in the UK.
What's the interior like?
The Golf Cabriolet is fitted with the same high-quality interior as the hatchback model. The main difference is the view out, which is only slightly impeded by the lower roofline and smaller rear windows of the soft top. It's a classy place to be with high levels of refinement roof up or down and seating for four adults. There's plenty of choice too, with cloth, leather (in red, white, black or brown) and black/red alcantara upholstery all on offer, albeit costing extra in most cases. The white leather marks too easily, but the other shades look great and the alcantara adds a sporting flavour. It's a fine interior which will leave all its rivals reeling – except perhaps the equally impressive and closely-related Audi A3 Cabriolet. Despite this, R Cabriolet owners may feel short changed, with very few changes in their cabin. Blue needles for the main instruments and a few logos and silver pieces of trim are all that separates its interior from the GTI.
How practical is it?
It only takes 9.5 seconds for the soft top to open fully, making it one of the fastest systems available. It can also be opened or closed at speeds up to around 20mph, allowing continued operation as you manoeuvre at low speeds or the lights turn to green at just the wrong moment. There are multiple skins of fabric to improve sound insulation, and we found it as quiet as folding hard top rivals. The boot is accessed by a rear hatch door which opens upwards. There's a reasonable 250 litres of space and the rear seats split and fold (50:50) to give more space, but it can be tricky to fit awkward items through the boot opening. Rear legroom is adequate for all but the tallest occupants, while those seated in the front have ample space, supportive seats and there's a great driving position.
What's it like to drive?
Removing the roof from a hatchback like the Golf can have a devastating effect on its handling and make it rattle over bumps. Thankfully, there's no sign of that here and only the wind and sun remind you this is a car with its top half missing. The steering is accurate and free from shakes and vibrations, meaning there's no need to take it easy around corners or over bumps for fear of the car flexing. It might be no sports car, but it can make perfectly brisk progress. As with most cars, the ride gets more fidgety once larger wheels are fitted. Unlike the four-wheel drive hatchback version, the R Cabriolet is front-wheel drive only. To make up for the lack of a roof, structural bracing is fitted under the car, taking up the space for components needed for rear-wheel drive. Despite this, its wide front tyres cope well with the power (at least in the dry conditions of this test), and the steering is impressively free from any tugging sensations as you accelerate. Grip levels are high and the handling is faithful to your inputs, but this is a very niche car, which is unlikely to appeal to serious driving enthusiast when a Porsche Boxster is similar money.
How powerful is it?
Five engines are available – three petrol and two diesels – ranging from ultra-economical to high-performance. A 105bhp 1.2-litre turbocharged petrol is a one of our favourite engines, and in the Golf Cabriolet it will power the car to 62mph in 11.7 seconds and on to a top speed of 117mph. The 160bhp 1.4-litre turbo gets the Golf to 62mph in 8.4 seconds and a top speed of 134mph while the 210bhp 2-litre turbo from the Golf GTi will be available later this year. The biggest seller – thanks to a good combination of performance and economy – is the 1.6 TDI. Developing 105bhp, it'll reach 62mph from rest in 12.1 seconds and reach a 117mph maximum, but the better performer is likely to the 140bhp 2-litre TDI, available later in the year. A choice of manual and DSG semi-automatic gearboxes are available depending on the engine fitted. The GTI has a smooth and willing engine with 207bhp, that gets it from rest to 62mph in 7.3 seconds. The R has 263bhp and is only available with a DSG automatic gearbox, allowing it to hit 62mph in 6.4 seconds and go on to 155mph.
How much will it cost me?
The 1.6-litre TDI fitted with the BlueMotion Technology pack is the most economical choice, with an average 64.2mpg and low emissions of 117g/km of CO2. The 2.0-litre TDI BlueMotion Technology is not far behind with 62.8mpg  and only 1g/km more CO2. The cheapest to run petrol is the 1.2-litre TSI BlueMotion Technology with 49.6mpg and 132g/km of CO2, whilst the most expensive is the 34.4mpg and 190g/km R Cabriolet. But, this only tells one side of the story. As well as being a reasonable car to run, we also expect the Golf Cabriolet to be hugely sought after on used car forecourts and expect it to hold its value brilliantly as a result.
How reliable is it?
The latest Golf hatchback is proving very dependable with customers and our own long-term test car has had no significant problems over a period of six months. The Cabriolet should be just as solid mechanically, featuring a roof mechanism similar to that in the existing Audi A3 Cabriolet.
How safe is it?
To improve its looks and rear visibility the Golf Cabriolet has rollover bars which are hidden and only pop up if they are needed. Many parts of the car have been reinforced during the re-design from hatchback to convertible, including the windscreen frame, side panels and doors. There's a full complement of airbags, many of which have been adapted to work specifically with the open-top design and electronic stability programme (ESP) is standard.
How much equipment do I get?
The Volkswagen Golf Cabriolet will be available in S, SE and GT trim levels, with standard features including air-con, 16-inch alloys, DAB radio, Bluetooth and daytime-running lights. On our French test route the sat-nav was too vague when confronted by consecutive turnings within close proximity to one another, a problem we'll test again when we drive the car in the UK with local mapping. The GTI is fitted with twin-tailpipes, a tartan cloth interior, sports steering wheel, aluminium pedals and leather trim.
Why buy?
The Volkswagen Golf Cabriolet has a timeless quality and each car we tested felt like it was built to last for decades. There's fun to be had behind the wheel and it's particularly refined for a small convertible.