Expert Review
Volkswagen Beetle hatchback (2016 - ) review
Volkswagen hangs the Beetle firmly on the hook of the car's illustrious heritage, and the latest incarnation is full of historic references. Much like the Mini and the Fiat 500, this three-door hatchback is a retro, kitsch alternative to more staid rivals.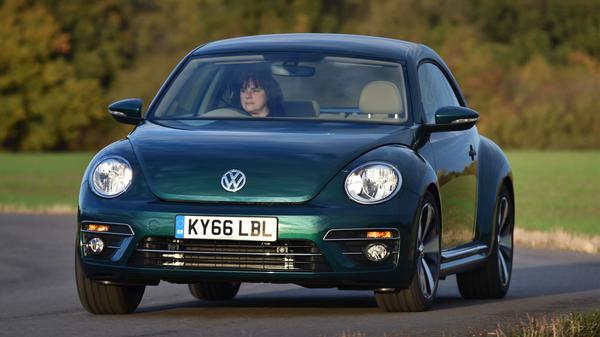 The Auto Trader expert verdict:
Taken on purely tangible merits, the Beetle is competent but unremarkable, especially when compared with some of the other talented cars in the family hatchback class. But even so, it has undeniable appeal thanks to its cutesy, retro design, with plenty of clever references to Beetles of old, both inside and out. It's decent - if uninspiring – to drive, but the Mini Hatch is much more involving on the road and a better overall offering.
Reasons to buy:
Funky looks and image
Some strong engine options
Charming cabin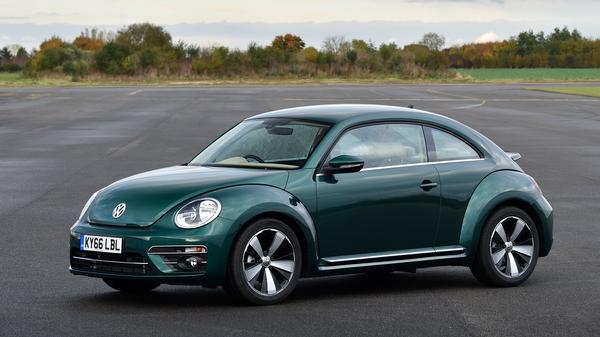 How good does it look?
Perhaps the Beetle's strongest feature is its image, a timeless appeal honed over almost 80 years. The impact of the original Beetle design is readily identifiable in the latest incarnation, with its bubbly arches and signature roofline. There's plenty of scope for customisation, but most additional styling features will cost extra. The entry-level Beetle comes with 16-inch steel wheels, but if you opt for the Design model, you'll get 17-inch alloy wheels and front fog lights, while the buggy-inspired Dune range includes decals, 18-inch alloys and some off-road-style front and rear bumpers. The top-of-the-range R-Line trim includes a rear spoiler and some chrome and gloss black styling bits, as well as some sportier bumpers. However, with every trim, you'll have to pay extra for paint if you don't want a black car.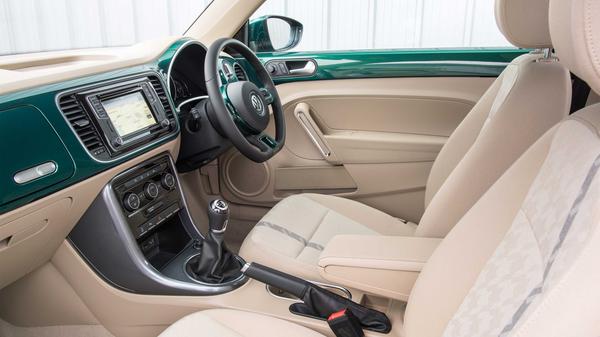 What's the interior like?
The retro theme continues inside the Beetle, with several features inspired by the original, including the big thin-rimmed steering wheel and the large dashboard panel that, on Design and Dune models, is the same colour as the exterior. The seats are comfortable and the wheel can be adjusted for both reach and rake, but the seat doesn't go low enough for our liking, resulting in a feeling of being perched up on high rather than sunk into the car. Build quality is good, as is the quality of materials, although a few elements feel slightly more plasticky than we're used to from other Volkswagen models. However, all the main buttons and touch points are solid and pleasant to use.
How practical is it?
"

Six-footers should have no issues squeezing past the front seats and getting comfy, but this is a strict four-seater

"
We doubt many people will buy the Beetle for its practicality, and sure enough, it's no five-person load-lugger. But having said that, there's plenty of space in the front for even tall occupants, and space in the back isn't bad, either. Six-footers should have no issues squeezing past the front seats and getting comfy, but this is a strict four-seater with no middle chair. Two glove boxes give you space to store things, although the door pockets, being retro-inspired, are simply strips of elastic across a cubby hole and not great for keeping anything substantial. The boot has a hefty lip that you'll need to lift items over, and while it's on the small side compared with some other hatchbacks, at 310 litres, it's bigger than the Mini's and more than roomy enough for a weekly shop.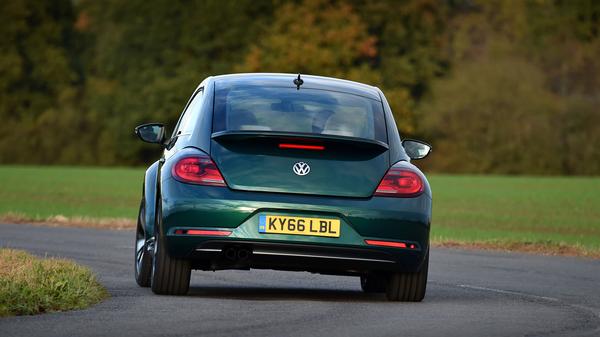 What's it like to drive?
The Beetle is set up for relatively genteel - rather than rapid - progress, and on that score, it does a decent job. The ride is reasonably forgiving, so most lumps and bumps are dealt with pretty well, even if it isn't quite as settled as the best hatchbacks. R-Line models can be specced with optional sports suspension, which is stiffer. We've yet to try in the hatchback, but we struggle to see the point when the Beetle is a car that doesn't really reward enthusiastic driving, because the steering is slow and vague. Anyone looking for excitement or involvement should head to the Mini showroom instead.
How powerful is it?
We've only tried one of the available engines so far, the turbocharged 1.4-litre petrol with 148bhp. It's an absolute peach; fizzy, responsive and capable of some genuinely impressive pace. It's easy of the fuel tank, too. There's also a less powerful 1.2-litre petrol engine available, and two 2.0-litre diesels; one with 108bhp and one with 148bhp. We know from sampling it in other models that the latter engine is impressively smooth and refined. All motors comes with either a manual or twin-clutch gearbox. The six-speed manual we tried was more than adequate with a slick, easy-to-use feel.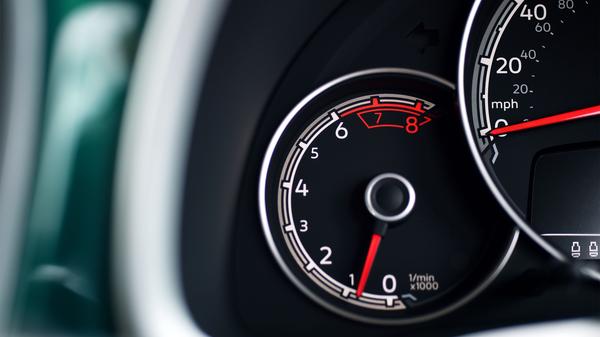 How much will it cost me?
The Beetle is not a cheap car, and the purchase price will only rise when you start adding options – even a colour other than black will cost you several hundred pounds. It doesn't hold its value particularly well, either, and while the engine line-up is economical, the Beetle is a heavy car for its size and fuel consumption will be affected accordingly. That said, official fuel economy figures are around or above 50mpg for all models.
How reliable is it?
Judging by the Warranty Direct Reliability Index, the Beetle's reliability is better than average, although Volkswagen sits decidedly mid-table in the manufacturer rankings. A large chunk of the reported problems with Beetles have been electrical, which is something to keep an eye on during ownership. Volkswagen offers a three-year/60,000-mile warranty.
How safe is it?
"

The Beetle is an ageing car under the surface, and more modern rivals have features it lacks

"
All Beetles comes with most of the expected basic safety systems as standard, but not much more. The two rear seats have Isofix child seat attachment points, and there are four airbags and a tyre pressure loss indicator. But, the Beetle is an ageing car under the surface, and more modern rivals have features it lacks, such as automatic emergency braking. It sports a five-star Euro NCAP rating, but that was from a test back in 2011, and standards have risen considerably since then.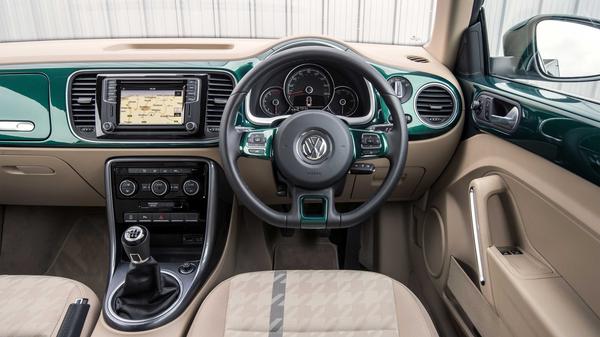 How much equipment do I get?
The Beetle is available with most of the mod-cons, but you'll have to pay extra for a large number of them. Entry-level models come with air-con, a DAB radio, Bluetooth connectivity and an infotainment system with a five-inch screen, but if you want a USB port or mats, prepare to start ticking boxes. The Design range adds that as standard, and gives a bigger 6.5-inch screen and a leather covered steering wheel, while the Dune comes with the option of some unique colours; if you pay for them. The top-end R-Line model has lashings of chrome around the cabin, a special steering wheel (with shifter paddles in automatic cars) and some extra leather on the handbrake and gearknob. Features like keyless entry, panoramic sunroof and even sat-nav are all extras, even at the top of the range.
Why buy?
Ultimately, you'll buy this car because you like the look of it, but the case for it on paper doesn't stack up against the key rivals. It's not especially bad in any area, but the Mini, particularly, offers a much more enticing package with a genuinely engaging driving experience. The Beetle in comparison feels unsophisticated, lumbering and lacking in equipment, and it's not particularly cheap.