Expert Review
Vauxhall VXR8 Saloon (2007 - ) review
Read the Vauxhall VXR8 saloon (2011 - ) car review by Auto Trader's motoring experts, covering price, specification, running costs, practicality, safety and how it drives.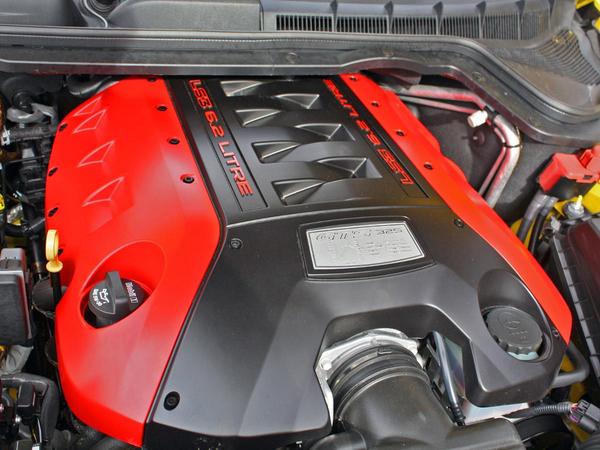 Words by: Auto Trader
Last updated on 7 November 2014 | 0 min read
The Auto Trader expert verdict:
The Vauxhall VXR8 is a fast and fearsome, V8-powered performance saloon that's a real alternative to the German rivals that dominate this rarified end of the market.
Reasons to buy:
Power to spare
Exclusive
Spacious and practical
How good does it look?
The Vauxhall VXR8 is essentially a rebadged Holden HSV E3 GTS from Australia and it looks like a typical modern Aussie muscle car – brash and brutal. It wears its fire-breathing, V8-powered monster's heart on its sleeve, thanks in part to the new Shockwave grille, air intakes and LED running lights at the front, plus the twin exhausts and lairy spoiler at the back. The range of extrovert colours does nothing to detract from the impression that this is not a car to mess with.
Expert rating: 4/5
What's the interior like?
The new VXR8 has full leather trim and a pair of eight-way electrically adjustable bucket seats up front. The dashboard has also been redesigned and features a new instrument cluster, fresh switchgear and a centre stack that incorporates the Enhanced Driver Interface (EDI). This supplies all kinds of data from the car's on-board computer to the 5-inch screen, such as G-forces, power, torque, the degree of drift (including the words Understeer and Oversteer which flash up if you indulge a little too much) and a screen that shows the forces acting on the shock absorbers in each corner. Watching it is more entertaining than most TV programmes.
Expert rating: 3/5
How practical is it?
The VXR8 is a proper four-door, five-seat performance car, with plenty of head and leg room at the back, enough to accommodate three adults in the rear – but whoever's in the middle will have to straddle the transmission tunnel, which you won't want to do for a long journey. There's also plenty of room up front, with occupants also enjoying plenty of shoulder room. The cavernous boot continues the theme of spaciousness, with lots of room for luggage, even when the car is four-up.
Expert rating: 4/5
What's it like to drive?
The VXR8 is an absolute hoot to drive, not only because of the power, but because the dynamics allow that power to be deployed to maximum effect. A taut chassis means that body control is superb and the ride is surprisingly compliant, thanks to Vauxhall's Magnetic Ride Control (MRC), a suspension system that works by sending an electric current through damper units filled with magnetic particles, which harden as the input reaches its maximum. There are two settings – Performance and Track – and even the latter works perfectly well on most roads. The steering is also direct and accurate, so it goes exactly where you point it, without any unnecessary drama.
Expert rating: 4/5
How powerful is it?
Under the bonnet is General Motors' 6.2-litre LS3 V8 engine that produces 425bhp at 6,000rpm and 406lb/ft of torque at 4,600rpm, which results in a 0-60mph time of 4.9 seconds and a limited top speed of 155mph. However, as these output figures suggest, the VXR8 really comes alive the more you rev it, especially above 4,000rpm or so, when the booming, snarling nature of the engine comes into its own and it starts to gather pace at what feels like an exponential rate. The engine can be mated to one of two six-speed transmissions, a manual and a standard torque converter auto. While the auto isn't bad, it's a bit slow on the uptake, so the former would be our choice every time.
Expert rating: 5/5
How much will it cost me?
The official fuel consumption figure is just 20.9mpg (20.6mpg for the auto), and that's the official number. In the real world, driving a V8-powered car as it was designed to be, the average owner will be looking at figures in the low to mid-teens. The trip computer has a continuously monitored mpg figure as one option, which dropped to 3mpg at one point during our test, while overtaking. The CO2 emissions figure of 320g/km (324g/km for the auto) also means that vehicle excise duty will cost a whopping £435 a year, which makes for a real running costs double whammy.
Expert rating: 1/5
How reliable is it?
Whereas most Vauxhalls are effectively rebadged European-built Opels, the VXR8 is of Austrailian origin – it starts out as a Holden. Both Holden and Vauxhall have a reasonable reputation for reliability, which bodes well, and our test car certainly seemed well-built. As with any performance car, there's the potential for big bills if the car is driven really hard all the time, but there's nothing to suggest that there are likely to be inherent problems with the VXR8's reliability.
Expert rating: 3/5
How safe is it?
There's a full suite of safety equipment in the VXR8, including an ESP system that integrates anti-lock brakes, electronic brakeforce distribution, electronic stability programme (ESP), brake assist and traction control. In the event of an accident, there are six airbags (driver and front passenger, side impact airbags for the front-seat occupants plus side curtain airbags). There are also three Isofix child restraint anchor points at the rear, seatbelt pre-tensioners and an emergency mode that turns the engine and fuel pump off, unlocks doors and turns hazard and interior lamps on, if battery power is available.
Expert rating: 4/5
How much equipment do I get?
There are plenty of toys, including a launch control function that allows the car to accelerate from standstill at its maximum potential, using the ESP to control the engine. Just dump the clutch and the VXR8 does a credible impression of a bat out of hell. There are also features such as a rear parking camera, tyre pressure monitor, aux-in/USB inputs, iPod support and Bluetooth with phone book display and touch-screen dialling to make life with the VXR8 easier.
Expert rating: 4/5
Why buy?
If you're looking to make a statement – and some noise (the exhaust booms, pops and bangs rather spectacularly) – and want something other than a BMW M3 or Mercedes-Benz C63 AMG, the VXR8 is the car for you. Fast and focused, it's a muscle car that will stand out not only because it seems to come from another time, when petrol was cheap, but also because it will be rarer than hen's teeth on UK roads, with only 25 a year being imported.
Expert rating: 4/5