Expert Review
Toyota Prius Hatchback (2016 - ) review
The Toyota Prius uses the latest advances in petrol-electric hybrid technology to provide a cleaner, more cost-effective alternative to diesel-powered family cars.
The Auto Trader expert verdict:
The Prius is an intriguing alternative to diesel-engined family cars, being well built, comfortable, spacious and extremely tax-efficient. It's also imaginatively styled inside and out, comes with loads of safety kit and, despite some cheap-looking plastics, feels like it is built to last forever and a day. Trouble is, It is a wee bit joyless to drive and lacks the driving precision and engagement of many of its European diesel-powered rivals. What's more, the petrol-electric hybrid powertrain requires a pedant's right foot to to get the very best fuel economy and, if you decide to push on a bit, the petrol engine becomes noisy and quite thrashy.
Reasons to buy:
Extremely low CO2 emissions and tax liability
Smooth and near silent in EV mode
Plenty of interior space for five
How good does it look?
The Prius takes its inspiration from the company's futuristic
Mirai
hydrogen fuel-cell car, with a similar profile, headlights, and triangular-shaped foglights in the lower recesses of the front bumper. Its ground-hugging nose rises dramatically to the tail of the car before cascading into a split hatchback window, which features an almost horizontal top section, and then falls vertically to the rear bumper. It's done to aid airflow and improve economy, but it also looks pretty swanky. For the ultimate in economy, you'll want the to stick with the standard 15-inch wheels or downsize from the 17-inch alloys on higher-spec cars. Aesthetically, there's no denying the bigger wheels look better, but they increase CO2 emissions and increase your BIK tax implications. The good news is, Toyota will swap the wheels and give you a substantial refund if you decide to downsize.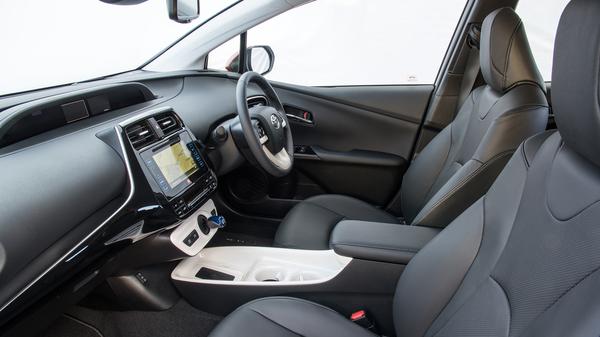 What's the interior like?
"

The Prius' interior is every bit as futuristic as its exterior

"
The Prius's interior is every bit as futuristic as its exterior, with loads of swooping panels, a plethora of steering wheel-mounted buttons and a dazzling array of acid blue displays. Aesthetically, you can make what you will of the of the centrally mounted instruments, but there's no arguing with the logic behind their location, as it means none of the instruments are ever blocked out by your hands or the steering wheel rim. Equally, because there's nothing beyond the steering wheel (other than the windscreen), you have a totally uninterrupted view of the road ahead. Sadly, it's not the same story with the view to the rear, as the significant window divide which holds the rear wiper reduces the visibility, making reverse parking far trickier than need be. Just below the central instrument stack, the outline of the central touch-screen bears a spooky resemblance to Darth Vader's helmet; but, regardless of how it looks, the crispness of the images and the speedy responses of the systems within are as good as touch-screen technology gets these days. Porcelain white highlights for the gear selector surrounds, steering wheel inserts, and centre storage area are also available if you wish to lighten the mood of the cabin, but to be honest, it's all a bit sanitary ware-like for our taste.
How practical is it?
The batteries in a hybrid are bulky and present a real challenge when trying to package them into existing models. However, there's no such problem with the Prius, which was designed from the ground up with this in mind; and, as a consequence, the batteries are neatly located under the rear seats so as not to impact on interior- or boot space. The Prius's cabin is a wee bit narrow compared to a
Ford Mondeo's
, but it's also fairly tall, so there's plenty of headroom and legroom in the front, and the almost flat floor means three can travel in the rear without playing footsie. Although it's dwarfed by a
Skoda Octavia's
, the Prius's boot is still a reasonable size at 457 litres. Admittedly, it's a wee bit shallow under the load cover, but it'll still cope well enough with a fair few flat-pack goodies, especially with the split rear seat's backs folded.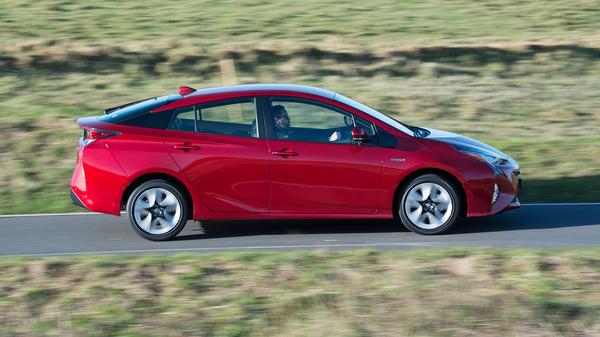 What's it like to drive?
"

The weighty steering emphasises the effort involved in getting the nose of the car to change direction

"
The fitting of sophisticated rear suspension components to the latest Prius has certainly helped reduce the impact of lumps and bumps, and those impacts are dealt with in an acoustically refined manner. A low centre of gravity and decent grip levels also mean you need to be getting a good lick on in tight bends before the Prius's economy-biased tyres start to get all hot and bothered. Even so, the overall impression remains that you are driving a distinctly nose-heavy vehicle, although we're not entirely sure why this should be. Yes, there's the extra weight of the electric motors and control units riding up-front, but when you consider the Prius has no starter motor, no alternator and no clutch to contend with, and the additional mass of the battery pack is stored under the rear seat, you could be forgiven for thinking it would be a pretty simple task to engineer in a neutral front-to-rear weight bias. This nose-heavy feel is not helped by the weighty steering, as all it tends to do is emphasise the effort involved in getting the nose of the car to change direction.
How powerful is it?
By gently moderating your right foot, you can drive around town purely in EV (electric) mode, with just the whirr of the electric motor for company; but, if you wish to push on a bit, the lack of initial performance that is part and parcel of the Prius' efficiency-biased continuously variable transmission can be quite frustrating. Bury the accelerator pedal away from the mark and the transmission feels like it has lost at least half of its connection with the engine, as the subsequent frantic leap in engine revs and the under-floor vibration seem totally at odds with relatively leisurely increase in road speed. To be fair, it's only really sprints away from the lights where this trait is fully exposed, and once you're above 40mph, where you're less inclined to demand full load from the engine, additional acceleration comes on relatively strongly and in a more hooked-up fashion - although what's less impressive is the amount of wind- and road noise the car generates. At the end of the day, though, you still can't help feeling there's a scolding governess sitting in the rear seat giving you a disapproving scowl every time you go near the accelerator pedal with any kind of intent.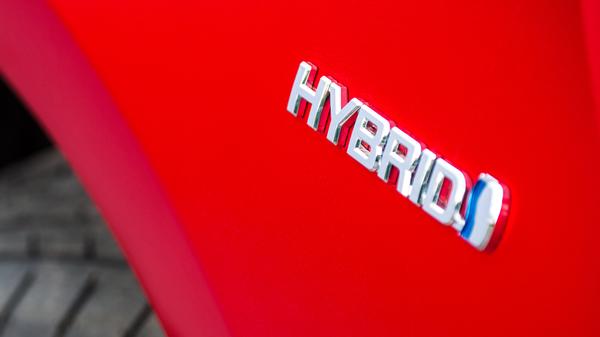 How much will it cost me?
"

if you stick with 15-inch wheels, CO2 emissions of 70g/km give you a very low BIK tax liability

"
Make no mistake, if you drive the Prius as it was designed to be driven, making the most of the EV mode and you accelerate gently when engaging the petrol engine, then you'll see some pretty impressive fuel economy. Even if you don't mange the 94.1mpg the official tests say the Prius is theoretically capable of, you should easily see 70-plus mpg when driving around town. Even so, the fact remains that hybrid powertrains perform best at low speeds, and actually gobble unleaded at much the same rate as a traditional petrol car when cruising motorways. Of course, the taxman is only interested in the official CO2 output, so providing you stick with 15-inch wheels, an output of 70g/km will give you a very low BIK tax liability. Oh, and those low emissions also mean that nice Mr Johnson will let you in to his back yard free of charge.
How reliable is it?
Some prospective buyers may be dissuaded from buying a Prius by unfounded suspicions surrounding the longevity of hybrid battery technology and the negative effect that has on residual values. They needn't worry, as the standard Toyota warranty lasts for five years or 100,000 miles, whichever comes first, and overall the company has one of the best reliability records in motoring.
How safe is it?
The previous Prius performed extremely well in Euro NCAP crash tests, and it's no surprise that this latest model has picked up a maximum five-star rating, as it comes with Toyota's Safety Sense pre-collision system that includes not only vehicle- and pedestrian detection, but also autonomous braking to help avoid low-speed collisions. It also comes with lane-departure warning with active steering inputs to help keep you from drifting out of your lane. Automatic high beam, speed sign recognition, blind spot monitoring and rear cross traffic alert are also included on all but the base model.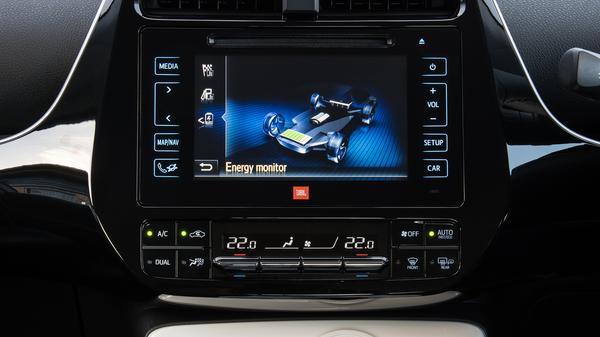 How much equipment do I get?
"

Go for a top-spec Excel car and you'll gain Toyota's top-end infotainment system

"
Even the entry-level Active model comes with a fair bit of standard kit, including keyless entry and start-up, four electric windows, dual-zone climate-control, full LED lighting, Bluetooth connectivity and a reversing camera. On top of this, the Business edition will add the best part of a grand to your invoice, along with a head-up display, heated front seats and a wireless charging mat for your smartphone. Push the boat out for a top-spec Excel car and you'll gain Toyota's top-end infotainment system, which includes a seven-inch colour screen, sat-nav, a text-to-speech function, email display and online connectivity. Excel also includes full leather upholstery and auto parking, which should prevent those expensive alloys from coming into contact with damaging kerb edges.
Why buy?
If it's all about the numbers, then choosing a Prius is a no-brainer. It's not particularly cheap to buy in the first place, but if you live in the city or run a company car, then the minimal running costs and low taxation will pay you back ten-fold. For all its virtues, though, we can't help feeling the Prius still lacks one essential ingredient and that ingredient is driving pleasure, so essentially the Prius is a car that you buy with your head rather than your heart.