Expert Review
Toyota Land Cruiser SUV (2013 - ) review
The iconic Toyota Land Cruiser is one of the few authentic off-roaders left, but is it still a relevant choice in a world full of hi-tech, luxurious 4x4s? We test it in the UK to find out.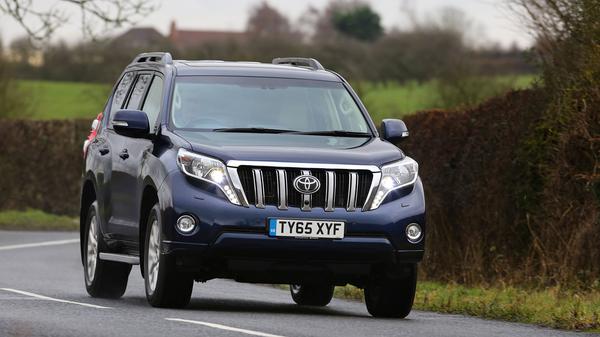 The Auto Trader expert verdict:
The Land Cruiser is a 4x4 for customers who value reliability, practicality and off-road ability above all else. It feels like a dependable tool rather than a lifestyle accessory, but high-end versions are also very well-equipped – if relatively expensive – more modern rivals are streets ahead in terms of refinement and dynamic finesse, not to mention running costs, but for the minority of buyers who really do want to use their SUVs in extreme conditions, it's as good as ever.
Reasons to buy:
Unstoppable off-road
Excellent reliability
Hugely practical
How good does it look?
The Land Cruiser is one of the few large SUVs left that makes no attempts to hide its humble origins as a tough, military grade off-roader. The exterior design has been fiddled about with over the years, but it remains a seriously imposing on-road presence. While not as sleek or sophisticated as a Land Rover Discovery, the massive slatted grille, wide bumpers and sheer size of the Land Cruiser give it a character all of its own. Love it or hate it, there is no denying that the sight of one of these coming down a narrow lane is enough to make other motorists politely wait for you to rumble past. Every version gets black roof rails, alloy wheels, body coloured bumpers and a chrome grille. Step up to the mid- and top-spec versions if you want LED running lights, privacy glass, and larger wheels, but really the visual differences are slim. All models also have side steps to help make it easier to clamber up into the tall cabin, but the entry-level 'Active' model has black ones, while the pricier trims get an illuminated version. Not quite the glitzy 'puddle' lights you get in a Range Rover, but the Land Cruiser has never been about showing off – and that honest approach remains an enduring part of its appeal.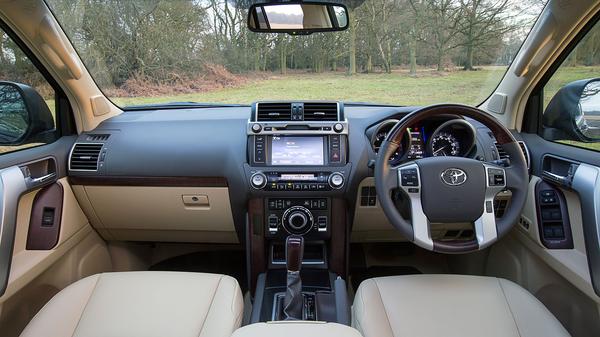 What's the interior like?
"

Forget the challenging aesthetics, and you find large, chunky controls that are easy to use

"
Some people level criticism at the Land Cruiser for feeling 'dated' on the inside. While it is true that the button-heavy, upright centre console, wooden inlays and sturdy plastics that comprise the dash are not at the cutting-edge of interior design, they are all entirely fit for purpose. Forget the somewhat challenging aesthetics, and you find large, chunky controls that are easy to operate, even when wearing gloves, and a high, comfortable driving position. In any car this size decent visibility is essential, and the Land Cruiser provides a clear view fore and aft to help you accurately judge whether you can squeeze through gaps in traffic (or not). Rival seven seat SUVs place more emphasis on premium materials and cabin ambience, and a Volvo XC90 or Audi Q7 feel light years ahead of this car, but also cost more, and while some of the plastics in the Toyota seems hard and shiny, there is no denying how robust they are. The infotainment system, which uses a 7.0-inch touch-screen with big shortcut buttons either side, is also slower and less intuitive than the slick devices you'll find in those pricier cars too.
How practical is it?
The Land Cruiser still comes in two different body styles. The base 'Active' model can be had as a three-door with five seats, but otherwise you get five doors and seven chairs as standard. Most family buyers will be better served by the five-door, as it gives considerably better access to the second and third row of seats, and can still be had in wallet-friendly Active trim. The third row of seats folds away easily enough for when you don't need to carry the whole five-a-side team – and on mid-spec models and above the mechanism is powered so you can drop them neatly out of sight at the touch of a button. The middle seats slide forward and back to free up extra space for those sat right at the back, and the tall roof and boxy shape mean space is fairly generous inside. However, the heavy duty mechanicals underneath mean those in the third row will only really be comfortable on shorter journeys. There is still a reasonable boot in seven-seat configuration, but if you switch to five you get an impressive 621 litres of luggage space, swelling to a van-like 1,934 litres in full two-seater mode. Inside the cabin is dotted with deep storage spaces and cubbies that will have you searching for that last boiled sweet for hours on end – but the old school hinged rear door needs a lot of space to open fully, so it's lucky that you can pop the rear window glass separately to drop stuff in.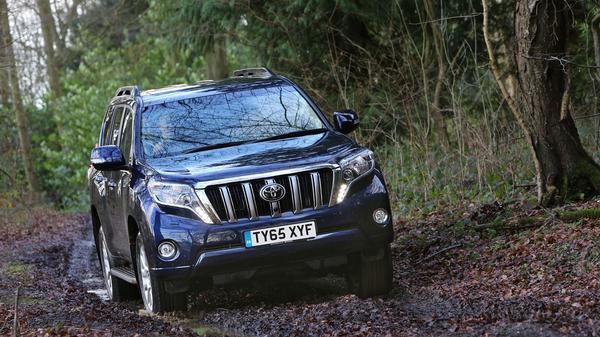 What's it like to drive?
"

The big Toyota is close to unstoppable at hauling you through the untamed countryside

"
Drive a Land Cruiser for any length of time and you quickly realize this an SUV without any aspirations of being 'sporty' or 'agile' – it drives exactly like what it is – a very tall, heavy car. It needs coaxing around corners rather than throwing into them, and the body leans over in a dramatic fashion if your entry-speed is a little too ambitious. The slow steering and soft ride contribute to its relaxed character – the Land Cruiser is not for hustling down a tiny B-road. It does a pretty good line in comfort though. Mid-range models are fitted with a set of adaptive dampers which give a cushioned, floaty motorway ride and soften out the majority of bumps. The sheer weight does mean that sharp ridges will cause the odd crash and judder to enter the cabin but this is a small price to pay for the Land Cruiser's superlative off-road abilities. A low-range gearbox, huge ground clearance and locking differentials all make the Toyota close to unstoppable at hauling you through the untamed countryside – and its rough and ready exterior means you won't think twice about taking it where few premium SUVs can go.
How powerful is it?
Toyota recently retired the V8 petrol 'Amazon' model in the UK, and replaced the only diesel engine in the range with a smaller, more efficient, four-cylinder 2.8-litre unit with 172bhp. It still has a decent amount of pulling power (332lb ft in the automatic – a little less in the six-speed manual model) but feels really slow when compared with the six-cylinder versions of rivals like the Land Rover Discovery and Mercedes GLE. The benchmark 0-62mph sprint takes 12.7 seconds, and getting it going from a standstill or hauling it up a particularly steep hill requires a high level of patience. The top speed is pegged at a fairly modest 109mph, but you are unlikely to get near that, because if you try and accelerate a bit too hard the engine soon becomes noisy and intrusive, so it's better to just sit back and relax. The six-speed automatic does a good job of slushing between the gears but it can take quite a long time to react when you need a sudden burst of speed. We haven't yet tried the manual version – and while this is officially a tiny bit quicker, the auto is probably a better bet for those customers who don't fancy a thorough workout of their left thigh on each and every journey down to the shops.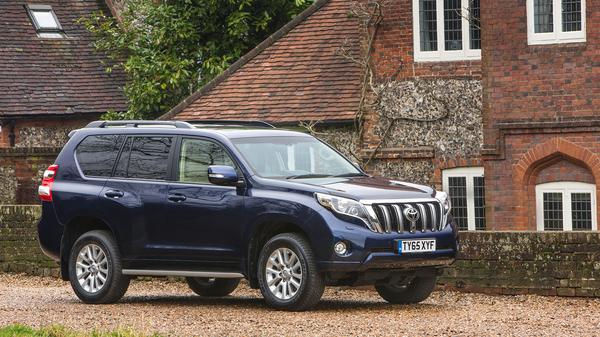 How much will it cost me?
"

It sits several tax bands higher than the more powerful Volvo XC90 or Audi Q7

"
Fitting that new four-cylinder engine has made a small dent in the running costs of the Land Cruiser when compared with the older V6 diesel but this is still a big car, which unfortunately means when the bills do roll in, they'll be quite big too. An official CO2 figure of 194g/km is roughly the same as a sport BMW M4, and several tax bands higher than a seven-seat Volvo XC90 or Audi Q7, both of which have more powerful engines. The claimed economy figure looks good on paper – 39.2mpg for the auto, a little lower for the manual – but in real world conditions, or when carrying a few passengers, 25mpg is a more realistic daily consumption. That high CO2 figure also means paying a relatively hefty amount of road tax, or if you are a company car driver, Benefit-in-Kind (BIK) tax. Insurance is also on the steep side, despite the relatively modest output from the engine, but no worse than what you'd pay in many rivals. There is a silver lining though, because the famed reliability of this model means that residual values for Land Cruisers are very high, especially if you stick with the seven-seat automatic version, as the entry-level three-door and manual models will lose their value a bit quicker.
How reliable is it?
Range Rovers receive heaps of plaudits for their fancy cabins and stately driving dynamics; but languish right at the bottom of almost every reliability survey that you'll be likely to read. Enter the Land Cruiser – this is a big SUV that has an unimpeachable record when it comes to reliability so you can place total faith in its ability to take you anywhere, and get you home. It uses a set of mechanical components that have been tried and tested in some of the harshest environments on the planet and come back fighting, while the interior feels as durable and solid as stonemasonry and will look the same as it did when it left the dealership even after years of abuse. Toyota as a brand finished fourth overall in the latest round of manufacturer results from Warranty Direct, while Land Rover came in a lowly 37th place. Its confidence in this area shows in the standard five-year warranty, which is good for up to 100,000 miles, and two years longer than anything you'll get from Volvo, Audi, or Mercedes without paying. Our owner reviews thoroughly back this hard-earned reputation up, with glowing reports about years of faultless service and hassle free motoring for every generation since 2002.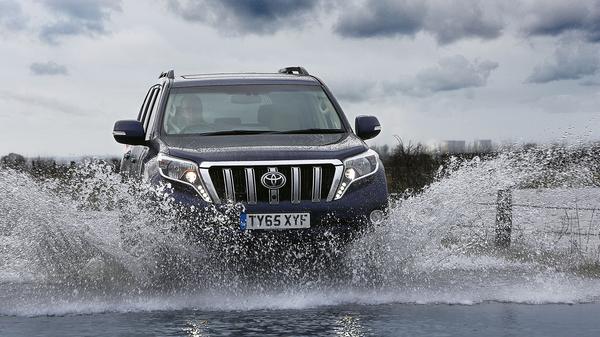 How safe is it?
"

Recent updates to the range include an optional Safety Pack which brings with it a full suite of all the latest safety technology

"
The Land Cruiser has not received the full crash test treatment from safety body Euro NCAP but its tough body and standard haul of seven airbags should provide ample protection in the event of a crash. Recent updates to the range include an optional Safety Pack which brings with it a full suite of all the latest safety technology, with adaptive cruise control a pre-crash braking system, lane departure warning with blind spot monitors, a rear traffic monitor for reversing out of the driveway, and a set of 360 degree cameras for traversing rocky terrain. It costs a considerable amount – but that does means if you do want the extra security of these systems then this pack is a one-stop shop, taking the hassle out of adding them individually. It also has the basics covered, with traction and stability controls, ISOFIX points for child seats, child safety locks and a system to keep the whole car stable when you're towing a big trailer.
How much equipment do I get?
If you want to buy your Land Cruiser in its most basic form than you can do just that – but the Active trim comes without many of the luxuries you might expect from a large SUV. So it has cloth faced seats, manual controls for everything, goes without sat-nav, but does still have a touch-screen, air-conditioning, a reversing camera, cruise control and DAB radio. So if you just want a workhorse, that's the one to go for. However, the step up to the higher trims is a significant one, and by contrast the top-spec Invincible versions are so highly equipped that you're unlikely to need to add anything at all from the options list. A DVD screen for the people in the back, electrically adjustment for the seats and steering wheel, heaters for the seats in the front and back, a 17-speaker JBL sound system, sat-nav, powered folding rear seats for easier access to the boot, pretty much you name it, and the Invincible has it. This is the kind of generosity we like to see – trying to spec a Land Rover Discovery to a similar level would cost you dearly, but we do think the mid-range Icon is slightly better value though.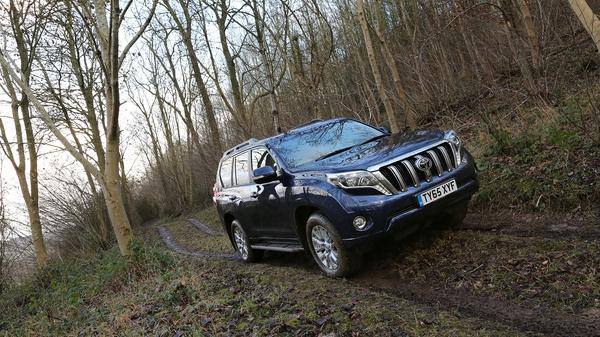 Why buy?
"

If you a 4x4 to use and abuse for a decade, then this is the one for you.

"
Truly rugged off-roaders are an endangered species – and the Land Cruiser is a fine example of this dying breed. Superb reliability, strong equipment levels and brilliant all-terrain capability (all without the pretense of some other 'luxury' SUVs) give it a strong niche appeal. Treat it like a normal car and it would be easy to criticise the fairly slow, inefficient engine and wallowy handling, but if you a 4x4 to use and abuse for a decade, then this is the one for you.